CW Camira
CLOSE
View More Thumbnails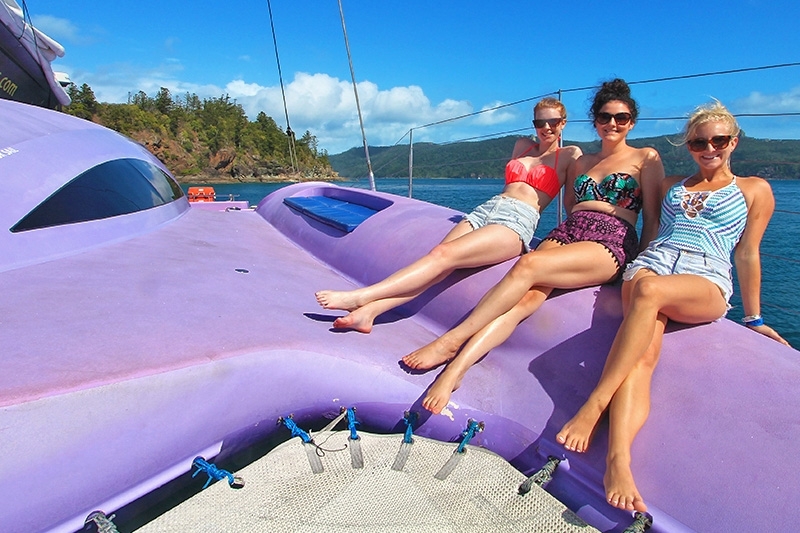 Loading...
Departure Times
Departs: 8:00am - Daily
Returns: 5:45pm - Daily
Pricing Options
$159 AUD per Person
- Backpacker
(Between: 01 Apr 2017 and 31 Mar 2018)
$189 AUD per Person
- Adult
(Between: 01 Apr 2017 and 31 Mar 2018)
$607.5 AUD per Family
- Family (2 adults + 3 children)
(Between: 01 Apr 2017 and 31 Mar 2018)
$99 AUD per Person
- Child (4-14 years)
(Between: 01 Apr 2017 and 31 Mar 2018)
$170.1 AUD per Person
- Senior/Student
(Between: 01 Apr 2017 and 31 Mar 2018)
$518.4 AUD per Family
- Family (2 adults, 2 children)
(Between: 01 Apr 2017 and 31 Mar 2018)
Only have one day? Hop on board one of the world's fastest sailing catamarans, Camira
Experience the wonders of the Whitsunday Islands on board one of the world's fastest sailing catamarans, exploring the magnificent Whitehaven Beach, the amazing Hill Inlet Lookout and venturing through the Whitsunday Islands National Park all in one day! Sailing, swimming, exploring the beautiful beach and an all you can eat BBQ lunch - put it all together an you've got an unforgettable day on the water. A trip on Camira is sure to become a top highlight of your Australia experience.
Sail your way through the Whitsunday Islands on board the beautiful Camira. Experience smooth sailing with the comfort of great stability as you cruise over the water. Paired with the rush of cutting through the ocean waves, Camira offers for the ultimate day trip. Enjoy the sights and the breeze as you sit back, relax and let the crew do their thing. With its size and design, Camira cuts through the sea with unbelievable grace, making her a favourite in the Whitsundays. Camira offers a unique itinerary as one of the only day sailing trips that visits the infamous Whitehaven Beach and Hill Inlet Lookout. Departing from Abell Point Marina at 8am and returning just before 6pm, Camira offers a full day on the water, longer than many other day trips. This means more time for you to enjoy the thrill of sailing and the beauty of the beautiful Whitsunday Islands during your day in the Whitsundays.
Camira Features:
Visit to Whitehaven Beach for approximately 2 hours
Morning tea, lunch, afternoon tea and all refreshments included
Visit to Hill Inlet lookout for one hour
Licensed to serve beer and wine from 11am, price included
Beach activities
Experience real sailing in the Whitsundays
Onboard toilet
Full day itinerary
Spacious vessel with indoor and outdoor seating areas
Pack all of the Whitsundays must-dos into one fun-filled day! Camira is capable of sailing at up to 30 knots and will ensure that you do not miss out on anything as you make you way from place to place at top speed. You will have plenty of time to soak up the sun at your prime destination, Whitehaven Beach, as well as check out the sights at the infamous Hill Inlet Lookout.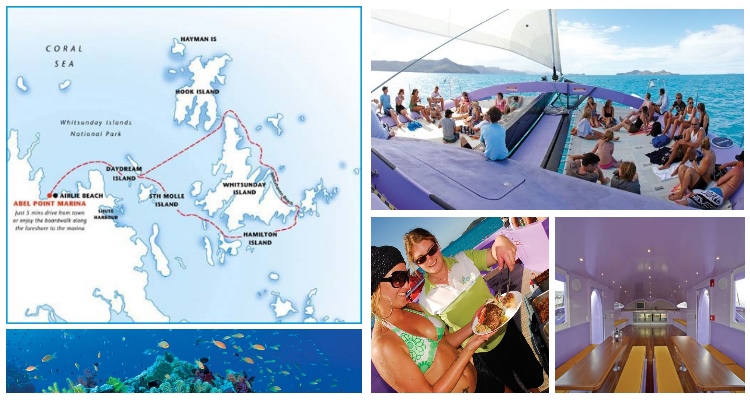 Sample Itinerary
Sailing
As soon as Camira leaves the Marina, setting the sails becomes top priority. See how the crew use a combination of manual technique and powerful mechanical winches to pull up the mammoth sails to cruise through the calm Whitsunday waters. As you cruise along, you can relaxing on the bow nets, lounging on the comfortable seats or seeking out the snacks in the spacious interior cabin. Camira is designed for comfort and space to make sure you have the best day on the water. Camira is the fastest sailing catamaran in the Whitsundays and the only sailing tour that is able to visit Whitehaven Beach during a day trip.
Whitehaven Beach
Following your in-water experience, you will once again set sail and head south along Whitsunday Island to make your way to Whitehaven Beach. The crew will transfer you to the beach where you have the chance to do whatever you like. Enjoy the soft and cool silica sands as you walk along the stretches of uninterrupted beach, sit in the shade and enjoy the scenery, or join in on fun beach games put on by your crew - Whitehaven Beach is a tropical escape perfect for everyone. You will have ample time at the beach, working up an appetite that will be beyond satisfied when you re-board the boat for a full BBQ buffet lunch.
Hill Inlet Lookout
Join in on a bushwalk up to Hill Inlet Lookout and check out the amazing view from the top. See Whitehaven Beach from above and the amazing swirling sands below! This is the perfect place to grab some amazing photos and take in all the beauty that nature has to offer. The bushwalk up to the lookout point will give you a chance to get up close and personal with the flora and fauna on Whitsunday Island, listening to the sounds of the wildlife and keeping an eye out for the cool creatures that live there!
Pure serenity
On your journey back to the mainland, you will get to explore the southern islands of the Whitsunday Chain - something that most other day tours do not offer. Treat yourself to a beer or wine as you smoothly move across the water. By the time you get back, we can guarantee you will feel completely relaxed and more than happy with your amazing day exploring the Whitsunday Islands.
Departure/Return Times
Airlie Beach (Port of Airlie) - departs at 8:00am and returns at 5:45pm
Daydream Island - departs at 8:45am and returns at 5:00pm
*Students must be aged between 14 and 18 and have a valid Australian high school ID.
*Backpackers must be aged 18-35 and have proof of staying at an Airlie Beach hostel (receipt) or campervan receipt.
---
You May Also Like One Of These Products:
Southern CrossReefstar 3 Island Cruise Providence VOcean Rafting- Southern Lights
---
BOOK WITH US TODAY! CALL 1800 550 751 OR (07) 4914 2425 IF LOCAL
What To Bring
Hat
Sunglasses
Sun cream
Beach towel
A light jumper for your return journey
Swimmers
Camera
What's Included
All activities, morning tea, a delicious barbecue lunch and drinks are included, with beer, wine, soft drinks, tea and coffee available throughout the day. Alcohol is available after 11am. Also on board are stinger suits free of charge and all local fees are included. If required, guests will be transferred to/from Long Island & Daydream for the connection to Camira (included in the cost).
Terms and Conditions
Cruise Whitsundays Pty Ltd reserves the right to alter prices, cancel departures, activities or arrange alternative transport, itineraries and services when necessary. In the interest of passenger safety, departures, itineraries and activities are subject to sea and weather conditions. Should the company be forced to cancel or alter cruises our liability is limited to offering an alternative or an appropriate refund no greater than the fare paid.The company shall not be held responsible for any property loss or damage and or any claim resulting from personal injury or death arising whilst traveling with the company, participating in activities, on the vessel or pontoon or other company property. This disclaimer applies irrespective of the cause. All prices are stated in Australian dollars and include GST. Childrens fare applies to 4 -14 years inclusive. Children under 4 years travel at no charge however please advise at time of booking. Please be aware operators pass on credit card merchant fees so there is a non-refundable 2.5% surcharge for VISA and MASTERCARD card purchases.
Cancellations
All client cancellations forfeit 25% of total ticket price and all client cancellations made less than 21 days prior to departure will result in complete forfeiture of the full price of trip. If the operator has to cancel the trip (prior to the boat's departure) and we cannot offer a suitable alternative, then a refund will be given, minus card fees. We strongly recommend that you have travel insurance especially during the wet season.
Please note it is the responsibility of ALL passengers traveling to advise both your travel agent at the time of booking and vessel check-in agent before boarding of ANY medical conditions including food allergies you may suffer from.
Thank you for booking with Mr Travel if you need any advice or assistance making arrangements for your accommodation or transfers please do not hesitate to ask.
"Booked Camira for my wife and I last week when we were in Airlie Beach visiting family. We had such an amazing time that we decided to do it all over again the next day and invited our 7 other family members to join us. The crew absolutely made this trip, a big thank you to them for taking such good care of us. The food spread was so good & Whitehaven Beach was a sight for sore eyes. A must do. I cant wait to come back and do it for the 3rd, 4th, 5th time...."
Neil Earl & Sue Earl
Fri 21 Oct 2016
"Excellent day trip on the purple Camira sailing boat. Everything about this trip was excellent. The staff our informative, friendly courteous. The places we visited awesome, Whitehaven beach warm, sunny the sand is gorgeous. Has to be seen. The food was great plenty of it. Thoroughly enjoyed the day out. The islands and waters, reefs are well worth the visit. I would consider another trip ."
Tracy
Tue 31 Mar 2015
"One day catamaran was a great day with amazing bbq on board and free booze and drinks all day. The good thing was that although free booze all day this wasnt a party boat. Great snork Oh my god and visit to Whitehaven beach."
Chirelle
Wed 11 Mar 2015
"We chose to do Whitehaven Beach in the morning and Hamilton Island in the afternoon. We were picked up early in the morning and boarded the boat. everything was well organised and made for a relaxing experience. after a few stops to pick up other passengers and drop the first batch at HI we went onto Whitehaven Beach. I cant begin to describe how beautiful this place is. Even with the hundred or so other passngers around, there is more than enough room to wonder down the beach to get some quiet. the sand and sea is spectacular. after an hour half on the beach, the boat left and took us back to HI where we went for lunch at the Marina Tavern. the food here is great. We had a few hours to ourselves so hired a buggy to drive around the island. Although not very big, theres plenty to see. Would recommend this trip as an easy way to see some beautiful parts of the local area."
Im
Tue 10 Feb 2015
"We went on a tour during our honeymoon in September and all I can say is if you dont get Craig as your tour guide, ask for your money back! Ive never met anyone who is so enthusiastic about their job, he was so knowledge about the surroundings and was full of interesting random information, he took the time to get to know each person on the tour and remembered each persons name and story. He also went the extra mile for us as he knew we were on our honeymoon and took us to our own lookout as the other one was busy and took some gorgeous photos for us. The surroundings of Whitehaven Beach, the hill inlet and Chalkies Beach were spectacular, pictures do not do it justice! We will 100 percent be back in the future only this time we will bring our daughter as the tour was very child friendly!"
Melanie
Mon 03 Nov 2014
"Fantastic trip to the barrier reef! Snorkeling, food and staff were exceptional! Had the best day and would highly recommend!"
Julie
Mon 03 Nov 2014
"The trip was excellent. We were well informed about where to meet and our bus was on time to pick us up. The port is really well organised and looks very professional. We had breakfast on daydream Island. The food was good and was a really nice start to the day. Our tour guide Alison met us and stayed with us for the day. She was great, friendly, approachable and really knowledgeable. It was also her birthday. We travelled to Hamilton Island to have lunch. Food choices were good and lunch tasted great. Not included in the tour but we stopped at the bakery next to the lunch stop for cheesecake, was really good. We went on the Whitehaven beach, was stunning. Cant say enough good things about this experience, highly recommend. Special thanks to Alison, we have some wonderful memories of the whitsundays."
White
Sat 01 Nov 2014