Swim in the Whitsundays
Can You Swim In The Whitsundays?
The short answer is, yes! The Whitsundays are one of nature's biggest playgrounds with 74 islands, dozens of beaches and kilometres of reefs teeming with marine life. Unparalleled in its appeal to snorkelers, scuba divers and boaties, it is an aquatic paradise.
Because the Whitsundays are located in the tropics, swimming is often on the agenda to cool down from the hot sun. With creeks, beaches and the open ocean at the doorstep of the Whitsundays, there is no lack of places to enjoy a relaxing swim.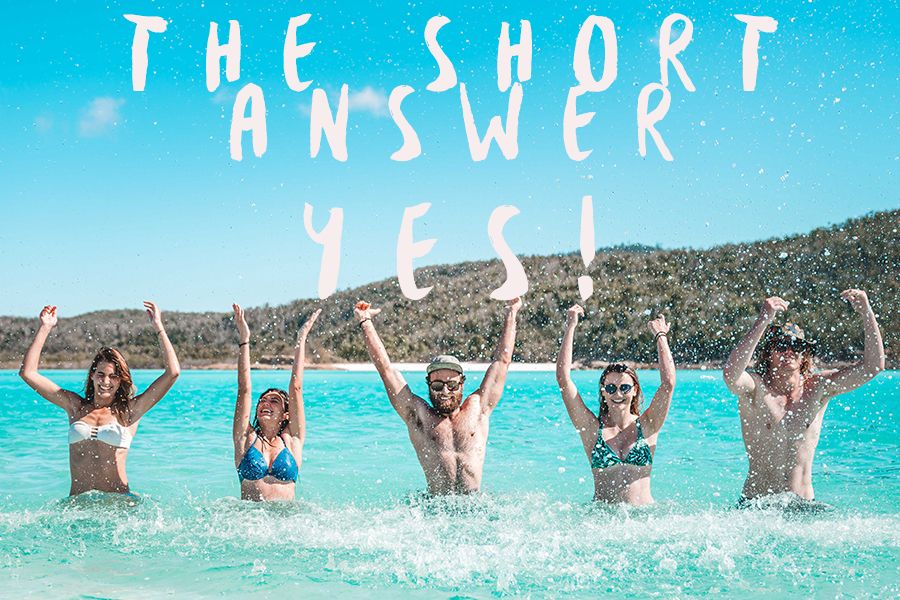 ---
Stinger Season
For half the year, it is advised to swim in the Whitsundays' waters with a stinger suit, unless swimming in freshwater. Due to increased temperatures, there is an increase in marine stingers that can be harmful and potentially deadly. For this reason, when snorkelling or doing any water activities in the ocean from October - May it is recommended, if not enforced, that you wear a stinger suit to protect yourself.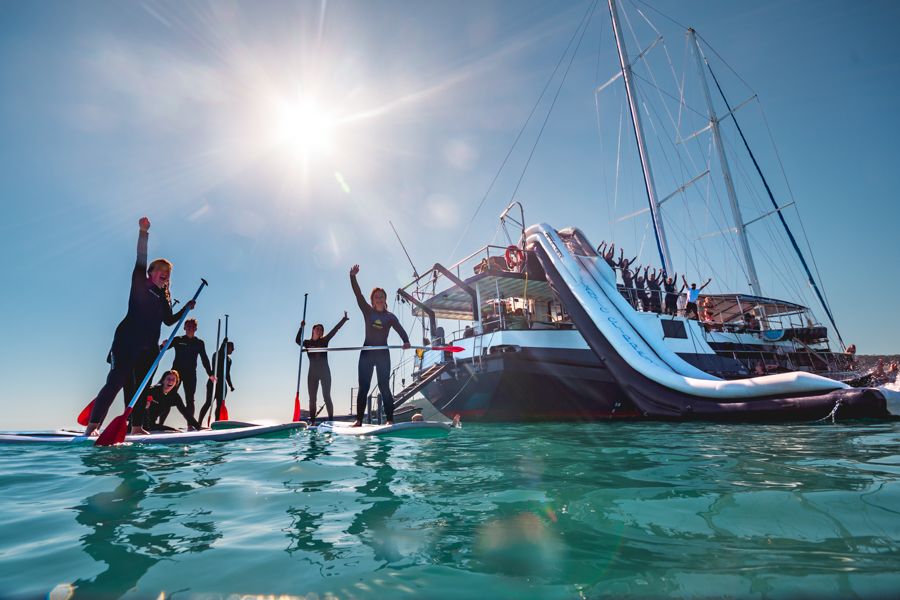 ---
Airlie Beach Lagoon
If you're staying in Airlie Beach during stinger season, it's always a good choice to swim at Airlie Beach lagoon, where you have a safe place to swim with lifeguards and no marine stingers. Located in the heart of the town, it's a popular choice for local families and tourists alike, with change rooms, showers, and even barbeques, there is plenty of space to relax!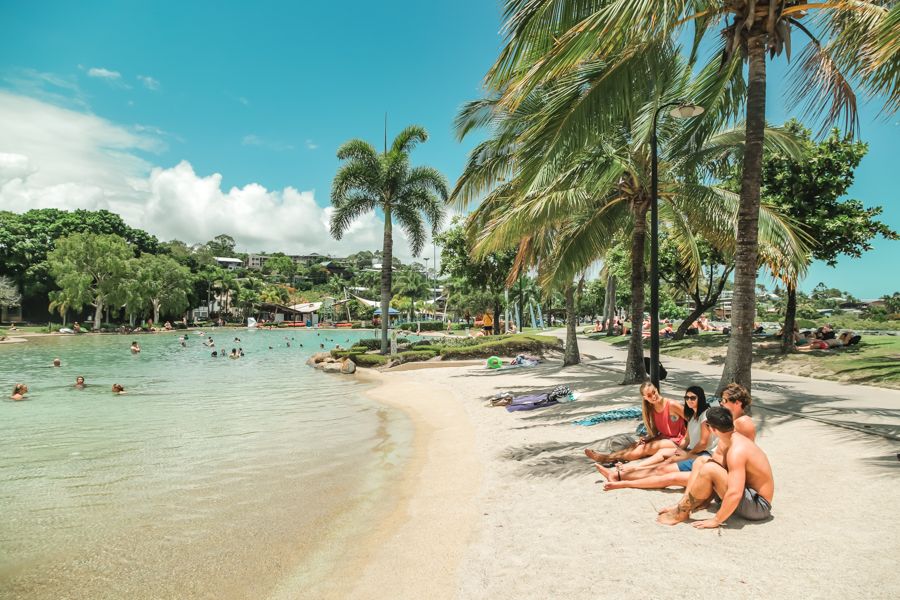 ---
Beaches
Also located in the town of Airlie Beach is the man-made Boathaven Beach. Located on the Eastern part of town, it is a sandy beach with stinger net so it's much safer than swimming in the open ocean during stinger season.
Other beaches that are easy to get to by car (rather than by boat) are Horseshoe Bay in Bowen and Hydeaway Bay on the northern end of the Whitsundays, which are both great for swimming with calm beaches and stunning views.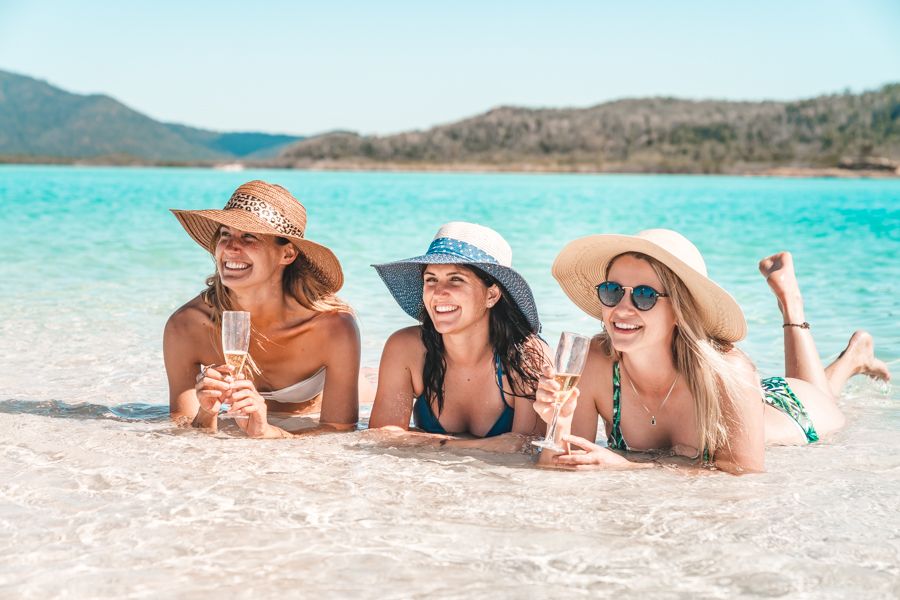 By boat you can visit Catseye Beach, Chalkies Beach or Whitehaven Beach, to name a few. Obviously, these can be a bit more challenging to get to, as they can't be accessed by land, but all are worth checking out. Catseye Beach is located on Hamilton Island in the lap of luxury, providing a relaxing place to swim and sunbathe, with non motorised water sports available, and a swim-up bar and pool at your disposal! Daydream Island also has several idyllic beaches, including Lover's Cove and Mermaid Beach. Chalkies and Whitehaven both sport the famous white silica sands that the Whitsundays are known for, offering an experience you will not soon forget. Isolated and untouched, both beaches are a gateway into the natural beauty of the Whitsunday Islands. If you are short on time, you can still pop over to the resort islands mentioned above for the day-Click here for more info!
---
Snorkelling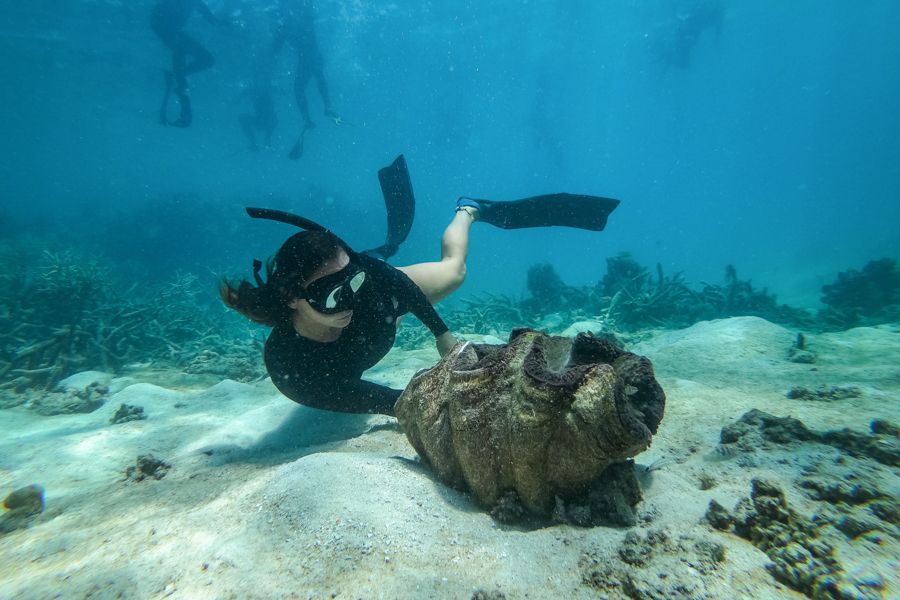 Beaches aside, the best chance you will have to go swimming while staying in the Whitsundays is while you're on a boat tour. While snorkelling with the whole ocean at your fingertips, there is no shortage of wonders to explore under the surface. Again, it's important to wear a stinger suit during stinger season to minimize your chances of being stung, but during the other months, boardies and bikinis are fine (even in winter months the water doesn't get cold, it averages 26 degrees Celsius!). Short on time? No worries, you can take a fast day boat and still get in some snorkel time!
---
Waterfalls & Swimming Holes
There are a few freshwater places to swim that are inland, such as Cedar Creek or Finch Hatton Gorge for those looking for cooler, flowing water away from the ocean. These are great if you want to swim inside of the forests, surrounded by the green trees rather than the blue ocean! Cedar Creek is located close to Airlie Beach and makes for a great afternoon swim, while Finch Hatton Gorge is a couple of hours drive into the mountains as well as a short hike to the swimming hole. Not driving? Hire a car for the day and get exploring!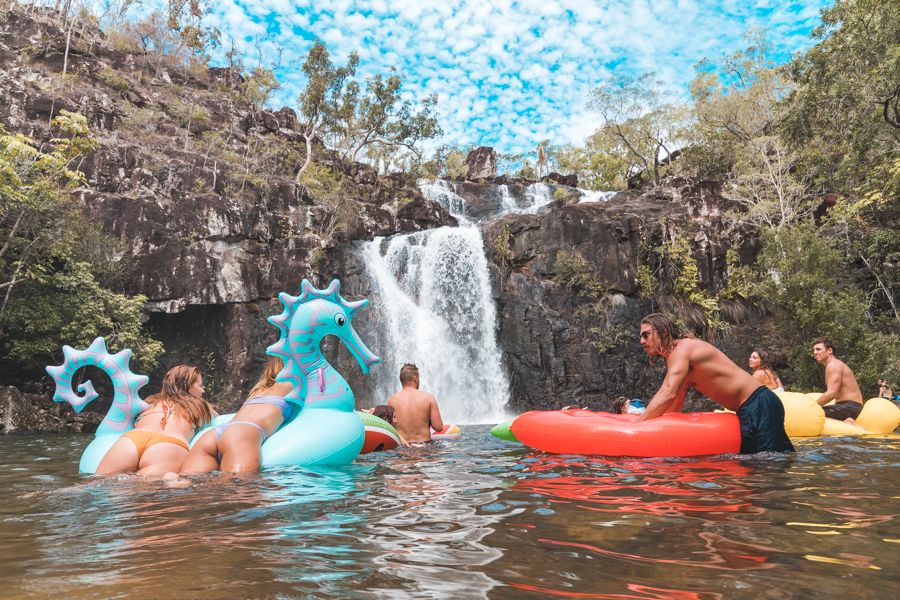 A good tip when looking for somewhere great to go swimming is just like any other travelling tip: ask the locals! They will know where is best to go and why, how to get there and what to bring. With a plethora of places to swim, the challenge will be trying them all out until you find the best one for you.