Always On in the Whitsundays
Updated Fri 12 Aug 2022
From the land to the sea, the Whitsundays is home to silica sand beaches, vivid inner fringing reefs, lush island atmospheres, and an abundance of overnight sailing adventures that bring every tropical travel dream to life!
Getting to and around the Whitsunday Islands has never been easier, with convenient flight paths between Australia's cities and the Whitsunday Coast Airport. Whether you choose to fly, bus, or embark on an East Coast road trip, endless summer temperatures and indulgent island time are always on in the Whitsundays.
Year-round getaways in the Whitsundays are here to stay! Our team of island experts and travel enthusiasts are here to let you know all about getting to Airlie Beach, weather in the Whitsundays, getting out to the Whitsunday Islands, and the best tours in the Whitsundays - time to hop aboard avid sailors!
Contents
---
Getting to Airlie Beach
One of the best things about Airlie Beach, the mainland centre of the Whitsundays region, is that travellers and holidaymakers can choose to fly, bus, train, or drive from the majority of Australia's eastern coastline cities.
If you're on a budget, we recommend keeping an eye out for the regular flight deals during the shoulder seasons, or considering bus travel if you're on an adventure-filled East Coast trip!
Travelling by air
Situated 1, 000 kilometres north of Queensland's capital city of Brisbane, the most popular way to get to Airlie Beach is to fly directly to the Whitsunday Coast Airport, and then take a short transfer bus to Airlie Beach.
Conveniently, the Whitsunday Coast Airport is serviced by domestic airlines Qantas, Jetstar, Virgin, and Skytrans, which offers direct flights between Brisbane, Melbourne, Sydney, Cairns, and Rockhampton. Daily flights from Brisbane to the Whitsunday Coast Airport, and vice versa, generally take an hour and a half.
Upon arriving at the Whitsunday Coast Airport, which is located 26 kilometres southwest of Airlie Beach in Proserpine, visitors can book a seat on an airport transfer service to reach their accommodation. With shuttle buses and taxis meeting every incoming flight to transfer guests to various drop-off points in Airlie Beach, air travel to the Whitsundays has never been more effortless!
---
Travelling by car
Roadtrips are always welcomed in the Whitsundays! With delightful seaside towns dotted along the coastline, gleaming stretches of turquoise waters, and vast rich red grounds as far as the eye can see, it is best to rest and enjoy the journey to the Whitsundays!
Many travellers often forget that the distance between the Whitsundays and major cities around Queensland is large, with approximately 13 hours between Brisbane and Airlie Beach and 8 hours between Cairns and Airlie Beach. Therefore, we recommend planning and checking out these East Coast itinerary highlights in advance!
Despite the distance, the drive to Airlie Beach from the north or south is relatively easy and signposted, as the Bruce Highway (Highway 1) runs along the entire eastern coastline of Australia. Once Proserpine is reached, travellers simply have to take the turn-off to Airlie Beach and follow Shute Harbour Road until reaching town.
For those East Coast travellers seeking the best in car rental prices, live chat with our friendly staff today!
---
Travelling by bus
For backpackers and locals alike, bus transport between Airlie Beach and the major East Coast cities and towns remains one of the most popular budget modes of transport. Not to mention the most eco-friendly!
Leading interstate coach companies, Greyhound and Premier offer affordable and comfortable direct coaches that operate regularly along the eastern coastline, from Brisbane to Cairns and everywhere in between. We recommend booking your tickets as early as possible to secure the lowest prices - be sure to live chat with our local team of experts for all your bus travel needs.
---
Travelling by train
Visitors searching for a charming, leisurely way to travel with ease through the sunny state of Queensland have the option to board the Spirit of Queensland, a long-distance rail train that conveniently travels between Brisbane and Cairns five times a week!
A semi-luxury train, passengers have the option to book an economy seat or Railbed for their journey. Arriving from the south at Proserpine Station by 6:40 am, passengers can board the Railbus connection that stops at Cannonvale, the Coral Sea Marina, Airlie Main Street, the Port of Airlie, Jubilee Pocket, and Shute Harbour shortly after.
---
Weather in the Whitsundays
The tropical weather is always on in the Whitsundays, boasting average year-round temperatures of 27.5°C, ideal weather conditions for snorkelling adventures and poolside cocktails during every season!
Located between the Tropic of Capricorn and Tropic of Cancer, summer in the Whitsundays is humid and brings along a wet season that typically receives between 200 to 300 mm of monthly rainfall from January to March. Winter months, unlike most of Australia's holiday destinations, maintain warm tropical temperatures of up to 23°C from June to August and receive extremely low amounts of rainfall. To start planning your Whitsundays trip, for any tropical month of the year, check out our Weather in the Whitsundays article for all average monthly temperatures of the region.
From the islands to the sea, the ocean temperatures in the Whitsundays average 25°C year-round, creating consistently warm environments for visitors to explore the teeming inner fringing reefs sprawling off the Whitsunday Islands.
Attracting sun-seeking crowds of both national and international travellers each year, there is never a bad time of the year to turn your watch to island time and fill your days with blissful island-hopping adventures and seaside relaxation!
---
Getting out to the Whitsunday Islands
The Whitsundays is home to numerous coastal towns and a collection of 74 tropical islands that are nestled adjacent to the mainland. With a variety of leisurely and adventurous day and overnight boat tours to choose from, and mainland CBDs that offer everything a traveller needs during their stay, most visitors will not need a car in the Whitsundays unless they plan on exploring outside of Airlie Beach amongst the Whitsundays mainland regions.
Year-round, the best way to get out to the Whitsunday Islands is aboard a day or overnight tour departing from Airlie Beach! Depending on how much time visitors have in the Whitsundays, which destinations fill their Whitsundays bucket list, and their budget, they may choose to hop aboard an action-packed day trip brimming time at Whitehaven Beach and Hill Inlet or explore the lesser-known coves and bays of Hook Island in the north aboard an overnight sailing catamaran!
---
Getting to Hamilton Island
As one of Australia's most popular tropical island destinations, visitors can get to Hamilton Island by both regular air and ferry services. Once holidaymakers reach the luxurious palm-fringed shorelines of Hamilton Island, they can get around the island conveniently via shuttle buses, hired buggies, or by foot.
For holidaymakers planning on spending the majority of their time in the Whitsundays on Hamilton Island, the Hamilton Island Airport (HTI) is serviced by daily Qantas, Jetstar, and Virgin flights that run from Brisbane, Melbourne, and Sydney. With year-round luxe island atmospheres, gleaming poolside locations, and endless adventures to be had in and out of the water, good times are always had on Hamilton Island!
With passenger ferry services departing multiple times a day from two convenient locations on the Whitsundays mainland, the Port of Airlie Marina and Shute Harbour, there is a single-day or long weekend Hamilton Island itinerary for everyone situated on the Whitsundays mainland. From Airlie Beach, the ferry service takes approximately 60 minutes to reach Hamilton Island, with the CW: Island Hopper Pass offering the flexibility to explore the resort islands your way in one sun-soaked day laden with fun!
---
Always On Tours in the Whitsundays
Bright blue skies, calm ocean breezes, and a plethora of world-renowned reef and island destinations create dreamy Whitsunday itineraries for every type of traveller and budget! The best way to experience the wonder of the reef is to embark on an action-packed day tour or blissful overnight sailing adventure from the seaside town of Airlie Beach.
No matter what time of the year these Whitsundays tours are always on, ready to cruise guests between the glistening gems of our backyard - be sure to check out our last-minute deals and tours on sale now, to pop open the bubbly and find your very own sunkissed Below Deck Whitsundays escape!
---
Hop aboard Whitsunday Bullet for the ride of your life around the Whitsunday Islands! As one of the region's fastest power catamarans, guests can cruise at top speeds from one dazzling Whitsundays highlight to the next on a day filled with breezy island time and exotic underwater adventures. After visiting the likes of renowned getaway locations Whitehaven Beach and Hill Inlet, guests can end their day with a snorkel amongst one of the Great Barrier Reef's teeming inner reef systems and have a laugh gliding along on the stand-up paddleboards!
---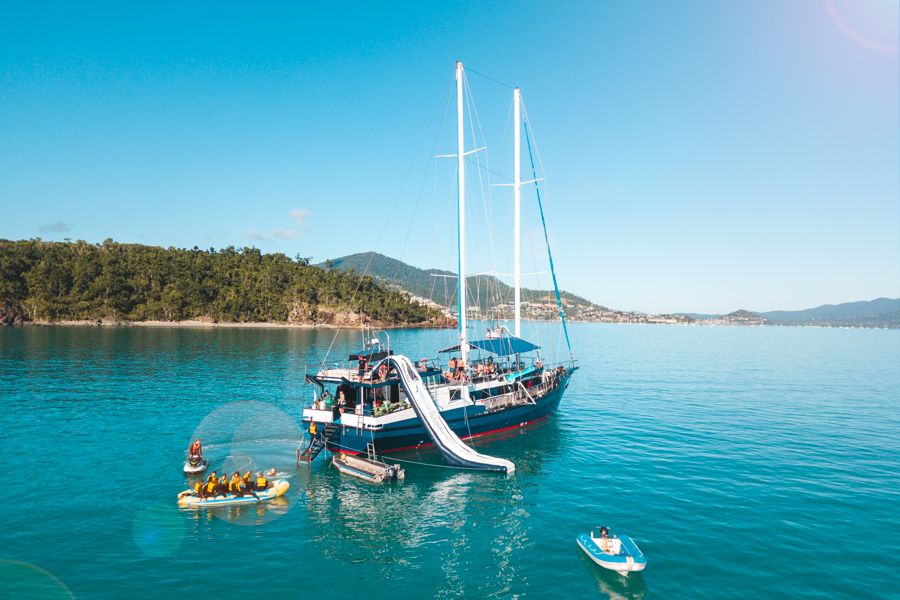 Renowned along Australia's bustling East Coast as one of the largest and liveliest overnight tours in the Whitsundays, the mega yacht Atlantic Clipper boasts a fun-packed social itinerary perfect for backpackers and adventure-seekers! Coming in at 111 feet and taking up to 54 passengers per trip, guests can fill their days with time exploring Whitehaven Beach and Hill Inlet, and snorkelling and scuba diving amongst the flourishing inner fringing reefs. Combining jam-packed days of island laughs with sunset drinks and festive jacuzzi time, two nights aboard Clipper are sure to fill your cup!
---
Boasting little luxuries and a flexible itinerary brimming with the astounding natural wonders of the Whitsunday Islands, a getaway aboard the sleek Powerplay catamaran will bring every worldwide tropical daydream to life! Wake to the soft lull of the ocean, and fill your days with secluded coral-lined shorelines, vibrant coral reef destinations, stand-up paddleboarding fun, and the Whitsunday's renowned highlights. Following adventurous days, relax amongst Powerplay's spacious front nets, in the heated onboard jacuzzi, and along the spacious decks. Ideal for those seeking intimate memories and a laugh with friends new and old!
---
A spectacular and unique overnight tour, the ever-popular Reefsleep grants guests the chance to explore the pristine Outer Great Barrier Reef by day and fall asleep under the stars by night in their very own spacious Reefbed. As the only tour of its kind in the Whitsundays, travellers cruise to the permanently-moored Reefworld pontoon and have two full days to snorkel and scuba dive amongst the biodiverse coral walls of Hardy Reef. By sunset, indulge in delicious alfresco nibbles and all-inclusive beverages, followed by an unforgettable starlit dining experience!
---
There is no better way to celebrate a Whitsundays sunset than aboard the iconic tall ship Providence V with a cheeky glass of bubbly in hand! Treat yourself, your partner, or your holiday crew to an unforgettable social sunset sail across the mesmerising Pioneer Bay from Airlie Beach. Perfect for those short on time or planning a special celebration, there is nothing better than catching the breeze and enjoying a fully licensed bar as you slip into a stunning melt of striking orange and pink hues!
The Whitsundays travel dreaming begins here! For the best of local tips and must-experiences be sure to check out our Official Guide to the Whitsundays and Airlie Beach.
---
Whitsundays adventures are always on, it's time to start planning your dreamy tropical escape!
Live chat with a local travel expert or call us on +61 7 4914 2425 for a free personalised Whitsundays itinerary!