How to get to Airlie Beach from Brisbane
Updated Wed 25 May 2022
One of the best things about Airlie Beach, the vibrant hub of the Whitsundays region and getaway to the Great Barrier Reef Marine Park, is that you can choose to fly, drive, bus, or train from the majority of Australia's major cities that are located on the eastern coastline!
The Whitsundays region is located 1,000 kilometres from Queensland's capital city of Brisbane. As there aren't any major cities located between Brisbane and Cairns, many travellers often underestimate the seemingly endless distance of Australia's east coast, especially the Bruce Highway's long stretches of single lanes! It is important to leave plenty of time to reach the world-renowned shorelines of the Whitsundays from Brisbane to Airlie Beach!
Every traveller to Airlie Beach has a different itinerary, perhaps your road-tripping north solo or with friends, eager for a weekend girls or couples getaway, or planning a school holiday adventure for you and your family. Depending on your time frame and budget there are a variety of ways to get to Airlie Beach from Brisbane - let us fill you in!
---
Travelling by air
The most convenient and popular way to get to Airlie Beach from Brisbane is to fly directly to the Whitsunday Coast Airport, and then take a short transfer bus to Airlie Beach. The Whitsunday Coast Airport is serviced by domestic airlines Qantas, Jetstar, and Virgin. Flights from Brisbane to Airlie Beach, and vice versa, run daily and generally take an hour and a half.
As the Whitsunday Coast Airport is located in Proserpine, 26 kilometres southwest of Airlie Beach, travellers will need to book a seat on an airport transfer service to reach their accommodation. Shuttle buses and taxis meet every flight to transfer guests to various drop off points in Airlie Beach.
Alternatively, Hamilton Island Airport (HTI) is located a 50-minute ferry ride to the mainland of Airlie Beach. Regular Qantas, Jetstar, and Virgin flights run from Brisbane to Hamilton Island, and vice versa. Keep in mind that in addition to flight costs, you will need to book and pay for a passenger ferry transfer!
Although flight prices do change throughout the year, keep an eye out for special offers during the wet season and shoulder seasons if you're on a budget!
---
Travelling by car
Eager to see the rich red grounds, gleaming turquoise waters, and vast stretches of north Queensland vegetation - a road trip from Brisbane to Airlie Beach is calling!
The 1,100-kilometre drive from Brisbane to Airlie Beach takes approximately 13 hours to complete. We definitely don't recommend driving the long distance in one day though - it is best to enjoy the journey!
From Brisbane, the Bruce Highway (Highway 1) runs along the eastern coastline of Australia, meaning it is a relatively easy drive that is signposted the whole way, both north and south. Once Prosperpine is reached, travellers simply have to take the turn-off to Airlie Beach, and follow Shute Harbour Road until entering the colourful coastal hub of Airlie Beach. If you're about to journey the wide-open roads, make sure to read our top tips for travelling Australia in a campervan. For those East Coast travellers seeking the best in car rental prices, live chat with our friendly staff today.
If you are on a time limit from Brisbane to Airlie Beach we recommend stopping for a night or two in the laid-back townships of either Agnes Water or Yeppoon. Once arriving in Airlie Beach, be sure to check out our teeming list of places to park your campervan!
---
Travelling by bus
Bus transport to Airlie Beach from the major cities remains one of the most popular modes of transport, especially amongst backpackers. Did you know that buses have the smallest carbon footprint of all the transport options from Brisbane to Airlie Beach!
A typical coach ride from Brisbane departs in the early afternoon and arrives in Airlie Beach the following morning, generally taking 20 hours. Leading interstate coach companies, Greyhound and Premier, offer affordable and comfortable direct regular coaches from Brisbane to Airlie Beach and vice versa. We recommend booking your tickets as early as possible to secure the lowest prices, which generally range from $150 to $200 for a one-way ticket between Brisbane and Airlie Beach!
A huge advantage to bus transport between Brisbane and Airlie Beach is that passengers get to experience Australia's diverse and changing landscapes as they travel further north. However, if you're looking to reach Airlie Beach quickly be sure to keep an eye out for regular flight deals between Brisbane and the Whitsunday Coast Airport!
---
Travelling by train
Searching for a charming, spacious way to travel from Brisbane to Airlie Beach? The Spirit of Queensland's long-distance rail travels between Brisbane and Cairns five times a week, stopping in Proserpine, with a Railbus Coach connection to Airlie Beach. A semi-luxury train, passengers have the option to book an economy seat or Railbed for their spirited journey!
The Spirit of Queensland departs from Roma Street Station in Brisbane at 3:45 pm Monday, Tuesday, Wednesday, Friday, and Saturday*. Travelling through Queensland's major towns, the Spirit of Queensland reaches Prosperpine Station by 6:40 am the following morning*. A Railbus Coach connection leaves shortly after, stopping at Cannnonvale, Coral Sea Marina, Airlie Main Street, Port of Airlie, Jubilee Pocket, and Shute Harbour. In total, the train trip from Brisbane to Airlie Beach takes 15 hours and 40 minutes.
Tickets generally range from $190 for an economy seat and $330 for a Railbed on a one-way trip aboard the Spirit of Queensland from Brisbane to Airlie Beach. Rail travel is a perfect option for those holidaymakers wishing to travel leisurely and with ease through Queensland!
* prices and timetable information are subject to change
---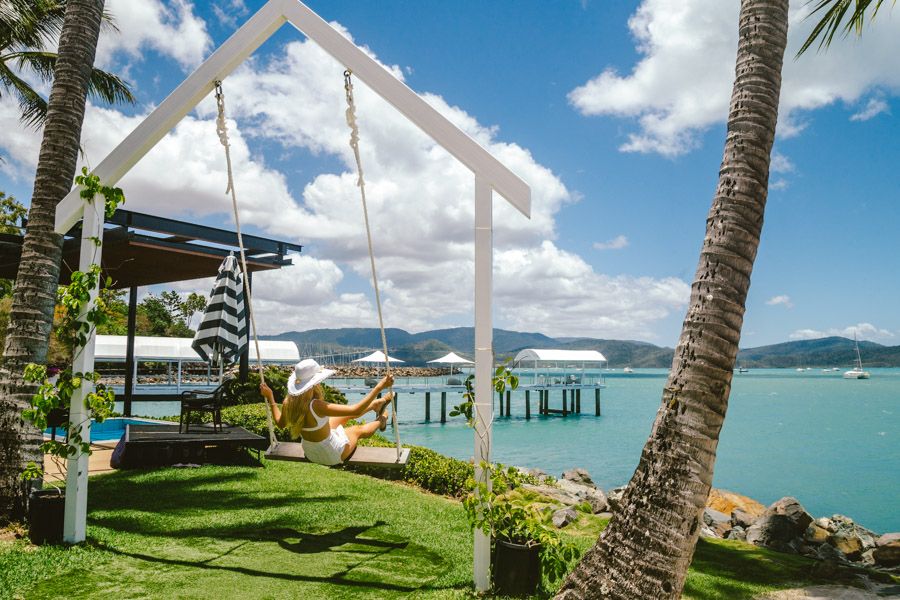 Now it's time to unwind from the daily grind of city life! Lucky you're in Airlie Beach, the getaway to the Great Barrier Reef Marine Park, and a vibrant coastal hub filled with restaurants, bars and clubs!
We recommend you check out our guide on how to do the Whitsundays - whether you're on a budget, seeking luxury, or ready for an adventure there is an itinerary for everyone!
---
We can't wait for you to explore our Whitsundays backyard!
Live chat with a team member or call us on +61 7 4914 2425 for expert local advice and deals!