Whitsundays Girls Weekends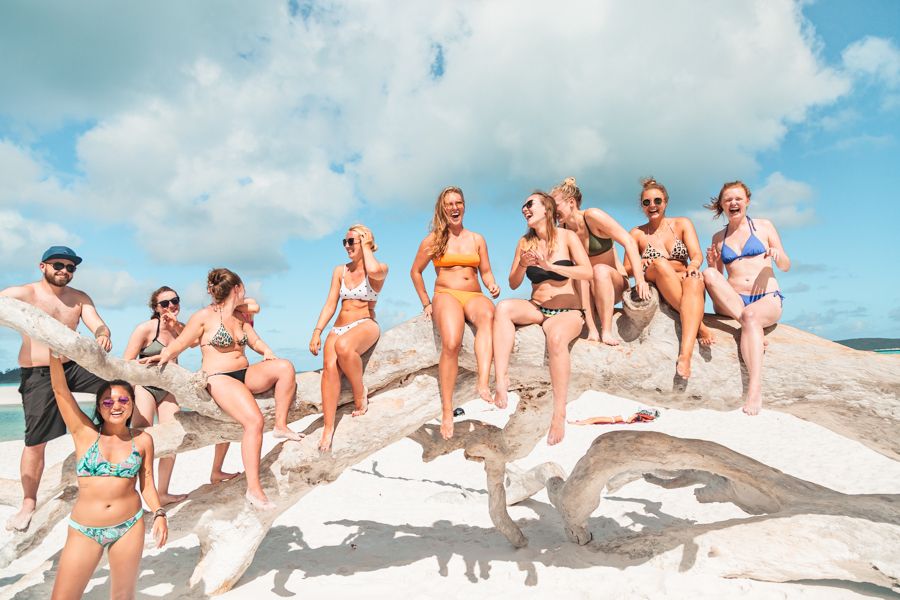 Whether you're planning a hen's party, catching up with your girls after who knows how long, or wanting a wild girls' weekend away, the Whitsundays have everything and more. Airlie Beach and the Whitsundays are known for more than their beautiful beaches and scenery, with a bustling nightlife and party boats galore, we've put together the ULTIMATE GUIDE for the perfect girls weekend!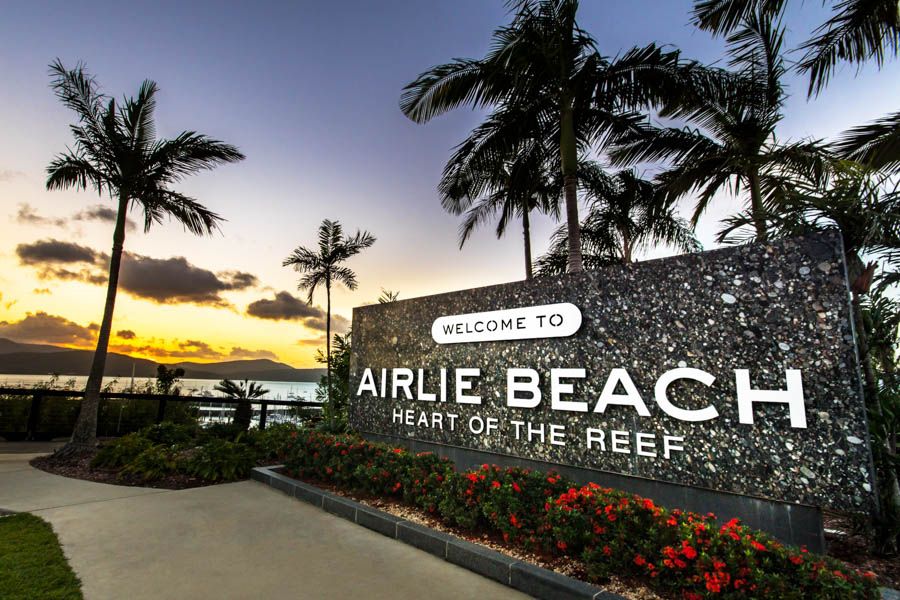 Airlie Beach
Getting Here
Getting to the Whitsundays is easier than you think. If you live close to the region, driving to Airlie Beach via the Bruce Highway is the only way in and the only way out… That being said, make sure if you're starting the party before arriving in town, you have a designated driver to get yourselves here and back again, as RBTs are performed regularly and randomly in Airlie Beach - You wouldn't want to kick off the weekend on the wrong foot!
Alternatively, if none of you draws the short straw or driving is off the cards, there are flights into Whitsunday Coast and Hamilton Island Airports from all major cities. Find out more about the best option for you here.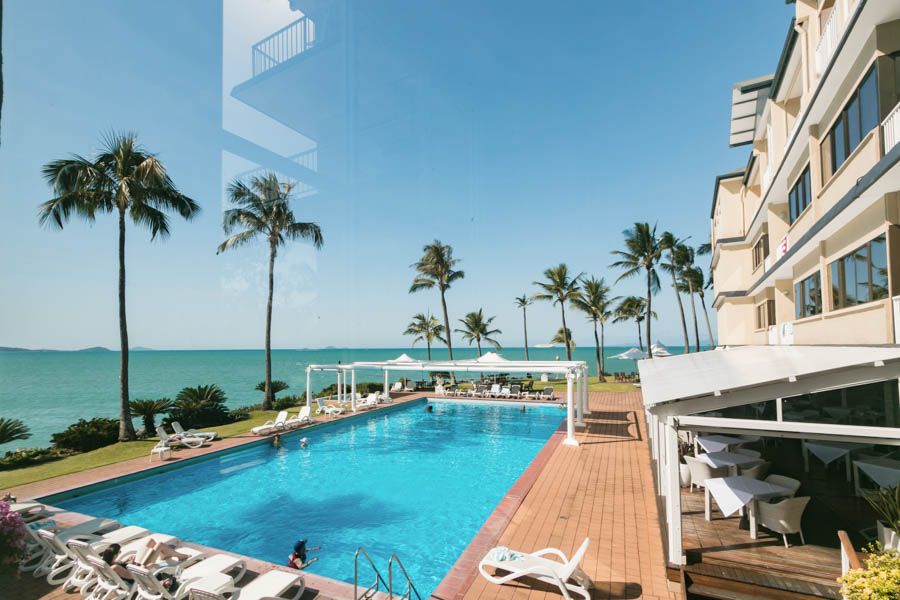 Where To Stay
Airlie Beach has accommodation to suit every budget and need, from AirBnBs, hostels, to mid-range hotels and luxurious holiday homes. What you really want to work out is:
1) How far do you want to be from the action?
2) Are any of your friends REALLY going to walk from your accommodation in stupidly high heels like a pack of awkward flamingos (not to mention the walk home)?
3) Is one (or several of) your friends recovering from a breakup and is just taking some "time for me," but you just know that may not be the case after a couple of tequila shots?
4) Will you need a stripper?
The main street of Airlie Beach is flat, but the surrounds are quite hilly, so be warned if you're staying somewhere steep. We see it all the time, it always ends in tears. Generally speaking, maxi taxis are an affordable option from just about anywhere, (just make sure your hot mess friend who always chunders is willing to foot the cleaning bill!).
If you're deciding whether to AirBnB or get a large house for all of you to share, bear in mind those in your group single-ready-to-mingle and those that need 14 hours of sleep every night to function the next day. It's also a good idea to check out their party policies. If you are all happy to stay in the same hotel but get separate rooms, this could be a good alternative for mixed groups like this, but it will make getting ready together a challenge.
If you're classing it up with a male stripper, you may also want to seek out more private accommodation. Don't worry, if your weird cousin Stacey is freaked out about a male stripper, she can stay home - Or you can just opt to have him serve you drinks topless instead and get off on that whole damn-the-patriarchy-objectifying -role-reversal we all enjoy!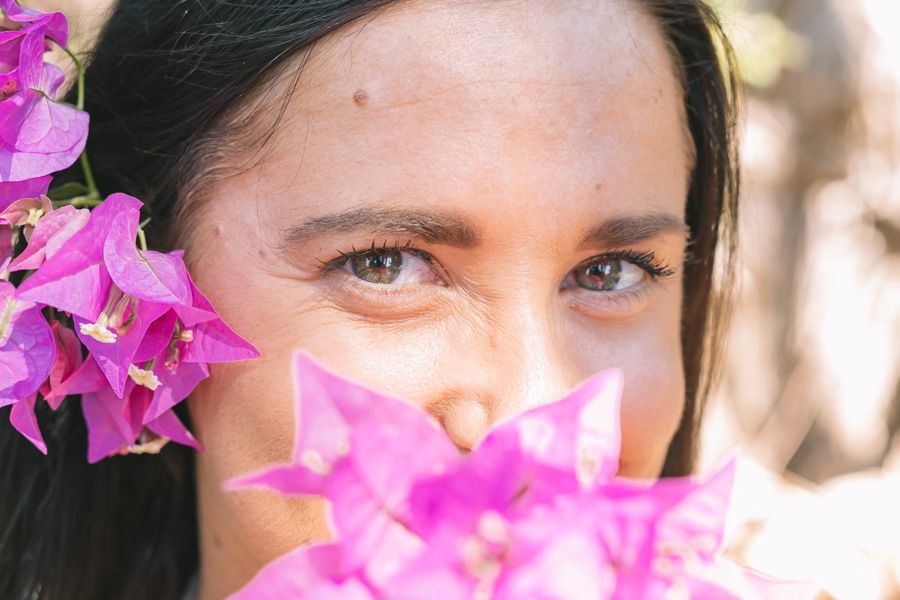 Where To Glam Up
If you feel incomplete without a kilo of makeup on and your hair blown out like a troll, you'll want to pre-book somewhere to get dolled up before you turn into a hot mess later in the night. Organica Hair + Body Bar offers cheese platter and bubbles packages for groups, and they're conveniently located at the end of the main street. They offer natural and organic products, so you can feel a little better about yourself and the environment, (plus you can BYO).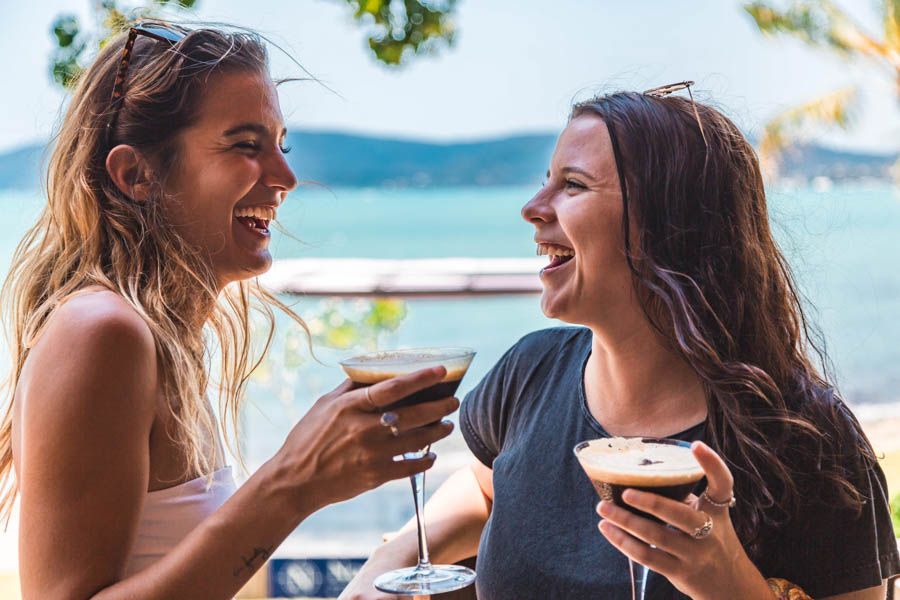 Where To Get Your Pre-Drink On
If you're ready to get the night going right, there are heaps of places boasting glorious sunsets, a relaxed atmosphere, and good music. Some, including the new locals favourite Northerlies even have complimentary shuttles throughout the day. For sunsets, we recommend Sorrento at Abell Point Marina, for incredible vantage points we recommend Anchor Bar, and for great cocktails in town, Breeze Bar. If you're renting a house, why not have your topless man-slave just serve you up some bevies before heading out?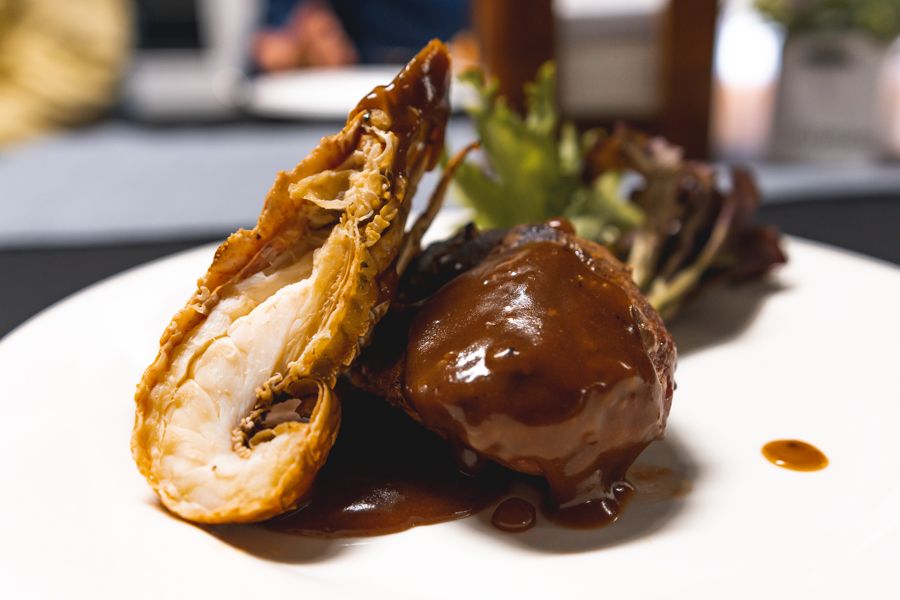 Where To eat
We know what they say - Eating is cheating. But if you were really "responsible" you would definitely be better off getting some carbs in before the drinks really start to flow. Plus, it would be a shame to miss out on some of the great dining options Airlie Beach has to offer! Some of our favourites include Fish D'vine for fabulous seafood, The Pub at Airlie Beach Hotel, and the American inspired street eats of Little Vegas. (I'll save the dirty late-night food for later). For a full list of our favourites, click here.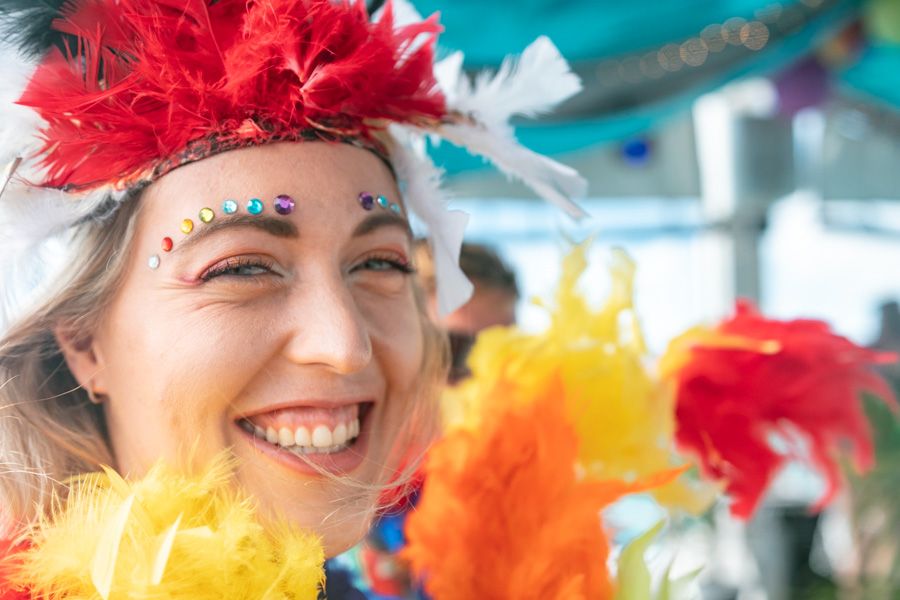 Where To Party
Airlie Beach is known for its ampul pubs and clubs, and when its go time you probably want to start at Airlie Beach's watering hole: Magnums. Don't be fooled by it's laid back vibe, weekends are pumping at Magnums, and it caters for people wanting some doof-doof inside the "chapel" as well as some acoustic entertainment out on the boardwalk. There are even wet t-shirt competitions if you need to work through some Daddy issues and earn some extra cash at the same time! With $5 pints and $10 jugs of beer, it's a favourite amongst locals.
Another laid back jumping-off point is Beaches, where you'll also find live music and cold beers. Check to see if it's 'ladies night," where you'll get a punch card for three glasses of bubbles on the house. Most places in Airlie know your milkshakes bring all the boys to the yard, so if you see door girls earlier in the night passing out VIP cards before the nightclubs open, grab one! The clubs often charge an entry fee in peak season, so this could save you some coin.
Once the night starts picking up, head over to Paddy Shenanigans, where you can get teapots full of… Well, we don't actually know, or remember, but we're sure that's a good sign! Paddy's also hosts two stages, and start out with a solo guitarist usually, followed by a big band on the second stage later in the night.
Once the signature "closing time" starts playing and the lights come up, never fear, you won't have to go home with whoever is left standing, there is still Boom nightclub just next door, and the DJ will be well warmed up by then.
Across the road lies Mama Africa, and this is where you'll probably forget the rest of your night. Signature cocktails and African inspired decor, you'll want to let your hair down and have a boogie on the dancefloor before you turn into a pumpkin. Lockout is 3 am, and doors close at 5am, so better be in it to win it!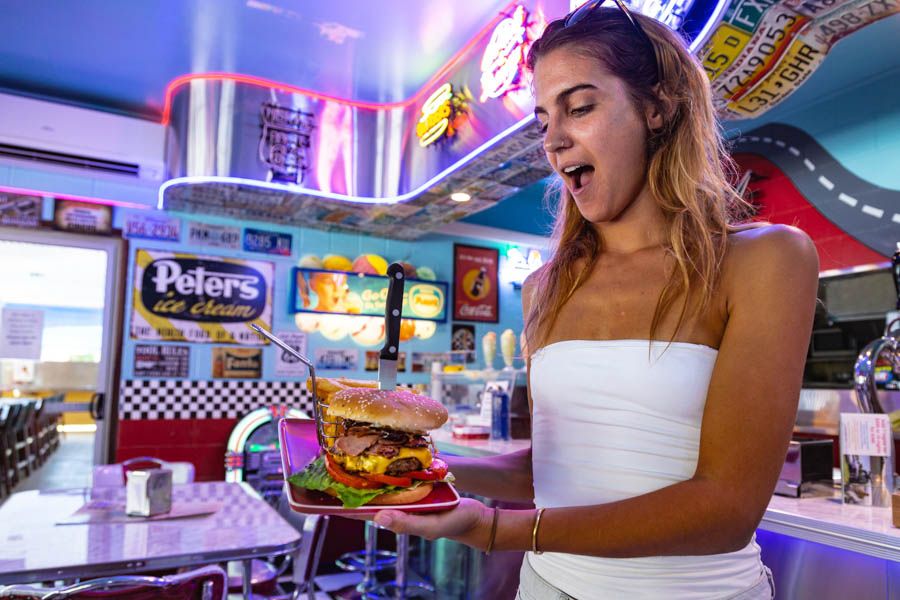 Late Night Munchies
If your mates survive Mama's, you'll probably be at a stage where you're all professing your love for one another, (save for your overemotional mate who is probably crying with her shoes off in an alleyway somewhere) or ready for some more fuel. Late-night munchies are all a part of the experience, and closest to the nightclub is some amazing Chinese takeaway (or at least we think it is at that stage). Further down there is a banging kebab shop, and if you're really feeling like some fine cuisine, there is a 24-hour Maccas right across from the taxi rank, complete with its own security guard!
If you don't want to leave Airlie with more than just memories, there are two Night Owls located on either end of the main street to pick up any last-minute necessities… Like chocolate! (what did you think we were implying?)

On the Water
If you're keen to get out amongst the Whitsunday Islands instead of spending the weekend in town, there are several options you can choose to do a little of land, a little on the water or both!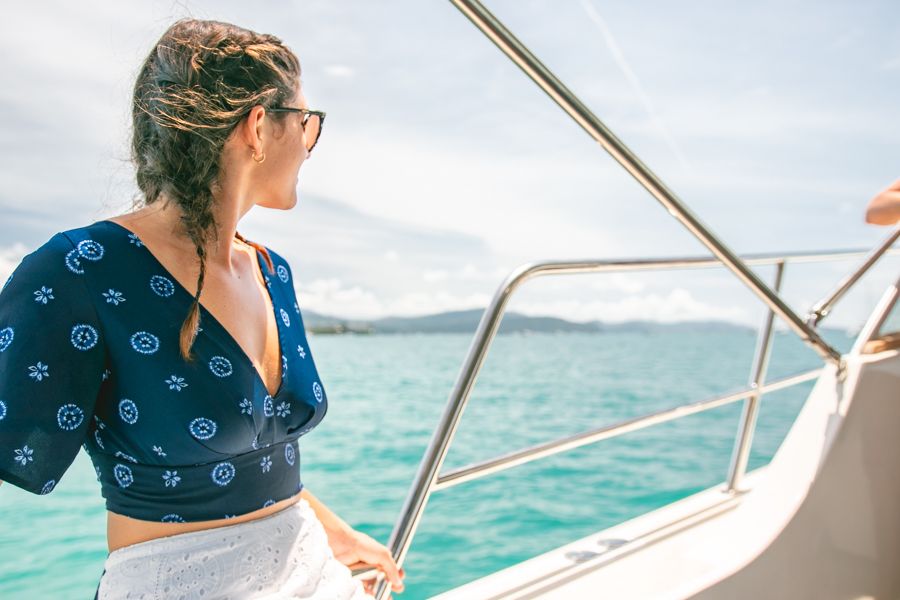 Day Tours
If a little more action is more up your alley, there are several day tours to get you wet and wild on the water before you get wet and wild in town. Ocean Rafting is a fun and affordable option, complete with spinning doughnuts and a trip to Whitehaven Beach. Camira is another favourite and one of the only day sailing options that take you to Whitehaven. This is also a booze cruise, with an open bar included!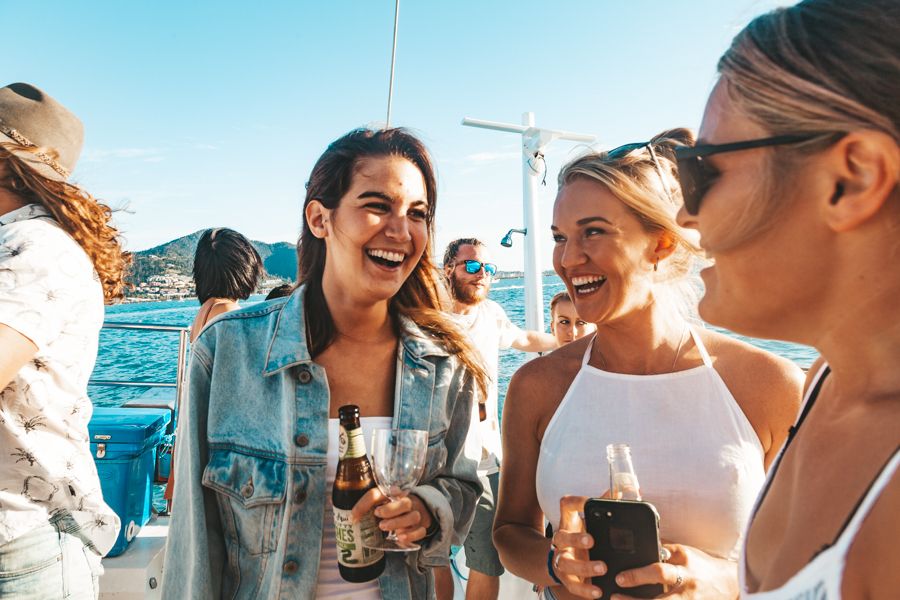 Sunset Tours
If you want to get on the water but don't want to go all day or overnight, a sunset boat ride may be just the thing. There are several options including comfy catamarans with a bar and beautiful sailing yachts that cater. A new favourite seasonal sunset option is Camira's Sunset Sail, which is all-inclusive and even offers live music, and for a luxury sunset sail, S.V. Sabatayn. This is a great pre-dinner or drinks option, and you can also package with a topless waiter or male stripper to drag along for the ride (sorry Stacey). If your budget allows is, sex toy parties are also a big hit, and there are plenty of packages that will combine the 3 for an extra cost per head (no pun intended).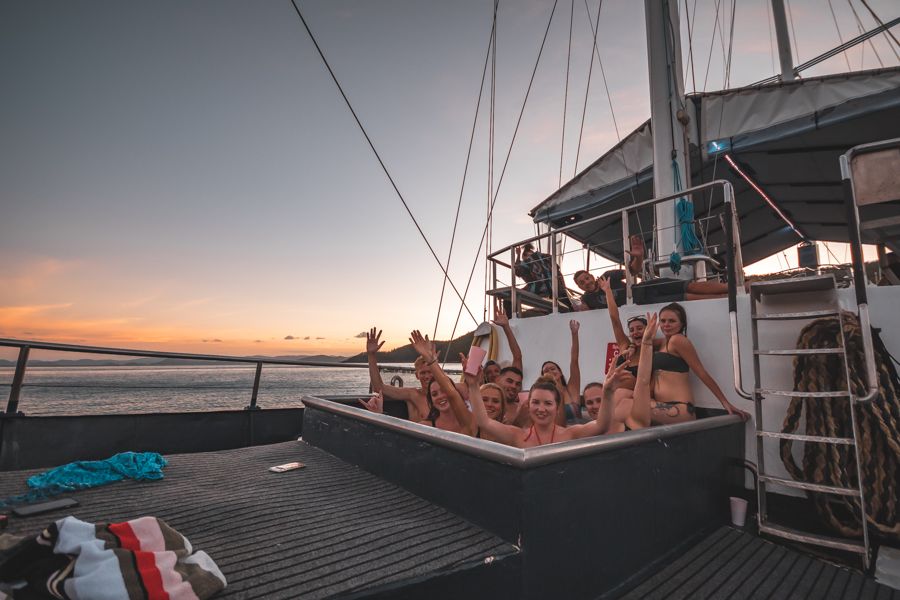 Overnight Party Boats
If you'd like less photo evidence of your debauchery while enjoying some of the natural beauty the Whitsundays has to offer, an overnight party boat may be just the thing. Many tour operators offer private charters, and most boats are BYO, and all are fully catered. Some of our favourites if you're looking to mingle include Atlantic Clipper or New Horizon!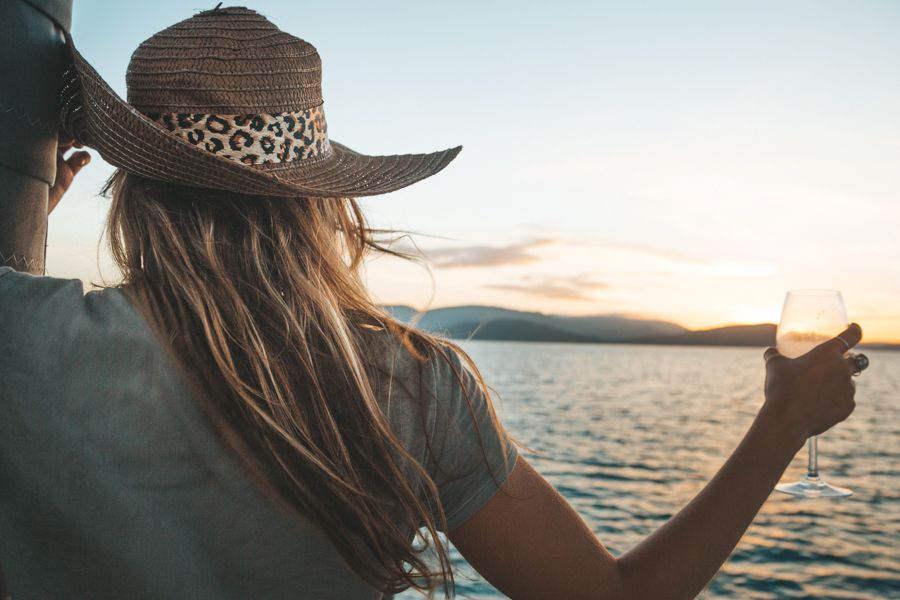 Private Charters
Most overnight boats also offer private charters as an alternative, if you have a larger group or want to keep your party private. Choose the vessel that is perfect for you, then decide what departure/return times suit you, and let our team do the rest! They can customise your itinerary too, as well as cater to any dietary requirement. Since you pay for the charter as a whole, you can bring as few friends as you'd like, or fill the boat to maximum capacity to make your trip more cost-effective. This could be perfect if you have a big night and are feeling less than fresh the next day, as the tours are tailored around your needs, so if pancakes and a lie in are in order, they've got you covered! Check out our full list of private charters available here.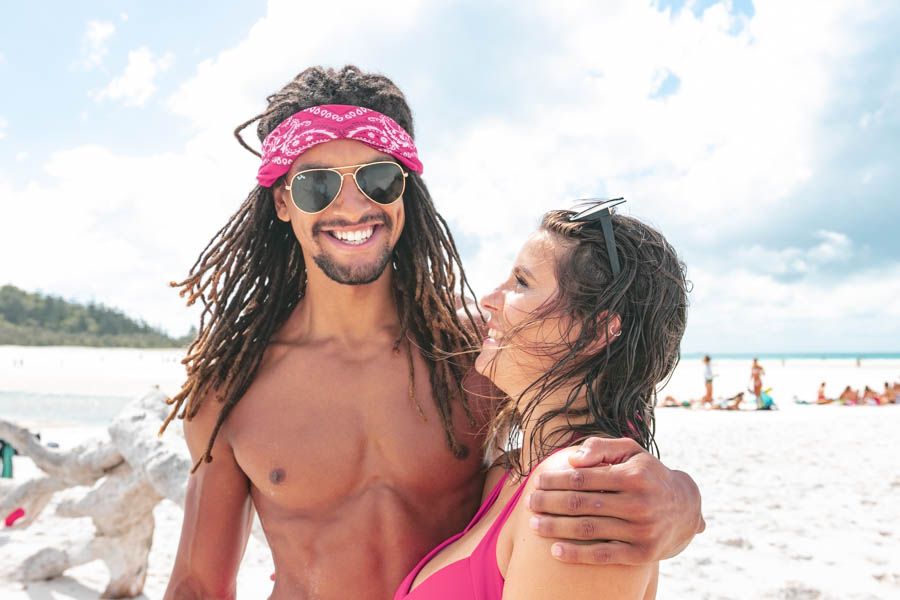 Male Strippers and Sex Toy Parties
If it is someone's hen's party or milestone birthday you're looking to celebrate, you might want to add a little spice to your trip by way of a male stripper, topless waiters, or even a sex toy party! The folks at Heart Reef Hunks have got you covered for all your male stripper needs and can cater to any comfort level as well as any venue, so enquire direct if you'd like a quote on adding on to your boat tour or holiday home. If you'd like to leave the men behind altogether, but would like a private setting to do some "intimate shopping," chat to our friends at Go Real Escapes to see what options are available to add on to a sunset cruise!

Where To Recover
Sunday sessions are like Church in Airlie Beach, and one of our favourite recovery places has to be Shed Bar-Located behind Boaty's and X-base. There's usually live music or the odd DJ slinking around somewhere as well. Anchor Bar and Sorrento's are also good spots if you're looking for something a little bit more low key, and of course, Northerlies has live music and beachside lounges for those of you not quite ready to stand vertically.
There are so many options to let your hair down in the Whitsundays, you might not want to leave! If you'd like more information on how to package your perfect girls weekend with accommodation or tours, chat to our team of local experts, and we promise to give you the low-down.
Remember ladies, what happens in the Whitsundays stays in the Whitsundays…
Ready to book your perfect girls weekend in the Whitsundays? Chat to our friendly team to find out our latest deals!