Best Food in Airlie Beach
Airlie Beach is home to an eclectic and vibrant food scene, so tantalise those taste buds and get ready to feast on some delicious tucker. From Italian to Vietnamese to incredibly fresh fish, there's something for everyone in Airlie Beach!
---
1. MIKA AIRLIE BBQ & BAR
Mika Bar is donned with colourful and funky decorations and a menu filled to the brim with unique flavours and dishes inspired by Brazilian and Latino cuisine. It's the perfect place to cozy into after a long day of exploring, as the restaurant is open-air, making it a delightful spot to watch the golden hues of the sunset as you share a jug of your favourite cocktail with your loved ones. Their biggest draw cards are the fruity and punchy sangria jugs, as well as their delicious share platters piled with freshly grilled meats, vegetables and breads. Open for lunch and dinner, it's a local hotspot - so make sure to book a table if you're after a sea view!

---

2. BREEZE BAR
Located right in the heart of the town, Breeze Bar is your one-stop-shop for sundown adventures. Boasting a vibrant and delicious cocktail selection (which, some say, are the best in town), you're going to love the atmosphere. Their signature cocktail is the traditional and beloved Espresso Martini, so grab an antipasto sharing platter, rally up your friends and family and settle into a relaxing evening at Breeze Bar.
---
3. 20 DEGREES SOUTH BAR & RESTAURANT, WHITSUNDAY SAILING CLUB
It's a local hotspot, and there's no doubt why - boasting unbeatable views of the Coral Sea and marina, 20 Degrees South is host to a delicious and wide menu that the whole family will love. Centered on fresh and tasty seafood, the menu also features a great selection of vegan and vegetarian options that will not disappoint. Regularly hosting a buffet and specials board too, there's always something special happening here. Open for both lunch and dinner, you'll be able to watch sailing races from the balcony. As a local favourite, make sure you book in advance if you're after a balcony seat!
---

4. PARADISO, RESTAURANT & ROOFTOP BAR
Featuring delicious tapas and serene beachfront dining, Paradiso is the perfect place to take it slow and start (or end) your day. Nestled right at the front of the Airlie Beach foreshore, the venue often hosts tranquil live music sessions while guests feast on the delicious Spanish-inspired fare. With a great range of food to suit all food tastes including gluten free, dairy-free and vegan, this incredible restaurant also boasts a vibrant new rooftop bar that is just perfect for sinking a few after-dinner cocktails.
---
5. SIDEWALK CAFE
For those wanting to start their morning with a bang, Sidewalk Cafe is the spot for you. Featuring the best coffee in town and freshly baked muffins, this is a popular local cafe that is set to impress. Set upon the waterfront and offering spectacular views of the Coral Sea, Sidewalk features a large menu of delicious traditional breakfast options. From poached eggs to fruit salad and salmon toasties, this is the best place to start your day!
---
6. FISH D'VINE & RUM BAR
This venue is a bit of a namesake in Airlie Beach - and for good reason! Featuring the freshest seafood in Airlie Beach, sourced locally from the very sea that fringes the restaurant, Fish D'Vine offers unbeatable meals with a vibrant and lively atmosphere. The delight doesn't stop there: it also features an incredible rum bar, stocking 450 different rums from exotic and international locations. Sip on the best Mojito in Airlie Beach while tucking into a delicious feed of Coral Trout - nothing says holiday like this!

---
7. LA TABELLA TRATTORIA
As one of the most divine restaurants in town, this special venue is a family favourite. Serving up incredibly authentic Italian cuisine for both lunch and dinner, there's no doubt that you'll be hooked once you try it. Located directly opposite the stunning beach, the venue is cozy and romantic, catering perfectly to friends, couples and families alike. Try the exquisite gorgonzola gnocchi and pair it with a freshly crushed mango mojito, or peruse the specials board and prepare for your mind to be blown. Using the freshest ingredients possible, this is a dining experience you will not forget.
---
8. CAFE ONE 3
For delicious, homemade and healthy breakfast options, this is the ultimate place. Featuring a menu that specialises in vegetarian, vegan and gluten-free dishes, this is a hidden gem that locals rave about. Located just off the tourist strip, it's a short walk from the main area of Airlie Beach and is the perfect place to settle over a coffee.

---
9. SORRENTO'S RESTAURANT & BAR
Offering the ultimate dining experience in Airlie Beach, Sorrento's, is known by locals as one of the best places to relax with a drink. The stunning panoramic views of the Coral Sea Marina make it a beautiful place to unwind after a long day of exploring, so order up and enjoy your evening! Featuring a delicious menu with wonderful pizzas, pastas and tapas, there's no better place to watch the sunset over the horizon.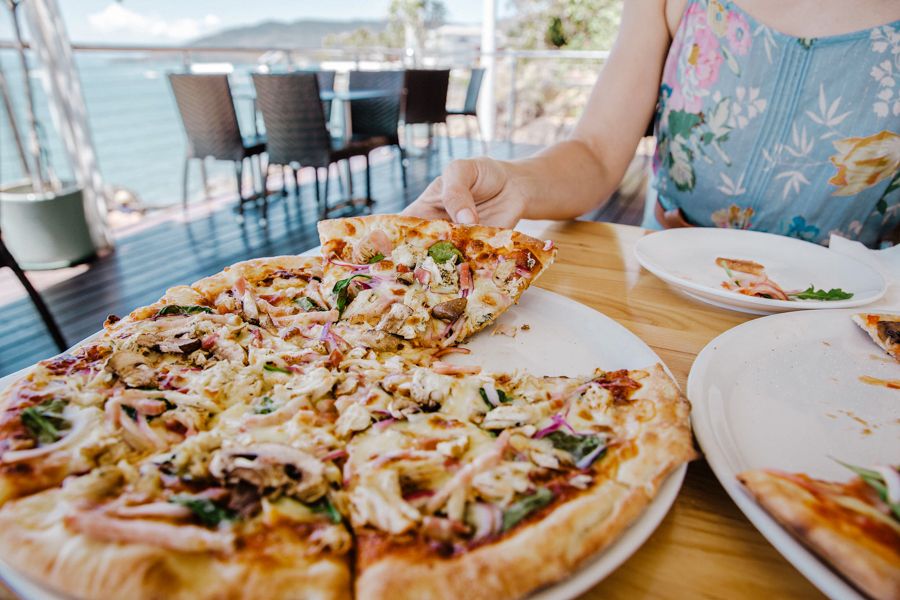 ---
10. LA MARINA RESTAURANT, PIZZERIA & BAR
The Port of Airlie boasts La Marina, an authentic and delicious Italian restaurant. For those who are craving fine-dining with a view, this venue offers spectacular views across the Marina. Peruse the delicious menu with a glass of hand-picked boutique wine, and dig into some of the best Italian fare in the country. Open for breakfast, lunch and dinner, La Marina offers a whimsical experience for all.