The 10 best tours in the Whitsunday Islands

The Whitsundays are known as one of the best places in the world to sail and have a large selection of boat tours that bring you to all the best parts of the islands. From here you can see highlights such as Whitehaven Beach, Hill Inlet Lookout and the fringing reefs of the Great Barrier Reef Marine Park, all of which are must-see destinations when travelling in Australia. There are many tours available with a huge fleet of both overnight and day boats with something for any type of traveller.
No matter which tour you choose, you will see and experience the Whitsunday Islands in the best way possible and find out what the island lifestyle is all about! Below we have listed the 10 best tours in the Whitsunday Islands to help you choose the right tour for your upcoming trip.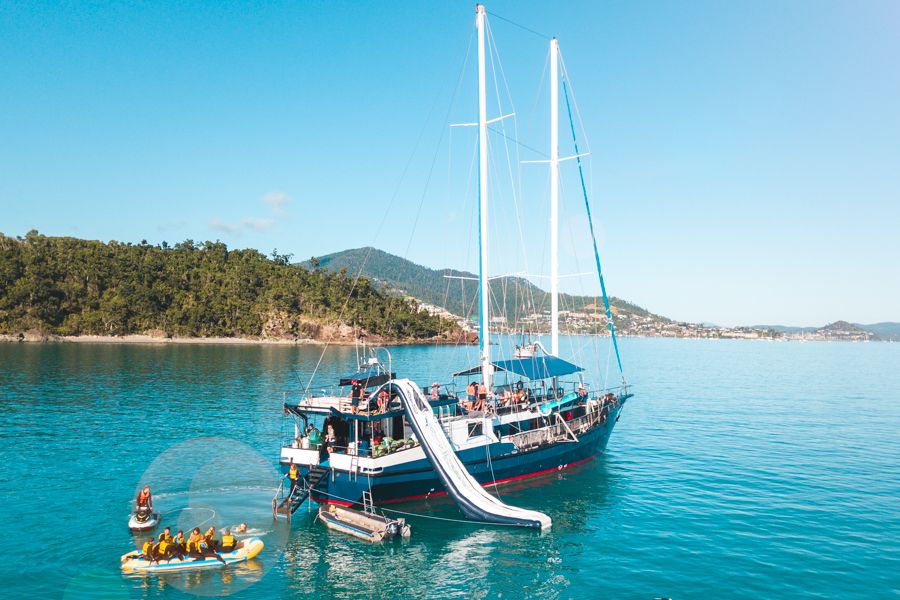 Atlantic Clipper is the biggest boats in the Whitsundays. Taking up to 53 passengers at a time, it's a floating party where the fun never stops! Atlantic Clipper is suitable for 18-35 year olds and has the added bonuses of paddleboards, scuba diving waterslides, an onboard spa and more!
Departs: 11:45am - 2:15pm - Tue, Thu & Sat
Returns: 12:00pm - Thu, Sat & Mon
---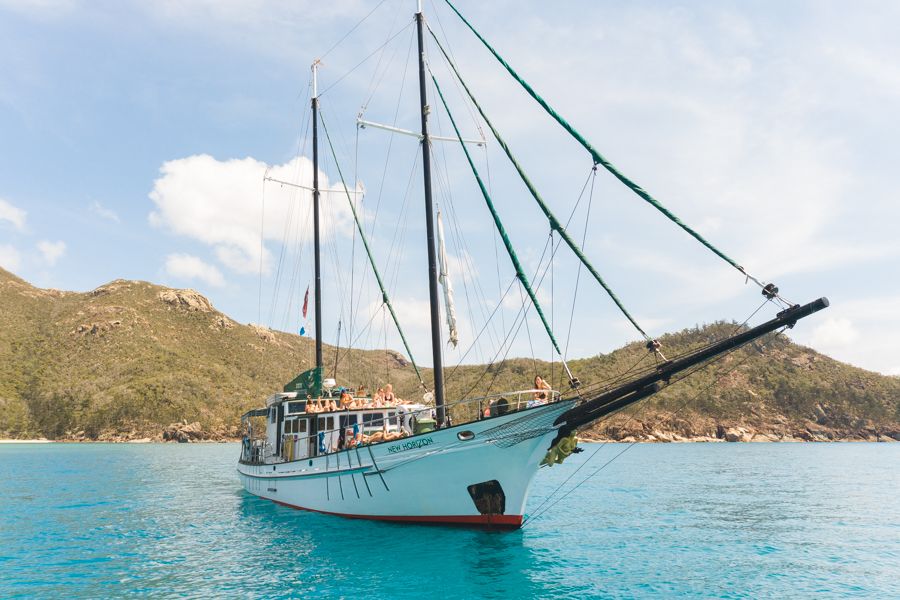 New Horizon is another popular boat among the backpacker community where you can let loose and have fun! New Horizon also has the added bonus of a waterslide, snorkelling, scuba diving and more! New Horizon takes up to 32 passengers at a time and visits all the top spots in the Whitsundays.
Departs: 2:00 pm - Mon, Thu & Sat
Returns: 11:30am - Wed, Sat & Mon
---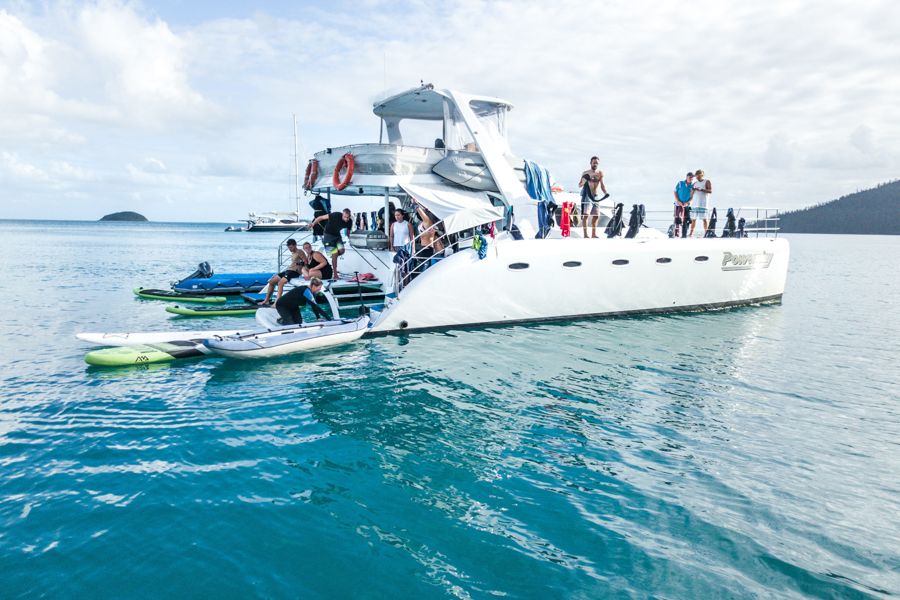 Powerplay is a fun power catamaran that visits all the best parts of the Whitsundays. There are only 18 passengers in total, but don't let that fool you! This tour will blow you out of the water with its wild ways and fun crew! You can look forward to adventurous days and action-packed nights, where you can hang out with your friends and enjoy the amazing Whitsundays.
Departs: 1:00pm - Mon, Thu & Sat
Returns: 11:00am - Wed, Sat & Mon
---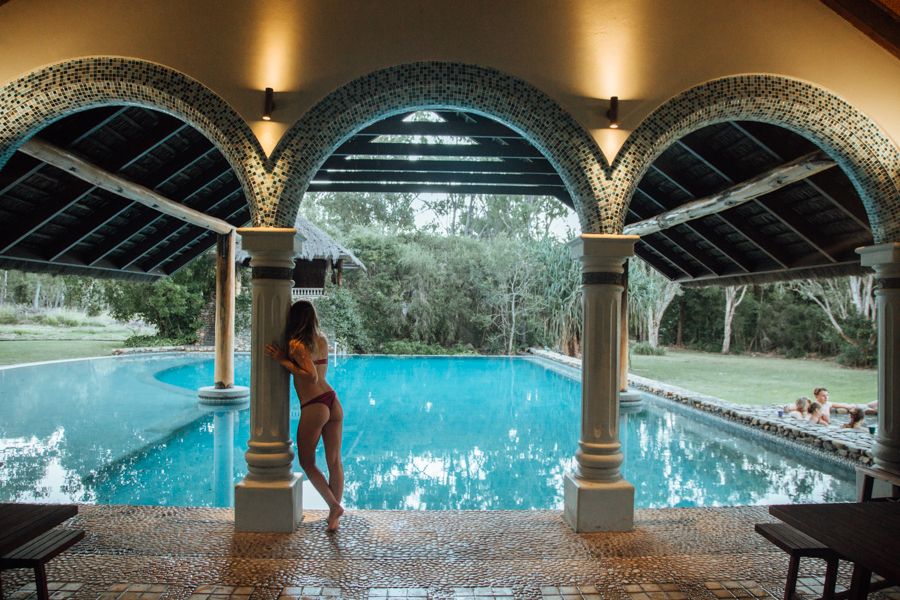 Ride to Paradise is a unique land and sea tour that will give you the best of both worlds! Ride to Paradise will show you the best of the Whitsundays from on board the speedy catamaran Wildcat, but will allow you to spend your night on land at Paradise Cove. You can look forward to the comforts of resort-style accommodation, complete with pool, tennis courts and more! There is both private and shared accommodation available with optional upgrades to villas and suites.
Departs: 2:00pm - Monday, Wednesday & Saturday
Returns: 12:30pm - Wednesday, Friday & Monday
---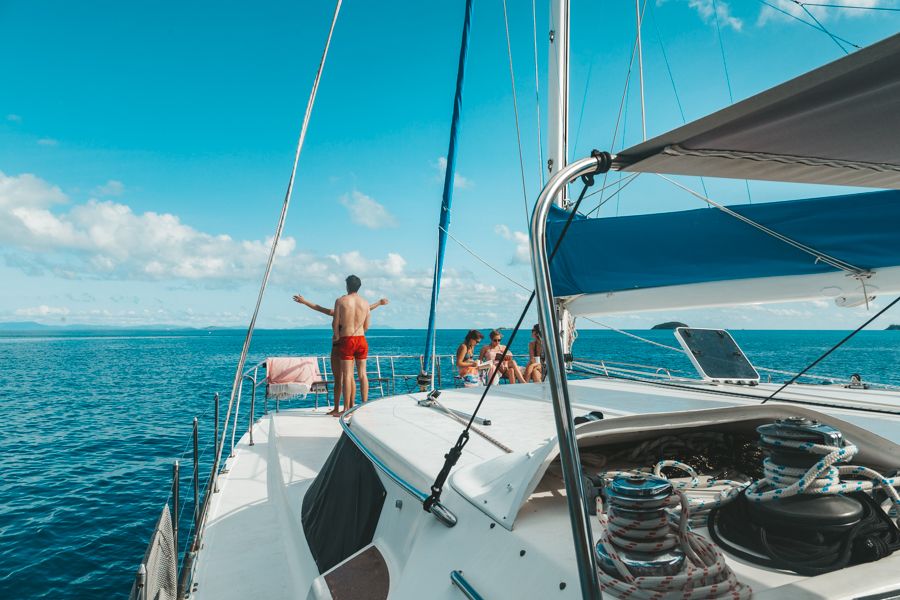 Whitsunday Adventurer is a comfortable catamaran that is suitable for a range of travellers. This tour will give you the chance to meet like minded people and is ideal for families, solo travellers and flashpackers! With only 12 people on board, you can look forward to a more intimate trip of the Whitsundays where you will get to see all the sights and relax in paradise.
Departs: 3:00pm - Mon, Wed, Fri
Returns: 1:00pm - Wed, Fri, Sun
---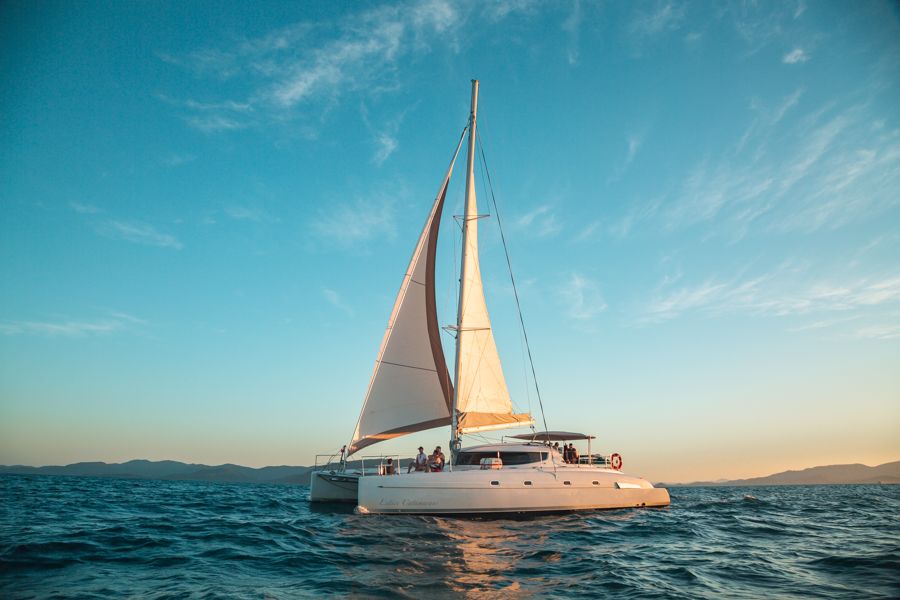 On Ice is another comfortable catamaran that will allow you to see the Whitsundays in style. On Ice has ensuite cabins available as well as a clear canoe, paddleboards and top of the line snorkelling equipment. You can also check out her sister ship, Entice for more departure dates.
Departs: 4:00 pm - Please enquire
Returns: 2:00 pm - Please enquire
---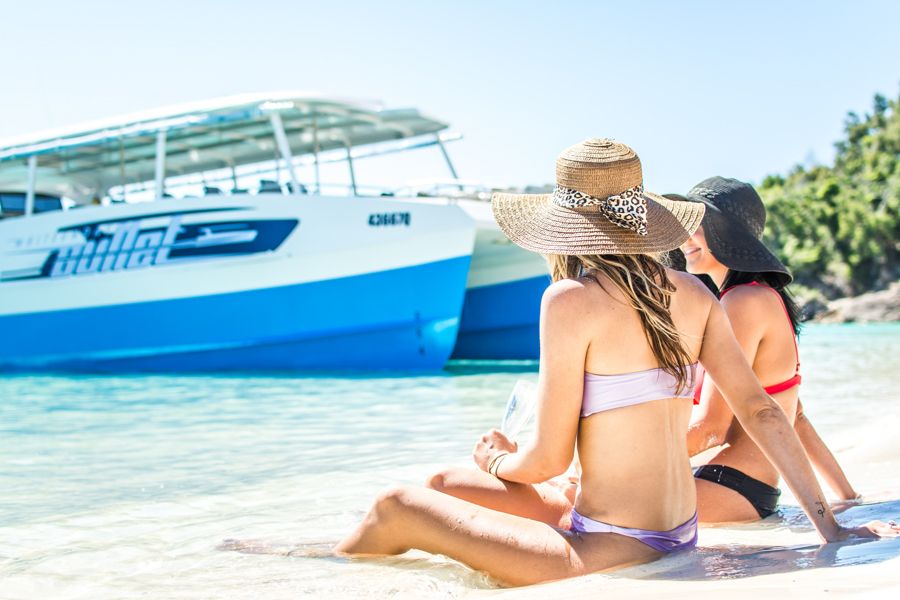 Whitsunday Bullet offers a speedy day trip to the Whitsunday Islands. You will spend less time in transit and more time at each destination from on board this fast catamaran! You will get to see Whitehaven Beach, Hill Inlet Lookout and the reefs of the Whitsunday Islands where you can snorkel among the fish and corals! Bullet also has the added bonus of stand-up paddleboards, free of charge.
Departs: 9:30am - Daily
Returns: 5:00pm - Daily
---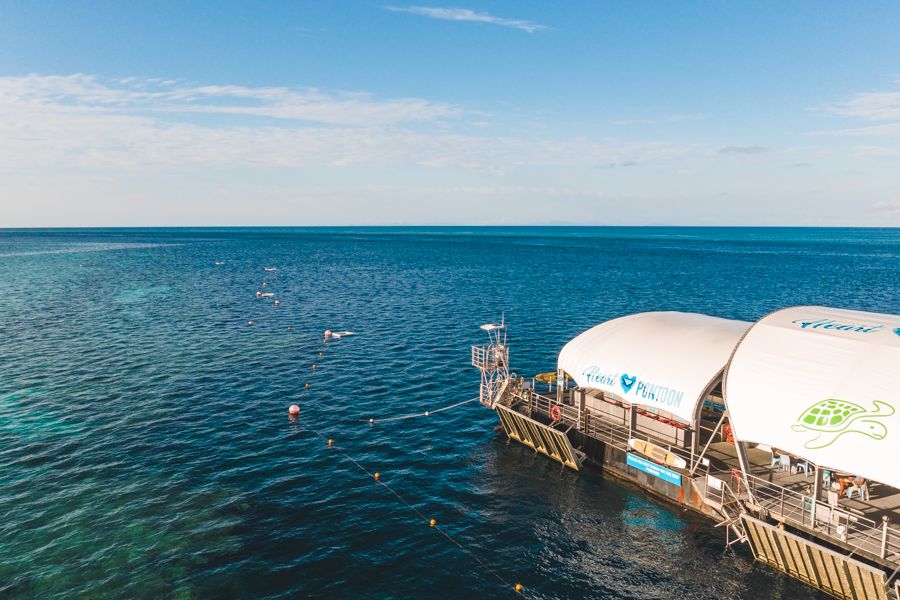 Reefworld offers a whole new way to experience the Whitsundays. This unique tour will allow you to experience the Outer Reef from on board a stationary Pontoon - the ideal place to spend the day! You will make your way to the Pontoon, found on Hardy Reef, where you will get to enjoy the Great Barrier Reef! From here you can snorkel, scuba dive, swim, relax or join in on some extra fun with Reefworld's added bonuses!
Departs: 8:00 am - Daily
Returns: 6:15 pm - Daily
---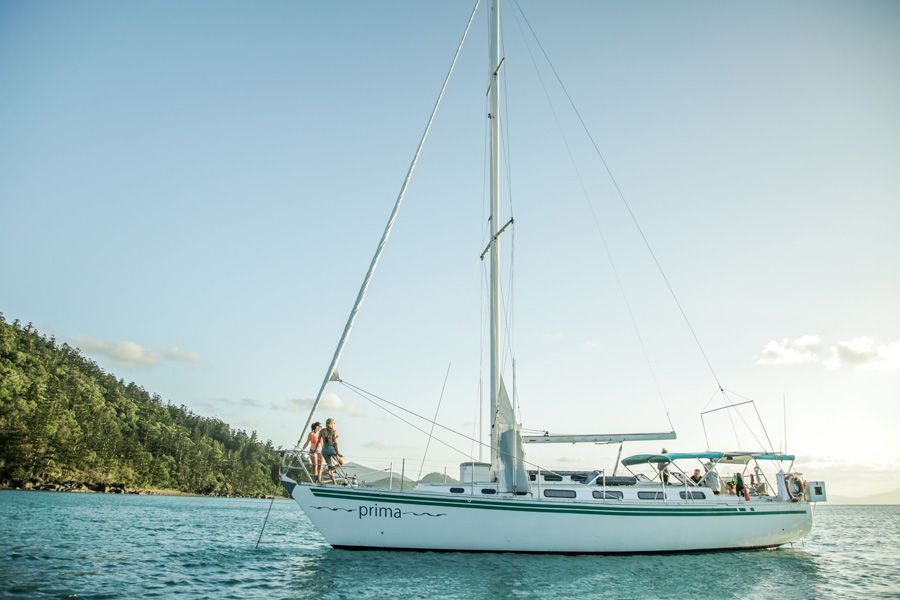 Prima is a 2 day, 2 night monohull sailboat that give you to chance to experience authentic sailing! While on board Prima you will get to experience the Whitsundays with sails billowing above you for the ultimate Whitsundays experience. This 2 day tour visits all the highlights of the Whitsundays with snorkelling included.
Departs: 1:00 pm - Mon, Wed & Fri
Returns: 10:00 am - Wed, Fri & Sun
---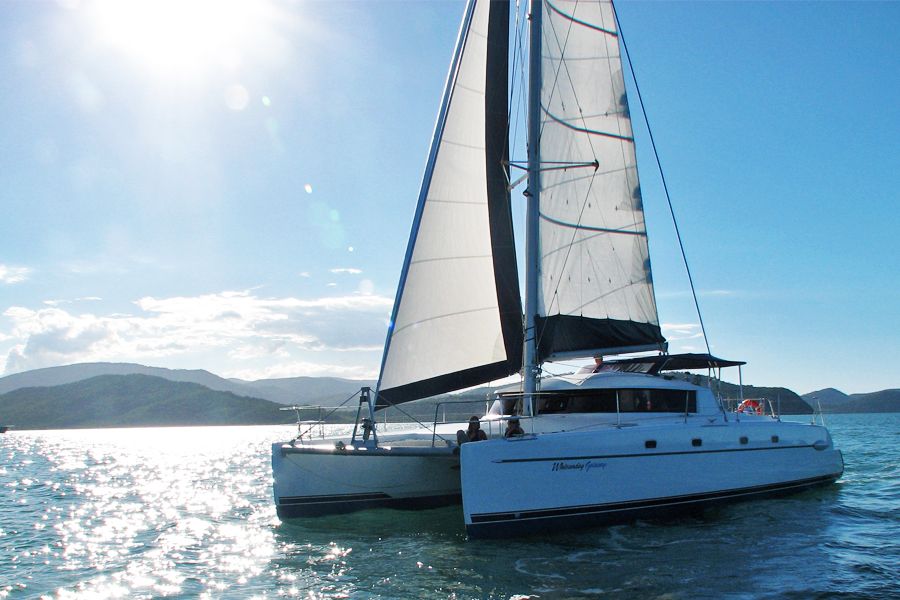 Getaway is a great option if you want to explore the Whitsundays from the lap of luxury. This lux cat sails for 2 days and nights and is ideal for couples and honeymooners. Getaway has private cabins and will give you the best place to relax and unwind after day of exploring the island chain.
Departs: 3:00pm - Please Enquire
Returns: 1:00pm - Please Enquire