Siska
CLOSE
View More Thumbnails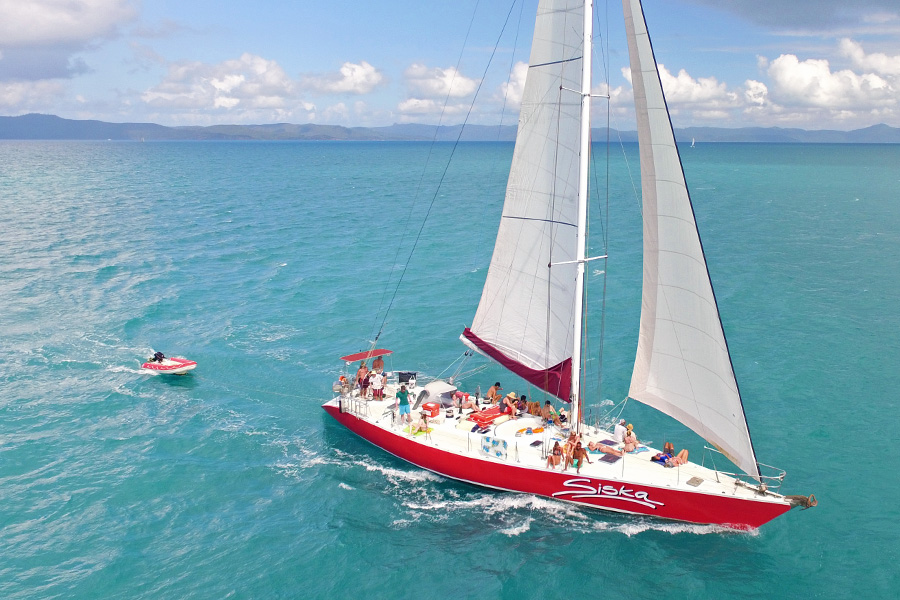 Loading...
Departure Times
Departs: 8:30am - Please Enquire
Returns: 4:00 pm - Please Enquire
Pricing Options
RRP $349
$329 AUD per Person
- Shared Accom
(Travel: 01 May 2018 - 30 Sep 2018)
For the social crowd looking to experience some fast and exciting sailing!
Siska is one of the most comfortable maxi yachts in the Whitsundays with a rich racing history! See what it feels like to reach maximum speeds as you glide around the islands, heeling over to the power of the wind! Experience a fun social tour at sea with great company and fun crew members for an unforgettable sailing trip in the Whitsundays. If you're looking for fast sailing, a chance to see the best of the Whitsundays and an incredible social atmosphere... this is your chance. Perfect if you only have one night to spare in the Whitsundays or are running on a tight budget!
There is never a dull moment on board Siska! For 2 days and 1 night, your crew will ensure you make it to all the hot spots of the Whitsunday Islands. Your exciting agenda includes a visit to the famous Whitehaven Beach and Hill Inlet Lookout, a sensational snorkel over some of the best reefs in the world and of course, an evening full of fun after your action-packed day! When you are not exploring the islands, take advantage of the spacious deck which is perfect for enjoying speedy sailing, sunbathing or relaxing!

Siska Features:
Authentic sailing with an amazing itinerary
Fun and exciting social tour - very popular tour for 18-35's!
Get hands-on and learn to sail, or relax on the deck
77ft long with a spacious deck and roll out shade awning
Quality time at Hill Inlet Lookout and Whitehaven Beach
Snorkelling gear and instruction provided
All meals are prepared on board by your friendly crew
BYO Alcohol
Check out Siska's sister vessel Hammer for more departure dates
Boat Layout:
Siska has ample head room throughout the yacht, perfect for our taller guests, with plenty of space for all of her passengers. The 2 dining tables provide plenty of space for guests to enjoy meals together and create a great social atmosphere that is great for making new friends and hanging out on board. The saloon area also doubles as a comfortable sitting area. Up on deck, there is ample space for you to relax as well as a boom awning for shade when anchored. Siska carries just 24 guests with a combination of single and double bunks, making it an ideal trip for all types of travellers.

Sample Itinerary:
When you only have 2 days to see all of the Whitsundays, speed matters! Siska will ensure that no time is wasted as you sail at true racing speeds from one incredible destination to the next.
Siska's racing history is legendary! She came second in the Fastnet Race having sailed the last 300 miles with a broken boom. Siska won the Parmelia Race from England to Perth, which celebrated the 150th anniversary of the foundation of Western Australia. It is estimated that Siska has sailed around 140,000 nautical miles from its launch until arrival to the Whitsunday Islands in December 1992. During this time, Siska won two Sydney to Hobart Yacht Races along with circumnavigating the world twice.
HRH Prince Charles crewed on Siska when she set the fastest time defeating world champion Kioloa, and was first overall at Cowes in the Queen Victoria Cup against 329 other entries. Your crew will enjoy sharing many a tall tale with you, detailing Siska's amazing history.
Siska has a myriad of winches and sailing gear that allow her to sail at top speeds. Guests can encouraged to assist on board, including hoisting and trimming sails, or taking the helm, but are also welcome to sit back and watch as the crew as you make your way around the islands!
Whitehaven Beach and Hill Inlet lookout
Journey to the North Eastern side of Whitsunday Island to Whitehaven Beach. Whitehaven Beach is a massive 7kms in length and had the purest silica sand in the world, making it soft, cool and one of the most unique places in the world. While on Whitsunday Island, take a guided bush walk up to the ever-talked-about Hill Inlet Lookout to see the stunning swirling sands below that are not found anywhere else in the world. Don't forget to bring your camera as this will be a view you will want to capture forever!
Snorkelling
Not only will get you get to experience snorkelling in the aqua blue waters of the Great Barrier Reef Marine Park, but you will also get a first-hand viewing of the amazing marine life and coral species. The most renowned snorkel locations are at the Northern end of the Whitsunday Islands, typically around Hook Island and Hayman Island. The experienced crew on Siska will determine the best snorkel locations based on the current weather and tidal conditions to deliver you the best underwater experience possible!
Sample Menu:
Breakfast: Continental style
Morning Tea: Fruit cake, tea and coffee
Lunch: Quiches, breads, pasta and green tossed salads, served with fruit
Sunset Snacks: Nachos, cheese, dips and crackers
Dinner: Succulent chicken breast cooked on the BBQ, served with rice, salad and breads
Dessert: Fruit and custard
*Please note that this is a sample of menu and is subject to change. Most special diets can be catered for upon request, please advise us of any dietary requirements at the time of booking.
Siska is also available for Private Charter.

BOOK WITH US TODAY! CALL 1800 550 751 OR LIVE CHAT US NOW!
---
Add to your Whitsundays experience... Combine multiple tours to unlock exclusive discounts!
Featured Add-on's for Siska:
CW ReefworldBase Hostel AccommodationSkydive Airlie BeachHeart Reef
What To Bring
Please bring only a small soft bag with: change of clothes, hat, swim-wear, beach towel, sunscreen 30+, warm pullover for the evenings (seasonal). You will also need to bring your own alcoholic beverages, available for purchase in town. No glass bottles please.
Excess luggage can be stored at several places in town including most boat check-in offices, a 24 hour locker shop on The Esplanade, most hostels, or at your accommodation. Most charge between $5-10pp for the duration of your trip.
What's Included
Skipper
Host
Drinking water
Meals
Linen
Wetsuit hire
Snorkelling equipment
All Marine Park Fees
Wet weather jackets if needed
What's Extra
BYO alcohol (no glass). Soft drinks available for purchase on board.
Please read the following questions carefully:
Do you currently have an ear infection?
Do you have a history of ear disease, hearing loss or problems with balance?
Do you have a history of ear or sinus surgery?
Are you currently suffering from a cold, congestion, sinusitis or bronchitis?
Do you have a history of respiratory problems, severe attack of hayfever or allergies, or lung disease?
Have you had a collapsed lung (pneumothorax) or history of chest surgery?
Do you have active asthma or history of asthma, emphysema or tuberculosis?
Are you currently taking medication that carries a warning about any impairment of your physical or mental abilities?
Do you have behavioural health problems or a nervous system disorder?
Are you or could you be pregnant?
Do you have a history of colostomy?
Do you have a history of heart disease or heart attack, heart surgery or blood vessel surgery?
Do you have a history of high blood pressure, angina, or take medication to control blood pressure?
Are you over 45 and have a family history of heart attack or stroke?
Do you have a history of bleeding or other blood disorders?
Do you have a history of diabetes?
Do you have a history of seizures, blackouts or fainting, convulsions or epilepsy or take medications to prevent them?
Do you have a history of back, arm or leg problems following an injury, fracture or surgery?
Do you have a history of fear of closed or open spaces or panic attacks (claustrophobia or agoraphobia)?
If any of these conditions apply to you, you will need to tell the staff when you board the vessel.
Terms and Conditions
All departures and itineraries are subject to weather. Tours may be changed or cancelled for any reason at the discretion of the Tour Operator. The Operator also reserves the right to alter the tour or the itinerary of any of it's tours and organise alternative carriers to those advertised if necessary. It should be noted that adventure travel involves risk. Whilst we make every effort to safeguard clients, we cannot be responsible for personal injury or loss due to actions of our clients which are beyond our control. We recommend that all clients have travel insurance covering illness, injury, loss or damage to personal belongings and not being able to travel on the confirmed date of departure. Please be aware operators pass on credit card merchant fees so there is a non-refundable 2.5% surcharge for VISA and MASTERCARD card purchases.
Excess luggage can be stored at several places in town including most boat check-in offices, a 24 hour locker shop on The Esplanade, most hostels, or at your accommodation. Most charge between $5-10pp for the duration of your trip.
Cancellations
All cancellations made result in 25% cancellation fee of the recommended retail price (RRP), not discounted or sale prices. Any cancellations made 60-30 days prior to travel will result in a 50% cancellation fee and any cancellations made inside of 30 days to departure will result in forfeit of full trip fees. If the sailing company has to cancel the trip (prior to the boat's departure) and we cannot offer a suitable alternative, then a refund will be given minus card fees. We strongly recommend that you have travel insurance, especially during the wet season.
Please note it is the responsibility of ALL passengers travelling to advise both your travel agent at the time of booking and vessel check-in agent before boarding of ANY medical conditions including food allergies you may suffer from.
Thank you for booking with Mr Travel/Sailing Whitsundays. If you would like any advice or assistance in arranging accommodation, transfers or additional tours, please do not hesitate to contact us.
"We had a great time sailing around Whitsunday islands. We stayed for 1 night and explored for 2 days. We were well looked after by our friendly and hospitable crew (Jamie, Tash & Neesh). Good snorkelling spots around hook island, tasty food and incredible views over Whitehaven Beach made for a fantastic excursion, only downside was the weather but there are some things you can't change! Thanks to the team for a memorable tri"
Cah-Ear
Thu 31 May 2018
"Sailing Siska was honestly one of the highlights of my trip travelling up the East Coast. The snorkelling and the beaches were honestly beautiful but my experience was enhanced by the crew on board, Anake, the chef on board was a true inspiration, the positivity the crew had for life was just unreal and I will never forget them or the experience!"
Olga H
Wed 23 May 2018
"Fantastic 2D1N tour on the Siska sail boat, with an awesome crew (Max, Tash and Claire). After leaving Airlie Beach around 8am, we sailed to a couple of snorkel spots, where we spotted a Giant Clam, many colourful fish and even a Turtle breaching. We also visited Nara Inlet, and a cave featuring Aboriginal paintings. We anchored here for the night, everyone chilled on the top deck, sipped beers and swapped stories whilst watching the milky way unfold before our eyes. The following morning, we headed to the world famous Whitehaven Beach, which was the highlight. The crew kept it fun, everyone got involved (not a party boat), and we got the weather too. Would highly recommend."
Marcus
Wed 09 May 2018
"Great sailing trip to the Whitsundays on Siska. Very friendly staff and nice participants of every age on the vessel. Good breakfast, lunch and dinner. The trip was good organised, you had enough time at the different stops for snorkeling or enjoying the time at the beach. This isn't a party boat like many other tour operators, so if you want a nice and relaxing boat trip to the Whitsundays without typical party people, book this one."
Max
Wed 03 Jan 2018
"I had a great time on the 2 day/1 night tour on the Siska yacht. Exciting sailing, beautiful beaches, very friendly crew and the food was excellent!"
Thu 23 Nov 2017
"Had a great time on the 2 day/1 night tour on the Siska yacht. Exciting sailing, beautiful beaches, very friendly crew. The food was excellent. A big thanks!"
Lee
Tue 12 Sep 2017
"It was awesome! First the staff...Captain Tess is an absolute star, knows her stuff and a makes you feel safe and welcome on the boat...Host Gabby keeps you happy and fed the whole trip (great nachos!) and then we have deckhand Jamie...one of the best lads on the sea! Had a really great time and couldn't recommend them highly enough...loads of fun, the space to chill when you want or get involved, snorkelling was the best I've ever done (being taught to do it properly for the first time ever helped!), loads of time to relax at Whitehaven Beach, fun and games overnight, clean living areas with plenty of space...I would only ever book with these guys when I come back."
Scott
Mon 10 Jul 2017
"Great time, highlight of my trip!"
Hillary
Sun 11 Dec 2016
"It was awesome! We had a wonderful time, The crew and the food were perfect!"
Marwela
Wed 16 Nov 2016
"It was awesome! We had a wonderful time, The crew and the food were perfect! "
Marwela
Thu 10 Nov 2016
"The experience was fantastic from start to finish. Crew was friendly and attentive and made sure we had a perfect trip. Highlight was getting to Whitehaven Beach before the crowds - it was spectacular. Food was great, could not have asked for better, more relaxing trip. Thank you!"
Kate
Thu 27 Oct 2016
"It was really fun! Snorkelling was awesome and beautiful, we got to see a lot of fishes and some turtles. I'd totally do it again!"
Maria
Fri 21 Oct 2016
"Really enjoyed myself. Best two days of my experience in Australia. Thank you!!"
Michael
Sat 08 Oct 2016
"Trip of a lifetime, would do it all again tomorrow if we could. Great experience all around, will definitely recommend! Thanks guys!"
Louisa
Tue 04 Oct 2016
"Awesome trip! Very nice!"
Jakob
Wed 17 Aug 2016
"Great trip!"
Jostien
Tue 09 Aug 2016
"Fantastic crew and a great trip!!"
Robin
Thu 21 Jul 2016
"Best trip ever!"
Oliver
Fri 15 Jul 2016
"Nice crew and atmosphere. It was a great adventure!"
Priscilla
Tue 28 Jun 2016
"Nice crew and atmosphere. It was a great adventure!"
Priscilla
Fri 10 Jun 2016
"Just got back from sailing 1 night, 2 days on the Siska. It was the best thing Ive done in Australia so far. The crew were so much fun, really knowledge and really cared about the passengers. These combined with the amazing weather, turtles and new friends made it fantastic. Also...great food! Definitely go on the Siska!"
Hanne
Thu 11 Feb 2016
"Spending two days on Siska provided me with unforgettable memories. The crew were so much fun and made the experience unique. The snorkelling was outrageous! The beauty unbelievable! I loved every minute of the adventure. Thank you guys!"
Joanne
Sun 03 Jan 2016
"The boat was smaller than expected but still really nice. Great crew with plenty of experience and flexibility. The passenger group was not too big, it was just right. Food easy and delicious."
Patricia
Sun 25 Oct 2015
"Overall it was a great experience. The sights and sceneries are mind-blowing. The service provided by the crew members has made it a worthwhile experience. "
Sophie
Tue 01 Sep 2015
"Great way to experience Australia - seeing the islands, snorkelling and sailing with great people!"
Lindy
Mon 03 Aug 2015
"Good was amazing, had a great sleep. Would of been best ever if weather wasnt bad first day. Loved diving and scuba diving and Whitehaven Bach. Awesome crew!"
Michelle
Wed 08 Jul 2015
"Great, friendly staff. Great food, well-presented amenities, amazing views and areas travelled!"
Franky
Mon 20 Apr 2015
"The service provided by the crew made it a truly memorable experience. Scenery was just mind blowing!"
Sophie
Sat 04 Apr 2015
"Fabulous adventure! Great food, music and company. Best snorkelling ive ever experienced - overall excellent!"
King
Sun 22 Mar 2015
"Great tour, nice crew, nice atmosphere, good food! "
Joyce Fiddelers
Sat 07 Mar 2015
"I had a great time with you guys. Thanks !!"
Jose
Sat 28 Feb 2015
"Really great trip, crew and food. Best thing to do when you are at Airlie Beach. "
Martin Staudinper
Sun 22 Feb 2015
"Had a lot of fun with Whitehaven the highlight. Suggestion would be for portable fans in the cabin. The crew were great, very friendly and always willing to answer questions."
Chas
Fri 20 Feb 2015
"Really fun and very enjoyable, even in less than ideal weather! "
Erica
Tue 17 Feb 2015
"It was great, everything was just perfect! "
Maarten De Groot
Wed 04 Feb 2015
"Awesome, beautiful and great"
Maxime
Fri 09 Jan 2015
"10/10
Good all round, except banging music a distraction. "
Tom Collet
Mon 29 Dec 2014
"Even better that I expected! Loved all of it, especially snorkelling with turtles!"
Guest
Mon 29 Dec 2014
"Wonderful!"
Wen Chen
Wed 17 Dec 2014
"Thank you so much for the whole trip. It is a very wonderful trip. "
Xiaoting Yang
Sun 07 Dec 2014
"All in all a really cool trip, a curtain in front of the cabin would be cool. very friendly staff"
Peter
Fri 05 Dec 2014
"Had a really good time despite weather food really good and crew really friendly. "
Anna Cornforth
Mon 24 Nov 2014
"Easy going super enjoyable. Thanks to all involved. Well looked after."
Ben Spear
Wed 19 Nov 2014
"Great crew did the best they could to make our trip fun, even with not so great weather"
Teegan
Wed 22 Oct 2014
"Great, informative crew!"
James Flanagan
Sun 22 Jun 2014
"Perfect crew - always smiling :) THX!"
Patricia
Sun 15 Jun 2014
"Our weather was bad so we couldn't really sail but it was a good experience and interesting! It was even good that the crew is mixed nationalities. The food was great and also the group. It was really really hot to sleep."
Waldemar
Sun 08 Jun 2014
"Very enjoyable, trustworthy and responsible staff. V Good level of knowledge from all the crew. Relaxed as well as clear."
David Phelan
Wed 04 Jun 2014
"Great experience even the weather was good"
Sergio Bixby
Tue 03 Jun 2014
"It's an amazing trip and very special for us. We do have a lot of fun and joy. "
Nicole
Fri 30 May 2014
"My trip was amazing! I have had great times - discovery, meeting nice people and feeling very confident thanks to the crew. Thanks a lot!"
Camille
Fri 30 May 2014
"Amazing night I have ever had. All starts shining... The first dive experience. Laying on the boat is comfort. The most beautiful beach I have ever seen. Thank you for everything."
Ye Ma
Sun 11 May 2014
"Great trip with a good combination of time to sail, time to snorkelling and time to visit islands. Kind and friendly crew."
Mads Thorsen
Sun 02 Feb 2014
"Very kind staff, good food, nice boat."
Jonas
Fri 24 Jan 2014
"snorkelling and diving was amazing!!!"
Matt Frinks
Wed 08 Jan 2014
"Thanks for wonderful days in the Whitsundays. Nice food with matching chef. Safe journey, good advise and stories. Altogether good memories from Siska and the Whitsundays. (And I saw a Turtle) "
Tommy & Bjorn
Tue 26 Nov 2013
"Wow, What can I say, Tres Bien!!. Met a cool crew, made good friends, good booze and beautiful scenery. Had fun with me mates and wouldn't trade any of it for anything. The first experience with Coral Reefs, Snorkelling and learning to sail. I will truly never forget this!"
Chuck
Tue 26 Nov 2013
"Siska was an overall great trip! Very enthusiastic crew and a good mixture of activities & relaxation. The snorkelling time and Whitehaven Beach time was perfect, not too short and not too long. Great food and great crew, also met some cool people on the trip that we hope to meet up with again in Cairns. Everyone laughed lots and got on really well. Hopefully we'll be back one day."
Mark & Rachel
Wed 14 Dec 2011
"The crew really made this trip!!! We also had such great food and learnt so much about the Whitsundays. The sailing side of the trip was a reall thrill ride and I hope to take up some sailing lessons when I get home. Thanks for a great trip!"
Lauren
Wed 07 Dec 2011