Boats that have air conditioning in the Whitsundays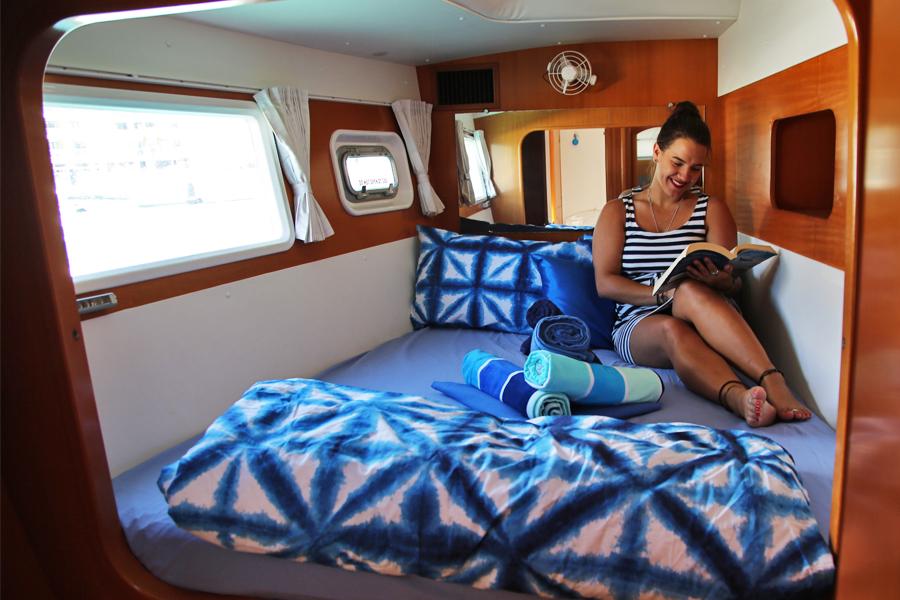 The Whitsundays are located in the hot topics of Australia. With the warm summer weather and year-round high temperatures it is usually pretty hot, where cool temperatures and a break from the heart are welcome. A little air conditioning can go a long way. Several of the boats in the Whitsundays are equipped with aircon to make your trip a little more enjoyable to cool off those warm nights on the water.
Atlantic Clipper:
Atlantic Clipper is one of the boats in the Whitsundays that is equipped with air-conditioning. It is one of the biggest boats in the Whitsundays and carries up to 53 people at a time. Aside from having the comforts of aircon it also has a spa, slide, paddleboards and snorkelling. Atlantic Clipper runs a 2 day, 2 night trip.
Whitsunday Getaway:
Whitsunday Getaway is one of the luxury catamarans in the Whitsundays. Getaway runs a 2 day, 2 night trip and has air conditioning, stand-up paddleboards, snorkelling and an amazing comfortable layout.
Whitsunday Blue:
Whitsunday Blue offers both a 2 day, 2 night trip and a 3 day, 3 night trip in the Whitsundays. It has aircon for the comfort of its passengers as well as low passenger numbers, snorkelling and stand-up paddleboards.
British Defender:
British Defender's 2 day, 2 night trip offers a fun social trip complete with the comforts of air conditioning, scuba diving, and authentic sailing.
Whitsunday Bliss:
Whitsunday Bliss is a luxury yacht in the Whitsundays that takes only 6 passengers at a time. Besides having aircon for the comfort of its passengers, Bliss also has private double ensuite cabins, authentic sailing and snorkelling.
MiLady:
MiLady is the newest luxury yacht in the Whitsundays, offering both a 2 day, 2 night trip and a 3 day, 3 night trip. With only 6 passengers at a time, you can fully indulge on this fully air-conditioned vessel and make the most of complimentary features such as stand-up paddleboarding and snorkelling.
Summertime:
Summertime has a little bit of everything during her 2 day, 1 night trip through the Whitsundays. With air conditioning, spa and sea kayaks on board, you'll find all the comfort you'll want during your trip.
Prima:
Prima offers an air conditioned galley area so guests can see the comfort of a cool interior during their hot days on the water! Snorkel, swim and relax alongside 12 other passengers for 2 days and nights.
Solway Lass:
Solway Lass' authentic sailing experience on board a tall ship, paired with her awesome itinerary, air conditioned rooms and fun crew will have you on the best trip of your life for 3 days and 3 nights.
Powerplay:
Powerplay is a fun power catamaran that takes 18 people at a time through the Whitsundays. Both private and shared doubles have air conditioning for a comfortable nights sleep.
Kiana:
Kiana sails around the Inner and Outer Great Barrier Reef on its 3 day, 2 night trip. It has an air conditioned interior, scuba diving, snorkelling and 14 passengers at a time.
Alexander Stewart:
Alexander Stewart is the newest tallship to come to the Whitsundays. With over 15 years experience, she offers a 2 day, 1 night trip that can take 18 passengers at a time in 9 private cabins. With air-conditioning throughout the vessel as well as a beautiful timber interior, you will feel right at home while as sea on board this sailing ship.