British Defender
CLOSE
View More Thumbnails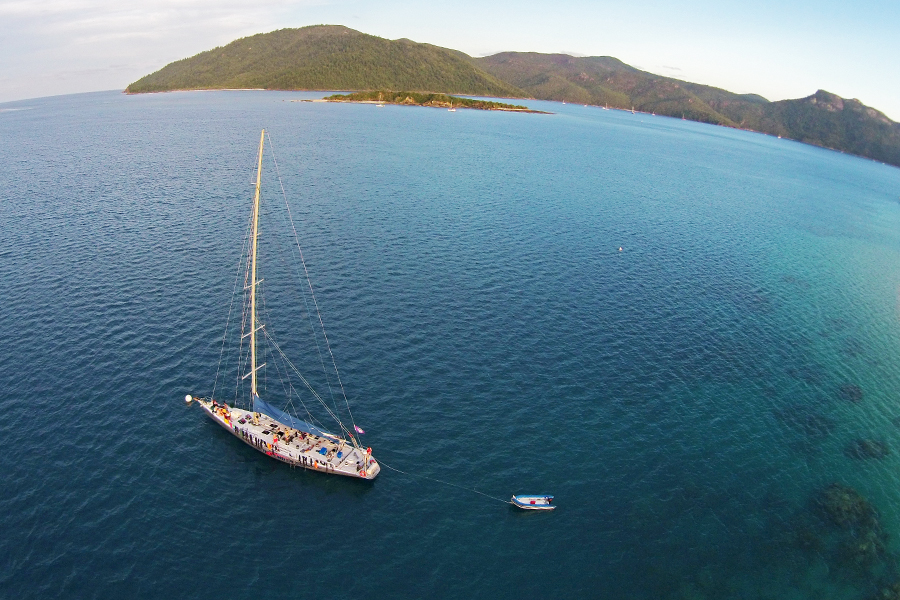 Loading...
Departure Times
Departs: 2:00pm - Wed, Fri & Sun
Returns: 11.00am - Fri, Sun & Tue
Pricing Options
$429 AUD per Person
- Shared Accom
(Between: 30 Apr 2017 and 30 Jun 2017)
$79 AUD per Person
- Pre-booked Intro or cert dive
(Between: 01 Apr 2017 and 31 Mar 2018)
Jump on board the first maxi yacht to have air-conditioning! Newly refurbished British Defender is the perfect vessel for a fast sailing adventure with plenty of socialising

Ideal for the thrill-seekers who are wanting a fast and adventurous sailing trip in the Whitsundays! With 28 passengers onboard, the well-known racer British Defender is a social trip, ideal for travellers aged 18-35 who are wanting to experience all of the Whitsundays has to offer, with plenty of fun but also some time to relax. With some snorkelling, a visit to Whitehaven Beach and Hill Inlet Lookout, rendezvous scuba diving and the chance to jump onboard a fast, maxi yacht, British Defender is a favourite.
Take the ride of a lifetime onboard British Defender! For 2 days and 2 nights, take in all that the Whitsundays has to offer while you experience Maxi Racing at its finest. Snorkel the Great Barrier Reef, soak up the sun at Whitehaven Beach, sail with speed and make some lifelong friends! Taking out a total of 28 passengers, this vessel boasts of space, offering a great social environment, popular among the backpacker community. Your maxi yacht 2 day and 2 night adventure will make you never want to leave the Whitsundays as you explore the islands, see Whitehaven Beach for the first time and take a walk to the world-famous Hill Inlet Lookout. Under the water, you will snorkel at two amazing sites filled with fringing coral reefs which extend right from the edge of the Islands. You will also have the opportunity to undertake an optional rendezvous scuba dive!

British Defender Features:
The only maxi yacht with Air-Conditioning!
Opportunity to scuba dive
Offers a fun and fast maxi racing experience
Comfortable, spacious interior
Shaded area on deck for sun protection and relaxing
28 passengers, it is a sociable and fun trip
All meals included and made fresh
Morning tea and afternoon tea, tea and coffee
Clean, fresh linen provided for all guests
Don't miss out on the Whitsundays most popular MAXI - MAXImum deck space and MAXImum fun! Don't settle for an average sail, take the ultimate sail on board British Defender. You too can become part of the crew during the 2 day 2 night sailing cruise around the Whitsundays.
Boat Layout
The saloon features 2 dining tables so that everyone can dine together in comfort, unlike other vessels where lap dining is the norm. British Defender has 3 bathrooms with hot showers and toilets. On deck the boat is really wide, so there's plenty of deck space to chill out, plus there is a shade awning built into the boom which extends over the whole centre deck space. British Defender carries a maximum of 28 guests plus the 4 great Crew. Onboard are 6 double bunks, 16 single bunks.


Sample Itinerary
Every trip on British Defender is unique and itineraries will vary depending on the weather and tides.
Your maxi yacht 2 day and 2 night adventure will make you never want to leave the Whitsundays as you explore the islands, see Whitehaven Beach for the first time and take a walk to the world-famous Hill Inlet Lookout. Under the water, you will snorkel at two amazing sites filled with fringing coral reefs which extend right from the edge of the Islands. You will also have the opportunity to undertake an optional rendezvous scuba dive!

While on this fast, sailing maxi, guests will zoom to each destination quickly leaving no time to waste! And, the passengers are welcome to get involved and help the crew set the sails, sit at the wheel or just sit back and relax with the wind in your hair.

Please note, itineraries can change due to the weather, tides and your captains professional judgement.
SCUBA DIVING
Defender offers passengers the chance to experience the underwater world through an exciting rendezvous scuba dive with the diving vessel, Tornado. As a guest on board, you have the option to do an Introductory or Certified dive, but you must book diving in advance so please let us know at time of booking so we can arrange it for you. Price includes all gear hire and Dive Instructor. Introductory divers are subject to age, conditions and medical questions and Certified divers need to bring dive card please.

Sample Menu

Day One
On Arrival: Fresh fruit platter or tea/coffee & biscuits
Nibbles: Nachos
Dinner: BBQ chicken breast fillets with either satay or thai green curry sauce, rice, damper bread, green salad, yoghurt & cucumber dip
Dessert: Fruit cake & tea & coffee

Day Two
Breakfast: Cereal, toast, spreads, tea & coffee
Morning tea: Either fresh fruit platter or tea, coffee & biscuits
Lunch: BBQ sausages, pesto pasta salad, potato salad, garden salad & cob bread
Afternoon Tea: Fresh fruit paltter or tea, coffee & biscuits
Nibbles: Cubed cheese, olives, pickled onions, carrot sticks, dips & biscuits
Dinner: Spaghetti bolognaise, garlic bread, fresh mixed salad
Dessert: Fruit cake, tea & coffee

Day Three
Breakfast: Cereal, toast, spreads, tea & coffee

Please note this is a sample of menu and is subject to change and amendments

---
You May Also Like One Of These Products:
---
BOOK WITH US TODAY! CALL 1800 550 751 OR (07) 4914 2425 IF LOCAL
What To Bring
Please bring only a small soft bag with: change of clothes, hat, swim-wear, beach towel, sunscreen 30+, warm pullover for the evenings (seasonal). You will also need to bring your own alcoholic beverages, available for purchase in town. No glass bottles please.
Excess luggage can be stored at several places in town including most boat check-in offices, a 24 hour locker shop on The Esplanade, most hostels, or at your accommodation. Most charge between $5-10pp for the duration of your trip.
What's Included
Skipper, crew, drinking water, meals, linen, wetsuit hire, snorkelling equipment, Marine Park fees and wet weather jackets if needed.
What's Extra
BYO alcohol (no glass) and pre-booked scuba diving. Soft drinks available for purchase on board. Please note dives are subject to age, weather, other conditions and the dive instructors discretion.

Your safety in the water is our primary concern. To ensure your comfort and safety divers must be 18 years or over and they may require that you have a Divers Medical Certificate for certain medical conditions.

Please read the following questions carefully:
Do you currently have an ear infection?
Do you have a history of ear disease, hearing loss or problems with balance?
Do you have a history of ear or sinus surgery?
Are you currently suffering from a cold, congestion, sinusitis or bronchitis?
Do you have a history of respiratory problems, severe attack of hayfever or allergies, or lung disease?
Have you had a collapsed lung (pneumothorax) or history of chest surgery?
Do you have active asthma or history of asthma, emphysema or tuberculosis?
Are you currently taking medication that carries a warning about any impairment of your physical or mental abilities?
Do you have behavioral health problems or a nervous system disorder?
Are you or could you be pregnant?
Do you have a history of colostomy?
Do you have a history of heart disease or heart attack, heart surgery or blood vessel surgery?
Do you have a history of high blood pressure, angina, or take medication to control blood pressure?
Are you over 45 and have a family history of heart attack or stroke?
Do you have a history of bleeding or other blood disorders?
Do you have a history of diabetes?
Do you have a history of seizures, blackouts or fainting, convulsions or epilepsy or take medications to prevent them?
Do you have a history of back, arm or leg problems following an injury, fracture or surgery?
Do you have a history of fear of closed or open spaces or panic attacks (claustrophobia or agoraphobia)?
If any of these conditions apply to you, you will require a Divers Medical Certificate before you can scuba dive.

A Divers Medical Certificate can be obtained from:
The Doctors
283 Shute Harbour Road (Opposite McDonalds)
Airlie Beach
Ph: 07 4948 0900
Terms and Conditions
All departures and itineraries are subject to weather. Tours may be changed or cancelled for any reason at the discretion of the Tour Operator. The Operator also reserves the right to alter the tour or the itinerary of any of it's tours and organise alternative carriers to those advertised if necessary. It should be noted that adventure travel involves risk. Whilst we make every effort to safeguard clients, we cannot be responsible for personal injury or loss due to actions of our clients which are beyond our control. We recommend that all clients have travel insurance covering illness, injury, loss or damage to personal belongings and not being able to travel on the confirmed date of departure. Please be aware operators pass on credit card merchant fees so there is a non-refundable 2.5% surcharge for VISA and MASTERCARD card purchases.
Please advise us before booking if any passengers are under 18 years old to ensure this is the appropriate trip. Also please note that you need to allow time prior to the boats departure to check in, please ask us for more details
Cancellations
​All cancellations made result in 25% cancellation fee of the recommended retail price (RRP), not discounted or sale prices. All cancellations made 60-30 days prior to travel will result in a 50% cancellation fee of the total price and any cancellations made inside of 30 days to departure will result in forfeit of full trip fees. If the sailing company has to cancel the trip (prior to the boat's departure) and we cannot offer a suitable alternative, then a refund will be given minus card fees. We strongly recommend that you have travel insurance, especially during the wet season.
Please note it is the responsibility of ALL passengers travelling to advise both your travel agent at the time of booking and vessel check-in agent before boarding of ANY medical conditions including food allergies you may suffer from.

Thank you for booking with Mr Travel/Sailing Whitsundays. If you would like any advice or assistance in arranging accommodation, transfers or additional tours, please do not hesitate to contact us.
"Great experience thank you! It felt relaxed, good music, excellent food. I appreciated all the information about preserving the area. Fun team :)"
Sybille
Wed 24 May 2017
"Very friendly staff, enjoyed the trip very much, will be recommending to all my friends!"
Amy
Fri 17 Mar 2017
"Thank you very much for a great trip. The crew were full of energy, creating an awesome environment. The food was great and the boat was always kept clean. Thank you for a great time sailing in the Whitsundays!"
May and Sam
Mon 26 Dec 2016
"Really friendly and informative crew. Food was amazing."
William
Tue 06 Dec 2016
"Lovely time, greatly appreciated the crew going above and beyond!"
Kelly
Mon 14 Sep 2015
"Great fun! Lots of sun, friendly crew, fantastic food, very good trip!"
Ryan
Wed 29 Jul 2015
"Great crew, nice boat, smooth sailing. The meals were very good and loved the snorkelling."
Wilson
Tue 07 Apr 2015
"Great crew, gave us a fantastic trip with as much great sailing as the winds would allow. Great snorkelling sites and lots of information about locations provided. Very good food!"
John
Wed 25 Mar 2015
"We had a great time on British Defender! The crew did a fantastic job of conveying important information while making it fun. Enjoyed every minute! "
Amanda
Thu 12 Mar 2015
"Great overall experience. Crew is awesome. Sites visited stunning. would definitely recommend. Had a great time on board, although would have enjoyed a bit more if music not on all nite."
Bastian
Tue 24 Feb 2015
"Thanks for the beautiful trip the only small thing was sometimes the music to loud. But overall a great trip. Thanks "
Jolein Mulder
Thu 12 Feb 2015
"Very good trip - thanks Awesome Crew !"
Cecilie
Sat 27 Dec 2014
"Awesome trip, Crew were enthusiastic, knowledgeable + great fun. great food"
Heulwen
Sat 13 Dec 2014
"Literally nothing to complain about, apart from the noisy toilets (not much can be done about that I know)"
Martin Mestanek
Thu 27 Nov 2014
"Great time on the ship, crew was really friendly, food was good "
Charlotte
Mon 24 Nov 2014
"Great crew, great people, fun trip!"
Verena
Wed 19 Nov 2014
"It was an amazing time! great people! Too bad the scuba boat was out of commission."
Tobias Hoeschele
Wed 05 Nov 2014
"A great trip, good crew and food. Good knowledge of area. Would have liked more notice of dive being cancelled from check in office."
Samara
Thu 30 Oct 2014
"It was an amazing trip. A great adventure with a nice crew. Thanks for everything and see you soon MAYBE :)"
Celien
Thu 23 Oct 2014
"Flipper for snorkelling. Food was amazing."
Rico Schumacher
Wed 04 Jun 2014
"QUALITY - 9/10
CREW - 9/10
FOOD - 9/10
BOAT - 9/10
If possible for one or two Power points. The rest was perfect! "
Johannes Wittman
Mon 02 Jun 2014
"Good Boat. Good Crew, Great Male/Female ratio. One suggestion for improvement would be to include some sort of BBQ either on or off the boat."
Darren
Fri 30 May 2014
"QUALITY - 10/10
CREW - 10/10
FOOD - 10/10
BOAT - 10/10
Had an awesome time, crew were good as!"
Luke Murphy
Tue 27 May 2014
"Very enjoyable stay on-board. Having the chance to do a full dive as an intro was wicked. Crew very enthusiastic and fun. The beaches and corals fantastic and compared to other vessels in the area we stayed in these locations for a good long time making the most of the locations. Thank you (Nachos were awesome)"
Matthew Barker
Sun 25 May 2014
"Really fun, great crew - very enthusiastic! 10/10 "
Jackie Kopelman
Tue 20 May 2014
"Really fun. The crew were very enthusiastic. The food was excellent.
QUALITY OF TRIP - 10/10
CREW - 10/10
FOOD - 10/10
BOAT - 10/10
Would you travel again - YES"
Richard Garland
Tue 13 May 2014
"Really fun. The crew were very enthusiastic. The food was excellent.
QUALITY OF TRIP - 10/10
CREW - 10/10
FOOD - 10/10
BOAT - 10/10
Would you travel again - YES"
Richard Garland
Mon 12 May 2014
"A very nice trip. experienced and very pleasant crew. "
Vergard Wahl
Mon 03 Feb 2014
"Fun and sociable tour with the experience of sailing. On of my friends recommended the British Defender and I did enjoy this trp. thanks to the awesome crew."
Sandra
Thu 03 Oct 2013
"Amazing experience. Great crew. Lots of Information. Relaxed atmosphere."
Rixt
Sat 14 Sep 2013
"Awesome, Cool, Fun, Friendship! Off the Edge!"
Aurelien
Wed 04 Sep 2013
"Awesome, cook, fun, friendship - OFF THE EDGE!"
Aurelien
Sat 17 Aug 2013
"Great trip & group! The staff were fantastic & food was great. We will definetly be recommending this trip to family and friends."
Aaron
Thu 19 Jan 2012
"We just had an awesome experience on British Defender!! We had quality crew, food & other passengers. The boat was so much fun to sail & the snorkelling and Whitehaven were beautiful Thanks for a great Whitsunday experience."
Anqoine
Mon 09 Jan 2012
"British Defender was an awesome sailing experience! The crew did a really good job to have everyone feeling comfortable. Also to cook us all great meals on such a boat was great. We were well informed throughout the whole trip & came home knowing so much more about the Whitsundays. Thanks!!"
Janina
Thu 29 Dec 2011