What Makes Whitehaven Beach So Special?
You may have heard of the famous Whitehaven Beach, but what makes it so special? Why do travelers from all over the world fly all the way to Australia to see this unique beach in Tropical North Queensland?
There are so many reasons why Whitehaven Beach is special, and it is absolutely worth planning a visit there! The beach itself is out-of-this-world stunning, with shimmering white sand and vibrant turquoise waters. Not only that, but Whitehaven Beach is set on the edges of the Great Barrier Reef, and the ancient rainforests of Whitsunday Islands National Park. If you're not yet convinced, let's dive into more of the reasons why Whitehaven Beach is so special!
---
What Makes Whitehaven Beach So Special?
So what makes Whitehaven Beach so special? From its dazzling beauty, to its surrounding natural wonders, to its opportunities for fun and adventure, Whitehaven Beach is one of the most special and beloved locations in Australia. So you can really understand how unique Whitehaven Beach really is, we'll unpack each of these reasons and hopefully persuade you to book a tour to Whitehaven Beach right now!
---
The Beauty Of Whitehaven Beach
The main reason why Whitehaven Beach is so special is its natural beauty. This is undoubtedly one of the most gorgeous beaches in the world. Combining rich green tropical forests, soft white sand, and the calm sapphire waters of the Coral Sea, photos of Whitehaven Beach are always beautiful.
Made up of 98.9% silica, the white sand of Whitehaven is world-famous. Silica sand reflects heat so it doesn't burn your toes, and it is velvety soft to the touch. Whitehaven Beach's water is part of the Coral Sea, which is brilliantly blue due to light reflecting off the tiny particles scattered through the ocean.
In between North and South Whitehaven Beach, the white silica sands swirl together with the turquoise ocean, creating one of the most stunning views you've ever seen. Hike up to Hill Inlet Lookout to get the best views of the inlet and Whitehaven Beach!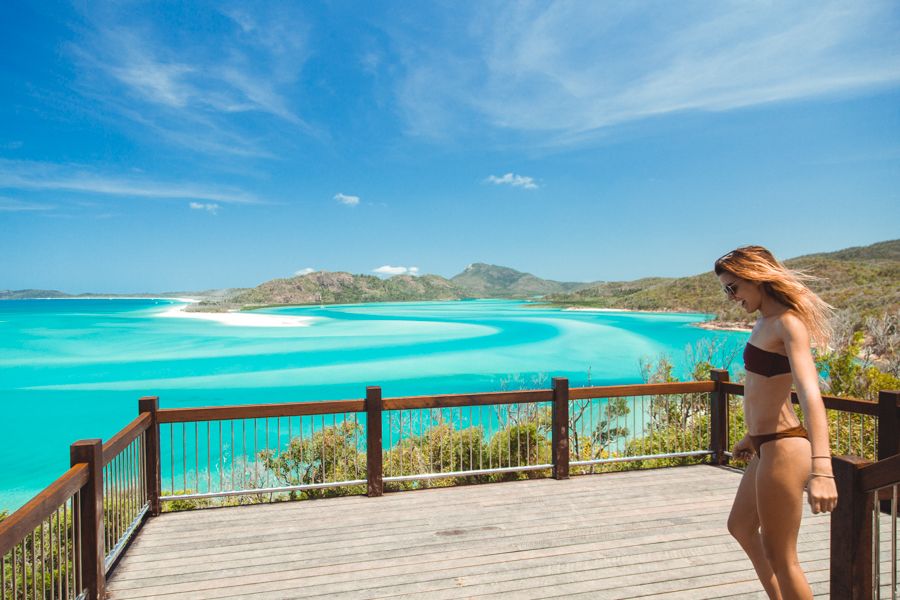 ---
Natural Wonders Around Whitehaven Beach
As if its photogenic qualities weren't enough, Whitehaven Beach is also surrounded by natural wonders. Located on Whitsunday Island, which is part of Whitsunday Islands National Park, the beach is just one of many breathtaking places in the area. With 74 tropical islands in total, the Whitsundays are home to plenty of wildlife, Aboriginal culture, ancient rainforests, hiking and camping spots, and more. There is no better place to disconnect from the modern world and immerse yourself in nature!
The Whitsundays are also part of the Great Barrier Reef Marine Park, which protects and preserves the world's largest coral reef system: The Great Barrier Reef. When you visit Whitehaven Beach and the Whitsundays, you can take to the water and go snorkeling or scuba diving amongst the fringing reefs and marine life of this World Heritage-listed location.
---
Fun And Adventure On Whitehaven Beach
Another reason why Whitehaven Beach is so special is its correlation with fun and adventure! Because this beach is located on a remote island, you can't just drive over and plop down on the sand for an average beach day. You can only get there by guided tour via boat, seaplane, or helicopter! Or if you have your own boat, or want to charter a boat, you can sail yourself there.
So basically you are required to have an epic adventure if you want to visit Whitehaven Beach! Whether you want to sail through the Whitsundays for a few days and include Whitehaven in your action-packed itinerary, or you just want to visit for the day, you're sure to have a blast on this stunning beach. You can even go hiking in the surrounding forests, with the bushwalk to Hill Inlet Lookout being the most accessible walk. Or you can camp overnight at South Whitehaven Beach, or go swimming and snorkeling with the marine life that frequents the waters. There is so much fun to be had at Whitehaven Beach!
---
The Best Ways To Get To Whitehaven Beach
The best way to experience Whitehaven is on a multiday sailing tour of the Whitsundays. You can hop on a catamaran or maxi yacht and sail through pristine, protected islands while snorkeling, paddleboarding, and beach-hopping along the way. Check out our deals on overnight sailing tours here, or consider booking a private charter boat and having the same experience with your own friends and family instead of a tour group.
Or you can visit Whitehaven Beach on a day trip! Boats leave Airlie Beach and Hamilton Island daily so you can experience the beauty of Whitehaven in just a few hours. For a new perspective, book a seaplane or helicopter tour to Whitehaven and admire the Great Barrier Reef and surrounding islands from the sky. No matter how you choose to visit Whitehaven Beach, it is almost guaranteed that your experience will be special!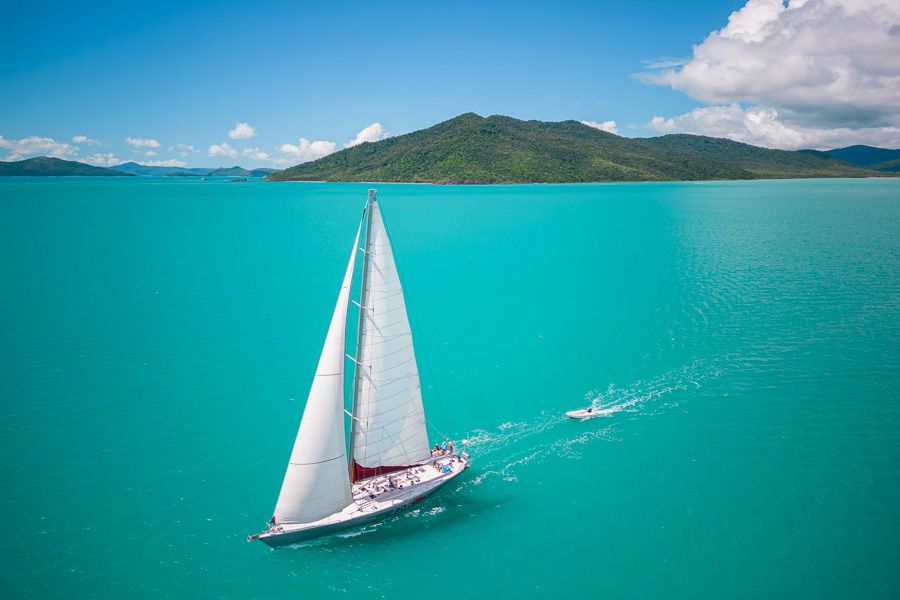 ---
Check out our full list of Whitehaven Beach day tours here!
Live chat with us online if you have any questions about planning your Whitsundays adventure!