Holiday Here This Year in The Whitsundays!
Undoubtedly this has been a tough couple of years for Australia, from the impacts of COVID-19 to bushfires in the southern states to the drought-affected farmlands and communities that are still recovering. Now more than ever, regional communities all over Australia need your help, and you can make a difference by choosing to Holiday Here This Year!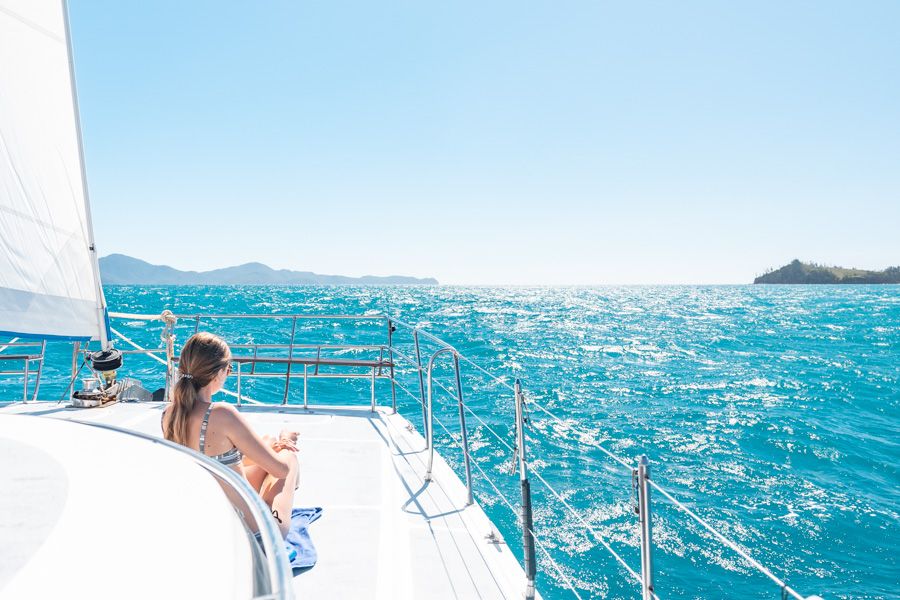 ---
Why the Whitsundays?
The Whitsundays is located on the Great Barrier Reef, and the pristine 74 islands make for some of the best sailing in the world. But that's not all you can see and do here! Here are 15 reasons why you should choose the Whitsundays as your next holiday destination, whether you live in Australia, or are travelling from overseas!
---
1. Heart Reef
Arguably one of the most iconic images of the Great Barrier Reef, our beloved Heart Reef is naturally formed in the shape of a love heart! The best way to see this treasure is on a scenic helicopter flight, where love will be in the air and in the water below you!
---
2. Whitehaven Beach
Regularly voted the best beach in the world, and the #3 most Instagrammed spot next to the Harbour Bridge and Sydney Opera House, Whitehaven Beach has to be seen to be believed. The swirling colours of Hill Inlet will undoubtedly be your favourite photos you take home from your holiday in Australia!
---
3. Sailing
The protection of the 74 islands and beautiful warm weather year-round make the Whitsundays a sailor's paradise. Choose from over 50 sailing vessels for every comfort level and budget, from luxurious catamarans to built for speed ex-racing maxi yachts. There are also pieces of history sailing our turquoise waters! Ask us about our recommendations or read more about the many different sailing options here.
---
4. Island Resorts
Not all of the islands in the Whitsundays are national parks-We have an array of developed resort islands, your perfect weekend retreat! Hamilton Island is the largest, offering dozens of different accommodation options to suit every budget, plus over 60 activities on the island including hiking, golf, ATV tours, and water sports. Daydream Island has long been a locals favourite with its boutique charm and Living Reef exhibit! Stay overnight at either, or ask us how you can pop over for the day!
---
5. The Great Barrier Reef
The Great Barrier Reef stretches over 2300 km, (1400 ml) and is the world's largest coral reef system. Most of the boat tours in the Whitsundays offer snorkelling on the many fringing reefs of the islands, and a few offer trips to the outer reef. There are also many vessels and tours that offer diving - whether you're a first-timer or a pro, you won't regret diving the Great Barrier Reef!
---
6. Hiker's Dream
Not all the beauty of the islands has to be experienced by boat - With beautiful lush tropical rainforest surrounding the region on the mainland and on the islands, there are also dozens of hikes to enjoy the vast landscape. Plenty of hikes like Honeyeater and Mt. Rooper from the mainland are fantastic if you have some downtime from your tour, or if you're heading out on the islands look for places like Whitsunday Cairn, or Passage Peak! For more information on hikes in the region, read this article.
---
7. Bird's Eye View
If boats aren't your thing, or you are short on time but still want to experience all the beauty the Whitsundays has to offer, scenic flights are a great option. The swirling sands of Hill Inlet from above are otherworldly, and you can package your flight with a landing on Whitehaven Beach for a champagne picnic and trip to Heart Reef for an extra special day out.
---
8. Pools Galore
Airlie Beach and the Whitsundays have optimal weather for swimming year-round, and we have the pools to prove it! From our free saltwater Lagoon in the middle of town to places like Anchor Bar's free pool, you will be hard-pressed to not find a place to cool off. Heading over to the islands? Hamilton Island and Daydream island also have an abundance of pools, including swim-up bars!
---
9. Unique Experiences
The Whitsundays offer some of the most unique experiences you can have in Australia, all in one convenient location. There are Segway tours in the Rainforest, and other once in a lifetime experiences like sleeping on the Great Barrier Reef in an underwater hotel or snorkelling with Stingrays! Pull out that bucket list and get ready to make some serious ticks here!
---
10. Iconic Aussie Animals
If getting to see all of Australia's most iconic animals is on the cards, then you can see them all in the Whitsundays. Hamilton Island has a wildlife park on the island, and you can book a VIP koala experience, or see crocodiles in the wild with Whitsunday Crocodile Safari. Visit during the winter months and you'll even get the chance to see humpback whales on their annual migration!
---
11. Underwater Sculptures
Another unique first on the Great Barrier Reef and specifically the Whitsundays is our latest underwater sea sculpture instalments! 6 locally made sculptures are dotted at snorkel sites around the region, and many overnight tours visit them. Read more about where they are located here!
---
12. Tours for Every Budget
There are endless tour options available in the Whitsundays, and you don't have to break the bank to experience them. 2 day 1 night charters are extremely affordable and will take you to all the highlights of the region for a fraction of the cost of a longer tour. Ask our local Whitsunday agents for our current specials, and we'll help you choose the perfect boat.
---
13. Awesome Atmosphere
The town of Airlie Beach is a relaxed sea-side village, bursting with activity day or night. Head to places like the Pub, Shed bar, or Northerlies for a laid back Sunday afternoon session, complimented by live music, or check out our top picks for Airlie Beach's nightlife scene to get the party started here.
---
14. Stunning Views
If you aren't an avid hiker (or simply want the view without the effort) pick just about any Restaurant in Airlie Beach and you are almost guaranteed spectacular scenery. Anchor Bar boasts great vibes and views from up the hill from Airlie Beach Main Street, Sorrento is known for its incredible sunsets from Coral Sea Marina, and Northerlies offers a beachside perspective of Airlie Beach, along with free shuttles!
---
15. So many Beaches
There are endless beaches around the Whitsunday region, whether you're travelling around the islands or staying mainland side. Conway Beach, Boathaven, Horseshoe Bay and the Airlie foreshore are all great places to sunbake, swim or simply beach comb. Read more about the different beaches around the region here.
---
We Can Help You!
At Sailing Whitsundays, we pride ourselves in being one of the leading experts on the region, and being locals we have collectively been on every tour, so we can recommend the perfect experience, based on our own! We have seasoned agents online available to answer any questions you have, and can promise you will not be beaten on price.
Chat live to our friendly local experts or call +61 7 4914 2425. Choose to Holiday Here This Year - You won't regret it!