2 Day Boat Trips in the Whitsunday Islands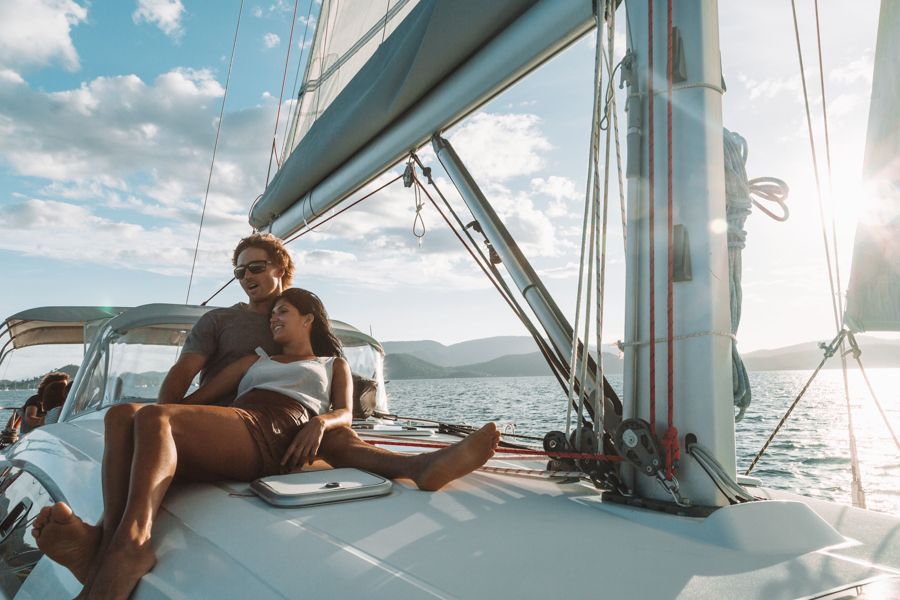 Picture the wind in your hair, the sun on your face and the waves under your feet - there is no better way to experience the Whitsundays than on a boat. With over 74 islands, white sandy beaches and fringing reef teeming with marine life, there is no shortage of things to explore in the Whitsundays and when it comes to 2 day sailing tours the options are endless. All 2 day sailing tours around the Whitsunday Islands visit iconic Whitehaven Beach and Hill Inlet however you will find that snorkelling locations vary and are usually determined on the day as they are weather dependent. These trips are fully catered with 3 meals a day plus snacks and many vessels are suitable for families.
---
Tours for 18 - 35's
Swim, snorkel or dive the beautiful Whitsundays on an exciting sailing tour full of fun and adventure. Tours for 18 - 35's are budget-friendly tropical experiences for the younger crowd with lots of free water toys and sports to enjoy. A great way to meet and make friends with like-minded travellers from all over the world, sailing tours are often the highlight of any trip to the Whitsundays and even Australia as a whole!
Powerplay is a power catamaran that takes up to 16 passengers on a social trip around the Whitsundays. Guests will visit must-see destinations such as Whitehaven Beach and Hill Inlet Lookout and enjoy snorkelling the fringing reef in some of the protected bays around the islands. There are also paddleboards and kayaks for use and even a heated spa on the deck! Powerplay has both private and shared accommodation available.
---
Hello giant inflatable slide! New Horizon is a trip ideal for backpackers looking to socialise while exploring the Whitsundays. This authentic sailing boat offers a unique tour for up to 32 passengers who will visit the iconic Whitehaven Beach, swim, snorkel, and even scuba dive around the reef.
---
Atlantic Clipper is a giant sailboat party that offers 2 days of unforgettable fun. Another boat with a giant slide and onboard spa, 'Clipper' is one of the most popular tours on Australia's east coast. This flexible trip gives 53 passengers the opportunity to do the trip their own way; snorkel or dive the reef, visit Whitehaven Beach, take a jet boat ride or just relax in the sun, it's up to you.
---
Siska is a comfortable maxi yacht that sails the hotspots of the beautiful Whitsunday Islands for 2 days and 1 night with snorkelling and swimming included. This 22 passenger sailboat has a rich racing history and a spacious deck for sunbaking. Featuring only shared accommodation, Siska is ideal for those with limited time or on a budget.
---
Another racing yacht, British Defender has an amazing history and is one of the only maxi yachts in the Whitsundays with air-conditioning! If you are after the ultimate fast sailing experience to all the popular Whitsunday spots including Whitehaven Beach, this amazing trip is for you.

---
Experience authentic sailing onboard the ex-racing yacht Boomerang. Guests have the opportunity to help the crew sail or sit back and relax while enjoying the beauty of the Whitsunday Islands. This boat has a young, fun and social vibe and shared accommodation only, making it popular with backpackers and solo travellers.
---
Tongarra has a reputation for being full of fun, adventure and excitement. It's hard to miss this bright red catamaran on the water and the crew are well known for exceeding expectations. Swim, snorkel and explore the wonders of Whitehaven Beach with 23 fellow passengers - you even have the chance to hoist the sails or steer the boat if you want to. Tongarra is a budget social trip for 18-35's only.
---
Style Sailing Tours
Style sailing tours are great fun but without the party vibe, making them suitable for people of all ages. If you are a solo traveller, a couple or family that prefers a quieter, more relaxed atmosphere while having fun and exploring the Whitsunday Islands then these tours are for you. Enjoy sailing and snorkelling through paradise as well as lots of free activities and make the most of the Whitsundays at your own pace - the memories you make will last a lifetime.
Fancy cruising the Whitsundays on a pirate ship? Solway Lass is a classic tall ship from 1902 with a rich history and billowing sails that are the envy of every boat you pass. Suitable for guests of all ages, this trip is a great combination of snorkelling, exploring Whitsunday Island and relaxation time at sea. Solway Lass also offers a rope swing and bow nets and there are free stand-up paddleboards to use when at anchor. This tour runs 2 days and 2 nights, for optimum time on the water.
---
Experience small group sailing at its best with a fun trip on Prima. 12 guests will get the chance to explore the Great Barrier Reef Marine Park and get up close and personal with the abundant marine life. You will also visit Whitehaven Beach and the spectacular Hill Inlet Lookout. Accommodation on Prima ranges from a shared saloon area to private double cabins, some with ensuite.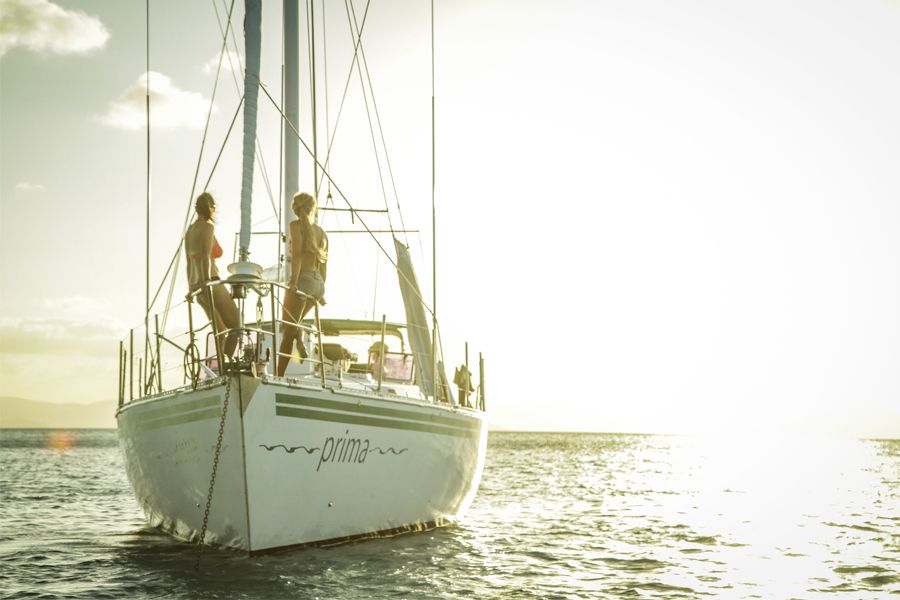 ---
Whitsunday Getaway offers a romantic and memorable experience for couples and honeymooners who are looking for a bit of luxury while sailing through a tropical paradise. Featuring four spacious air-conditioned cabins with ensuites, Whitsunday Getaway provides gourmet meals, snorkelling equipment and stand-up paddleboards for a maximum of 8 guests.
---
Whitsunday Blue is a spacious catamaran offering personalised service for up to 8 guests. Sailing, swimming and snorkelling - no two trips are the same but all are equally memorable. You will also visit the tropical paradise of Whitehaven Beach where you can bury your toes into the cool, soft white silica sand, or take a dip in the crystal clear turquoise water after visiting the Hill Inlet Lookout to see the magical swirling sands.
---
Summertime is a traditional sailing boat that comfortably sleeps up to 19 guests in a range of shared or private air-conditioned cabins. Featuring an onboard jacuzzi, free snorkelling equipment and the Whitsundays' only guided eco kayak tour, this trip is an action-packed sailing adventure not to miss.
---
Entice Catamaran offers small group sailing with a fun itinerary. One of the newest vessels in the Whitsundays, Entice visits all the popular spots for snorkelling and beach time as well as offering fun free extras such as a clear-bottomed canoe, sea scooter and stand-up paddleboards. Suitable for guests over 10 years old, there is a range of shared and private accommodation options for up to 10 passengers.
---
One of the most popular sailing tours in the Whitsundays, On Ice has a great range of water toys perfect for fun-loving and adventurous travellers. Explore the Great Barrier Reef through a snorkel or on a paddleboard or jump in the unique see-through canoe to witness the fantastic range of marine life below. With room for 10 passengers, this catamaran visits many islands including Whitsunday, Hook, Dumbell, Langford, Hayman, Black, Border and Esk Island (weather and tide dependent).
---
No matter which vessel you choose to explore the Whitsunday Islands, you are sure to enjoy every second of sailing through paradise with good food, great company and even better scenery!
Ready to start planning your perfect Whitsundays holiday? Chat to our local boating experts live online or call +61 74914 2425 for today's deals!