Prima 2D/1N
CLOSE
View More Thumbnails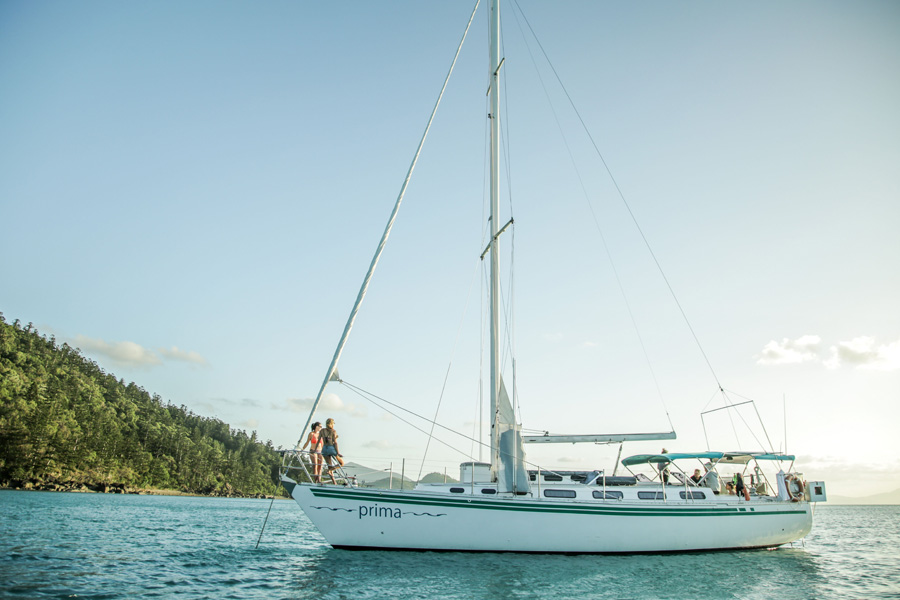 Loading...
Departure Times
Departs: 8:30 am
Returns:
4:00 pm
Departure Point: Coral Sea Marina, Airlie Beach
Pricing Options
RRP $459

$439 AUD / Person
- Shared Accommodation - Single Bed (23/24)
(Between: 31 Mar 2023 and 31 Mar 2024)
RRP $1029

$940 AUD / Cabin
- Private Double Cabin (Sleeps 2 Guests)(23/24)
(Between: 31 Mar 2023 and 31 Mar 2024)
RRP $1149

$1030 AUD / Cabin
- Private Double Ensuite Cabin (Sleeps 2 Guests)(23/24)
(Between: 31 Mar 2023 and 31 Mar 2024)
Highlights
| | | |
| --- | --- | --- |
| | Hill Inlet Lookout | Great Barrier Reef |
| Snorkelling | | |
| | | |
Escape the large crowds, keep on budget and come away smiling!
Experience small group sailing on a fun yet relaxing vessel
Great for those wanting to sit back, relax and enjoy the beautiful surroundings of the Whitsunday Islands
Both private and shared accommodation on board, creating an atmosphere that's great for couples, solo travellers, families and groups of friends!
Snorkel among the breathtaking reefs and experience the thrill of sailing from one destination to the next on board the beautiful Prima
Reviews
Overall Rating
5.0 / 5.0
Based on 26 reviews
Reviews by our Sailing Whitsundays customers
Fintan McGarvon
, 18 Nov 23
Most enjoyable experience. A little more sailing would have been magic but no wind!
- Trip excellent experience - Explore sent email with unclear time of departure - Thank you so much for everything
Loved it! Great experience, amazing people, very flexible with what we wanted to do. Good vibes or as Thierry would say "happy days" - Thank you! 10/10
Everything was fantastic! Had a lovely time with the captain, the crew and all the group. :) I would for sure recommend it! Thanks! :) Merci!
Charlize Bethge
, 18 Nov 23
It was an amazing trip and we had a lot of fun!
Great! Enjoyed so much! Thanks!
Ver fun, good atmosphere. Good snorkeling spots. Good information about the spots we visited. Good tips for snorkeling techniques.
Mary McPartlan
, 17 Nov 23
Just lovely and relaxing. Great snorkeling. Achieved all our wishes!
I had a fantastic time on board Prima - everything exceeded expectations. Food was great, captain was knowledgeable and planned a great itinerary around conditions and what we wanted to do. Thank you!
Christophe Nicklaus
, 16 Nov 23
Altogether it was fine but we could receive a bit more information on what is happening when. Eating felt rushed sometimes. Technical sailing skills were great though.
Cathie Figlewski
, 11 Nov 23
Had a wonderful time. Terry and Oliver were great!
Loved the Tour, we saw dolphins and a turtle, and the weather was stunning. Big thanks to the new owner Thierry good luck with your venture.
Wayne Simpson
, 21 Oct 23
The highlight for me was swimming with stingrays at hill inlet. Loved the food and the staff. Terry did such a great job that we would love to come back next year.
we had a great time on Prima! The crew was just great. We were even told that we could help decide what we did and when. So cool! We really wanted to go snorkeling and that was absolutely the highlight of my trip!! So many corals and fish and we even saw a manta ray. We also had the opportunity to visit the most beautiful sandy beaches that were a bit off the beaten track. I can recommend it 100 percent!
Lilli Lengemann
, 12 Oct 23
I had a amzing Sailing Trip! Two days and one night are perfect to explore the beauty of Whitehaven and snorkel in the stunning coral reef. The boat is clean and nice and the Crew is absolutly amazing. The food was good and Cook Olivia took good care of my dietary needs. Couldn't ask for more! I highly recoomend it to everyone who wants to have a nice Sailing experience without being on a Partyboat.
Just got back from a trip with Thierry, Had a great time and the weather was just perfect. Loved the French cooking and the commentary from such an experienced owner. Will recommend it to everyone in my travels
Even with average weather it was an awesome experience! Fantastic skipper who navigated through some rough seas which was a thrill in itself.fantastic meals by Jade. Bed was a little tight but for 1 night it is doable! Loved it and coming back next year
Matthaea Bettray
, 31 May 23
It was a really good experience to see the Whitsundays and get to know some very nice and kind people. I had an amazing time and would highly recommend it to others.
We had a fabulous two day trip on Prima with skipper Karl and Hostess Abby. We had spectacular sunrises, shooting stars, an early morning visit to Whitehaven beach where we had it all to ourselves. Karl was a great skipper happy to do whatever we wanted. We swam, sailed, hiked and snorkled.
Elisa Villebrun
, 05 Mar 23
Very pleasant trip
Laury Belanger
, 27 Jan 23
The experience was absolutely amazing. Isak and Tess were great during the whole trip. It was a very nice perspective of the Whitsundays and I loved every second of it.
Quentin Vendeville
, 13 Dec 22
Very nice experience with Manie and Greg !
Was a nice trip and it was really fun. The inlet Hill lookout was absolutely unbelievable. One of the nicest places I ever been. The snorkelling was pretty good, but the best snorkelling place is in the outer reef.
Great experience ! The skipper and the girl who managed the group were so nice. I 100% recommend this tour. So many great memories, thank you ! The sailing-whitsundays team was very efficient as well !
Morten Benestad Moi
, 06 Oct 22
Went on a 2 day 1 night sailing trip with Prima. Boat was great, food was great and Luke and Queenie took us to the best snorkeling and fish spots the first day, then early to whitehaven beach the next day to beat the crowds. Would go again to hear more of Lukes stories
Cliff Goulding
, 04 Apr 22
I have just been on tour on Prima with captain Matt and cook Helena. Two great people who took my family of 11 on a great 3 day adventure. Very professional always seeking the best for the participants. And when the tough got going. Superb seamanship and cool heads prevailed.