Whitsundays Stinger Season
Updated 04/01/22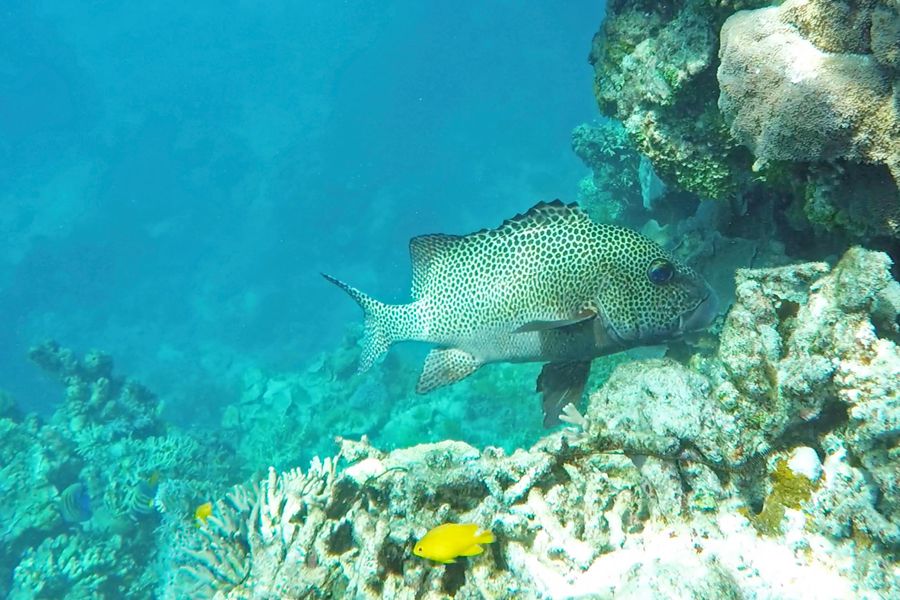 The Whitsundays and Great Barrier Reef Marine Park provide the ideal home environment for an abundance and huge variety of marine life, including a number of different jellyfish species during stinger season!
Although being stung by a harmful stinger species is an uncommon occurrence in the Whitsundays, it is best to take the recommended precautions to ensure both your safety and enjoyment during your visit to the spectacular Whitsunday Islands!
---
Stinger Season in the Whitsundays
It is good to know that 'stinger season' generally runs during the warmer months of the Australian year, from October to May during the Whitsundays summer. The tropical waters of the Whitsundays and surrounds create ideal conditions for stingers, however, being stung on a tour is an extremely rare occurrence as the necessary precautions are taken by crew and passengers!
Varieties of jellyfish can be present year-round during periods of northern winds and king tides. Therefore it is recommended to always exercise caution before heading out into the tranquil waters of the Whitsundays, especially during the summer season.
Jellyfish have limited propulsion abilities, and can generally be found floating along with the ocean currents. If you are feeling concerned ask your experienced crew, who will inform you of the tidal conditions of the day!
---
Types of Stingers in the Whitsundays
Jellyfish are an important part of the Whitsundays marine ecosystem, and even provide food for animals such as sea turtles. There can be blooms of harmless, and even beautiful jellyfish depending on the time of year, such as moon jellies, crystal jellies, and blue buttons.
Although your chances of being stung in the Whitsundays are extremely rare, there are a few jellyfish that everyone should keep plenty of distance from, as their stings can be extremely harmful. When we are in their environment, it's important to remain cautious and keep an eye out when entering the water!
Irukandji
Translucent and roughly the size of a fingernail Irukanji can be hard to spot in the water. An Irukandji sting results in severe pain generally within 5-40 minutes and can have life-threatening effects on the heart. Dowsing with vinegar immediately for at least 30 seconds is recommended by the Queensland Ambulance Service.
Box jellyfish
Easier to spot, Box jellyfish can be distinguished by their large cubed bell and long tentacles. A box jellyfish's sting is extremely life-threatening, as the venom has severe effects on the heart, nervous system, and skin cells. Dowsing with vinegar immediately for at least 30 seconds is recommended by the Queensland Ambulance Service.
Bluebottles
Also easy to spot Bluebottles are dark blue in colour and have the appearance of a bottle-shaped bell. There are no confirmed fatalities from Bluebottles stings, however, the stings do cause pain and swelling. Immersing the sting immediately in hot water is the best option to stop the sting.
---
Where stingers are present in the Whitsundays
High-risk conditions include calm water, especially in sheltered bays, sandy beaches in low wave action, river-mouths, and of course heightened water temperatures. However, stings can still occur in open water and out of season, so a stinger suit is always a good idea. Stinger suits also have the added bonus of protecting you from the sun without having to apply sun lotion!
Stinger season doesn't mean you can't enjoy yourself in the water - it just means you have to be more careful and aware that you are entering a foreign environment. Hundreds of thousands of people enter the calm, turquoise waters of the Whitsundays region every year, and there are very few recorded stinger incidents. Use reasonable caution to minimize your risk, and rest assured that stings are incredibly rare, as are your chances of encountering a stinger during your trip!
If you have any concerns speak to the highly-trained crew on your tour and they will assist you with prevention advice and local knowledge of the area and time of year!
---
Stinger season precautions in the Whitsundays
1) Wear a stinger suit
If you are heading out on a day or overnight tour, your safety is the crew's highest priority! Stinger suits (wetsuits) are provided to each guest, at little or no cost, to minimise any risk of being stung whilst in the Whitsundays waters. It is important to wear your wetsuit during any water-based activities, including swimming, snorkelling, or scuba diving!
A stinger suit will cover your body from neck to ankles, decreasing your already extremely slim chances of being stung by 75%. Pregnant women, the elderly, and children are more susceptible to the harmful effects of a jellyfish sting, so they may opt to cover up further with a head cap, gloves, and reef shoes. During the winter months, it is wise to still wear a rash shirt, as the most important area you want to protect is your chest.
Our experienced crew also recommends wearing a stinger suit during stinger season if you go for a dip in the swimming enclosures off Airlie Beach. Smaller types of jellyfish can enter these areas and get trapped in the enclosures. Suits can be hired or bought at several shops in Airlie Beach, including the dive shop at Abell Point Marina.
2) Carry vinegar
All vessels and crews heading out on a day or overnight tour will have the supplies and training to act immediately if you are stung by a jellyfish. However, if you are swimming offshore on an unpatrolled beach, it is advised to see if they have a stinger station near that will generally have warning signs and a bottle of vinegar in case of emergencies.
If you plan to travel independently around the Whitsundays it is a good idea to carry your own bottle of vinegar in your pack, especially during stinger season. Make sure to never touch a jellyfish that has washed up on the shore, as their stingers can still have active venom.
3) Know the winds and conditions
Although jellyfish most commonly occur in the Whitsundays from October to May, varieties of jellyfish can be present year-round during periods of northern winds and king tides.
If you're unsure of what precautions to take, particularly during the cooler months, be sure to ask your experienced crew, who will inform you of the current and recent winds and conditions.
---
How to treat a jellyfish sting
Irukandji, box jellyfish, bluebottles, and other dangerous species can be found in the Whitsundays and can cause severe reactions in people. Reactions range from serious stings to cardiac arrest, so it is important to treat sting properly to prevent further damage.
Treatment can range between stinger species, dowsing with vinegar is recommended for most jellyfish stings, while this is not recommended for Bluebottles. Instead, immersing the sting in hot water is the best option to stop the sting. Although it is a very rare occurrence, always alert your highly-trained crew immediately if you have been, or believe you have been stung whilst in the Whitsundays!
Queensland Government issued procedure if yourself or someone is stung:
Call for medical help (ring 000) (or if you are on a tour, alert your qualified crew members).
Assess the patient and perform CPR if necessary.
Remove any remaining tentacles carefully, preferably with a glove.
Douse the sting site with vinegar as soon as possible. Vinegar inactivates the stinging cells, preventing them from injecting more venom.
Reassure the patient and keep calm until medical help arrives.
Wait at least 45 minutes before re-entering the water as symptoms of Irukandji syndrome can take a while to develop.
If in doubt, treat as Irukandji.

Time to put on that stinger suit and rest assured that you are in for an unforgettable holiday armed with extensive knowledge of these incredible (and rare) creatures!
---
Planning your dream getaway to the Whitsundays, and unsure on what day or overnight tour to book? Call us on +61 7 4914 2425 or live chat with our knowledgeable team of local experts today!