When is Turtle Season in the Whitsundays?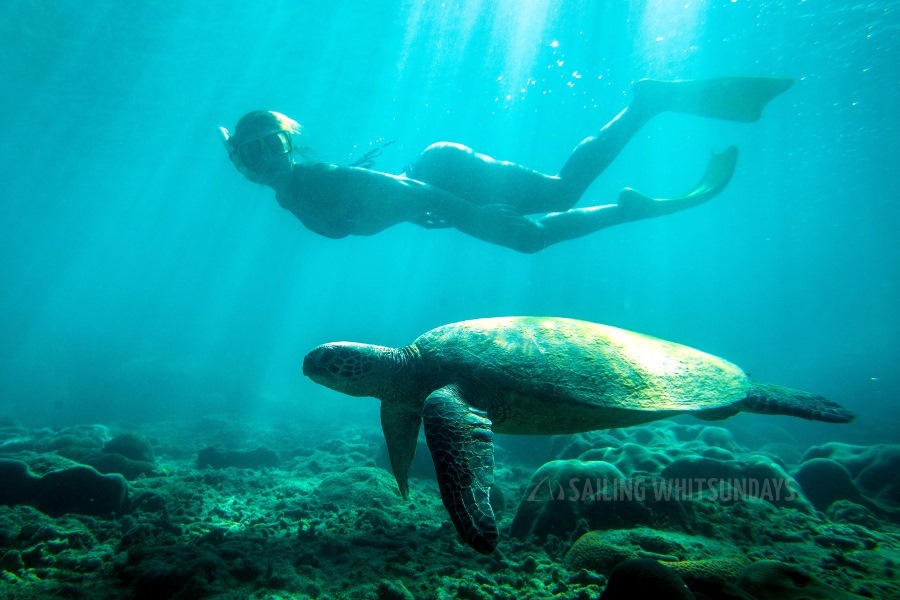 It is always turtle season in the Whitsundays! Turtles live in the Whitsundays all year long, breeding, eating, living and laying their eggs in the sands around the islands. If you're lucky, you will spot one while you're out snorkelling or cruising along on a boat, as they are never far away from the trained eye!
While many turtles live here all year around, breeding turtles lay their eggs from November to February where they leave their ocean homes and venture up onto the beaches around the Whitsundays and all over the Australian coast. A few lucky people are lucky to see them on the beach looking for a perfect nesting site or digging a hole to lay their clutch in.
The nesting mothers, which have taken at least 30-40 years to reach maturity, might visit the nest several more times over the next few months before the eggs hatch, giving us a chance to see them in a different way than we may have ever before. The little hatchlings are usually spotted from January onwards and hatch at night, crawling out of the sand and into the ocean, lured by the full moon.
Your best chance to see a turtle in the Whitsundays is if you're in the water snorkelling, or boating around known turtle feeding areas. Juveniles who haven't yet reached maturity like to hang around the reefs munching on coral, small fish, and jellyfish, while larger, more mature turtles are often found in bays and inlets that are full of seagrass, their main source of food. They are easily spotted coming up for fresh air, which they will do every few minutes!
The Whitsunday Islands are such a great place to visit to try and spot sea turtles in their natural and rightful environment, as they cruise around the beautiful Whitsunday Islands and reefs!
---
To book your dream Whitsundays getaway, don't hesitate to get in touch with one of our friendly local travels agent for a free personalised itinerary!
Live chat with a local team member or call us on +61 7 4914 2425 today!