New Years Eve in the Whitsundays
With its lively atmosphere and strip of restaurants, bars and nightclubs, Airlie Beach in the Whitsundays is certainly one of the most popular towns to celebrate the New Year.
Bringing in the year 2020 is certainly no exception to this with a large number of events organised at almost every venue onshore, offshore, and on the surrounding island resorts. We've got everything you need to start planning your New Year's Eve celebrations, whether you're a local or visiting on holiday!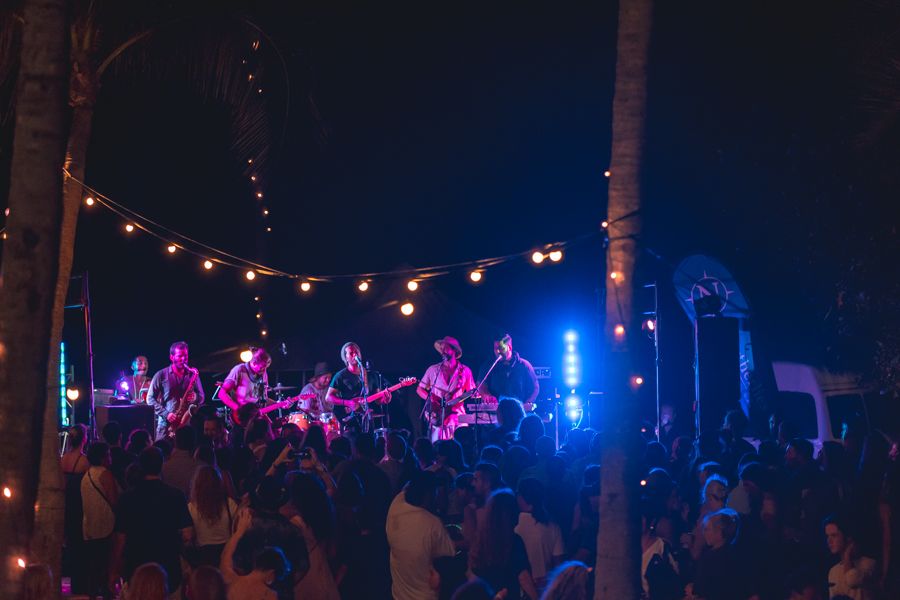 Airlie Beach
Often referred to as the 'Gateway to the Whitsundays,' the town of Airlie Beach is a small seaside village with a friendly, casual atmosphere during the day, and when night falls, you'll have plenty of options to keep partying until the New Years' bells ring in (and long after!)
The main street of Airlie Beach is always buzzing on December 31, with plenty of live entertainment happening at the usual venues including Magnums, Beaches and Boaty's, and all of the local restaurants choc-full of people. Bookings are essential at most places, and you'll find they can even book out months in advance, so make sure you don't miss out!
Accommodation
Christmas and New Years are considered the busiest season in the Whitsundays, and across Australia in general. The town, boats and islands will book out, especially on the actual holiday, so forward planning is key again. You will be lucky to find any discounted rates during this time of year, however, some places will offer early bird specials, so check with your hotel, resort, or Airbnb as far in advance as possible. Many places will also have a minimum night stay over New Years, so if you are only planning on one night you may want to reconsider tacking on a few extra nights. If you're looking at the best option to get to Airlie Beach, read more about getting to the region here.
Lunch and Dinner
There are plenty of restaurants in the region to celebrate at, to cater for every palate and budget. Some will cater more for lunch, and some more for dinner. Places like The Pub, Anchor Bar, Northerlies, and Mika make for a spectacular dining experience, all with incredible views, so if you plan it correctly, you can time your meal around the foreshore fireworks! For a full list of recommended restaurants, read more here.
Foreshore Fireworks
One of the highlights of the evening has to be the Great Barrier Reef Festival fireworks display from the foreshore which can be seen from most venues in the main street. Often the council will organise a special night market full of food stalls, and a variety of locally handcrafted treasures, and you can check their official website to see what is on this year.
After the recent foreshore upgrade, visitors will delight in the new open space, complete with amphitheatre beach stairs and a new parks and lawns to set up the perfect firework spectator picnic (Hot tip: If you get there early you can grab a really good spot!). Usually, there are earlier fireworks around 8 pm, followed by a midnight display to remind everyone it's a New Year!
Late Night Party Venues
Airlie Beach doesn't shut after the little ones go to bed, and if you're planning on going out, organising a babysitter well in advance will be crucial if you have a party planned, or want to get amongst the hustle and bustle after sunset. For those who are free-wheeling, starting at places like Magnums, Beaches or Boaty's is a must, especially if you're looking to meet new people before heading to the nightclubs. Once the party really starts kicking off, you can find live music and DJ acts galore at Paddy Shenanigans, Mama Africa, and Boom Nightclub until late. Doors usually open around 10 pm, and be mindful about lockout times, as some venues will take people until 2-3am, and not close until the early morning.
Safe Night Precinct
The main street of Airlie Beach is a Safe Night Precinct, and therefore has security guards, 'rest and refresh' stations, and strict behaviour rules for everyone's safety. Airlie Beach offers a big party during New Year's, and we always recommend having a nice filling meal before heading out and staying hydrated throughout the night.
Taxis and Buses
There are three main ways to get around in Airlie Beach on New Years: Taxis, buses, and of course, walking! If you're looking at booking your accommodation, consider staying somewhere close to town, as the hours around midnight are especially busy on New Year's Eve, and there is almost always a queue at the taxi rank. We recommend downloading the Mackay/Whitsunday Taxi app, especially if heading to a remote party. This gives you a notification of how far away your taxi is, so you aren't waiting outside of a venue or party for too long. Please note, they will likely not pick up from venues on the Airlie Main Street on New Year's, so standing at the taxi rank queue is likely your best bet on this big night!
It's worth mentioning that the Whitsundays do not offer Uber services at the time this article was written. That being said, you may want to educate yourself on the public transit system as a backup. Whitsunday Transit generally put on extra bus services for Christmas and New Years, so if you're staying a little further out of town this might be a more affordable (and dependable) alternative. Of course, there are some other fun alternatives, like hiring your own private party bus, utilising some of the free shuttles some venues offer or hollering a Tuk Tuk!
Island Events and Accommodation
You've probably noticed a common theme by now: Booking in advance is essential, and the resort islands are no exception! Places like Hamilton Island, Daydream Island, Hayman Island, and Long Island will all have minimum night stays, and some won't allow day visitors over on New Year's Eve (imaging missing your last ferry and having nowhere to stay as the accommodation is fully booked!). Minimum night stays sandwiching New Year's Eve will definitely apply here, so make sure you enquire as early as you're able.
Larger islands like Hamilton Island will have their own events and activities during the day and night, including live music, street eats stalls and fireworks displays, so this could be an extra special way to ring in the New Year! Ask us about island accommodation rates that include ferry transfers, or even about their holiday homes!
Overnight and Private Charters
Without a doubt, booking on an overnight charter is one of the most amazing ways to experience the Whitsundays any time of year, and you can take this to the next level with your loved ones by booking any one of them on an overnight private charter during New Years! You'll want to work out your arrival and departure dates accordingly, as well as your group's ages (most take children, but have a minimum age). For more details about minimum nights and age restrictions, read more here.
Day Charters
If you'd prefer to ring in the New Year on land but still want to get out on the water, many of the day charters in the region run on New Year's Eve, with some even available for private charter. These are popular for families and locals, so we highly recommend booking as far in advance as possible. For recommendations on our favourite day charters, find out more here.
No matter where you plan to ring in the New Year, we've got you covered. Chat to our friendly local team now about planning your ultimate getaway to the Whitsundays or call +61 74914 2425 for more information!