The Most Romantic Places in the Whitsundays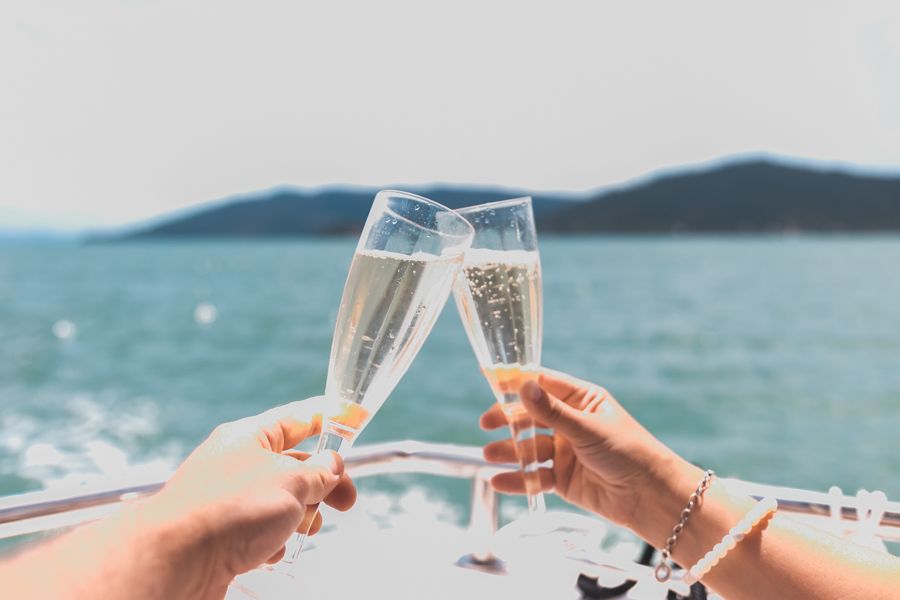 Updated 21/01/22
The Whitsunday is nothing, if not romantic! Here in this beautiful part of Australia, we have all the makings of a romantic getaway, with everything you will need for an intimate escape with your loved one! Imagine lush tropical islands, lulling blue waves, sandy white beaches, hidden tropical coves and perfect hideaways where you and your loved one can escape into romance. It's the ideal place for honeymoons, anniversaries, proposals, weddings, or just a romantic weekend away where you can experience something new and enjoy the island life!
If you are visiting, or even if you live here, you might be looking for something a little more romantic to spice up your date night or to launch your trip to the next level! We've made a list of our favourite romantic places to help you choose the best places to visit during your Whitsunday trip.
---
Heart Reef
Heart Reef is the most obvious in terms of romance, and with good reason. The naturally formed reef draws romantics from all over the globe to come to enjoy her beauty and uniqueness. The picturesque reef can only be appreciated from the air, where visitors can see the shape of love formed in the water. The blue water against the colourful corals creates a stunning masterpiece so be sure to bring along your camera! It's a favourite for proposals, date nights and honeymooners visiting the area, as it really creates a romantic mood and sense of amazement (a great combo if you ask us). You can book a scenic flight to take you out over the reef, with flights lasting up to 1 hour.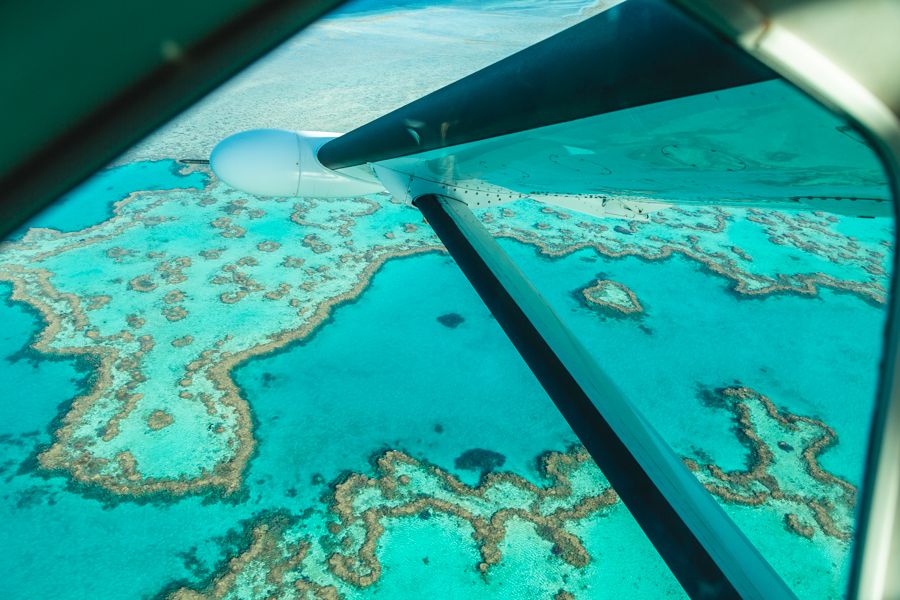 ---
Whitehaven Beach
Whitehaven Beach is another iconic and famous romantic destination in the Whitsundays. This world-famous beach is almost dreamlike in its beauty. It has a full 7km of soft white silica sands that are known all over the world… and people come from all over to visit this favourite beach! You can often see couples strolling along the shoreline, hand in hand as the soft waves lap at their feet, or laying in the sun enjoying each other's company. The calm waters make it a good place for swimming and relaxing and the cool sands ensure it's always comfortable to hang out on. The stunning backdrop makes it a great place to snap a new couple's photo, too!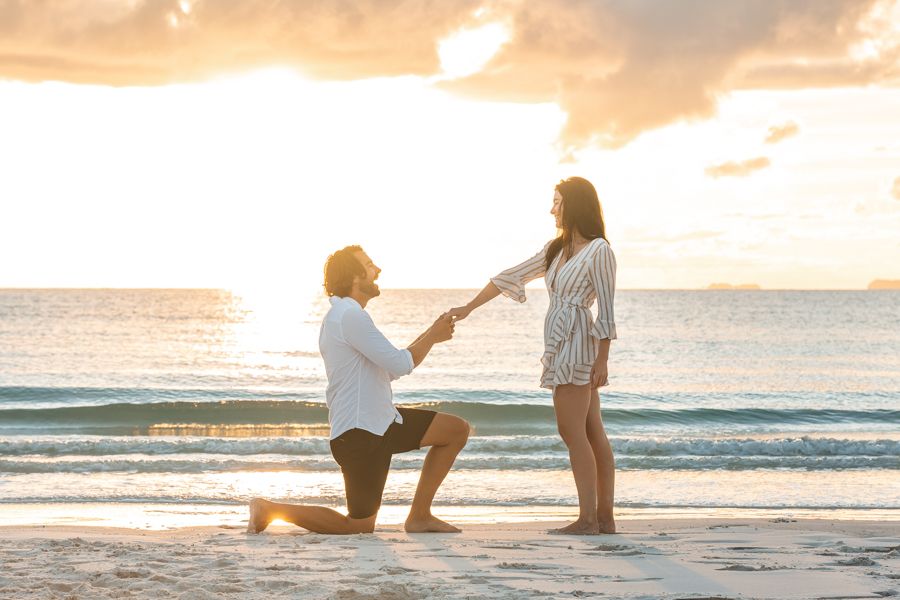 ---
Hill Inlet Lookout
If you're heading to Whitehaven Beach, you've got to make the journey up to the famous Hill Inlet Lookout. The lookout point boasts views of the Whitsundays and Hill Inlet below and has one of the most stunning lookout points in the entire country. It's usually bustling with other tourists and visitors, but if you're able to grab a moment at one of the platforms by yourselves, it's certainly going to bring out the romantic in anyone.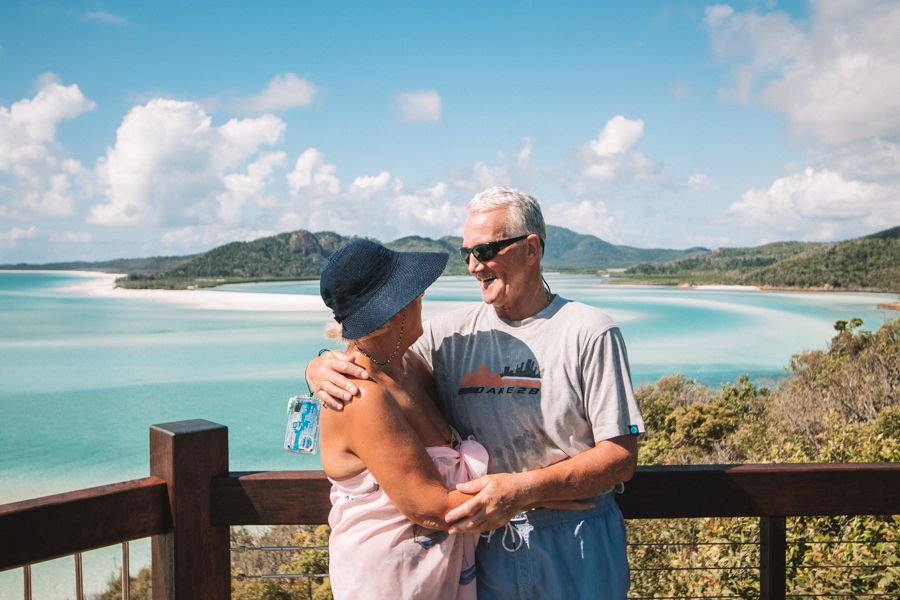 ---
Hamilton Island
Hamilton Island is one of the more well-known resort islands in the Whitsundays. It's got to be one of the best places to escape for a romantic getaway, with so many stunning hotels and bungalows, as well as world-class restaurants, spas, beaches, pools, swim up bars and more. You can fly directly to the island, or get a ferry from the mainland of Airlie Beach and enjoy quality time with your partner on a stunning tropical island. It's the best place to be if you want to escape the outside world and enjoy some quality time away from the business of everyday life. Picture yourself on a protected island, full of palm trees, surrounded by colourful reefs, immersed in island time without a care in the world - if this doesn't scream romance, we don't know what does!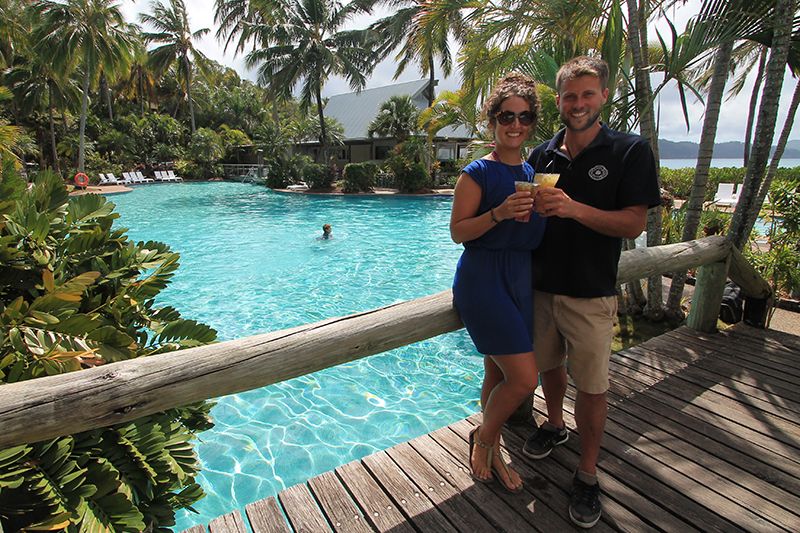 ---
Under the water
There is nothing more fun than discovering something new with your loved one! The calm world beneath the waves creates a space of serenity and discovery that will create a bonding experience for you both. While you may not be able to say much while you're below, you will be talking about this adventure for years to come. Hop on a boat tour that offers diving and see what the fun is all about. Tours accept introductory and certified divers, so no experience is required.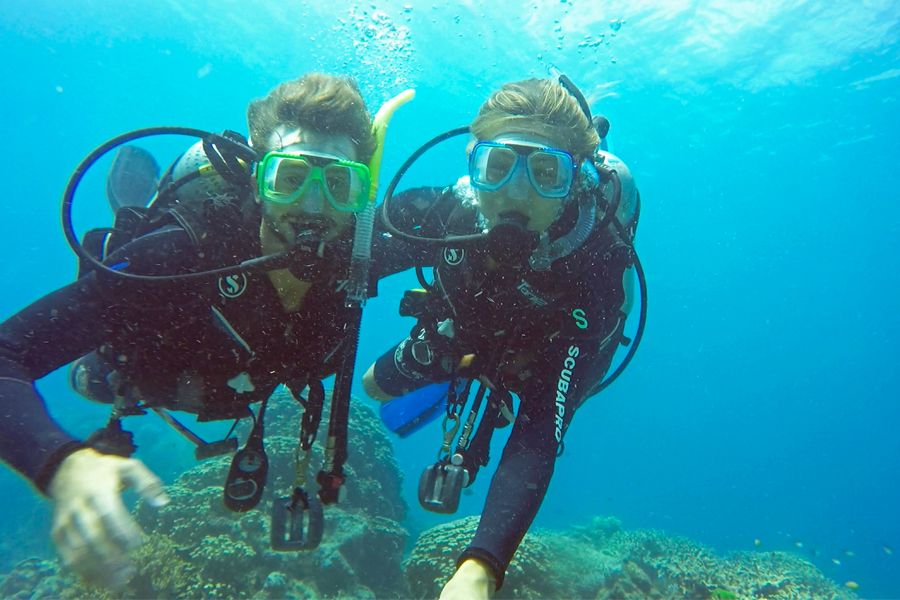 ---
Cape Gloucester
Just a short drive away from Airlie Beach is the picturesque Cape Gloucester. The eco resort is tucked away in its own little corner of the Whitsundays and offers a simple escape into the welcoming wilderness of the lush forests and surrounding coral sea. You can have lunch and drinks at the ocean's edge, enjoying a seaside pool with unbeatable views. You can stay here overnight (which we recommend) or just make a day trip to the romantic hideaway. It's a great way to escape the crowds and enjoy some one-on-one time with your loved one in an oasis found in paradise! It's reachable by boat, car or helicopter, and the journey itself is half the fun!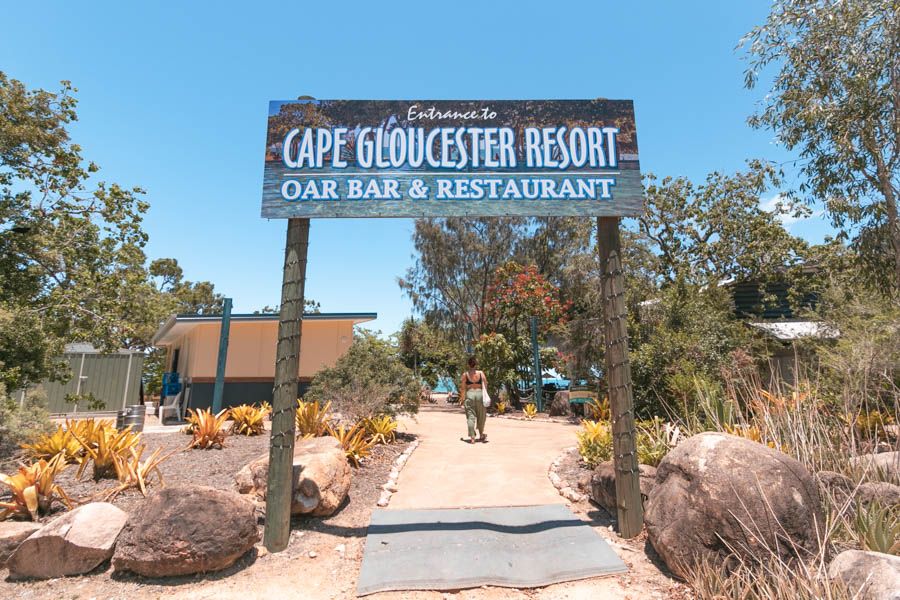 ---
Cape Hillsborough
Cape Hillsborough is famed for its kangaroo population, who are known for their sunrise oceanside gatherings. This iconic location is best witnessed in the early morning, but is still extremely stunning at any point in the day! Visitors venture to this location from all over the Whitsundays to see the 'roos up close as they forage on the water's edge. If you can manage to make it in the early morning, you can look forward to amazing sun rises that light up the shoreline with reds, oranges and yellows that are silhouetted by the local kangaroos. This romantic escape is a great way to start your day of exploring in the Whitsundays… Just don't forget to bring your camera along!
The Whitsundays are one of the more romantic places in Australia. It is not only home to the most romantic reef in the world, but it also offers plenty of places with privacy, intimacy and seclusion. You can find romantic island escapes, stunning scenic flights and plenty of adventure to keep you and your loved one busy during your time here. Escape into romance and enjoy the Whitsundays at its best alongside the one you love the most.
Click here to read about the best plan for a romantic day in the Whitsundays!