What Is The Best Airport For Whitehaven Beach?
Whitehaven Beach is often considered as one of the best beaches in the world. With its calm, clear, warm turquoise water and its velvety white silica sand, this beach has everything you could ever want in a tropical getaway. On top of that, the sea and sand swirl together at Hill Inlet, complete with a backdrop of dramatic, jungle-clad mountains. It's a breathtaking sight to see, and one of the best places to visit in the Whitsundays!
You may be wondering, what is the best airport for Whitehaven Beach? How do you get to this natural wonder located on the remote Whitsunday Island? There are two airports that will put you in a great position for visiting Whitehaven Beach. Let's take a closer look at these locations and how you can plan a trip to this dazzling Queensland beach!
---
What Is The Best Airport For Whitehaven Beach?
There are two airports in the Whitsundays that will put you within close proximity to the stunning Whitehaven Beach. The first is Proserpine Airport, also known as the Whitsunday Coast Airport. Located about 35 kilometers inland from Airlie Beach. The second is Hamilton Island Airport, located right on Hamilton Island out in the Coral Sea. Both airports will allow you to be at Whitehaven Beach within just a few hours of landing!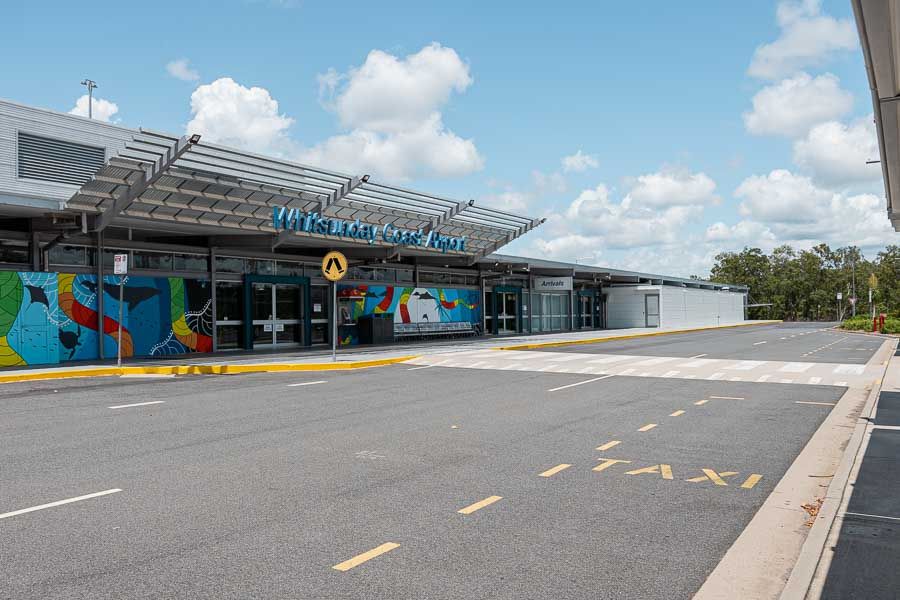 ---
Proserpine Airport to Whitehaven Beach
Located in the small town of Proserpine, a 30-minute drive inland from Airlie Beach, Proserpine Airport is the most popular starting point for a trip to the Whitsundays. Also called Whitsunday Coast Airport, this small airport hosts a number of flights from all over Australia. Because many travelers base themselves in Airlie Beach on the mainland, it's very easy to begin a Whitsundays adventure at Proserpine Airport.
Once you arrive in Proserpine, you can book a shuttle that will take you to your accommodation in Airlie Beach. From there, you are free to book any tour that will take you to Whitehaven Beach! If you arrive early in the day, you might be able to make it on a day trip to Whitehaven. Or if you arrive later, many overnight sailing trips to the Whitsundays depart in the afternoon. Another option is booking a private charter and customizing your itinerary to suit your needs!
---
Scenic Flights To Whitehaven Beach
There are also a variety of scenic flights to Whitehaven Beach that depart right from Proserpine Airport! For the best view of the Whitsunday scenery, soar over the incredible Whitehaven Beach and the surrounding Great Barrier Reef in a seaplane or helicopter. If your flight to Proserpine coordinates with the departure time for a scenic flight, you can make it to Whitehaven Beach without even setting foot outside the airport!
---
Hamilton Island Airport to Whitehaven Beach
The second airport that travelers use to visit Whitehaven Beach is Hamilton Island Airport. Hamilton Island is another one of the most popular and beautiful islands in the Whitsundays. It is located in the Coral Sea off the coast of Airlie Beach, and is the only island out of the 74 Whitsunday Islands that has its own major airport!
Flying into Hamilton Island Airport will put you much closer to Whitehaven Beach than if you fly into Proserpine. It's only around 11km directly from Hamilton Island to Whitehaven Beach, and the boat ride takes 30 minutes. A boat ride from Airlie Beach to Whitehaven takes about 1.5 hours. So from Hamilton Island, you can book boat tours or scenic flights to Whitehaven Beach and you'll get there much faster than from the mainland. Hamilton Island has a wide variety of boats available for private charter as well!
---
Which Airport Is Best For A Visit To Whitehaven Beach?
Both Proserpine Airport and Hamilton Island Airport put you in a great position to visit Whitehaven Beach. The choice is yours! Affordable domestic flights from around Australia fly into both airports daily, so it really just depends on how much time you have and what atmosphere you want for your stay.
Airlie Beach is a classic tourist town, with both luxury amenities and backpacker vibes for budget travelers. You can stay in fancy resorts, cozy guesthouses, or fun hostels. There is a huge variety of tour boats that depart the marinas every day, and there are plenty of fun things to do on the mainland as well.
Hamilton Island offers more of an upscale experience. Though people of all ages and budgets can enjoy Hamilton Island, there aren't any hostels here and most of the accommodation is quite pricey. But staying here gives you that intimate island experience, and it does put you much closer to Whitehaven Beach. You can't go wrong either way!
---
Ready to plan your visit to the Whitsundays? Live chat with our local travel experts today and we'll help you plan the perfect holiday!