The Best Free Things to do in Airlie Beach for Backpackers
Updated Wed 27 Apr 2022


Airlie Beach is one of Australia's top tourist destinations. Each year the vibrant streets are filled with eager backpackers looking for ways to enjoy their time in the tropical Whitsunday region.

Now, we all know that backpackers aren't seeking 5-star hotels to stay in, won't be dining at the fanciest restaurants and definitely won't be shopping at designer boutiques. Backpackers are looking for ways to make their savings stretch as long as possible - and love nothing more than the word, 'FREE'!

If you're a backpacker who has just flown in, road-tripped in, sailed in, ridden in, or walked in (you might be super adventurous) to Airlie Beach I'm sure you'll be chasing activities that won't damage those savings you worked hard to build. Lucky for you, we have got some of the best, free ways you can enjoy your time in Airlie without having to damage that bank account!
---

Hikes and Walks


Hiking has numerous positive benefits; it's good for your body, good for your mind, it's an awesome way to familiarise yourself with your surroundings, and the best part - it's free! Situated near Airlie are impressive hiking trails that wind you through the native bushland where you can view the Whitsunday islands.

Mount Rooper is only a 10 minute drive from the town and is a steady 4.2km trek that has views overlooking South Mole and Daydream Island. Located 5 minutes out of town is Honeyeater, another mountain climb. It is more challenging than Rooper as it's 8km return, but the views are far more rewarding. Be sure to bring water along for both hikes as you might be catching your breath at times.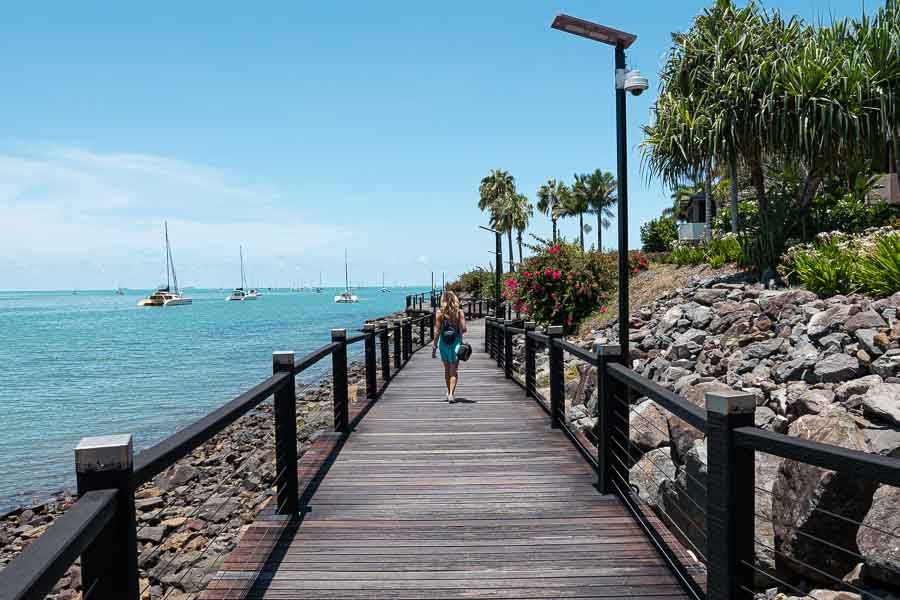 If you're not up for a tedious hike, the 2.2km (each way) Bicentennial Boardwalk is just as enriching. Starting from the Airlie Beach Lagoon, the track takes you past the Coral Sea Resort and Marina through to Cannonvale Beach, with captivating island views along the way. Water fountains are scattered along the path too to ensure you'll stay hydrated in Airlie's heat. Keep your eyes peeled for the gobsmacking superyachts that are often anchored in the marina and fantasise about your dream life!
---
Saturday Markets


Every Saturday, The Lions Community hosts morning markets. They are located along Airlie Beach's foreshore. Stalls range from locally made art, jewellery, crafts, souvenirs, clothing, to food. Even if you're not buying anything, the buzzing atmosphere is a fabulous way to start the day. It's the ideal place to try and score some free samples too!
---
Airlie Beach Lagoon


The Airlie Beach Lagoon lies in the heart of the town and is a free, man-made, 4000 square metre pool. Surrounded by grassy areas, with the shade of palm trees to keep you cool, the patrolled lagoon is the ideal place to relax, swim and soak in the sunshine. It has swimming lanes if you're looking for ways to stay fit in the Airlie heat. An added bonus is that during stinger season, you have a place to swim and not worry about those nasty stingers!
---
Cedar Creek Falls


A thirty minute drive from Airlie Beach lies Cedar Creek Falls. A short walk from the car park and hidden behind trees and rocks is where you'll find this tranquil gem. The clear blue water is perfect to dip into on a hot day. Following a track through the bush, you can get to the top of the falls and take in the views from a different perspective. If you're a bit of a thrill-seeker, you can even jump off the top of the waterfall! Don't forget to pack some snacks and make a day of it.
---
Go Fishing


If you're into fishing, then you've come to the right place. There are fishing locations scattered around Airlie Beach where you can catch a range of species. You can find Trevally in Shute Harbour, King Salmon in the Proserpine River, Barramundi along Cannonvale's beach, and Whiting just by popping down to Airlie's rock walls. Grab your bait, rod, snacks and drinks and kick back for a day of peaceful fishing - you can't go wrong.
---
Have a Sunset Picnic or BBQ


Pack a picnic basket and fill it with salads, sausages, breads, crackers, dips and refreshing beverages and take your pick around town of where you'd like to unwind and watch the sunset - Airlie's foreshore is a great spot to sit. There are plenty of free barbecue areas by beaches in and around Airlie where you can whip up a storm - you could even cook up that fresh fish you just caught! It's the ideal way to unwind after a day of sightseeing. It's also great for socialising with your friends, meeting fellow backpackers, friendly locals and watching the sky fade from day to night.
---
Keep an eye out for free local events
Image sourced: Whitsunday Gig Guide

From time to time, you can find free events happening in Airlie. From outdoor movie screenings, festivals, markets, information sessions, to workshops, there will almost always be a free event running in Airlie. Most nights of the week, artists perform live at different venues along the main street. Whether it's coming from Magnum's Hotel, Paradiso, or the Airlie Beach Hotel, if you're wandering down the main street in the evening, you're bound to hear live music somewhere. Pop in for a drink (or water if you really don't want to break the bank) and get amongst the music.

You can stay up to date with what's on by simply typing in 'free events in Airlie Beach' on Facebook or check out our things to do in Airlie page!
---
Go for a day trip


Only an hour's drive north of Airlie is a little beach town called Bowen. Bowen is home to beautiful beaches (some argue they are prettier than Airlie's). The must-sees in Bowen include Horseshoe Bay beach and lookout, The Big Mango, Grays Bay, Queen Beach and the Flagstaff Hill Lookout.

If you're wanting a closer destination, a 40-minute drive can take you north to Hydeaway Bay, Dingo Beach or Cape Gloucester. Hydeaway Bay is a long, white, sandy beach and is supreme to visit if you're saving on pennies and can't afford a trip out to the well-known Whitehaven Beach. Stop in at the Cape Gloucester Resort for a refreshing drink (or stick to that water tactic to truly live that 'free' life). Or visit the laid-back Dingo Beach and go for a snorkel on the reef in the pristine blue waters. Pack a bag full of snacks and goodies and head off on an adventurous day of exploring and sight-seeing.
---
People watch


People watching is everyone's guilty pleasure and it's a fun way to pass the time. There's nothing better than watching lost backpackers (I'm sure we've all been in their shoes), chaotic families on holiday, locals at work, or even the Karen's of the world huffing about their eggs not being cooked right at the cafe across the street.

If this sounds like something you're into, then we've got the perfect places for you to fulfil your people watching dreams! The best places to do this would be hanging by the lagoon, kicking back on the foreshore, or finding a pub or cafe with optimal views of Airlie's boulevard. Magnum's Hotel has benches that face the street so if you're really wanting to save on dollars. Order that glass of cold water, perch up on the bench and watch the chaos unfold.
---
Go nightclubbing

Image sourced: Mama Africa Bar and Nightclub

Airlie Beach is known for it's lively, crazy nightlife and nightclubbing is the best way to get amongst it. Mama Africa's is one of the most popular venues to visit where you can dance into the early hours of the morning with backpackers and locals alike. If you're worried about spending too much, Mama Africa's has FREE entry before 10pm, so get on down to boogie the night away!
---
For further information on what to do in Airlie Beach, check out our 'Things to Do' page!