The 10 Best Boat Tours in the Whitsundays
The Whitsundays are renowned around the world as being one of the top sailing locations in the world. The Whitsundays offer amazing beaches, protected bays for anchoring overnight and amazing reefs to explore. There is a large selection of boat tours ranging from 1 to 3 nights or day boats to cater to every traveller's needs! No matter which tour you choose, you will see what makes the Whitsunday region so special and you will have a once-in-a-lifetime experience.
Below are the 10 best boat tours in the Whitsundays to help you choose the right tour for Whitsunday adventure.
The Atlantic Clipper is the biggest boat in the Whitsundays, taking up to 53 passengers per trip. The Clipper is a very social and fun boat with a spa on board, a huge water slide, scuba diving, paddleboards, and so much more. This boat is great for 18-35-year-olds who are looking for a social party boat with lots of activities.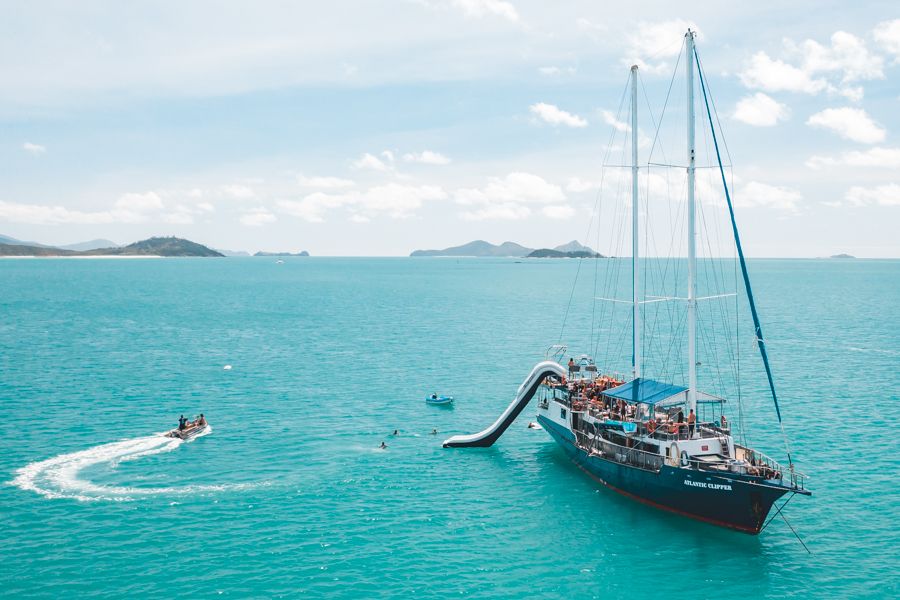 ---
Powerplay is a very social catamaran that has some of the best food in the Whitsundays! The crew are very fun, and the catamaran takes up to 16 people, creating a fun, social tour that's great for all types of travellers. Powerplay has a spa, paddleboards, kayaks, plenty of snorkelling and lots of room to sunbathe and enjoy the beauty of the Whitsundays.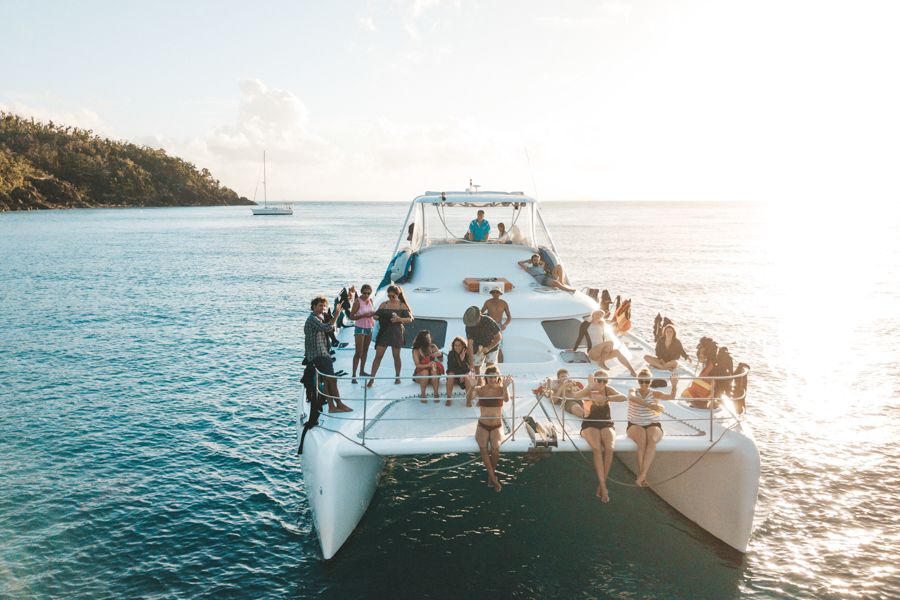 ---
On Ice is one of the most popular trips for couples who are looking for a combination of luxury and fun. On Ice has one of the best collections of water toys of any of the boats in the Whitsundays, which includes a see-through canoe, paddleboards, and sea scooter. With a maximum of 10 passengers, this boat trip gives a great combination of couple's time and socialising.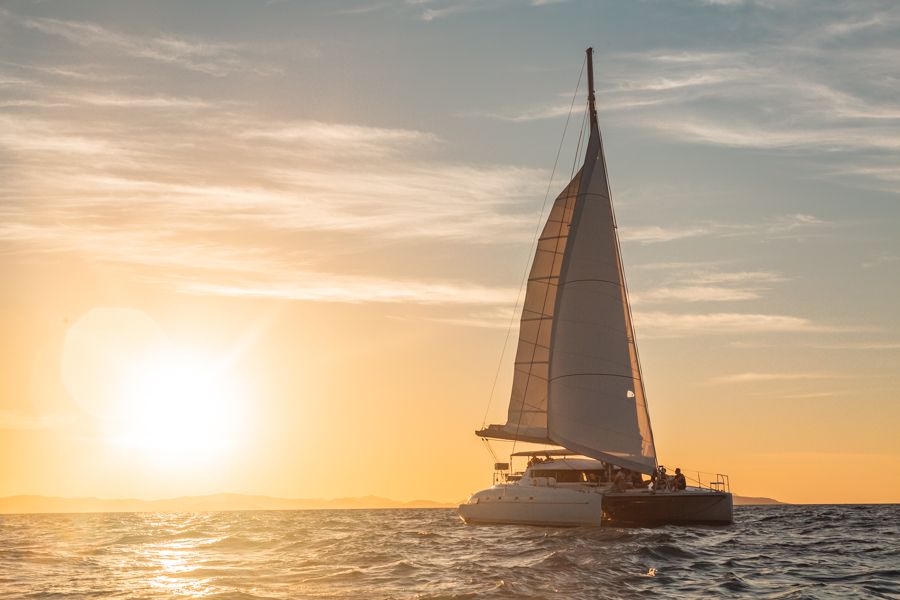 ---
New Horizon is geared to backpackers who want to let loose and have fun. Go down the waterslide, enjoy snorkelling in the Great Barrier Reef, go scuba diving and so much more! This trip is great for 18-35-year-olds who want fun but a slightly smaller number of passengers, with up to 32 people per tour.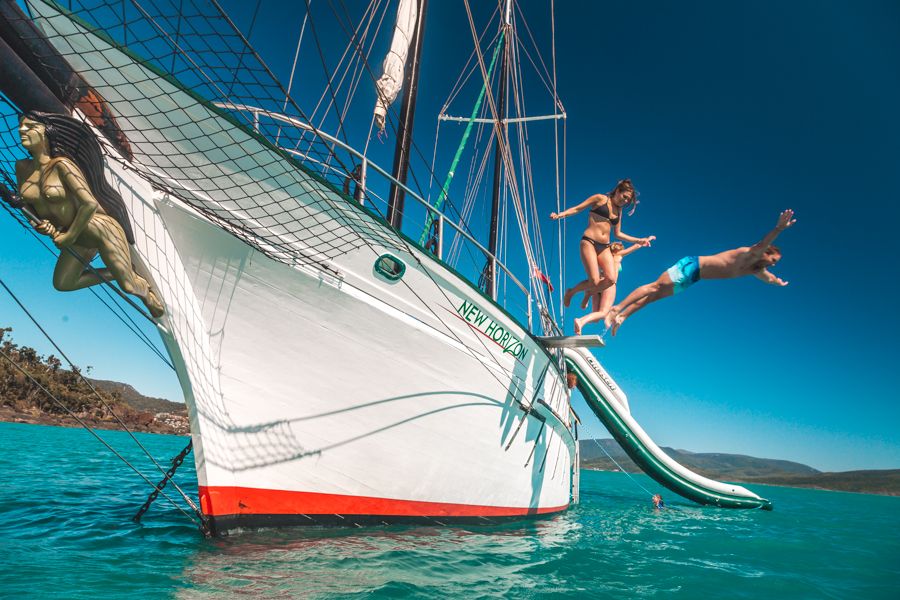 ---
Adventurer is great for young couples, families or groups of friends. This trip provides an intimate sailing experience taking up to 12 people per tour, offering a great combination of privacy and socialising. Adventurer has an aft blue light which attracts marine life after dark, which is a huge bonus for most passengers! This means the fun doesn't stop after sunset.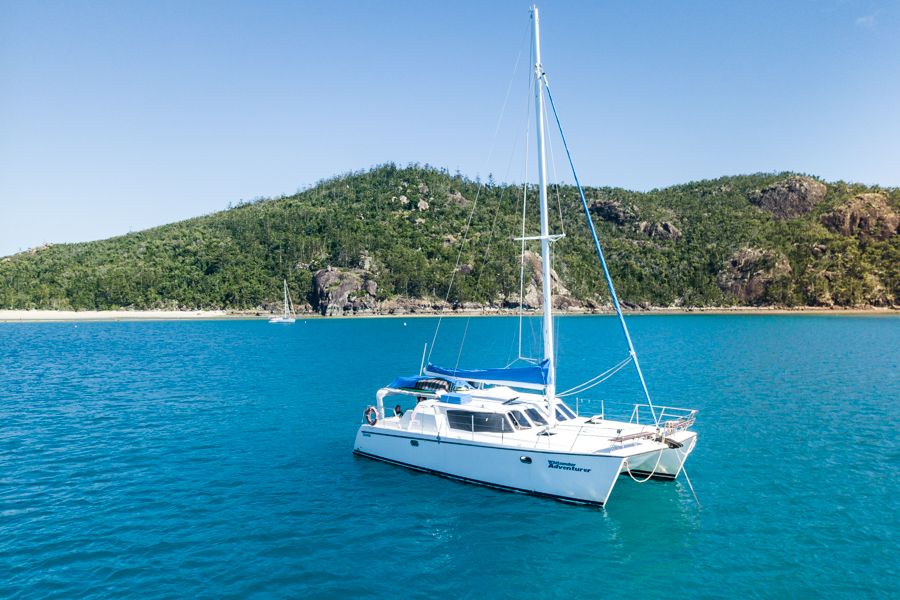 ---
Whitsunday Bullet is for people who are short on time and looking to book a day trip to the Whitsundays. Whitsunday Bullet is a speedy and stable catamaran that caters to groups of all ages. You will see Whitehaven Beach (getting to stop at both north and south!), Hill Inlet Lookout, snorkel the reef and use paddleboards for free.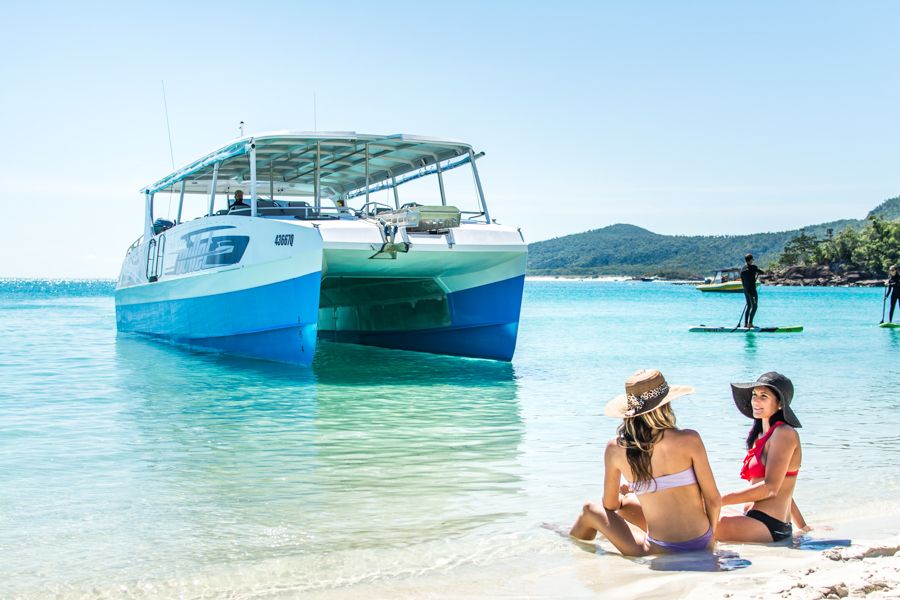 ---
Spend the day on a pontoon that sits on the Outer Great Barrier Reef! Great Barrier Reef Adventures provides a once-in-a-lifetime experience of snorkelling, swimming, scuba diving, and relaxing at Hardy Reef which is known for its diverse marine life and coral formations.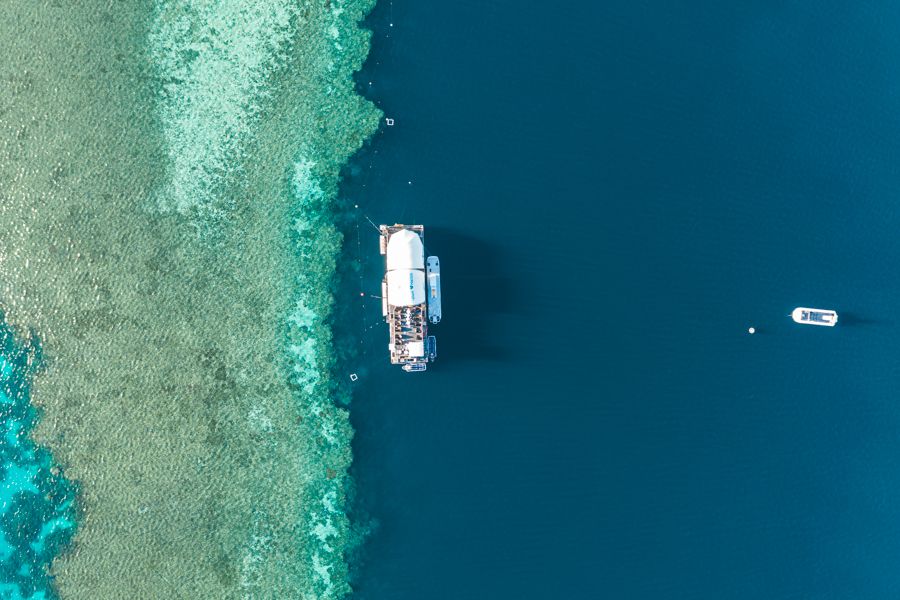 ---
Prima is a 2 night, 1 day tour of the Whitsundays on a monohull sailing boat. If you are looking for a relaxing island escape with plenty of onboard space and small passenger numbers, then Prima is the boat for you. Enjoy the best of the Whitsundays including snorkelling and a visit to Whitehaven Beach.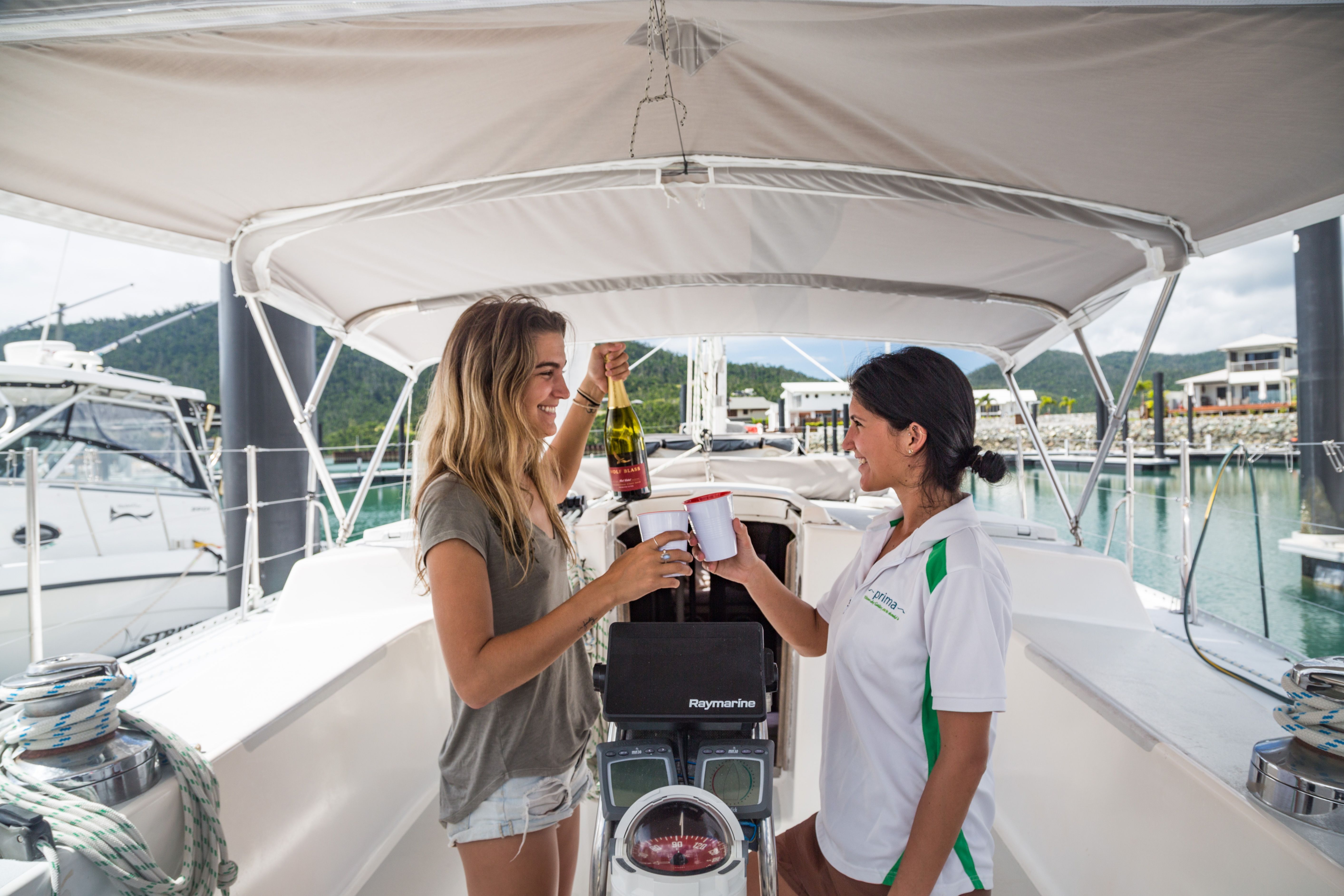 ---
Getaway is the perfect boat for couples who want to be wined and dined in the Whitsundays. If you are celebrating your honeymoon or just looking for the ultimate romantic getaway in the Whitsundays, then Getaway is the boat for you! With 4 spacious queen sized cabins, gourmet meals, and only 8 passengers, Getaway provides the ultimate in luxury boat trips.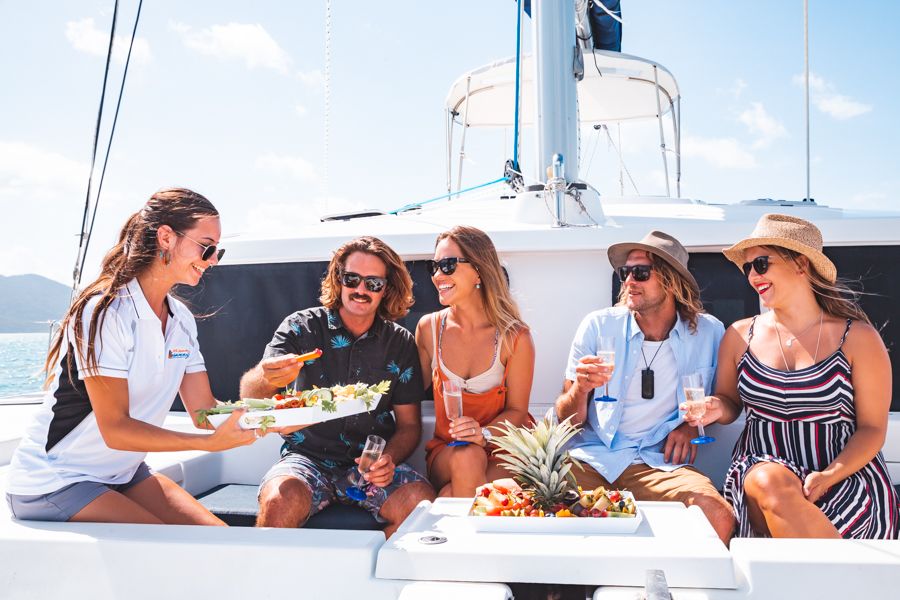 ---
Siska is one of the most comfortable maxi yachts in the Whitsundays with a rich racing history! See what it feels like to reach maximum speeds as you glide around the islands with this fun social tour. Perfect if you only have one night to spare in the Whitsundays!