Does Airlie Beach Have A Wet Season?
The wet season in Airlie Beach runs from January to March, but there are still lots of epic tours and local activities you can do if it's raining! Airlie Beach is the town on the Australian Mainland that is known as the "Gateway to the Whitsundays". If you're planning a trip to the dazzling, tropical islands of the Whitsundays, you can still visit during the wet season!
We'll discuss the specifics of the wet season in Airlie Beach, in the hopes of helping travelers prepare for their trip and know what to expect. We'll also cover some fun things to do in Airlie Beach when it is raining! And if you're wondering what is the best time of year to visit Airlie Beach, we'll cover that as well.
---
Does Airlie Beach Have A Wet Season?

Airlie Beach does have a wet season that runs from January to March. These are the rainiest months in Tropical North Queensland, though that doesn't mean there is guaranteed rain every single day! There is definitely increased humidity and the temperatures are hot, with a daily average of around 31°C or 88°F.
But there is still a chance of some clear skies here and there, so just check the weather forecast each day! It also can't hurt to ask a travel expert about the conditions on the Great Barrer Reef, because sometimes it may be clear on the reef even when it's raining in Airlie Beach!
The wet season in Airlie Beach also coincides with the stinger season, which runs from November to May. This is when the oceans around northern Queensland are home to an abundance of marine stingers, so you should only swim in pools, freshwater swimming holes inland, or in protected nets on the beach. Also wear a stinger suit for extra protection!
---
What To Do In Airlie Beach When It Is Raining

You can still have so much fun in Airlie Beach when it's raining! Even outside the wet season, there is still a chance of rain sometimes. You just need to embrace the weather and find some fun activities to do when the sun isn't shining. In addition to the various restaurants, shops, cafes, and bars in Airlie Beach where you can hide out from the rain, there are some fun outdoor activities you can enjoy in wet weather.
Outdoorsy activities like hiking and swimming are actually still quite enjoyable during the rainy season. Consistent rainfall makes the rainforest even more vibrant and green than usual! So rainforest walks can be stunning, as long as you wear slip-proof shoes and waterproof clothes! Sunrises and sunsets can be incredible during the rainy season as well because there are more clouds moving, so time your hikes accordingly!
Waterfalls like the nearby Cedar Creek Falls are also epic during the wet season! With more water flowing, Cedar Creek Falls are that much more impressive. Hire a car for the day or book a tour out to this beautiful waterfall and swim in the fresh, flowing waters.
---
Can You Still Do Tours In Airlie Beach During The Wet Season?

Absolutely! Many of the top-rated tours from Airlie Beach still run when it is raining. So if you want to visit Whitehaven Beach, Hamilton Island, the Great Barrier Reef, and more, you can still do that during the wet season in Airlie Beach. Because of all the islands in the Whitsundays, and the location of the Outer Reef, the weather is often unpredictable and is changing constantly! So even if it is raining on the mainland, it might not be raining out on the reef or around the islands.
Day trips to the Great Barrier Reef are often just as magical in rainy weather as they are in the sunshine. The underwater world is still flourishing regardless of what is happening on the surface! And due to the warm temperatures during the wet season, you can still enjoy paddleboarding at Whitehaven Beach or going jet-skiing.
Some islands have cool indoor attractions as well. Daydream Island has a magnificent aquarium known as Living Reef. Visit the underground viewing room to see the diverse marine life without even having to get in the ocean! Hamilton Island also has lots of lovely cafes and bars where you can escape the rain. The Hamilton Island Wildlife Center is a fun attraction where you can get up close to native animals in rain or shine.
---
What Is The Best Time Of Year To Visit Airlie Beach?

The best time of year to visit Airlie Beach is early spring, particularly the month of September. During this time, the temperatures are warm but not too hot, and the rainfall is at its lowest point of the year. There are fewer crowds because it's outside the school holidays, and it's outside the stinger season so the oceans are safer for swimming! So many would consider September to be the best time of year to visit Airlie Beach and the Whitsundays.
However, because of its warm tropical climate, Airlie Beach is an amazing place to holiday year-round. There are positives about every season, and there is really no bad time to visit. A huge plus to visiting Airlie Beach during the wet season is that prices are extremely cheap!
Rainy weather means fewer tourists, which means flight prices drop dramatically. Many accommodations and tours also go on sale to promote travel and tourism! So if you're not afraid of a little rain and you want to score an awesomely cheap deal, consider visiting Airlie Beach in the wet season of January - March!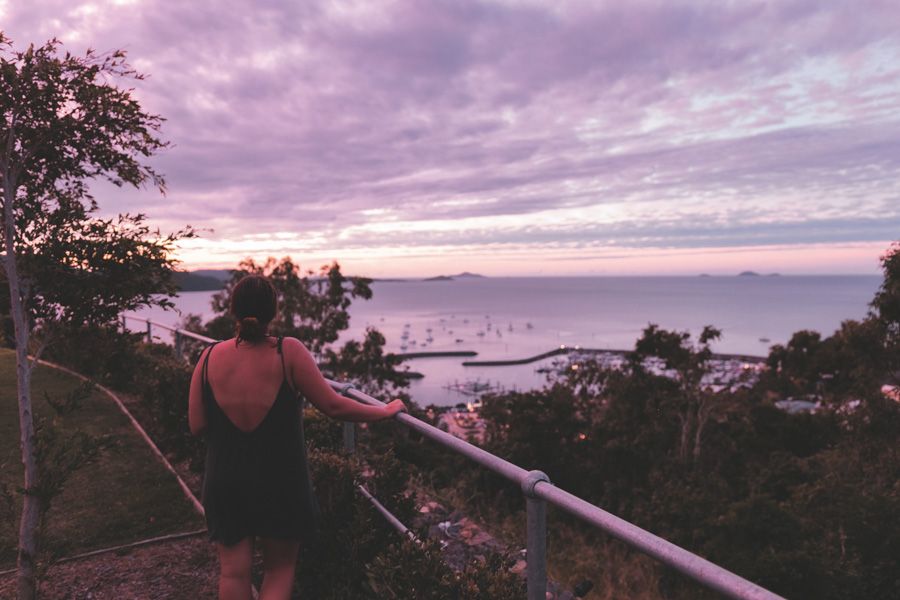 ---
Call us at +61 7 4914 2425 or live chat with a member of our team with any questions!