Party Boats in the Whitsundays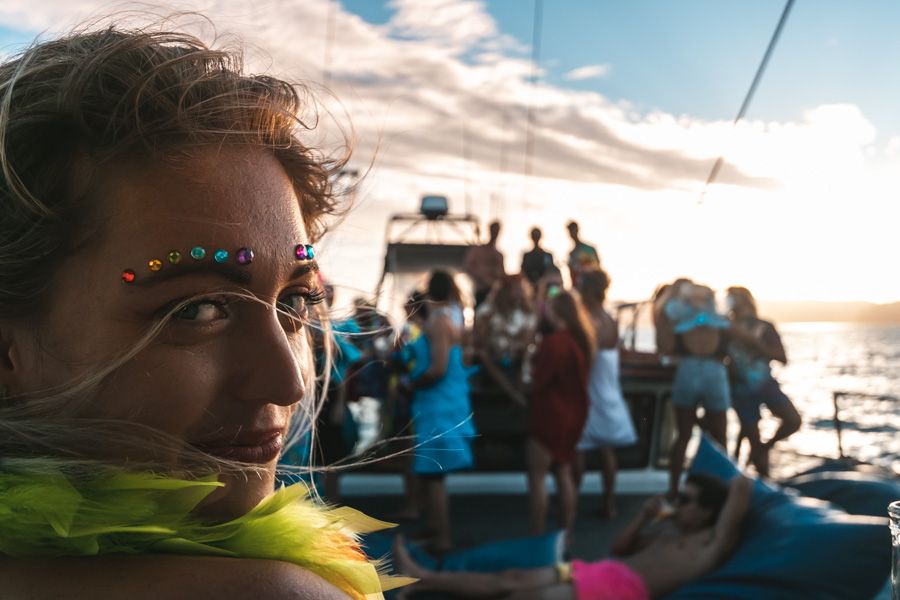 If you want a holiday with plenty of socialising with a young, fun and festive crowd in a party atmosphere, then the Whitsundays is the place to be! Here in the Whitsundays, you can enjoy a social atmosphere both on land and on the sea, with plenty of boats that cater to a younger, livelier crowd, as well as plenty of places to hang out on land.
The typical party boat in the Whitsundays is for those aged 18-35 who don't mind staying in shared accommodation, as most boats only have bunk style sleeping arrangements. They will want to meet plenty of fellow travellers that are also eager to socialise and hang out, as these boats generally host a social crowd that want fun, action and adventure!
With a fun, entertaining crew which often host evening games and after-dark parties, you can look forward to both days and nights full of fun. There is always great music and adventurous activities such as snorkelling, sailing, diving, stand-up paddleboarding and hot tubs (depending on the boat), so the party-seekers can look forward to every minute full of fun!
Meet The Fleet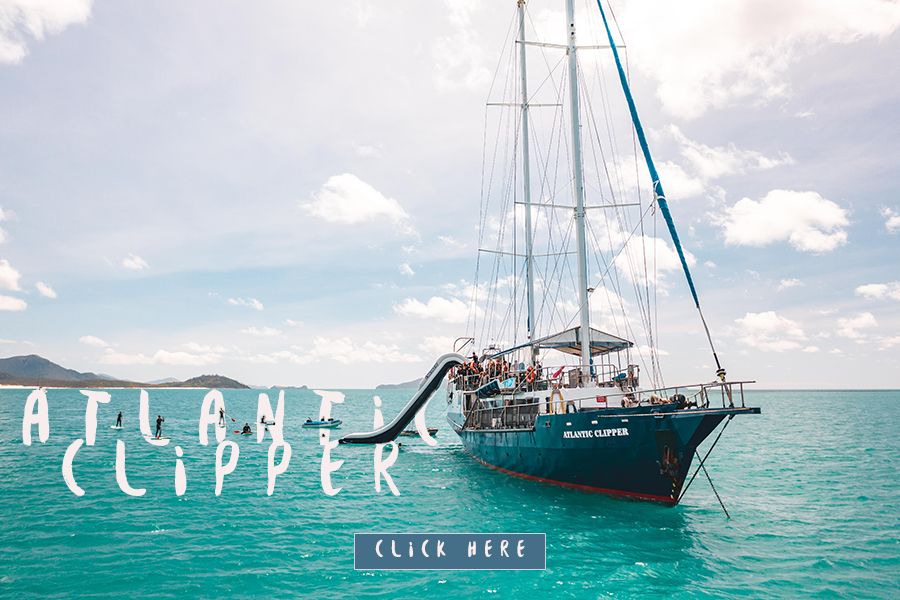 Known as the party boat of the Whitsundays, the Clipper is also the largest boat around taking up to 54 guests per trip! In terms of entertainment, there is no one better than the Clipper. This 2 day, 2-night party on the water also offers onboard scuba diving and is equipped with a huge spa and 3 story high waterslide, all of which will add to the fun! There is shared and private accommodation available on board, and everyone will get to go snorkelling, visit Whitehaven Beach and spend time at Hill Inlet Lookout. Atlantic Clipper is known for her experienced and enthusiastic crew, who will work to keep you entertained and having fun for the whole trip!
2 days, 2 nights
54 guests
Departs: 11:45am - 2:15pm - Please Enquire
Returns: 12:00pm - Please Enquire
Read more about what to expect on Atlantic Clipper here!
---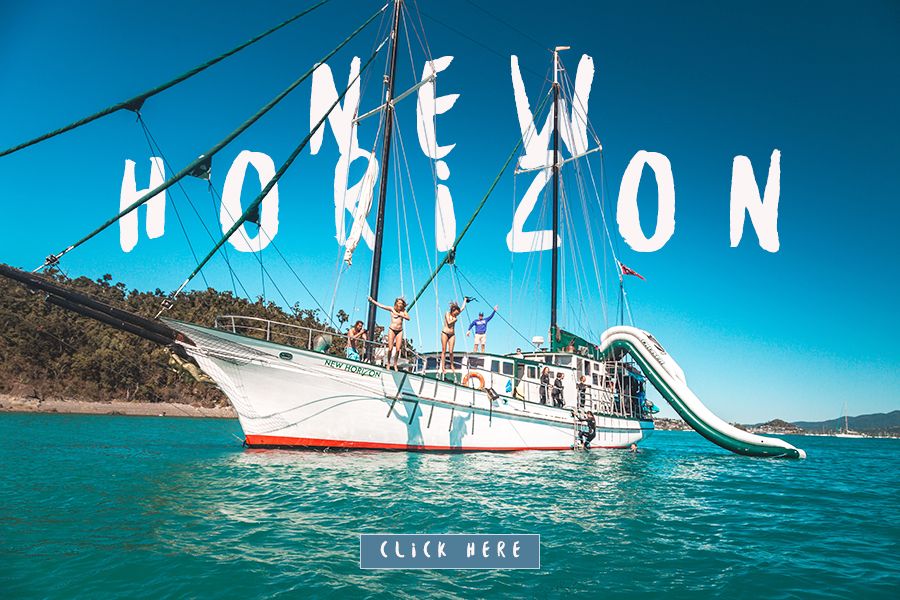 New Horizon is another one of the great party boats in the Whitsundays. With stand-up paddleboards, a waterslide and onboard scuba diving, New Horizon is one of the most popular boats among the backpacker crowd, taking 32 guests in total! You can also look forward to full-on evenings with games, music and even more fun, hosted by your amazing crew. New Horizon offers great value for money and even has a with a movie theatre as another great addition for those who want to relax after a day of fun, exploration and adventure.
2 days, 2 nights
32 guests
Departs: 2:00 pm - Please Enquire
Returns: 11:30am - Please Enquire
Read more about why we recommend New Horizon here!
---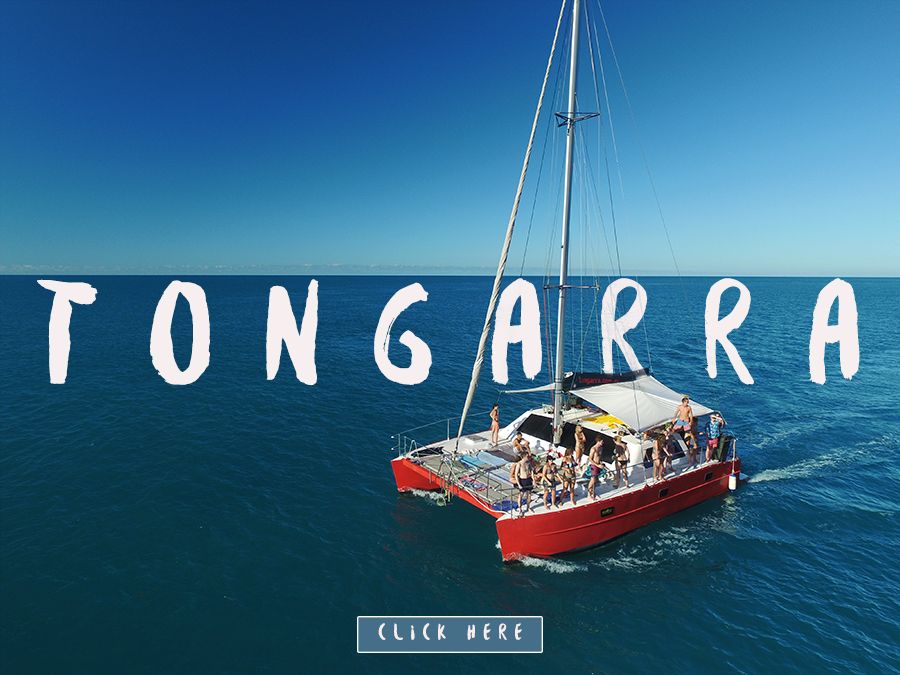 This vibrant, red catamaran is notorious for its onboard party atmosphere and is often booked out well in advance. Taking 24 guests, Tongarra has ample deck space for socialising and relaxing and is very popular among young, social backpackers. This tour lasts for 2 days and 2 nights where guests can look forward to fun, adventure and excitement... A huge perk of this fun cat is that you can even sleep out under the stars for a really amazing experience.
2 days, 2 nights
24 guests
Departs: 2:30pm - Wednesday, Saturday
Returns: 1:00pm - Friday, Monday
---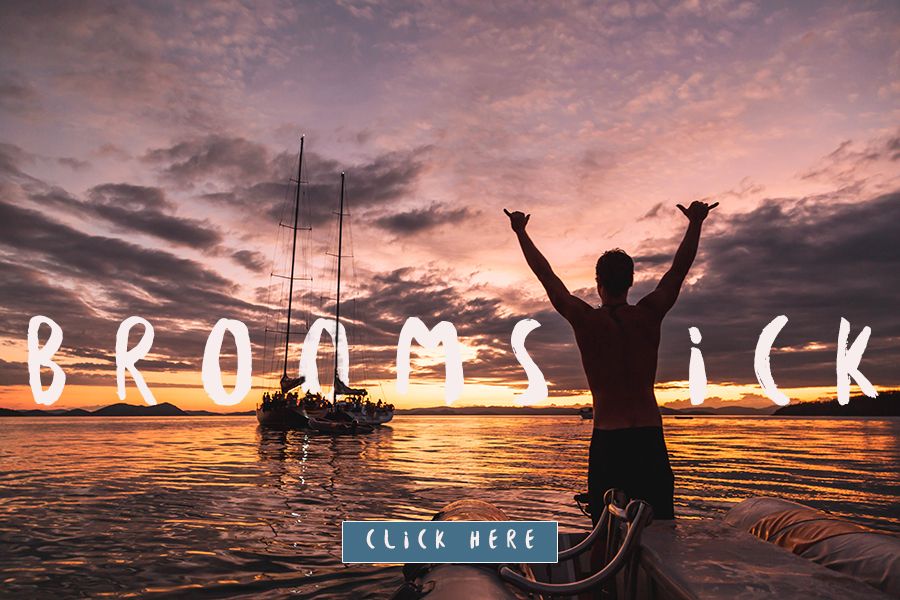 Although not technically a party boat, Broomstick is a lady of adventure who doesn't mind a few cheeky drinks at sunset!! The experienced crew of Broomstick will take you on a thrilling adventure throughout the Whitsunday Islands, taking you to all the most popular destinations. Join 24 other like-minded passengers as you participate in activities such as snorkelling, bushwalking and of course, sailing! This fun tour is ideal for those who are craving adventure and the thrill of sailing around as the world passes by!
4 days, 3 nights
18 guests
Departs: 9:30am - Please Enquire
Returns: 3:30pm - Please Enquire
---
All party boats run official after-parties at local bars within Airlie Beach once returning from your trip. Be sure to ask the boat crew for details and make sure you have accommodation booked for the night you get back from your tour. Talk to our locals today about organising your accommodation surrounding your trip or view our package below to save!
Party Packages
Check out our latest deals, or chat live to our party experts to start planning your Whitsundays holiday today!