Party Boats in the Whitsundays
Updated Thu 22 Dec 2022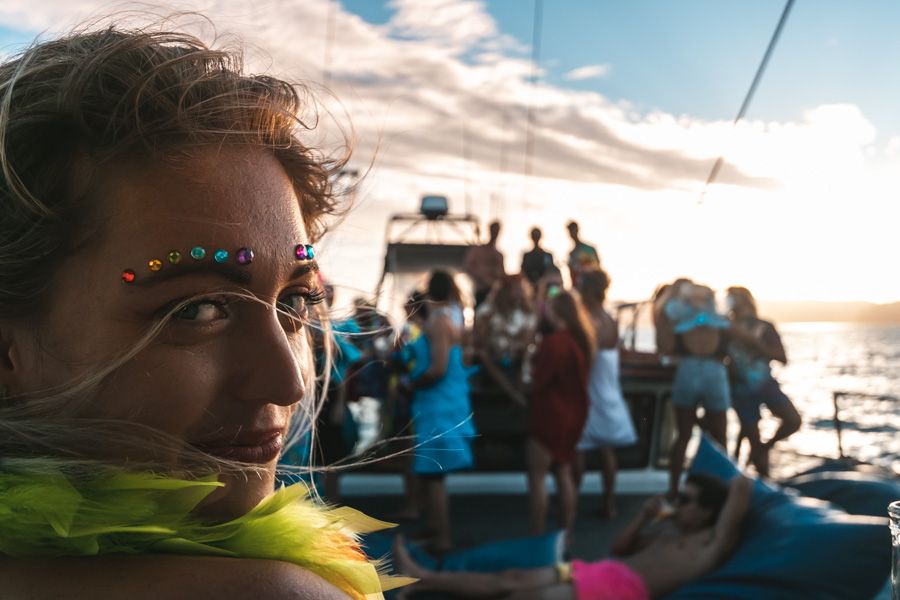 Have you just arrived in the lively seaside town of Airlie Beach and are searching for a holiday at sea filled with socialising, island adventures, and a young, fun and festive crowd? Well, you've come to the right place!
Here in the Whitsundays, you can enjoy a social fun atmosphere on the land and at sea, with plenty of boats catering to a young, livelier crowd - in addition to one of the best backpacker nightlife scenes on Australia's East coast on the mainland!
The typical party boat in the Whitsundays caters for 18-35 year olds who don't mind staying in shared bunk-style accommodation. With a fun, entertaining crew often hosting evening games and after-dark parties, you can look forward to days filled with island-hopping adventures, golden hour sunset drinks, and nights jam-packed with lively fun. From vessels featuring hot tubs, stand-up paddleboards, and thrill-seeking fast sailing, party-seekers have an array of Whitsundays overnight tour options to choose from!
---
Meet The Fleet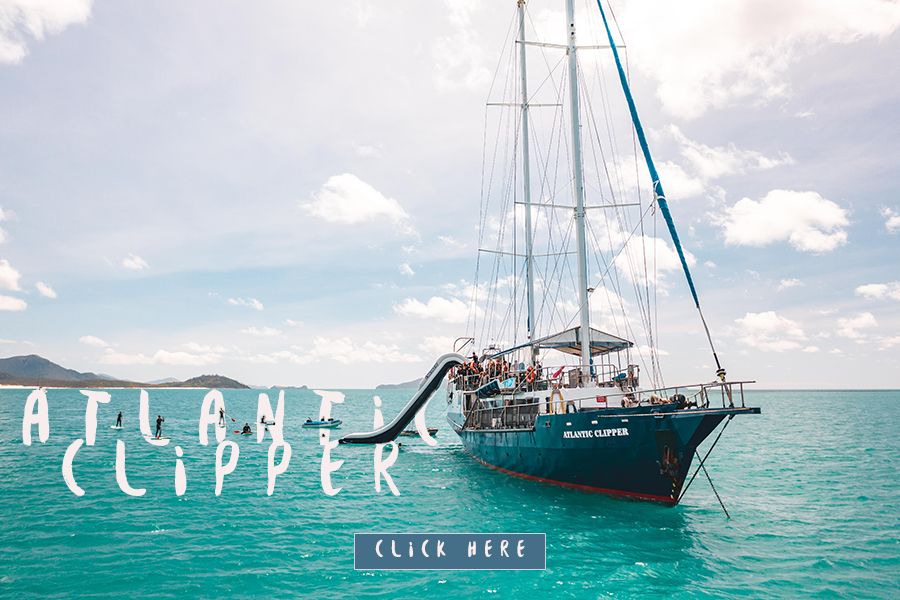 Renowned as the party boat of the Whitsundays, the Atlantic Clipper is also the largest boat in town taking up to 54 guests per trip! When it comes to entertainment, there is no boat tour better than the Clipper. The 2 day, 2 night party on the water boasts onboard scuba diving, plenty of snorkelling, and features a huge deck spa and 3-story high waterslide - creating the best of fun in and out of the water!
Atlantic Clipper offers shared and private accommodation and a visit to Whitehaven Beach and time at Hill Inlet Lookout is guaranteed. Known for her experienced and enthusiastic crew, Clipper is popular for solo travellers and groups alike. And the party doesn't stop at the seas - Clipper offers an exclusive after-party at Mama Africa's Nightclub in Airlie Beach's main street, filled with final hoorahs and VIP discounts!
Atlantic Clipper Features
2 days, 2 nights
54 guests
Departs - 11:45 am - 2:15 pm
Returns - 12:00 pm
To explore the full jam-packed Atlantic Clipper itinerary, click here.
---
Introducing the Whitsundays epic new backpacker tour, Solway Voyager! Tailor-made for adventure-seeking East Coast travellers in the Whitsundays this summer, step aboard the charming tall ship vessel for the trip of a lifetime! Jam-packed with aquatic fun, enjoy social sailing at its best as you snorkel the Great Barrier Reef, relax along Whitehaven Beach, marvel at Hill Inlet Lookout and island-hop from one tropical highlight to the next!
Sailing out from Airlie Beach for the ultimate 3 day, 2 night Whitsundays adventure, the backpacker's vessel includes a range of thrilling watersports from stand-up paddleboards, a rope swing and all snorkel gear and tuition! After days brimming with salty fun, kick back on spacious deck spaces or the breezy front nets with your new mates from across the globe. The best part - you can even treat yourself to cheeky sunset drinks at the licensed onboard bar!
Solway Voyager Features
3 days, 2 nights
32 guests
Departs - 9:00 am
Returns - 4:00 pm
Check out the new Solway Voyager epic itinerary for this summer here!
---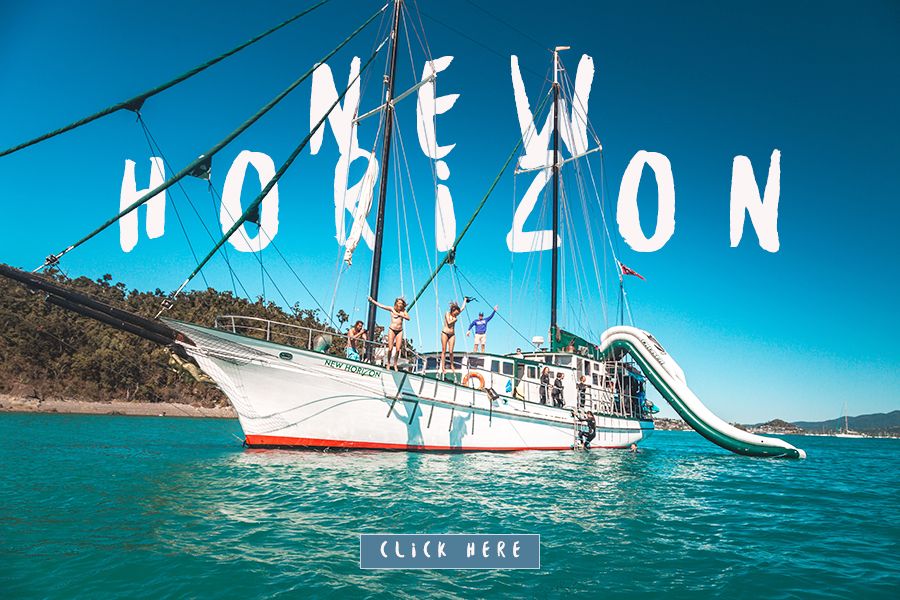 New Horizon is another ever-popular backpacker party boat in the Whitsundays! Laden with stand-up paddleboards, a giant waterslide, and onboard scuba diving, New Horizon is the place to be at sea! Taking aboard 32 guests in total, nights filled with games, music, and fun are guaranteed by your amazing, fun crew. For those wanting to chill out after a day of jam-packed island fun, New Horizon even has an onboard movie theatre!
Fun-seekers will enjoy an itinerary filled with relaxing on Whitehaven Beach, island adventuring to Hill Inlet Lookout, and plenty of time in the water snorkelling, paddleboarding, and flying off the waterslide into glassy Whitsundays lagoons!
New Horizon Features
2 days, 2 nights
32 guests
Departs: 2:00 pm
Returns: 11:30 am
Read more about New Horizon's brimming Whitsunday itinerary here.
---
There is never a dull moment onboard Siska! A 77ft long maxi-yacht, Siska boasts an exciting itinerary brimming with the famous Whitehaven Beach and Hill Inlet, and sensational snorkelling over some of the best reefs in the world! When not exploring the islands, the spacious deck is where the fun is at. Perfect for feeling the breeze as you sail at maximum speeds, catching some morning rays with a cuppa in hand, and cracking open an icy cold drink as the sun sets, fun times are guaranteed on Siska's 2 day 1 night social sailing tour. For the avid sailors, be sure to learn the ropes and Siska's racing history from your experienced crew during your Whitsunday trip!
Taking a maximum of 24 guests on board, Siska is ever-popular amongst 18-35 year olds travel enthusiasts seeking a perfect blend of authentic sailing thrills and lively social fun!
Siska Features
2 days, 1 night
24 guests
Departs 8:30 am
Returns 4:00 pm
To check out Siska's sleek decks and dazzling itinerary, click here.
---
Get ready for the ride of a lifetime aboard British Defender! For 2 days and 1 night, guests can experience the beauty of the Whitsunday Islands, enjoy swift maxi racing at its finest, and kick back with a fun, social crew. If you're chasing a laid-back combo of island exploring and relaxed time under the sun for a budget bargain, Defender is for you!
Taking out a total of 28 passengers, the 77ft long maxi-yacht boasts ample space, air-conditioning (yes, air-con!), and a lively atmosphere that is popular amongst the East Coast backpacker community. As you explore fringing reefs, island-hop with lifelong friends, and bask in a Whitsunday sunset from the decks, you'll never want to leave!
British Defender Features
2 days, 1 night
28 guests
Departs 8:30 am
Returns 4:00 pm
Read more about British Defender's sun-soaked atmosphere here.
---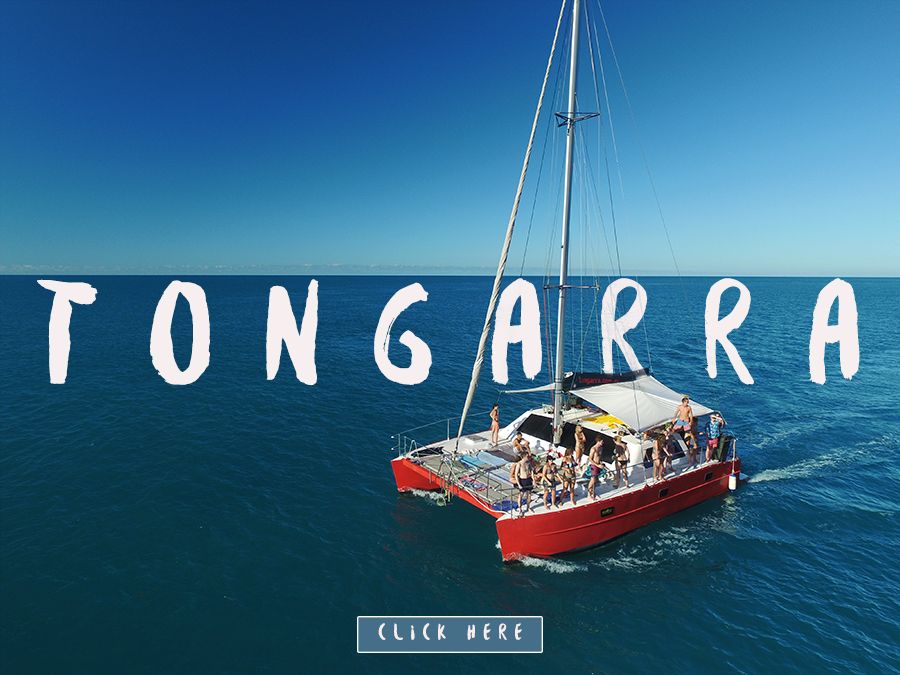 A vibrant red catamaran notorious for its onboard party atmosphere, Tongarra is often booked out well in advance amongst young party-seekers and backpackers! Taking a smaller intimate group of 24 guests, Tongarra has ample deck space for socialising, relaxing, and enjoying a sunset drink with all your new friends. There is even a banana boat onboard for epic fun times following snorkelling adventures!
Sitting out on the front nets as you sail from one Whitsundays hot spot to the next is bound to fulfil all of your tropical daydreams during Tongarra's 2 day 2 night tour - you can even sleep out under the stars, for a true 'livin' barry' experience!
Tongarra Features
2 days, 2 nights
24 guests
Departs: 2:30pm - please enquire
Returns: 1:00pm - please enquire
* Tongarra will be running day tours only until further notice. Click here to view their reef-packed day itinerary!
---
Why not enjoy your time in the Whitsundays completely stress-free? Our Airlie Party Pack features the most social mega-yacht in the region, Atlantic Clipper, plus a two-night stay at Base Backpackers in the heart of Airlie Beach! Step right into the party, on the sea and land - it's time to let your hair down!
Be sure to check out the Best Bars and Clubs in Airlie Beach to plan yourself a night (or two) on the town that you won't be forgetting anytime soon!
---
Time to bring those Whitsundays party dreams to life!
Call us on +61 7 4914 2425 or live chat with an expert today for the best local deals and advice!