Influencer's Guide to the Whitsundays 
The Whitsundays is a stunning natural playground for influencers, bloggers, models and digital content creators, and it's no wonder why. With bright turquoise waters, lush island havens, vibrant wildlife and the luxuries that come with stylish sailing, how can one resist these divine backdrops. So, grab your pals, favourite fits and a sense of adventure as you document your travels in the stunning Whitsundays for all of your followers!
---
Landscapes to impress
The Whitsunday Islands are made up of 74 lush islands, some big, some small, some undiscovered and some boasting luxury resorts. All of these tropical gems are located amongst the Great Barrer Reef Marine Park, a World Heritage-listed coral ecosystem home to an abundance of marine creatures found nowhere else in the world. The picture-perfect contrast of flourishing green islands abound with leafy, tropical island rainforests next to the deep blues of the glassy Great Barrier Reef is enough to know anyone's socks off, so make sure you have enough space on your camera before heading out to the Whitsunday Islands!
---
Infinite hidden beaches
When you have an archipelago made up of 74 islands, many of which are considered national park, it's no wonder there are beaches even we haven't discovered yet! Endless beaches of white sands and crystal clear waters lined with dense, shady island palms await you. Perfect for escaping the breeze on a windy day, as you can simply go to the other side of whichever Whitsunday Island you choose, meaning you won't ever get that crazy windblown hair here in nirvana! To get you on the right track, our favourite secret beaches are Betty's Beach, Chalkies Beach and Cateran Bay, or check out even more of our adored secret beaches (...Shhh!).
---
Beautiful aquamarine waters
The glistening, bright turquoise waters stretch as far as the eye can see here in the Whitsunday, so dive in, point and shoot! Spectacularly clear salty bays, bright aqua fringing reefs and deep blue depths of the ocean create a tricolour palette of photo opportunities, so grab your favourite bikinis and dive in! Whether you're exploring the shallow beaches of Whitehaven or going deeper for some dreaming GoPro shots of shimmery fish and vibrant corals, you're bound to get the perfect dreamy shot in these Whitsundays water!
---
Whitehaven's pure white sands
Are you envisioning laying upon some of the whitest, softest sands in the world? Well, Whitehaven Beach is the spot for you! Home to grand stretches of pure silica sands, this geological wonder is the perfect spot to get some seriously luxe island snaps and soak up the wonder of the Whitsundays. These magnificent silica sands don't actually heat up, so go for a barefoot beach stroll… a super cute shot for couples! The pristine waters against the bright white tones are a must-see and a quintessential Whitsunday experience for you and your followers.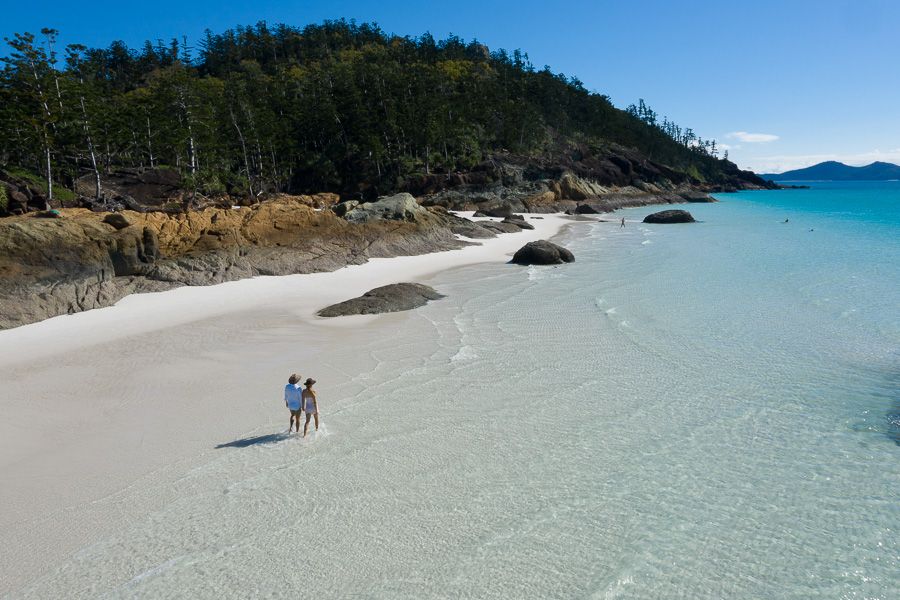 ---
Magical island sunsets
Warm and intense golden hues will light up your pictures with that unbeatable Whitsunday afternoon glow… you really won't want to miss a single sunset in this slice of paradise! Sundown over the horizon really is an ethereal setting for your next island adventure, so head out on a luxury sailing or cruising adventure! Here, you can pop some bubbles, enjoy a beautiful platter of nibbles and fill your phone with incredible model shots against the magical setting sun.
---
Sunrises over the ocean
If you're an early riser, your go-to shots will of course be a brilliant Whitsunday sunrise over the glassy ocean. Peaceful, warm and soft tones become your canvas as you see the rising of another beautiful morning in paradise… the perfect place to slow down and welcome the day. Whether you're still in your cosy jammies, holding a steaming cup of coffee on a luxury catamaran, or in your hiking gear at the peak of one of our countless stunning Whitsunday walks, breathe in a beautiful sunrise as it illuminates your day!
---
Luxe boat backdrops
From sleek, modern catamarans to charming sailing vessels, our abundant fleet of Whitsunday sailing boats and catamarans will have you feeling like a tropical celebrity! Hop on one of our decadent Whitsunday experiences to lounge on the deck of a spacious catamaran, enjoy sunset cocktails in the onboard heated spa or settle down for starlit alfresco dining, anchored amongst pristine islands. The seas are your oyster, so all aboard your enchanting sailing journey to chase the sun and hear to lull of crashing waves!
---
A perfect canvas
The Whitsundays really is a perfect canvas for all of your incredible, picturesque snaps. With an array of utterly divine tours and natural wonders at your fingertips, your stay in our corner of heaven will leave your camera roll full of utterly breathtaking pictures. Whether you're a travel blogger, product advertiser, model or simply looking for some unbeatable content, the diversity and pristine backdrops are a unique place to get creative as you highlight your best angles in paradise!
For more inspiration, check out our extensive guides to picture-perfect Instagram destinations and funky Tik Tok spots!
---
Want to collab with us?
We're always looking for influencers with a creative style and active following to collaborate with! With an array of free famil opportunities, we love to take digital content creators out to the Whitsundays to capture the beauty of our paradise, and share that with the world!
For more information on collaboration applications and famil opportunities, check out these easy go-to articles!
---
For any questions, free itinerary consultations or simply more travel inspo, contact our friendly team anytime. We're here to answer any question, big or small!


Call us on +61 7 4914 2425 or live chat with a local today!