5 Days in the Whitsundays for Under $550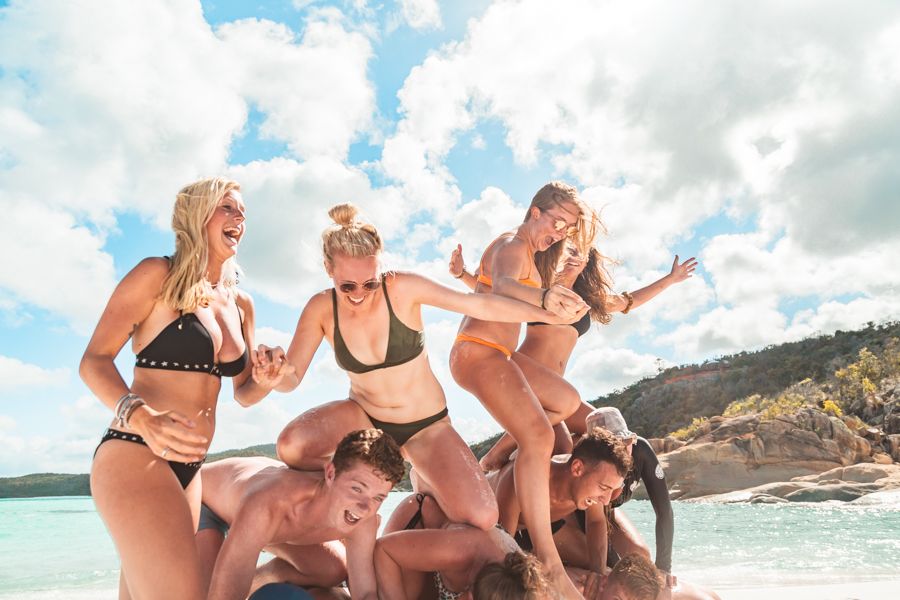 Every backpacker knows that being budget conscious is essential to a successful and action-packed trip around Australia. The Whitsundays are obviously a bucket list destination, boasting it's pristine beaches, overnight sailing tours and the Great Barrier Reef. We've planned the perfect wallet-friendly trip for you to see it all in 5 days, and all for under $550!
Day 1
Arrive in Airlie Beach off your Greyhound bus, and head to your accommodation at Nomads, Airlie Beach. You will likely get here in the morning, so check in and leave your bags until your room is ready. Prices vary in high and low season but in general, you can expect shared dorms for as low as $30 depending on the time of year. From here, you can explore the quaint seaside village and do a bit of window shopping, or simply hop on the boardwalk that hugs the shoreline to take in the beautiful surroundings as you acquaint yourself with Airlie Beach. Grab a light bite at the Kiosk once you reach Abell Point Marina for about $5.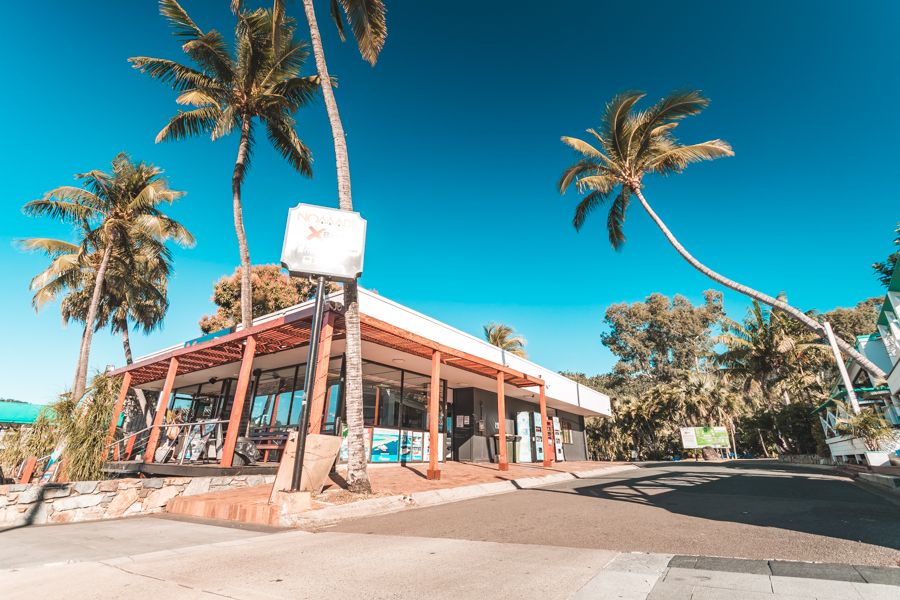 Once you've checked into to your shared dorm at Nomads, you and your mates may want to check out live music and games at Shed bar, conveniently located behind the backpackers. There is also a pool, so grab your sunscreen and your togs! Once the sun goes down, grab a $16 meal deal from Boaty's, where you'll get a generous portion and a drink included!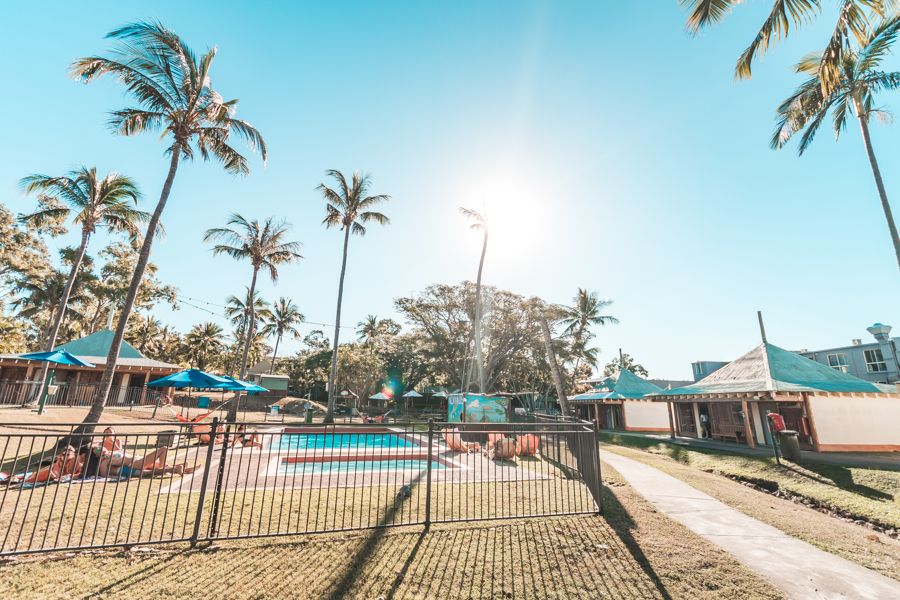 Since you'll be preparing for your boat trip tomorrow, you'll want to sort out your booze in advance. Coral Sea Cellars is conveniently located down at Abell Point Marina, where your boat will depart from, but if you don't want to carry it down from your accommodation, you can always pre-order it online, and it will be delivered to your boat prior to your arrival! Casked wine starts at $15 and is a popular option for bringing on an overnight tour.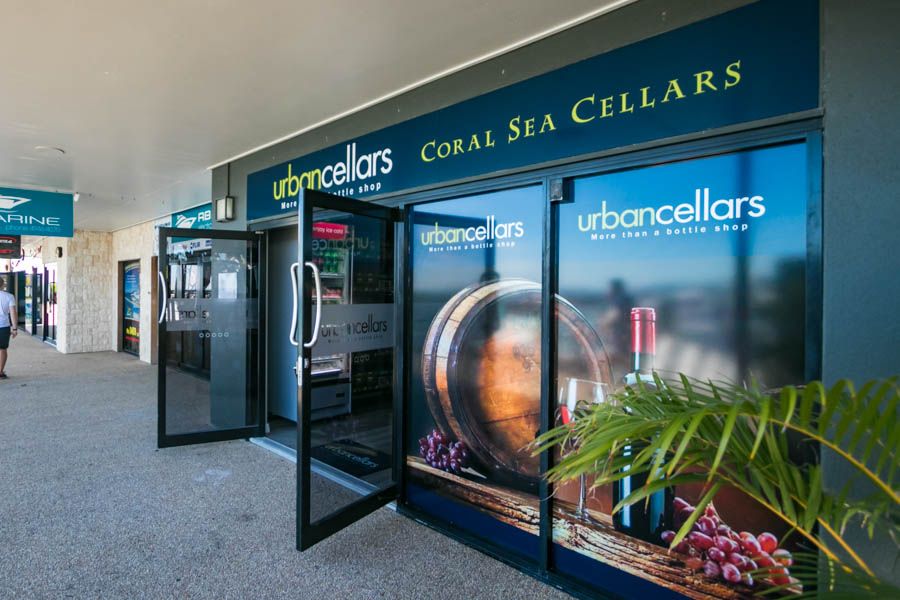 Nomads Shared Dorm $30
Kiosk Lunch $5
Boaty's Dinner $16
Goon $15
Day 1 Total: $66
---
Day 2
Grab some breakfast next door to your accommodation at Garuma where you can easily fill up for about $10. Once you've packed a light bag with all the essentials for your boat trip, check out of your room and head to Whitsunday Sailing Adventures on the main street to check in for your overnight trip on New Horizon (don't forget to ask about their luggage storage if required, available for a small fee). Once you've checked in, you might feel like a quick dip in the lagoon, and can easily grab some essentials for some sandwiches at Woolworths, and share a light lunch with friends at the local swimming hole, free for everyone!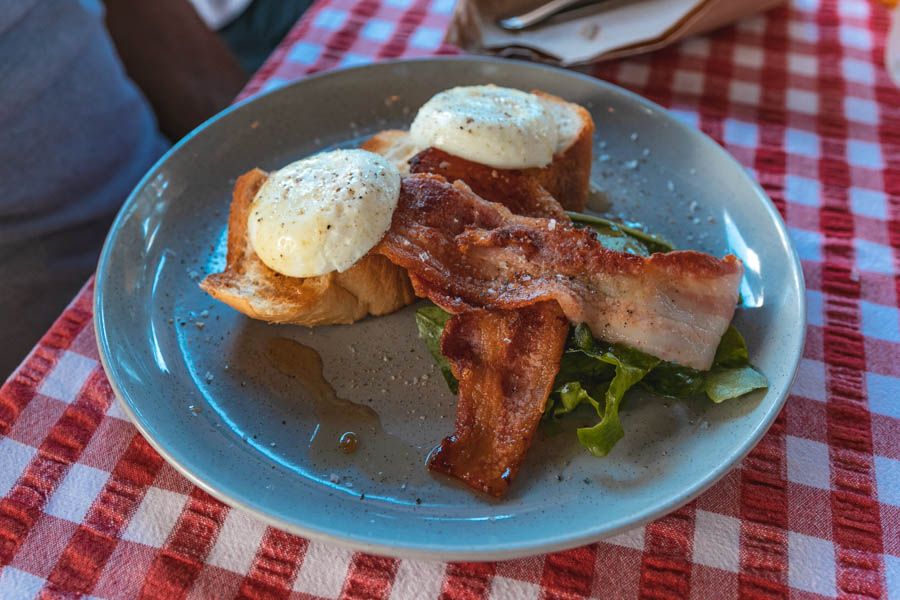 Head down to Abell Point Marina, where your action-packed, fun-filled adventure will begin! All meals, snacks and drinking water is supplied, so make sure you bring a refillable water bottle with you. The winter months can mean some great deals on overnight charter boats, so chat to our team to find out today's latest deals.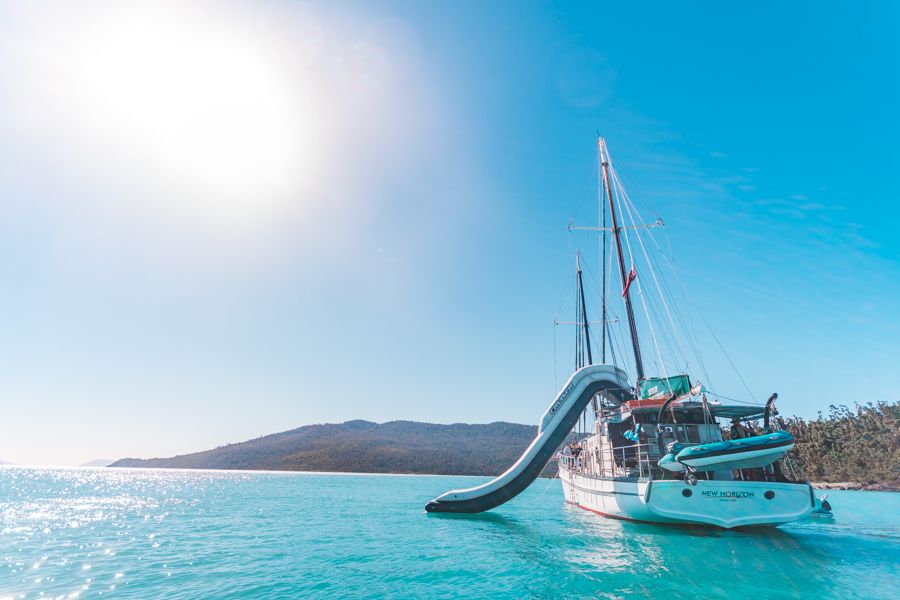 Breakfast $10
Woollies Lunch $5 pp
Overnight Trip on New Horizon $374
Day 2 Total: $389
---
Day 3
Being one of the most popular tours on the East Coast of Australia, backpackers travel from all corners of the globe just to take part in this unequalled Whitsunday adventure that will have you laughing, exploring and making memories to last a lifetime! Over 2 days and 2 nights, you'll get to snorkel the Great Barrier Reef, visit the world famous Whitehaven Beach, and take advantage of their free inflatable water slide and stand-up paddleboards. The best part about this tour is the flexibility to do your trip, your way. While there are plenty of action-packed activities you are also welcome to relax on the deck and soak up the sun, and even lounge on beanbags in the air-conditioned movie room!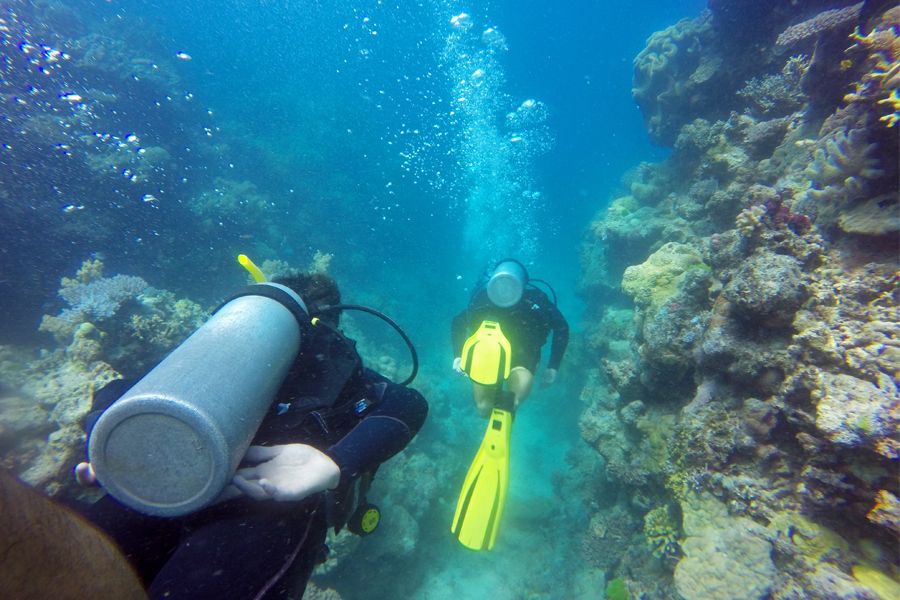 Day 3 Total: $0
---
Day 4
Once you've had your fill of fun on New Horizon, sail back into Airlie Beach with your new mates, where you can keep the fun going on the mainland. After you've checked back into Nomads, head next door to Gypsy Hire Car and rent a car for the day. You can get a 5 seater for as little as $80, and split 5 ways will be the most cost-effective way. From here, grab a rotisserie chicken and some rolls and salad, and head for Cedar Creek Falls for the afternoon, where you can swim in the fresh rain waterfall and hike up to the top for some incredible vantage points.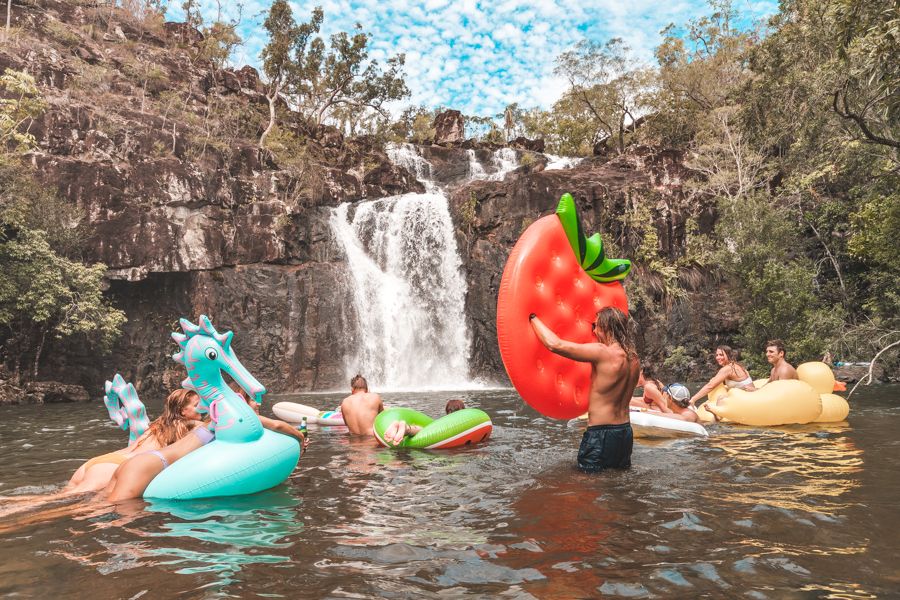 Back in town, Beaches also offer great meal and drink deals. Check out what specials they have on for drinks as well, sometimes they even offer ladies night where you will get complimentary glasses of bubbles! There is live music at most venues on the main street throughout the week, and weekly events like hot leg competitions and trivia nights, so make sure you get the lowdown from the locals before heading out on the town. After a long day of fun, sun and sailing, you'll be sure to hit the pillow like a rock!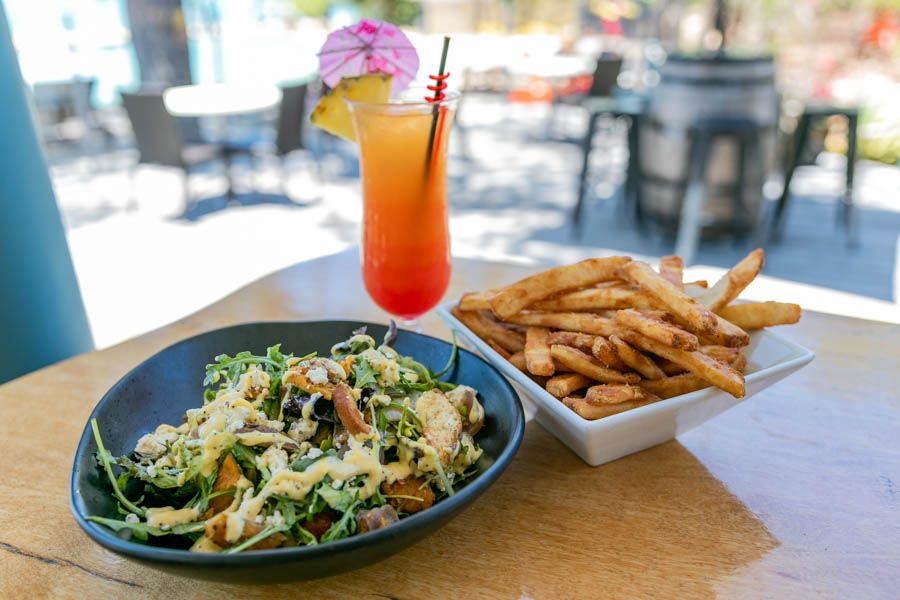 Nomads Shared Dorm $30
Woollies Lunch $5 pp
Gypsy Hire Car $16 pp
Beaches Dinner $16
Day 4 Total: $67
---
Day 5
Once you've checked out of your accommodation, grab a cheap and easy brekkie at McDonald's for about $5. You'll still have your hire car for a couple of hours, so take advantage and explore the town a bit! You can even drive out towards Shute Harbour where you'll find some awesome hiking and walking trails, such as Mt. Rooper and Coral Beach.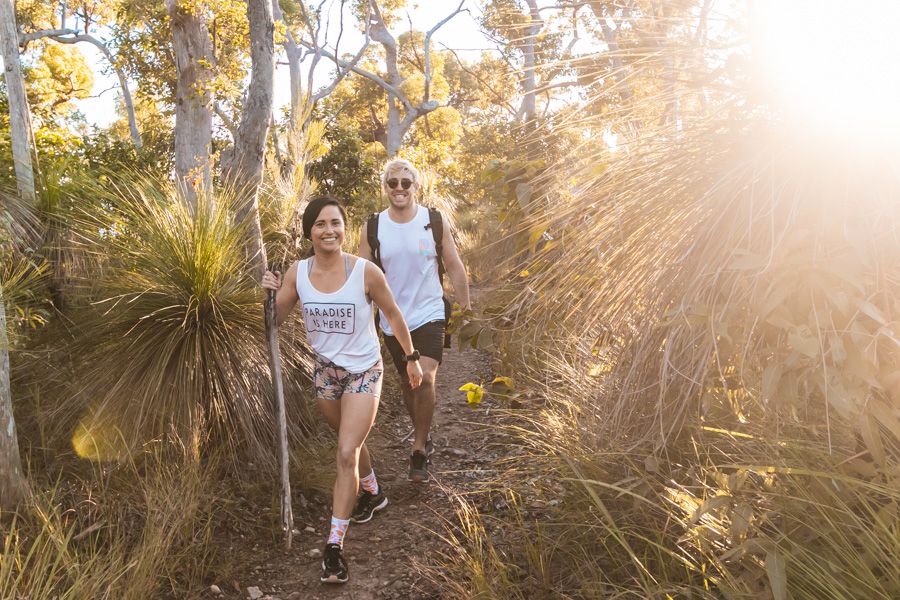 After returning your hire car, grab a towel and some sunscreen and head to Anchor Bar Airlie Beach. Located up Golden Orchid drive a quick hop, skip and a jump from the main street, Anchor Bar has a large pool overlooking the coral sea, free pool table, and delicious food. Grab their famous share platter that comfortably feeds 5 people for only $88.
From here you can watch the sunset, before saying goodbye to Airlie Beach and hopping aboard your Greyhound bus onward to your next adventure!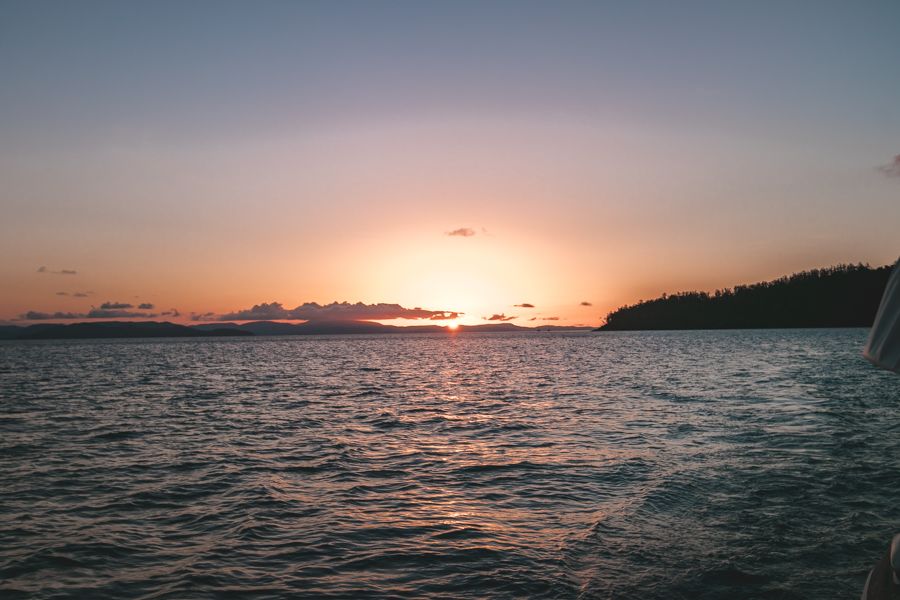 Maccas Breakfast $5
Anchor Bar Lunch $17 pp
Day 5 Total: $22
---
Total Over 5 Days: $544!
There are so many options for seeing Airlie Beach and the Whitsundays on a budget. For more information on how we can help you plan your ultimate (and budget-friendly) holiday to the Whitsundays, live chat with us today!
Please note, this is a sample itinerary. Costs are approximate and may vary depending on the season of travel.