Atlantic Clipper Day Tour
CLOSE
View More Thumbnails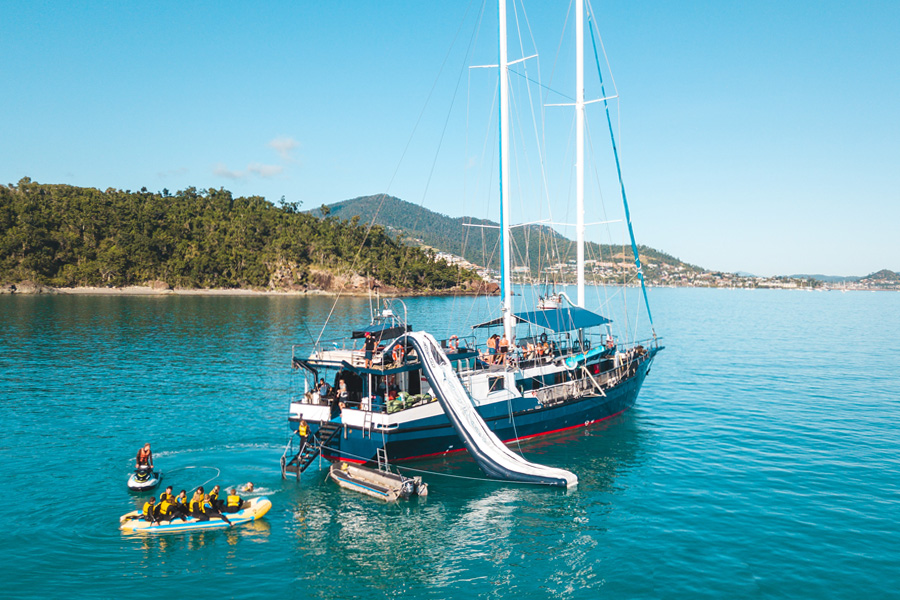 Loading...
Departure Times
Departs: 7:00am (approx.)
Returns:
6:00pm (approx.)
Departure Point: Coral Sea Marina, Airlie Beach
Pricing Options
RRP $205

$195 AUD / Person
- Adult
(Between: 31 Mar 2022 and 31 Mar 2023)
RRP $155

$150 AUD / Person
- Child (4-14 Years)
(Between: 31 Mar 2022 and 31 Mar 2023)
RRP $700

$650 AUD / Family
- Family (2A+2C)
(Between: 31 Mar 2022 and 31 Mar 2023)
$0 AUD / Person
- Infant (0-3 Years)
(Between: 01 Jun 2020 and 31 Mar 2023)
Highlights
| | | |
| --- | --- | --- |
| Whitehaven Beach & Hill Inlet | Giant Waterslide | |
| | | |
| Snorkelling | | |
| SUPs | | |
Join us for a fun and lively adventure on the Whitsundays' very own floating playground!
Action-packed itinerary that visits the very best of the Whitsundays
One of the biggest boats in the Whitsundays at 34 metres long!
Cruise in style and comfort - relax in one of the many chill-out areas
Enjoy free activities - waterslides, snorkelling and stand-up paddle boards!
Suitable for families, friends and couples!
Please Note: The Atlantic Clipper Day Tour is not currently being offered.
Customers who were interested in this product, also viewed...
Reviews
Overall Rating
5.0 / 5.0
Based on 30 reviews
Reviews by our Sailing Whitsundays customers
Francesca Stabile
, 05 Feb 22
Overall we were very impressed with the experience, definitely has potential for a great party, staff were very accomodating, even to dietary needs, music was unreal and all the facilities were exceptional. Highly recommend
Such a great day! Presentation of food was perfect and Whitehaven was amazing :)
We had the best day ever! Lili and Morgan are the best!
A great day on a awesome boat. There is heaps of space and different areas to hang out on the boat, the food was good and plenty of it. The crew were so good with my kids, playing and dancing with them all the way home, and they made an effort to make sure everyone was happy and looked after.
An awesome day tour! The crew were very friendly and informative. The boat is huge so lots of space to chill out (and for naps)! The slides are so much fun for kids and adults alike! Plenty of food, including yummy chicken burgers, pasta salads and prawns with a glass of bubbles for the perfect finish
Had a great day out on the Atlantic Clipper, was a big vessel so no worries about the windy weather. The food was excellent with te highlight of the tour being the trip up to the lookout at hill inlet, will recommend to friends and family
Best day I've ever had at the Whitsundays. The most entertaining crew!
The crew was lovely. Food was great! All around enjoable day. Love from the spice girls xxx
Nicest day out! Great food and such a friendly crew!
Jess, Han and Logey
, 23 Nov 21
We had the best day ever!!
Thanks so much! Even us locals loved it. great day out!!
You guys are so good! Great crew! Great views- perfect weather. Would book again
Great staff and food was amazing. Best vibes!!!
Awesome trip, will definitely be back!
Staff were amazing, super nice an attentive.
Super friendly and fun crew. Food was amazing and beautiful views.
It was an unreal time through out and the crew couldn't be better!
Had a bloody blast. Crew was awesome and everyone was friendly. Big thanks to everyone! Will come again.
Couldnt ask for a better cruise! All the crew were great and very helpful, would defiantly come again.
What an amazing way to experience the Whitsundays. A great crew that made the experience so fun and awesome food made fresh on board. Stopping in Peters bay and getting the slides out was the highlight of the trip! It is turtle mating season and we saw so many along the way and we had a very informative chart read and eco talk on the way home. Would highly recommend!
What a day!! We were quite unlucky with the tide and the snorkelling wasn't the best but I still had the greatest day. The slides were epic and definitely softened the blow of The high tide and the staff were INCREDIBLE - they went above and beyond.
Mirko and Lydia
, 05 Oct 21
Thank you for an amazing day! The best day trip we've been on. Everyone was so nice, funny and friendly which made the trip even more enjoyable. we will definitely recommend the Atlantic Clipper to our friends!
Best one day excursion ever! Thanks guys! Excellent vegan food!
Thanks so much from a family with young kids. Was such an excellent day out! Team were all very accomodating and we never felt unwanted. Thank you so much for all the effort put in the day!
Annette & Jack
, 11 May 21
Thank you all for a most fabolous day. The crew was so helpful, we are in our 70s and Jessie was so attentive to us both. The food was awesome, so much of it. I went for a slide off the big dipper it was exilerating to say the least. Nothing was a trouble the crew was sp thoughtful to all. The best day! Love it!
What a boat with two slides, a trampoline, and a jacuzzi, heaps of fun! Perfect Whitehaven tour :)
We took the family out on the weekend on the Clipper, it was such a great experience for the kids to see Whitehaven Beach, We have been talking about it forever as we travelled up the Coast. The kids loved the water slide as the best part. Thanks to the crew for a really good day out on the water.
Did the Clipper day trip with a group of friends and was an amazing day out! Managed to see Whitehaven Beach and the Hill Inlet lookout plus we still had plenty of time snorkelling and enjoying the onboard waterslide!! Staff were great and very hospitable! Would book again
Fun big boat with lots of activities! We enjoyed the journey sitting in the jacuzzi, sunbathing, and eating delicious burgers and snacks. We then stopped to snorkel and use the 2 big slides from the top of the boat and the trampoline to jump into the water. Another stop was at Whitehaven beach; its white white sand is just breath-taking! Perfect tour to sail the Whitsundays
First off I wold like to say a massive thankyou to Sailing Whitsundays for making our booking experience so smooth and easy. Yesterday we had a family outing on the Atlantic Clipper day trip and we are so happy with our experience. We had our 2 young kids with us (4 and 6) and I was completely relaxed knowing they were on a safe vessel with friendly staff. Everyone had a jolly good time on the slides and the food that was prepared for us was delicious. Thankyou sailing Whitsundays and Atlantic Clipper for giving us the best Whitsunday experience we could of hoped for :)