Schoolies in the Whitsundays
Updated Fri 16 Sep 2022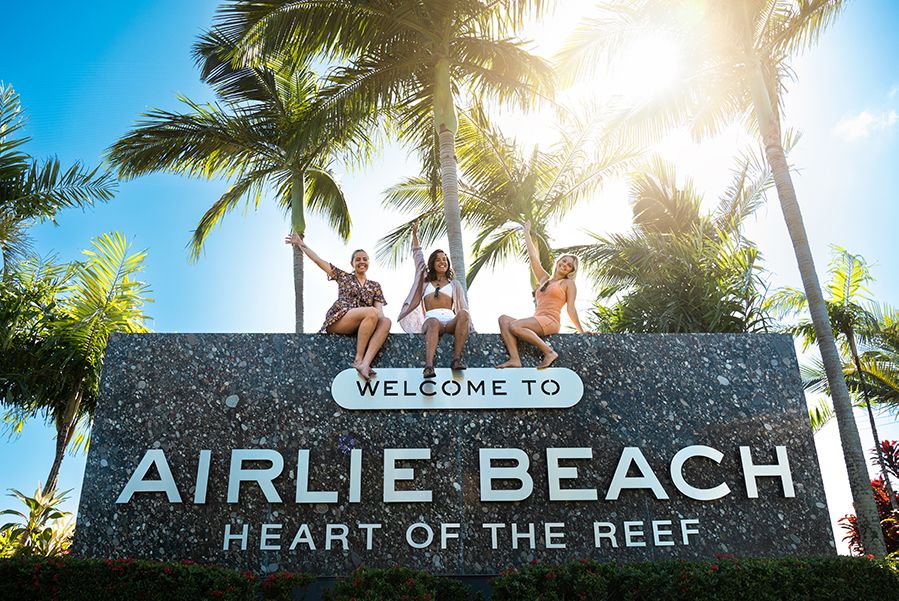 Planning a last-minute Schoolies 2022 in the Whitsundays or dreaming ahead during classes for an anticipated Schoolies 2023 under the tropical sun? Well, you've come to the right place!
Airlie Beach in the Whitsundays is the premier destination to get some well-deserved poolside R&R, enjoy some adrenaline-pumping activities on the reef, and let your hair down at the huge Airlie Beach Schoolies Festival every night. A Schoolies break up north has never looked so good, with Airlie's Main Street offering one of the most lively Schoolies atmospheres along the East Coast!
Schoolies in the Whitsundays takes place from the 19th to 26th of November 2022, with crowds of school leavers choosing the tropical destination for their week of celebration each year. Picture the popular Airlie Beach Lagoon on your doorstep, a Great Barrier Reef day tour with all your mates, and epic beach parties with the hottest DJs out!
Time to soak up your freedom whilst partying in one of the most popular East Coast Schoolies destinations - Airlie Beach!
---
When is Schoolies in the Whitsundays?
Image: Schoolies.com
Schoolies Week in Australia is a three-week graduation festival designed for and celebrated by Year 12 school leavers, with celebrations generally taking place during the first three weeks following graduation in mid-November.
2022 Schoolies in the Whitsundays will be held from the 19th to 26th of November, with designated Schoolies accommodation options in Airlie Beach selling out quickly. Attracting both local North Queensland school leavers and graduates from the colder states of Australia, this is a week of tropical temperatures and beachside partying like no other!
For those planning ahead for Schoolies 2023 in the Whitsundays, Schoolies Week will be held in Airlie Beach from the 18th to 25th of November 2023.
---
Where is Schoolies in the Whitsundays?
Schoolies in the Whitsundays is held in the bustling mainland CBD of Airlie Beach, located a short flight from Brisbane or an eight-hour drive from Cairns (Skytrans offers a direct flight). Accommodation is conveniently dotted amongst the Airlie Beach CBD, with shops and restaurants located just a short walk away on the vibrant Main Street. From here, the beach parties will be vibing just across the road!
Airlie Beach is the only designated Schoolies destination within the Whitsundays. Currently, Hamilton Island is not offered as a Schoolies.com destination.
---
Airlie Beach Schoolies Accommodation
Image: Schoolies.com
You've gathered your Schoolies squad and decided to celebrate your Schoolies in Airlie Beach, now it's time to choose the best accommodation for your group! To browse through the Schoolies accommodation options in Airlie Beach, head to the official Schoolies website.
Once you've booked, your trip will include an Official Schoolies.com ID Pass, City Beach Discount Voucher, Finn Beach Club 7-Day Pass, 24-hour Schoolies Hotline, and Red Frogs support team during your week.
Schoolies in the Whitsundays sells out fast each and every year, so we recommend booking your accommodation in Airlie Beach for 2022 quickly before it sells out. For those 2023 Schoolies, booking early and getting your best pick of accommodation options is never a bad idea either!
---
Schoolies in the Whitsundays Things to do
From themed beach parties to reef adventures, there is something for every Schoolie in the Whitsundays! To get an idea of what your Schoolies in the Whitsundays is going to look like, check out the list of unlimited things to do in the Whitsundays during your post-school week of fun!
1. Airlie Beach Schoolies Festival
Image: Schoolies.com
Making a smash debut at Schoolies 2021, the Airlie Beach Schoolies Festival is getting ready for another buzzing round of beach parties this year with a stellar line-up of party themes and DJs coming your way!
Each night at the Airlie Beach Schoolies Festival has a different theme, from Neon Disco to the Schoolie's favourite Tight & Bright, there is no better way to forget about your final exams than with a beach boogie!
---
2. All Ages Club Party
Image: Boom Nightclub
From the beach to the club, your nights in Airlie Beach are guaranteed to be action-packed! Boom Nightclub, located within the centre of Airlie Beach, is set to throw an exclusive all-ages party during Schoolies Week that is sure to bring the vibe!
Only school leavers with an Airlie Beach Schoolies Passport can access the Airlie Beach All Ages Party and Airlie Beach Schoolies Festival, these are not public events.
---
3. Great Barrier Reef Tours
Schoolies anywhere is fun, yet Schoolies in the Whitsundays is absolute paradise, with the Great Barrier Reef situated at your doorstep! We recommend spending a day island-hopping, snorkelling, and visiting Whitsundays highlights such as Whitehaven Beach during your Schoolies Week.
Whether you're searching for snorkelling adventures or a day of sailing fun, be sure to check out our day tour deals or pop into the Sailing Whitsundays shop to find your group's perfect reef match!
---
4. Adventure-packed Tours
If you're feeling wild, why not fill your week with a thrilling activity or two and experience a new side of the Whitsundays? From Jetski Safari's that speed amongst the islands to a Crocodile Safari that cruises through the Proserpine River, there is a slice of adventure for everyone!
---
5. Airlie Beach Lagoon
There's no better place to relax under the sun, take in the Schoolies ambience, and enjoy much-needed R&R than at the Airlie Beach Lagoon. Situated in the centre of Airlie Beach, the lagoon overlooks the stunning Coral Sea and is completely free for all visitors.
Bring your rug, your snacks, and your squad because this town favourite is the perfect place to meet some fellow Schoolies and rest up after morning adventures and before beach parties!
To find out more about Schoolies in Airlie Beach visit the official Schoolies.com website.
---
Adventure amongst the Great Barrier Reef during your Schoolies in the Whitsundays!
Live chat with a team member or call us on +61 7 4914 2425 for the best local travel advice deals!