Sailing on Prima in the Whitsundays | A Relaxed Intimate Adventure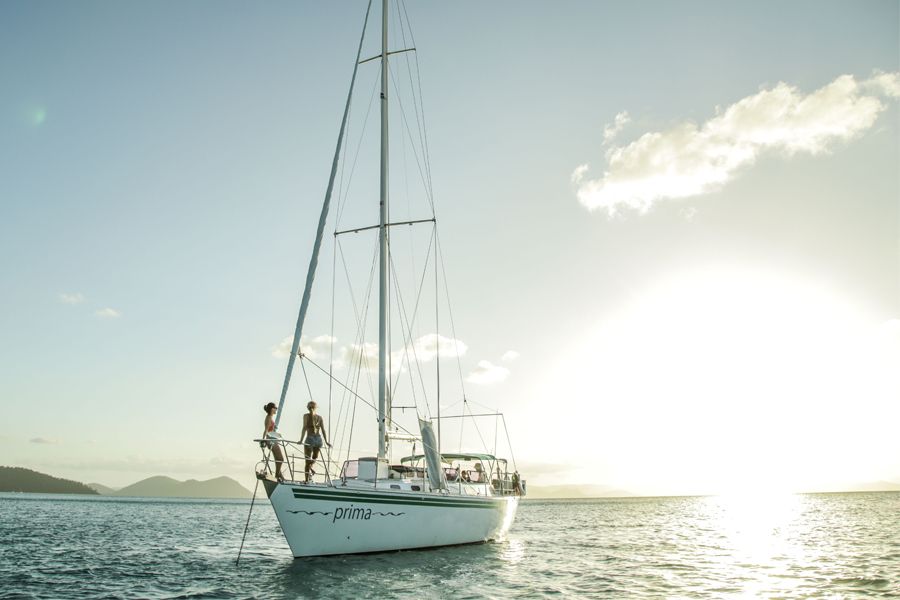 With over 50 boats available in the Whitsundays, it isn't an easy choice choosing the perfect fit for sailing overnight around the beautiful islands that make up this beautiful region in Australia. Luckily our local travel experts have been on every tour to help you choose the perfect sailing trip! We've highlighted some of the finer points of our trip, so you can know what to expect out at sea aboard Prima!
---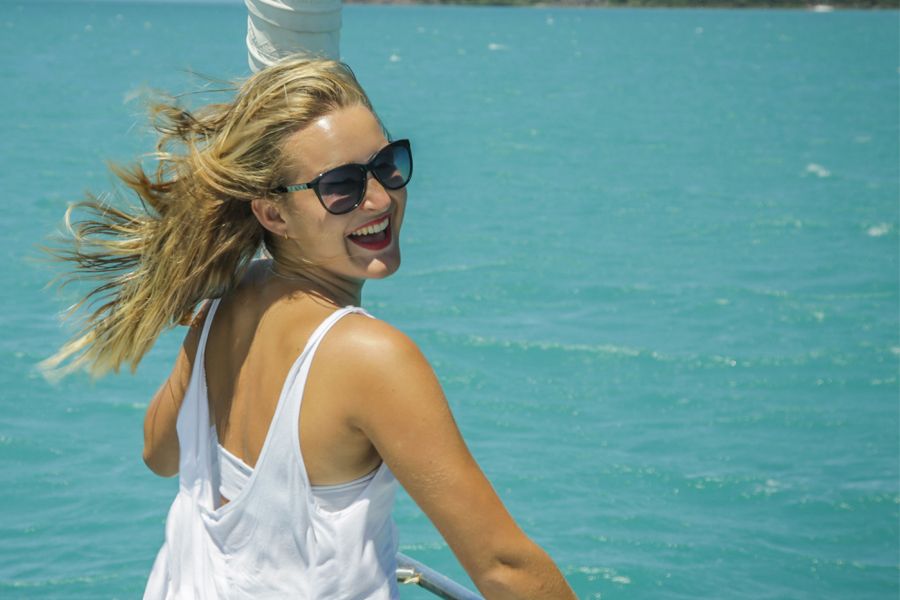 Setting Off
We set off on a Monday afternoon, after a cruisy yet delicious lunch at Port of Airlie Marina, just a stone's throw from the vessel Prima. Upon stepping onboard, it was clear we were in for an incredible experience just by the way we were greeted by the Skipper and Hostess. They had both been living in the Whitsundays and working on sailing yachts for over 5 years each, which gave us the utmost confidence in their local knowledge and skills. We definitely felt we were in good hands! The crew took our shoes and bags and showed us to our quarters for the next couple of days.
---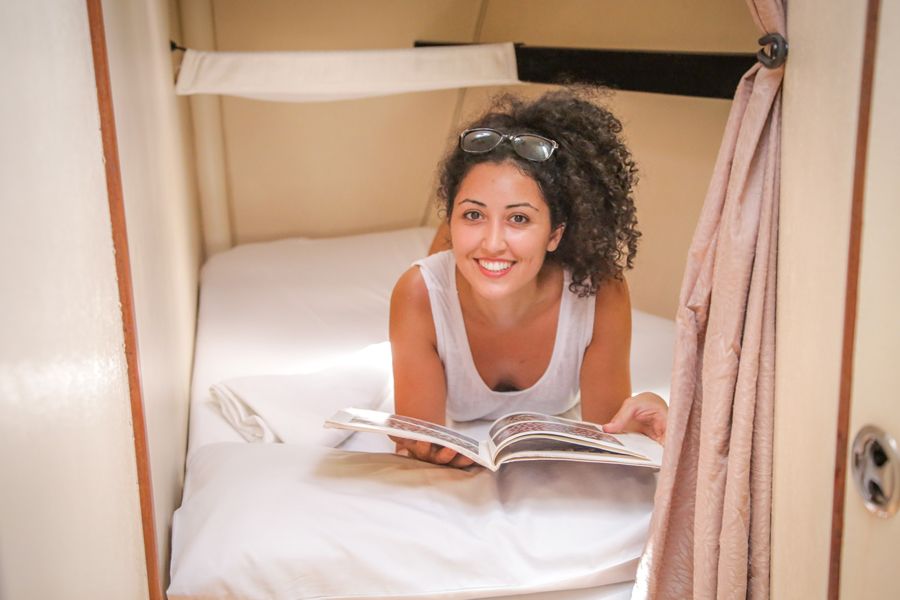 Accommodation
The two-day, two-night tour was going to be comfortable from the looks of it, with our group being split between two double cabins, each with their own private ensuite bathrooms! If you've never been on a boat, things are certainly smaller than hotels, however, there seemed to be plenty of room for everyone comfortably, as Prima takes a maximum of 12 guests.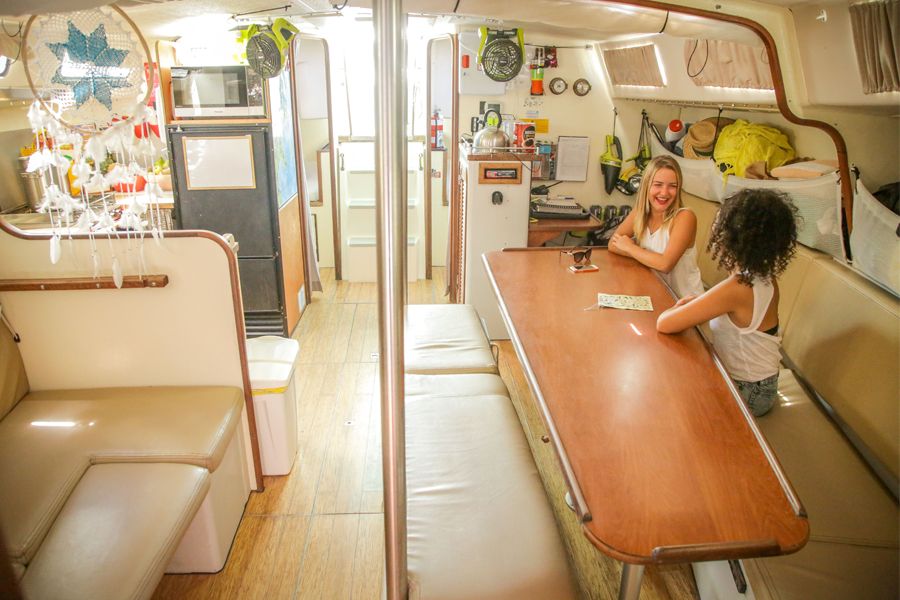 They even provided us with towels and soap (which was lucky, as half of us only brought shampoo and face wash)! The other passengers opted for a more affordable option, with two private double cabins in the back, and sharing the main cabin of the boat in more of a dorm-style bed configuration-They even put the dining table away much like a campervan to create another double bed!
---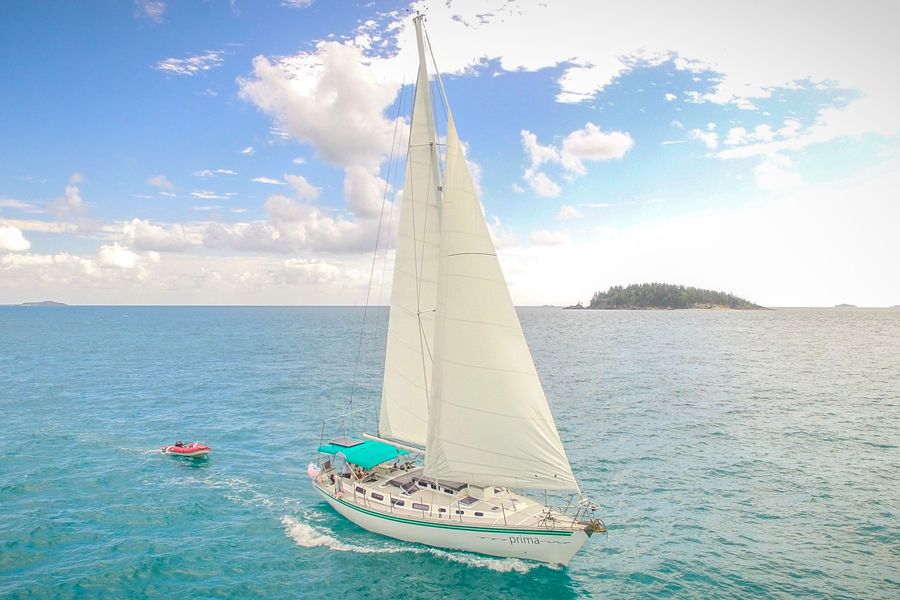 Setting Sail
Upon settling in and after an informative (yet hilarious) safety briefing, we departed the quaint marina before setting sail for the first time. For some of us, this wasn't our first rodeo, but there were some in our group who had never sailed. The experienced crew didn't bat an eye and got everyone involved in pulling up the sails, and grinding winches to get the vessel up to speed, teaching us about the wind and tides as we were underway. The wind was perfect, and we got to see how well Prima performs sailing, as we leaned to the side, some comfortably sitting in the cockpit and some up on deck with their legs dangling off the side. Our hostess wasn't deterred by the motion on the ocean, and artfully served us homemade nachos while we relaxed and took in the surrounding islands!
---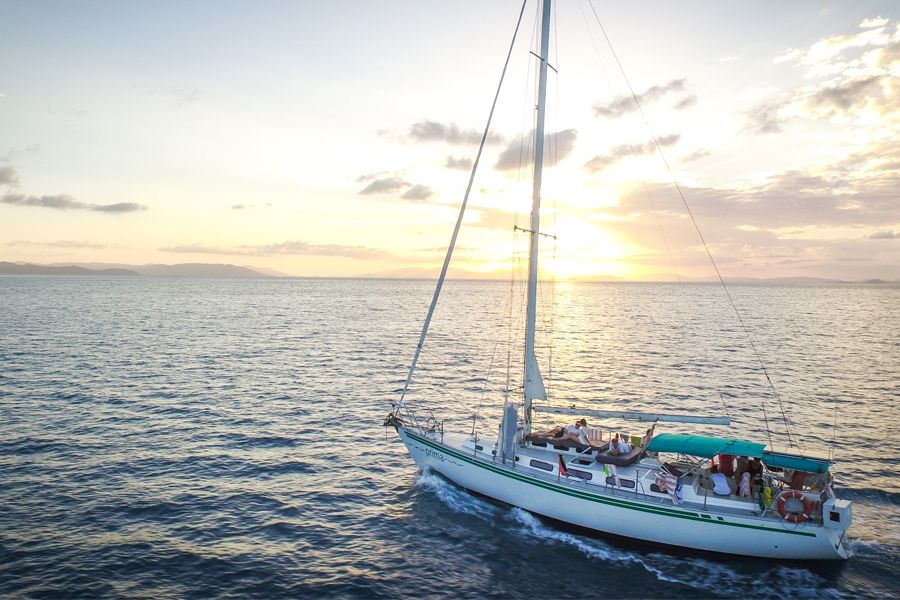 Local Knowledge
As we traversed around the islands and through Hook Passage, our seasoned Skipper gave us insight into the area as we passed the newly reopened Daydream Island, South Molle Island, and Hook Island, among others. Coming up on Tongue Bay for our evening's anchorage, we were promised beautiful sunsets and sunrises-And we weren't disappointed! Settling in for the evening, we went over the map on the wall and the next couple of days were laid out for us, so we all felt prepared and excited for what was to come. Dinner was as satisfying as it was anticipated, serving homemade chicken curry with rice, accompanied by fresh local produce in our garden salad and warmed bread rolls-They didn't forget dessert either!
---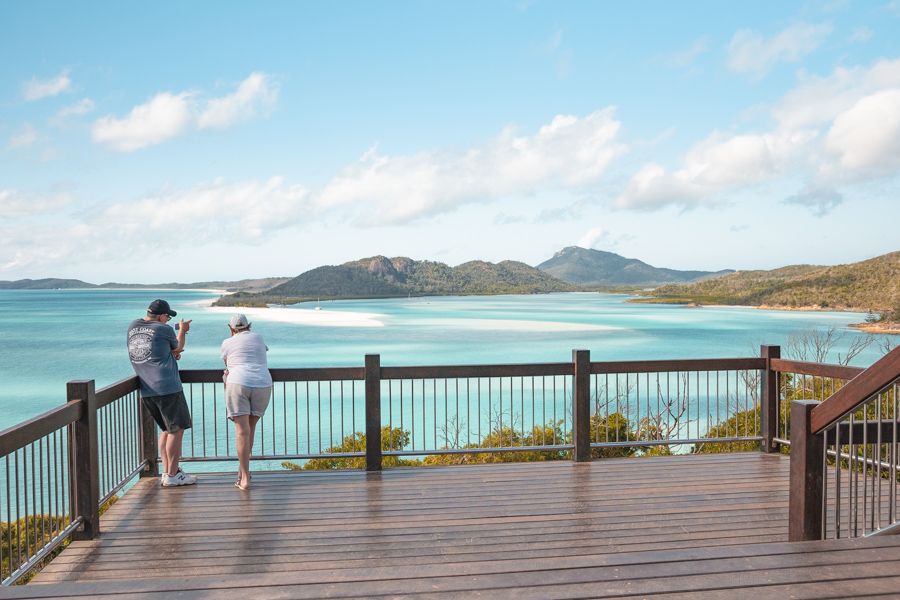 Whitehaven Beach
Spending the night at Tongue Bay meant we were right at the entry point for north Whitehaven Beach at first light. After a filling continental breakfast of toast, cereals, yogurt and fresh local fruit, we packed a light bag and set off in the small dinghy towards Whitsunday Island. Our hostess took us on a guided bush walk (lasting only about 20 minutes, and appropriate for any fitness level) up toward Hill Inlet Lookout, pointing out green ants nests, local flora and even monitor lizards along the way. Once we reached Hill Inlet Lookout, we were glad we opted as a group to set out early-We had the place to ourselves! The spectacular swirling white sands layered with varying shades of turquoise and blues made for the perfect photos. It's no wonder Whitehaven Beach is touted as the number one beach in Australia! Our hostess guided us back down toward the beach where we seemed to be one step ahead of every tour group, having the beach to ourselves as we looked for baby lemon sharks and stingrays in the shallows of Hill Inlet.
---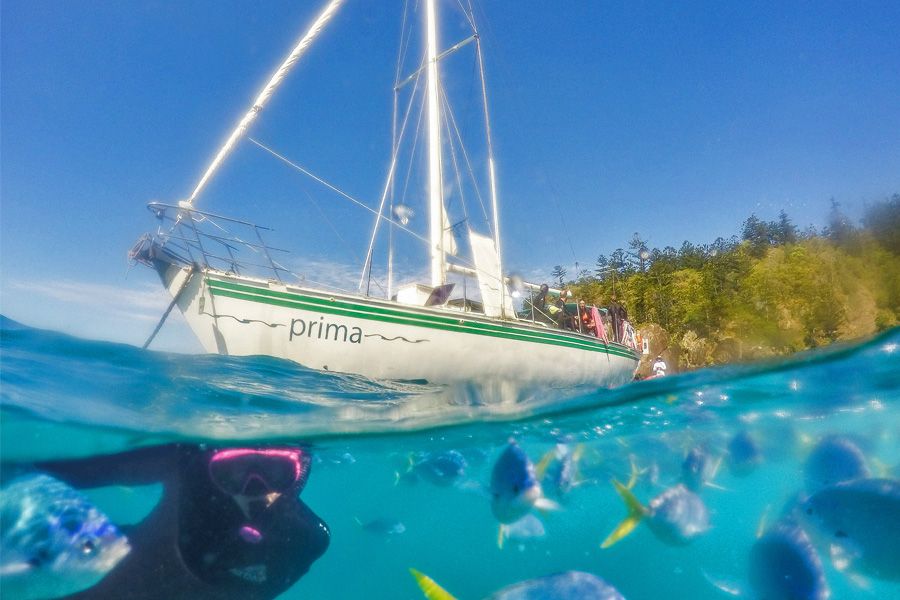 Snorkelling the Great Barrier Reef
After what felt like a whole day, we made our way back down to get picked up by our skipper and return to Prima, only to be greeted with a full buffet lunch filled with roasted chicken and an array of fresh salads and bread rolls. Once setting sail again, we were taken to a beautiful cove just around the corner from Whitehaven, where we were given another comedic but insightful safety briefing on snorkelling. After the beauty of the beach, we had almost forgotten we also had snorkelling the fringing Great Barrier Reef to look forward to! Mantaray Bay was teeming with marine life, and we swam with colourful fusiliers, batfish, and even a resident giant humpheaded Maori wrasse named George!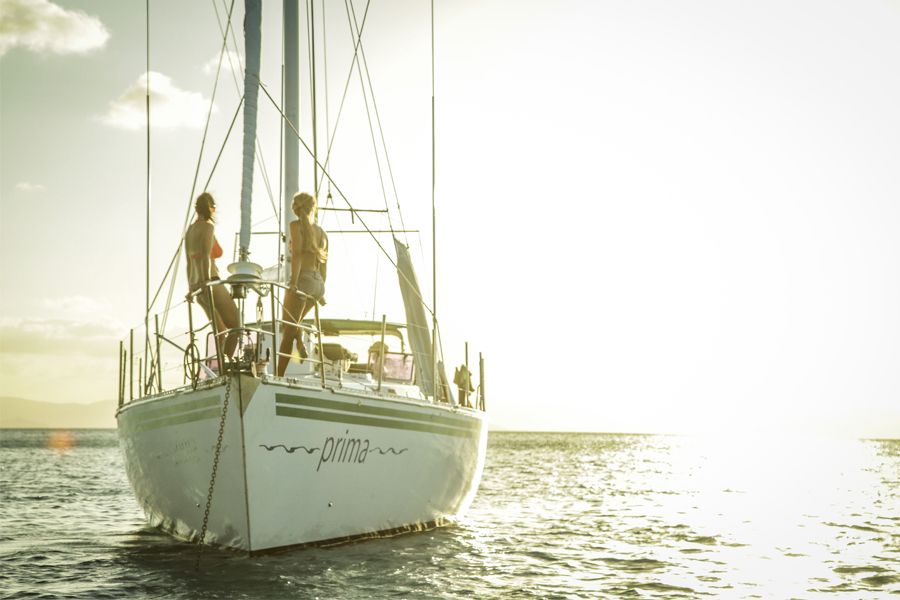 Relaxing, Unwinding, and Soaking It Up
Over the next day, we felt time stop, as we sailed from destination to destination, never wanting for anything. You would often lose yourself in the rhythm of the waves against the hull of the boat while sunning yourself on the deck. Relaxing with a drink, reading a book and napping, or listening to Skipper and Hostess tell us tales of their adventures on these warm and tropical waters - No matter where you were on board or what you did, everyone had the same peaceful smile on their face, and you could tell that this was the ultimate level of relaxation. It was almost a shock to the system when we saw the seaside town of Airlie Beach appear in the distance, and we all tried our best to convince the crew to turn around and head where the wind took us!
10/10 Reviews All Around
Overall, the entire group had a phenomenal time, and we all decided we should exchange numbers and even meet up for dinner later on in town. Prima and it's crew delivered what is one of the best experiences we've all had in the Whitsundays, and for some passengers, in their lives. We were even pleased to hear that Prima offer private charters, so keep that in mind if you are looking to book out a vessel for 12 people or less! We believe in only selling the best tours at Sailing Whitsundays, and if you have any questions about whether Prima is right for you, you can ask any one of us, but the answer will be the same - Prima is one of the most relaxing and intimate sailing experiences you can have in the Whitsundays!
---
Ready to start planning YOUR perfect adventure on Prima? Chat to our friendly local travel experts online by clicking on the chat button, or call us on +61 74914 2425 to book today!