Boat Trip FAQs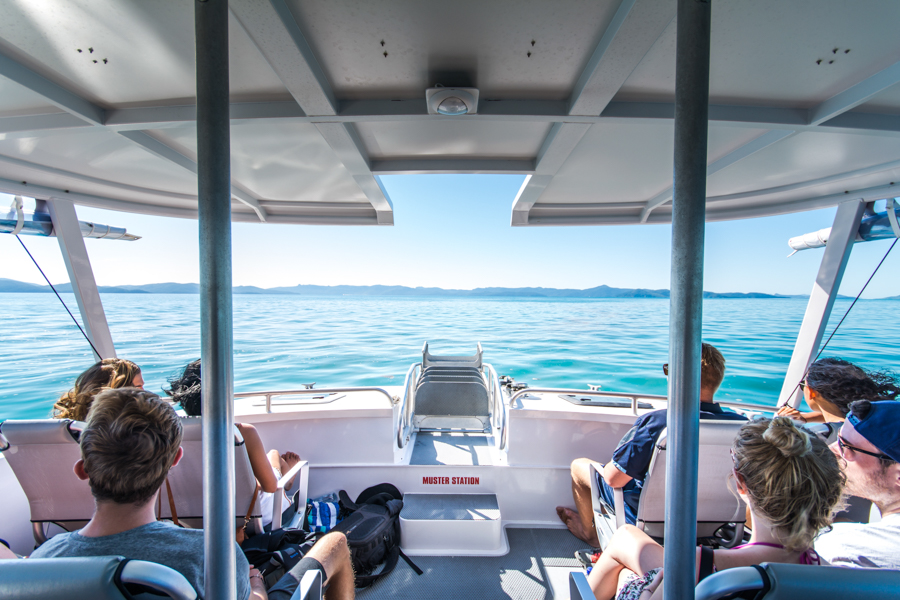 First things first, please check availability with us before booking your trip online! You can message us on chat, email or by phone and we are glad to check on any trip to confirm its availability. Once your trip is booked and confirmed, here's what you need to know.
---
1. What do we need to pack for our boat trip?
Boats have a limited amount of space, meaning you'll want to pack carefully and make sure you only take what you need. It's a good idea to take a change of clothes, hat, toiletries, swimwear, beach towel, sunscreen 30+, warm jacket for the evenings (seasonal) and cash for onboard purchases such as soft drinks. We also recommend taking a large bottle of water with you to take on and off the boat onto the islands when you are exploring! Fresh water will be available onboard. Everything else will be provided for you, including food and snacks.
---
2. What kind of bag should we pack in?
Large suitcases will not be permitted on the boat, so please pack your belongings in a small soft overnight bag. When you check-in with your tour operator, they will discuss further requirements as most boats require a zipless bag. Reusable shopping bags are perfect or plastic bags. You can often purchase bags at check-in for a few dollars and some boats will actually give you the required bag. Just make sure you don't take a big bag with wheels or luggage, as they will not be allowed on board.
---
3. Where can we store the rest of our luggage?
There are several places in town to store luggage for between $5-10 per person for the duration of your trip. The best and most convenient option is your check-in office or at your accommodation. Just ask upon checking in and the staff will be able to help you.
---
4. Can I snorkel or dive if I can't swim?
The answer is no, you cannot snorkel or dive if you can't swim at all, as you do need to be able to swim a little to enter the water when on the boat trips. You don't have to be a strong swimmer, but your safety is of utmost importance to the crew who will only let guests in the water if they can swim. It is always at the final discretion of the skipper or divemaster in charge to determine if your ability is enough to snorkel. Flotation devices are usually available if you're not overly confident in your swimming abilities, and you can always ask your crew what is available to you. Ask your crew and discuss any concerns you may have, they are always happy to walk you through them.
---
5. Where can we leave our car while on our sailing trip?
There are several paid car parks in Airlie Beach and at the marinas. Expect to pay $8-10 per 24 hours. You can also leave a car at XBase Backpackers on the main street, for $12 for the duration of the trip. The parking at XBase hostel cannot be pre-booked and is on a first come, first serve basis, so arriving a bit earlier than the rest of the crowd can pay off! There are several locally known spots you can also leave your car, click here to find out more.
---
6. What does BYO mean?
BYO means you must Bring Your Own Alcohol. Most boats in the Whitsundays are BYO, so this means you need to purchase your alcoholic drinks prior to your departure, as they do not have a bar on board. Be sure to only buy cans or boxed wine, as glass and red wine are prohibited onboard. If a boat has a licensed bar, you are not able to bring your own alcohol and must instead purchase alcohol from the bar. Ask your travel consultant upon booking which type of boat you are travelling on so you can be prepared.
---
7. Where do we board our boat? Do we need to arrive earlier than the boat departure time?
All charter boats depart from Coral Sea Marina or Port of Airlie. Please see your ticket for check-in instructions. You are required to check in at a sailing office in town prior to departure and will need to call to reconfirm 24-48 hours prior. Both marinas are in walking distance of the check-in offices in the Airlie Beach main street. For overnight boats that depart in the early morning, you will need to check in the day prior to travel by 5 PM. For those travelling on a boat that departs in the afternoon, you are able to check in the morning prior to departure before 11 AM. In some cases you can do a late check-in if your flight is arriving a bit later than check-in time - please let us know so that we can inform the boat company when we book in your tour! Any additional information will be listed at the top of your ticket, but if you have any questions, ask us and we'll be happy to help.
---
8. When is the stinger season?
Stinger season is around October to May, but you can still swim, snorkel and dive in the Whitsundays. Most boats offer a complimentary stinger suit, and those that do not will offer stinger suits for hire. While some types of jellyfish can be dangerous, they are not something you need to be too worried about. By taking precautions like wearing a stinger suit and being aware of your surroundings you still take part in all activities on your holidays!
---
9. Where do we fly into the Whitsundays?
You can fly into Proserpine/Whitsunday Coast Airport (PPP) and we can arrange a shuttle bus to meet you and bring you to your accommodation in Airlie Beach. Alternatively, you can fly into Hamilton Island (HTI) and catch a ferry over to the mainland. The Cruise Whitsundays ferries (which must be booked with them) are upwards of $62 pp each way and these are easily sorted at desks next to a luggage collection point. It does tend to be more convenient to fly into Proserpine Airport as it is a short 40-minute shuttle from Airlie Beach and flight times coincide better with boat departure times. Hamilton Island ferry connection can take up to two hours and is a bit more expensive.
---
10. Can I fly to the Whitsundays and catch the boat on the same day?
We highly recommend you arrive the evening or day before your boat trip in case of unexpected flight delays etc. Though it is possible (in some instances) to make the trip if you choose to fly in the same day, we strongly recommend arriving the day prior and having travel insurance in case anything should happen. Please note, the boat cannot wait for any passengers and must depart at the scheduled time. We can arrange accommodation for you should you choose to fly in a day earlier.
---
11. If I catch a ferry from Hamilton Island in the morning, can I go on a 1-day trip?
Logistically, it is not really possible as all day trips depart from the mainland. The first ferry of each day departing Hamilton Island arrives in Airlie Beach at 9:30 am. With most day trips departing between 7:00 am and 10:00 am, this does not allow enough time. The final ferry from Port of Airlie Marina to Hamilton Island departs at 3:50 pm and arrives at 4:45 pm. The Cruise Whitsunday timetable is subject to changes, please click here to see the latest. There are a few day trips that do depart from Hamilton Island such as the boat that goes to Reefworld at the Great Barrier Reef and the CW Full Day Whitehaven trip.
12. Can the boat pick up or drop off passengers at Hamilton Island?
No. All boats depart and return to Airlie Beach and cannot enter the Hamilton Island marina for any reason.
---
13. Will my boat depart if it's raining?
Yes! All of the overnight sailing trips here will depart rain or shine, with the exception of dangerous conditions such as cyclones where the harbour master will order all boats to stand down. Weather conditions on land can differ greatly from weather conditions at sea, so don't be too worried if you see that there could be a few showers during your trip! If your boat does get cancelled due to weather prior to departure, you will be informed immediately and we will work with you to find the best solution.
14. Can children travel on any overnight boat?
No. Most overnight boats are strictly 18 and over, with some boats more ideal for families, allowing children of different ages. However, if you are looking to do a private charter, you are able to take children of any age on board. Ask your agent what boat may be right for your family.
Strictly 18+: Whitsunday Getaway, Whitsunday Blue, Powerplay, Tongarra, Atlantic Clipper, New Horizon, Habibi, SV Whitehaven, Apollo
Please advise us before booking if any passengers are under 18 years old to ensure your preferred boat would be the most appropriate trip for you!
---
15. What is your cancellation policy?
Cancellation policies are dependent on the boat itself and fluctuate. You can check on the exact cancellation policy for your tour on their product page under the 'More' tab, where you can read up on all the extras you'll need to know. Ask us about any questions you have and we'll be happy to help you out. We strongly recommend that you have travel insurance, especially during the wet season, in case of cancellations.
If you are ready to start choosing the perfect Whitsundays boat tour, chat to our friendly travel experts today!