Top 10 Reasons to Book Atlantic Clipper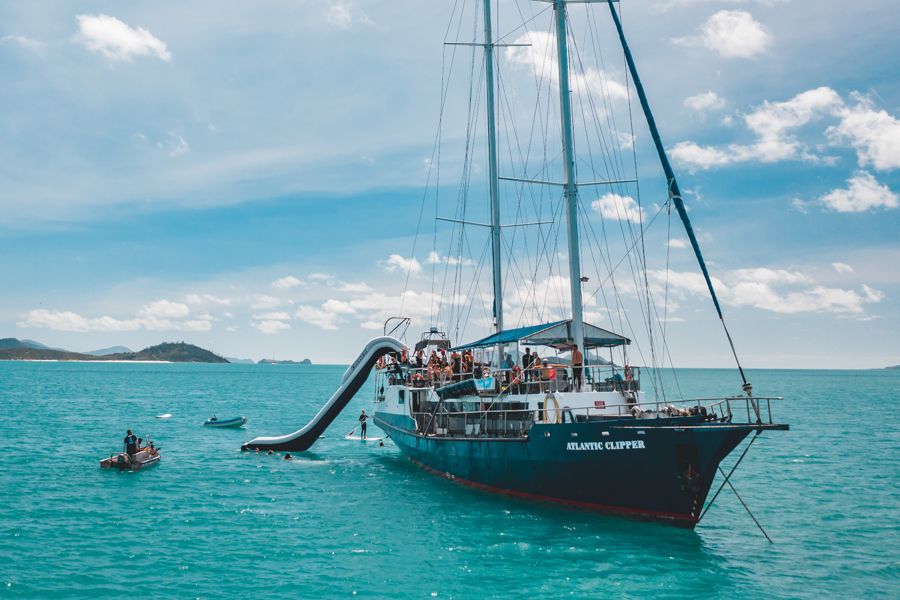 Party games, scuba diving, and heated spa - The Atlantic Clipper has it all. One of many boats that visit Whitehaven Beach and Hill Inlet, the question isn't getting to these iconic locations - It's how you want to get there. The Atlantic Clipper is arguably one of the most popular party boats, and we've got ten reasons why you should book the Clipper for the trip of a lifetime!
10) Giant Water Slide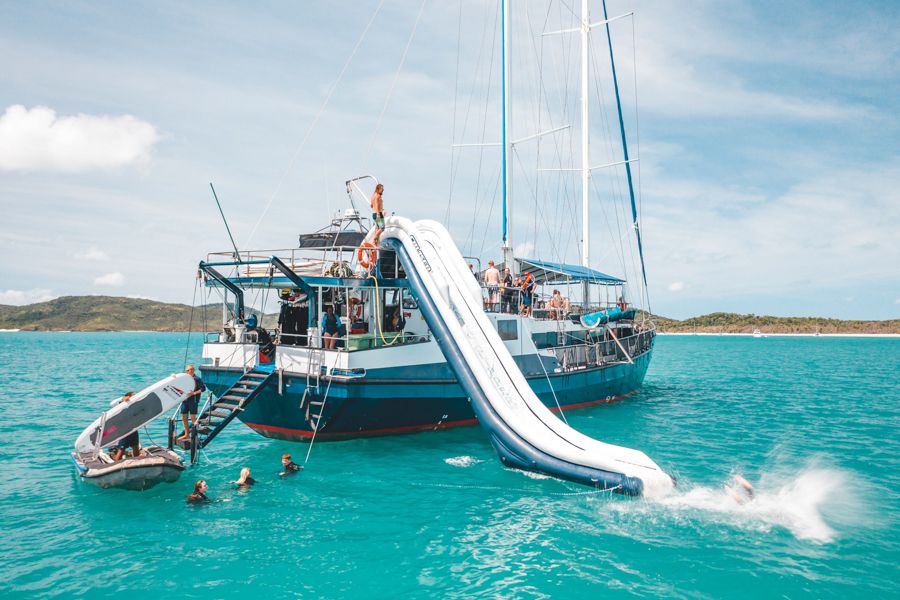 The Clipper has plenty to do onboard, but one of our favourite activities has to be the giant inflatable water slide. If you want to get wet and wild, grab your GoPro and double knot your bikini and boardies for the ultimate adult slip n' slide!
9) Nighttime Parties and Shows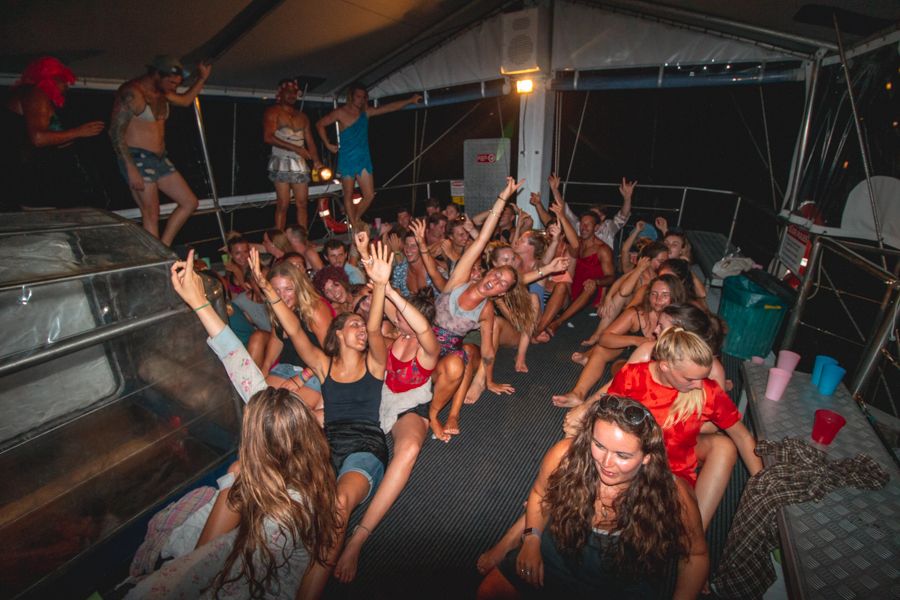 We all know the Clipper has a reputation for being the best party boat in the Whitsundays, and they aren't lying - The crew really know how to crank up the heat, with dress-up nights, plenty of social games and activities, and pumpin' music to make you feel like you're in a nightclub on the sea!
8) Paddleboarding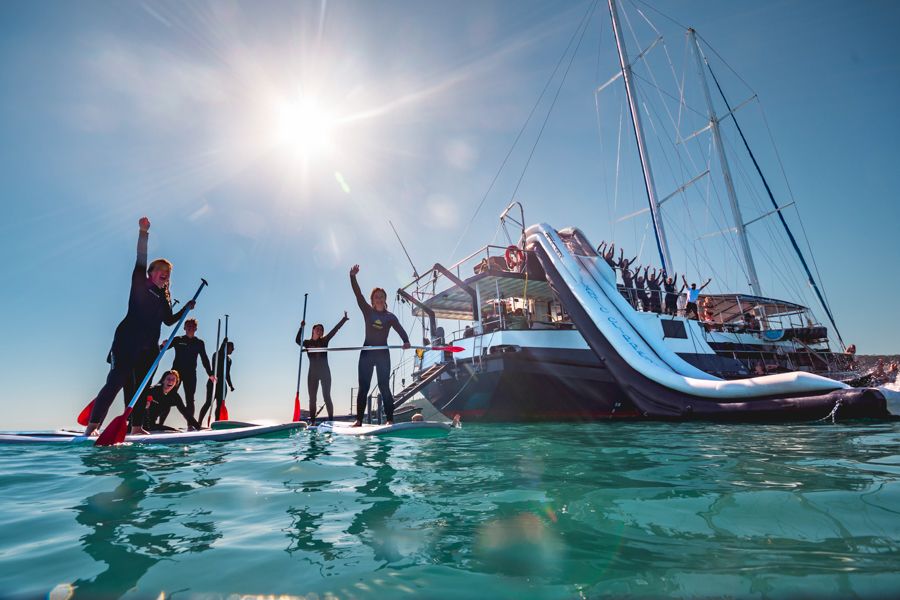 Standup Paddleboarding has fast become a favourite watersport worldwide, and you can test your balancing skills completely FREE on the Clipper! Race your friends, check out beautiful corals and sea turtles from above the surface, or even challenge yourself to some advanced yoga on the water!
7) Heated On Deck Spa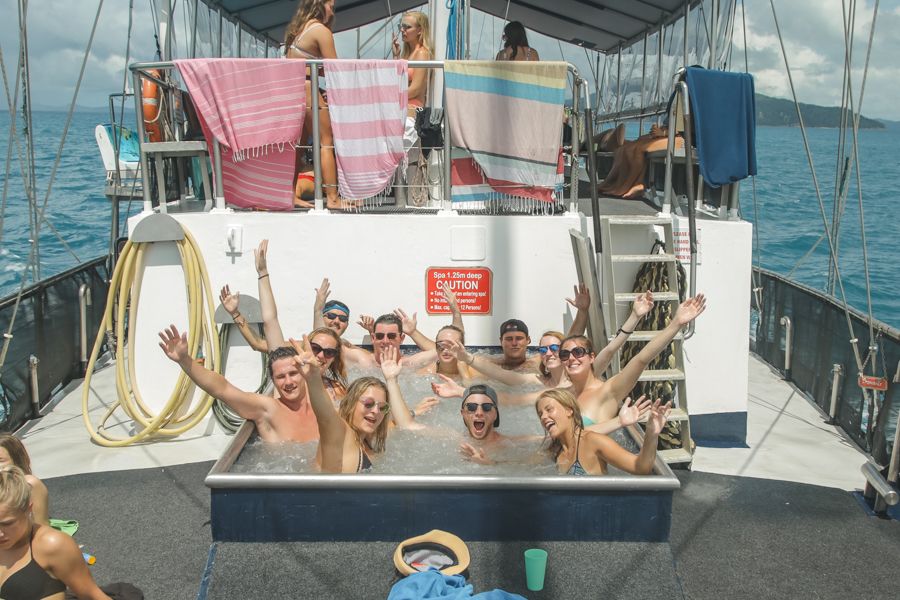 Another epic offering on Clipper is their on-deck heated spa! This unique design heats fresh saltwater straight from the ocean and filters constantly, so you won't need to worry about bleaching your bikini, or dirty bath water. The spa is said to fit up to 10 people, but we beg to differ - How many people you reckon you can fit in there?
6) Heaps of Space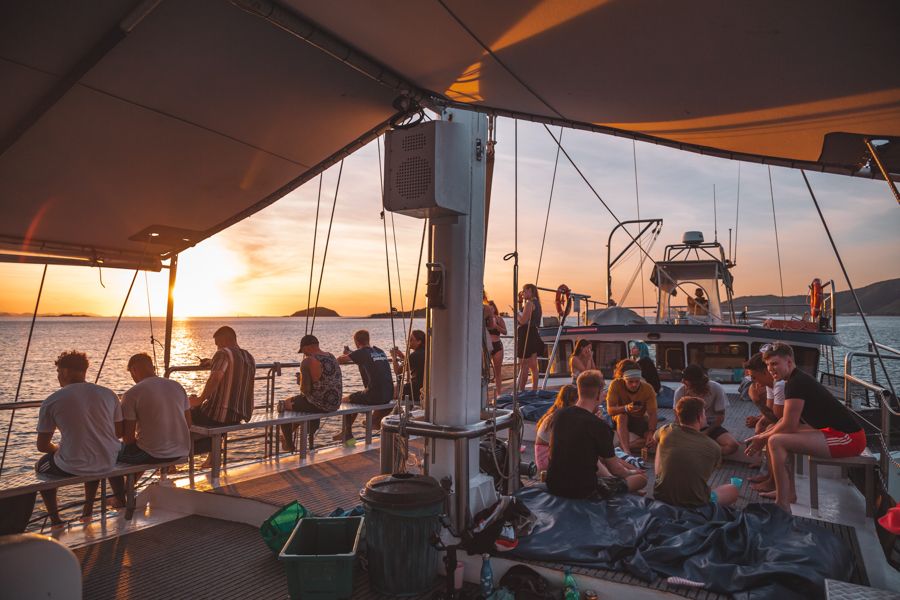 The Atlantic Clipper is the largest overnight vessel in the Whitsundays, and even though they can take up to 54 passengers, having 3 stories, plenty of deck space, and your choice of private doubles, triple share and quad share cabins, you will find you have plenty of room throughout the vessel.
5) Scuba Diving Onboard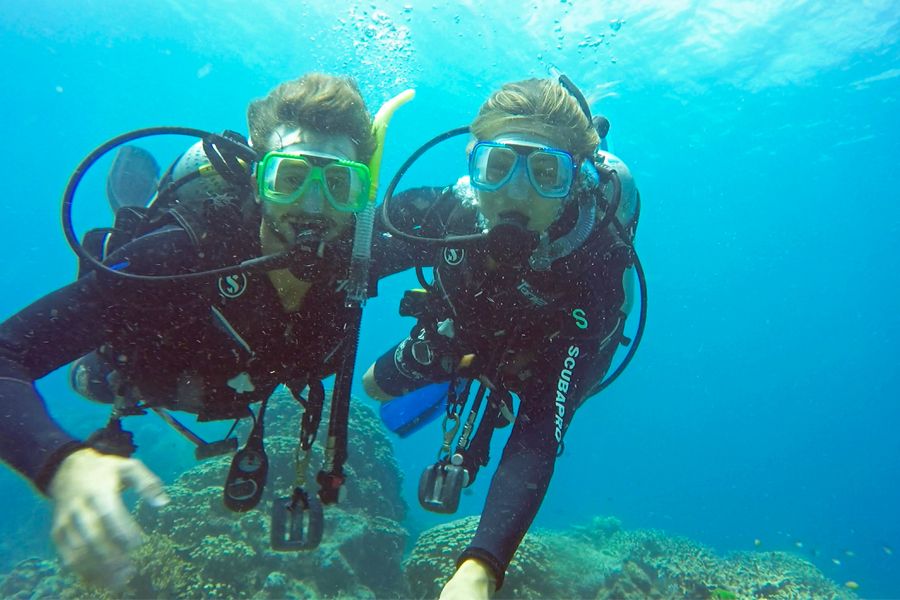 That's right, Clipper is one of the only overnight dive boats with your own dive instructor on board for the duration of your journey. Dives can be purchased if pre-booked and any experience level is welcome to give it a go! If diving isn't your bag, there is still snorkelling included in your trip, so you can spend your time exploring the fringing reefs either way.
4) Social Scene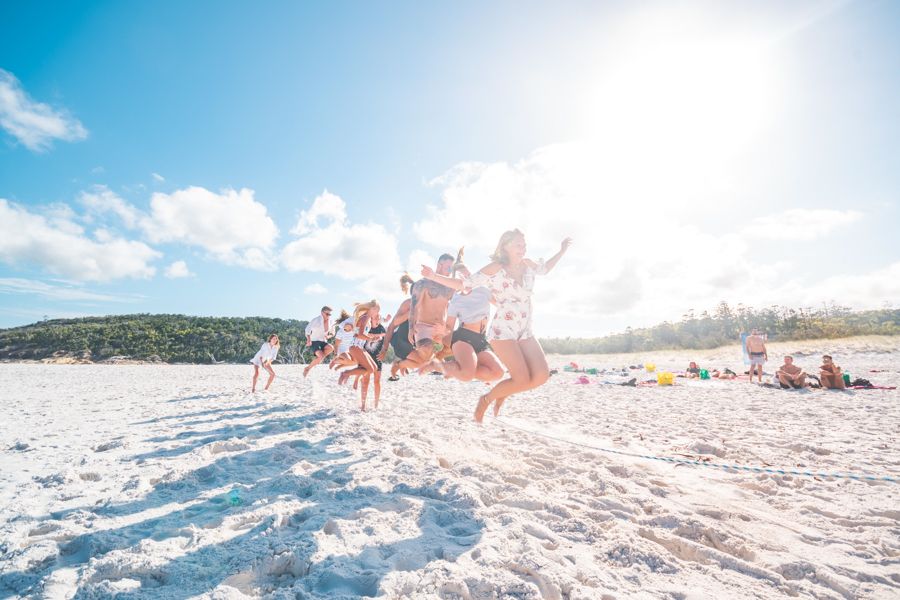 Whether you're travelling solo or with friends, you are sure to meet people on this social overnight boat. Between the group activities, delicious and filling buffet meals, and once in a lifetime experiences you and up to 54 guests will have onboard Clipper, you can count on adding heaps of new mates to your friend's list.
3) Jet Boat Anyone?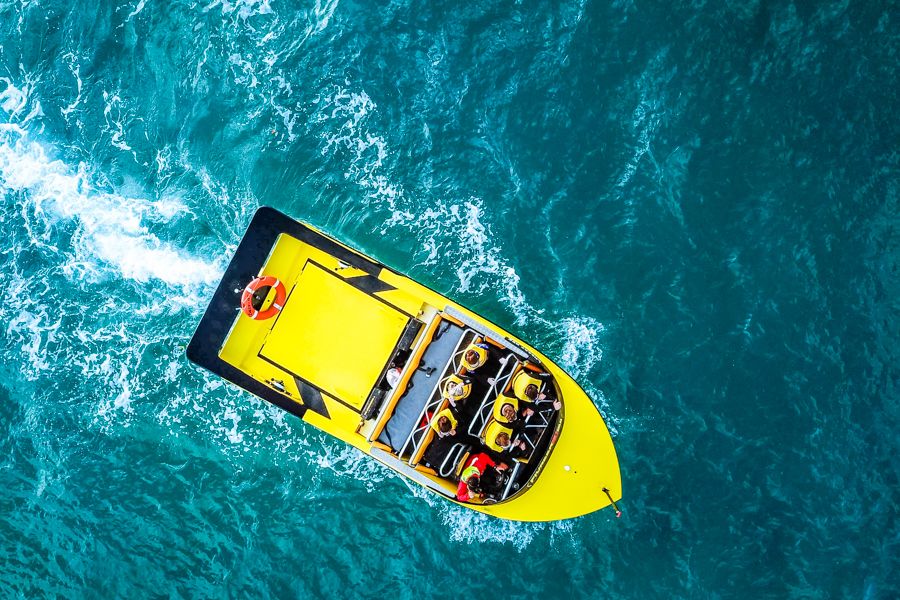 Another add on the Clipper has is a fast, adrenaline-filled ride on a Jet Boat that will meet the Clipper out amongst the islands. Hang on to your hats (and bikinis) and get ready to get wet on this thrilling ride, where you will zip and zag around the surrounding islands, and the Clipper herself!
2) Banana Boat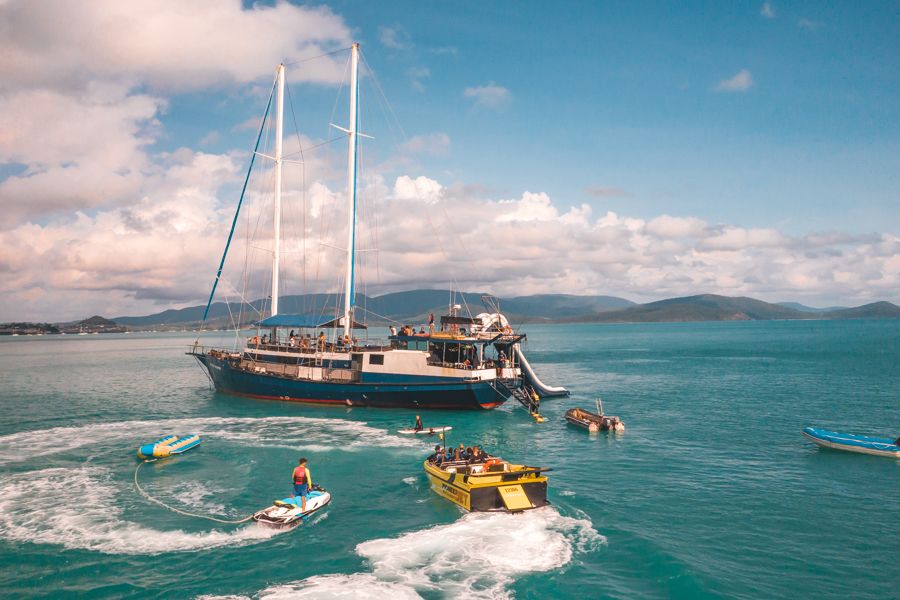 If Jetboating isn't enough to whet your appetite, why not try to hang on an inflatable banana boat ride while the crew drag you around on what will feel like a bucking bronco? This is a must-do add on combo to tick all the boxes on your Whitsunday bucket list.
1) Air Conditioning!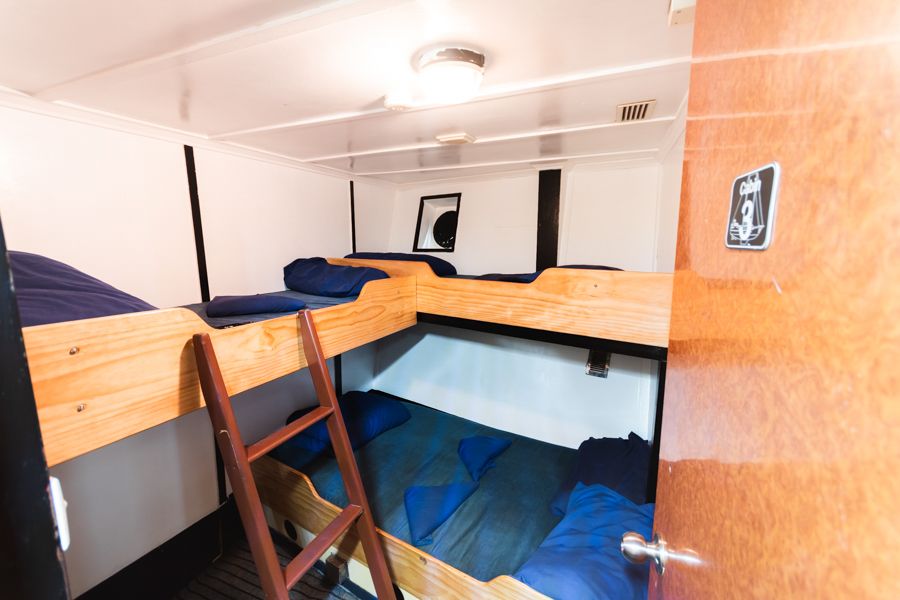 In the summer months, the heat can be stifling and if you're on a boat in a cabin with no air-con, you may be in for the wrong kind of sweaty night. Luckily, the Atlantic Clipper offers air conditioning throughout all its cabins! Whether you're booking private or shared accommodation, you'll be comfortable no matter what time of year.
Are you ready to book on the biggest party boat in the Whitsundays? Chat live to our rockin' crew for the latest deals, or call +61 74914 2425 for more information.