What boats offer diving in the Whitsundays?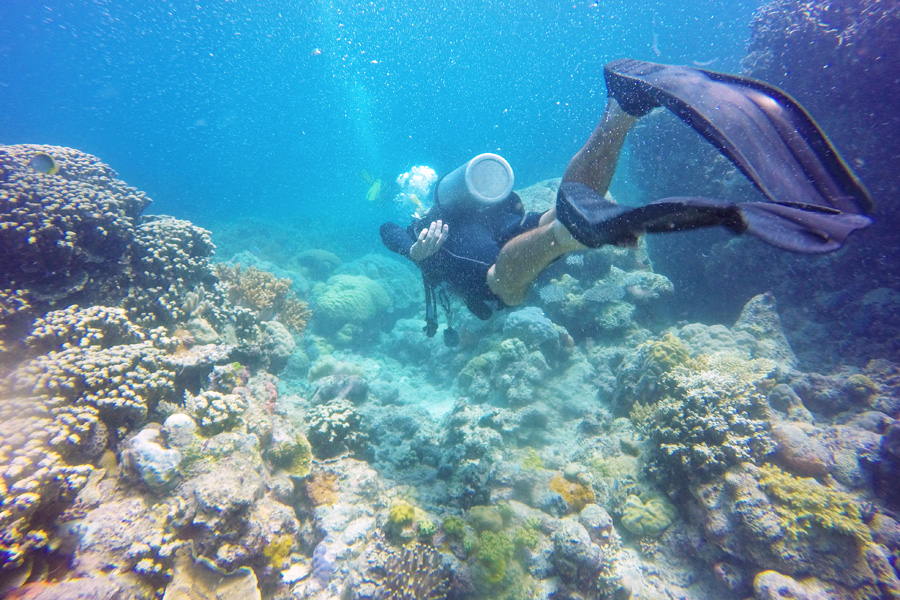 Scuba diving in the Whitsundays is an unforgettable experience. As you descend into the depths of the Great Barrier Reef Marine Park, you will discover that there is much to see down beneath the surface. Amazing corals, colourful fish, funny molluscs, and other reef residents await eager scuba divers as they make their way around the beautiful underwater gardens.
Visitors to the Whitsundays can choose to dive on either an overnight boat or a day boat that offers onboard diving. Onboard diving boats carry on their own equipment and instructors on board, offering guests ample time in the water to enjoy the dives.
Below are boats that have diving on offer.
Diving day tours
Reefworld: Pontoon on the Outer Reef, onboard diving, snorkelling, underwater observatory, semi-submersible boat. Family friendly.
Mantaray: Onboard diving, Whitehaven Beach, Hill Inlet Lookout, onboard Mandarin Dive Instructor on most days.
Illusions: Onboard scuba diving for both introductory and certified divers on the Inner Great Barrier Reef on a stylish catamaran.
Overnight boats with onboard diving
Kiana: 3 day, 2 night tour that offers onboard scuba diving. Up to 3 dives available. Visit the Outer Great Barrier Reef, Hill Inlet Lookout, Whitehaven Beach and the first dive is free.
Apollo: 3 days and 2 nights with onboard scuba diving. First dive free, Whitehaven Beach, Hill Inlet Lookout and social experience with 27 passengers.
New Horizon: 2 days and 2 nights with onboard scuba diving. 32 passengers, stops at Whitehaven Beach, Hill Inlet Lookout and also offers snorkelling.
Atlantic Clipper: 2 days and 2 nights. Social experience with up tp 53 passengers at a time. Snorkelling, Whitehaven Beach, Hill Inlet Lookout, stand-up paddleboards and a giant waterslide all offered on the trip.
Please check in with us to make sure the boat you choose is currently offering diving before booking any tours.