Come and Say G'day to the Whitsundays
Updated Tue 01 Nov 2022
The Whitsundays is inviting international travellers from near and far to Come and Say G'day! With international travel booming after two years of restrictions, the iconic Queensland getaway destination is preparing for a dazzling new year filled with Great Barrier Reef adventures, pristine tropical island beaches, and year-round summer temperatures!
So, Say G'day the Queensland Way and wander to the Whitsunday Islands during your great Aussie adventure!
Come and Say G'day is Tourism Australia's recent instalment of the There's Nothing Like Australia global brand platform. Echoing the friendly invitation that Paul Hogan delivered in the 1980s, "Come and say G'day… I'll slip an extra shrimp on the barbie for you," the classic line is an unmistakably Australian greeting to the world.
Focusing on Australia's sunny state of Queensland, Tourism and Events Queensland has launched a corresponding platform 'Say G'day the Queensland Way' targeting travellers from global priority markets, such as the United Kingdom, the United States and Japan. With September to November being the key booking periods for Australian travel, there's never been a better time to drive booking demand.
Let's Say G'day the Whitsundays Way and explore the top reasons why you should move the Whitsundays to the top of your international travel plans!
---
Why should I visit the Whitsundays in Australia?
Situated along Australia's northeast coastline the Whitsundays is located approximately 1,120 kilometres north of Brisbane and 630 kilometres south of Cairns. The mainland hub of Airlie Beach is renowned for its laid-back coastal atmosphere, where cocktails on the esplanade and balmy nights on the town create the ultimate holiday scene for thousands of travellers each year.
Yet, the mainland is just one of the Whitsunday's many tropical highlights. Nestled just 30 kilometres from Airlie Beach, the Whitsunday Islands archipelago is conveniently reached by boat. Offering everything from world-class resort accommodation, handfuls of secluded coral-lined coves, sparkling silica sand beaches, blissful sailing conditions, and technicolour coral gardens, an incredible travel experience is awaiting around every corner in the Whitsundays!
1. The silica sands of Whitehaven Beach
Say hello to pure silica sands and pristine turquoise lagoons, it's no surprise that the world's best beach is located in the Whitsunday Islands! Winner of TripAdvisor's 'Travellers Choice Best Beach in the World 2021', Whitehaven Beach is the epitome of picturesque bliss!
For beach enthusiasts and adventure seekers alike, Whitehaven Beach is famous for its seven-kilometre stretch of 98 per cent pure silica sands which creates a luminescent beach scene and crystal clear waters. Just a short uphill walk away, Hill Inlet lookout boasts unmatched panoramic views of swirling turquoise and jade lagoons, that cannot be missed during a Whitehaven adventure. To reach Whitehaven Beach, book an action-packed Whitsundays day tour, with the majority of trips including a visit to Whitehaven's phenomenal beauty!
2. Gateway to the Great Barrier Reef
Stretching for over 2,300 kilometres along Queensland's northeast coastline, the Whitsunday Islands are located within the heart of the Great Barrier Reef! Many are surprised to know that the reef is nestled right on their Whitsundays doorsteps, with inner coral reef systems fringing straight off the islands.
A snorkeller and divers dream, the Whitsunday Islands is the perfect location to make a splash and explore the exotic coral reefs below. Swim amongst sea turtles, quirky schools of reef fish, the unique Maori Wrasse, huge Mantarays and many more.
You've swum amongst one of the world's natural wonders, now why not experience the expansive reef systems from above? Surprise a special someone and put the cherry on top of an unforgettable Aussie experience with a scenic flight to Heart Reef!
3. Adventures on 74 tropical islands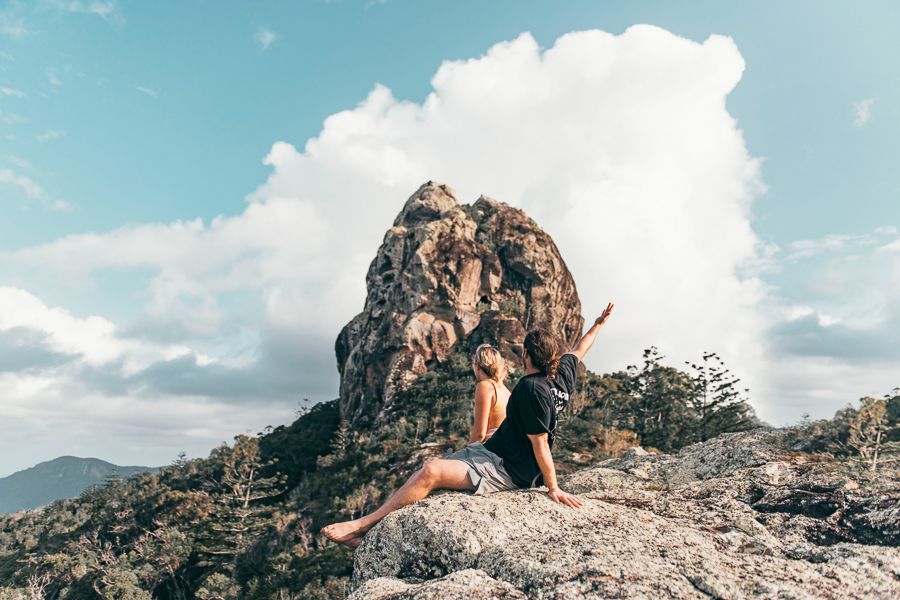 As the largest group of islands in Australia, literal endless adventures are awaiting amongst the 74 Whitsunday Islands. The islands are largely untouched, with only 8 islands inhabited within the unique archipelago.
If a world-class accommodation experience amongst swaying palm trees and white sandy beaches is your style, Hamilton Island, Daydream Island and Hayman Island are your perfect Whitsunday pick! Indulge in flowing poolside cocktails, enjoy water activities straight from the beach, dine at exceptional resort restaurants, and relax amongst sparkling island backdrops.
For adventure-seekers, an overnight sailing tour is the best way to explore the multiple Whitsunday Islands. From Whitehaven Beach downtime, island hikes leading to breathtaking views, snorkelling off Hook Island's teeming coves, and dreamy sunset celebrations with friends new and old, a multi-day tour is your chance to experience it all!
4. Year-round sailing mecca
For the sailors amongst us, you may be wondering when is the best time to sail the Whitsundays? The answer is anytime! The Whitsundays is a sailor's dream, as the calm protected waters are the perfect place to set the sails and feel the ocean breeze.
The seasonal southeast trade winds blow consistently from April to October in the Whitsundays, creating the 'sailing mecca' season. Falling at the end of stinger season and boasting clear blue skies and light to moderate winds the Whitsunday archipelago is dotted with catamarans and yachts as far as the eye can see!
Depending on your budget and travelling style, there are plenty of overnight sailing tours to choose from - explore your options here or live chat with a Whitsundays expert to find your ultimate match!
5. Endless summer temperatures
If you're planning an Aussie adventure no doubt you are picturing warm summer temperatures, living in your swimsuit and long sun-filled days! With average daily temperatures of 27.5°C approximately 300 sunny days in a year, it's no wonder why the Whitsundays is one of Australia's most popular tropical destinations. Enjoy average ocean temperatures of 25°C year-round, varying throughout the seasons, yet always staying warm enough for comfortable snorkelling and swimming adventures!
Summer months are certainly the warmest time in the Whitsundays, with temperatures reaching maximums of 28°C to 32°C and ocean temperatures reaching 28°C. Meanwhile, winter in the Whitsundays is mild and dry, boasting near to no rain!
Eager to hear the local's tips and itinerary recommendations? Be sure to check out our Official Guide to the Whitsundays and Airlie Beach.
---
Come and Say G'day the Whitsundays way!
Call us on +61 7 4914 2425 or live chat with a local expert today for a free personalised Whitsunday itinerary!