10 Reasons to Book New Horizon in the Whitsundays
If you're deciding on a boat that has it all with the option to relax, explore or get an adrenaline rush, New Horizon is the perfect option. Every boat, of course, visits Whitehaven Beach and Hill Inlet, but most people don't think about all the other things a trip could (or should!) entail. We've compiled a list of reasons why New Horizon ticks all the boxes!
---
10) Heaps of Activities Available as Add-Ons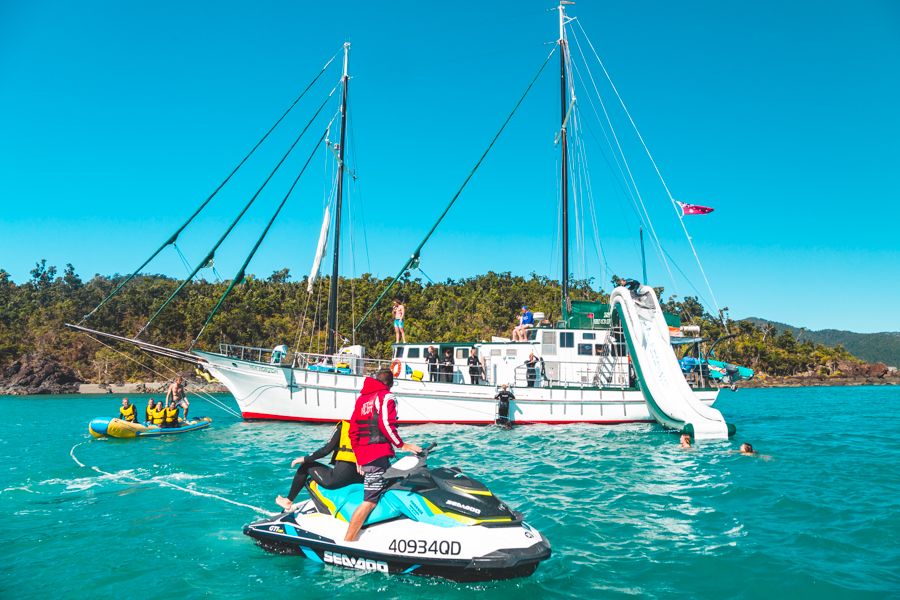 There are plenty of add ons available on New Horizon, such as a fast, adrenaline-filled ride on a Jet Boat that will meet New Horizon out amongst the islands. Hang on to your hats (and bikinis) and get ready to get wet on this thrilling ride, where you will zip and zag around the surrounding islands, and New Horizon herself! If Jetboating isn't enough to whet your appetite, why not try to hang on an inflatable banana boat ride while the crew drag you around on what will feel like a bucking bronco? Followed by a jet ski ride at whatever pace you want, this is a must do add on combo to tick all the boxes on your Whitsunday bucket list.
---
9) Walk the Plank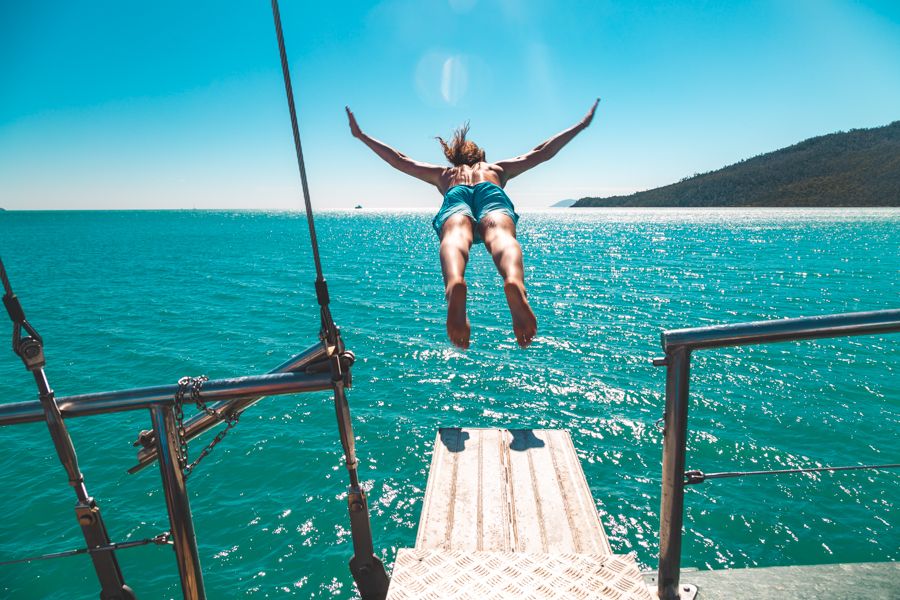 Speaking of Pirate Ships, there is an actual plank you can walk on the boat! Also used as a diving board, you can choose to come in costume for some really epic Instagram photos!
---
8) Sunbaking Station
Ok, while there isn't a specific "sunbake station," there is plenty of deck space around the boat, meaning everyone has heaps of room to pick out their own spot for a cheeky tan. The most popular spot is on the roof, where you can lose yourself in the beautiful surrounds.
---
7) Mega Water Slide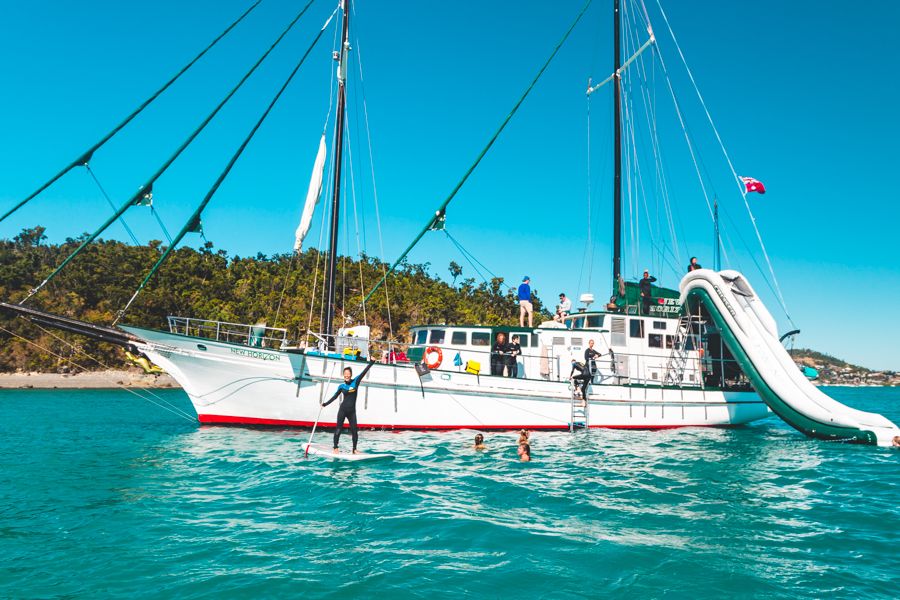 New Horizon has plenty to do onboard, but one of our favourite activities has to be the giant inflatable water slide. If you want to get wet and wild, grab your GoPro and double knot your bikini and boardies for the ultimate adult slip n' slide!
---
6) Pirate Ship, perfect for photos!

This beautiful traditional wooden sailing schooner has some legendary features, including a hand-carved figurehead on the bow, some gorgeous rigging and authentic sailing to make this feel like a modern-day pirate ship with all the comforts!
---
5) Scuba Diving Onboard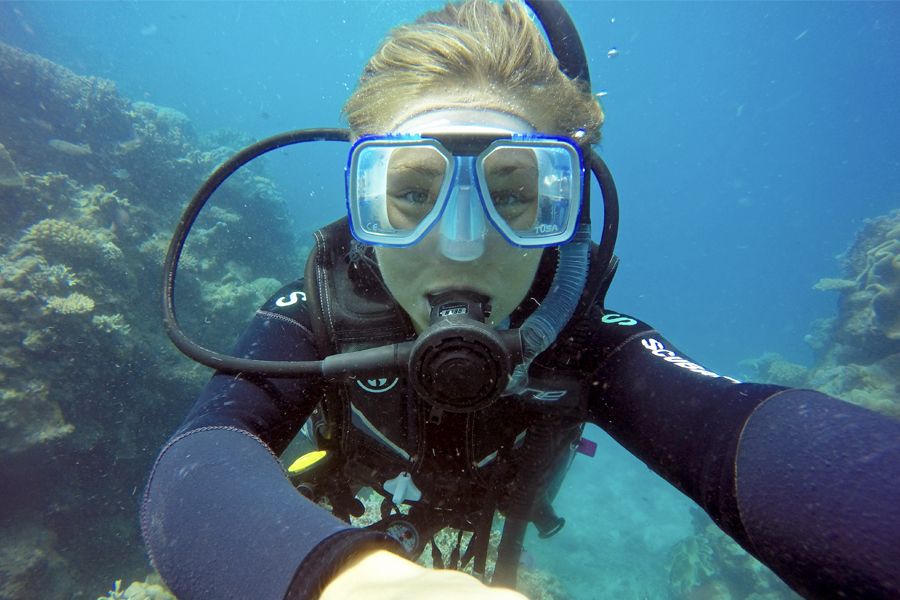 That's right, New Horizon is one of the only overnight dive boats with your own dive instructor onboard for the duration of your journey. Dives can be purchased if pre-booked and any experience level is welcome to give it a go! If diving isn't your bag, there is still snorkelling included in your trip, so you can spend your time exploring the fringing reefs either way.
---
4) Paddleboarding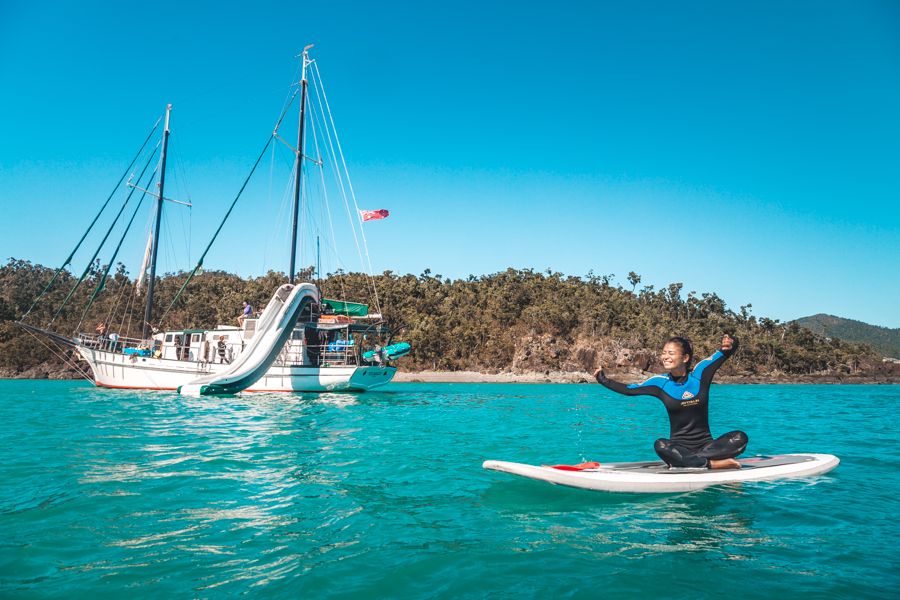 Standup Paddleboarding has fast become a favourite watersport worldwide, and you can test your balancing skills completely free on New Horizon! Race your friends, check out beautiful corals and sea turtles from above the surface, or even challenge yourself to some advanced yoga on the water!
---
3) Fantastic, Comfortable Accommodation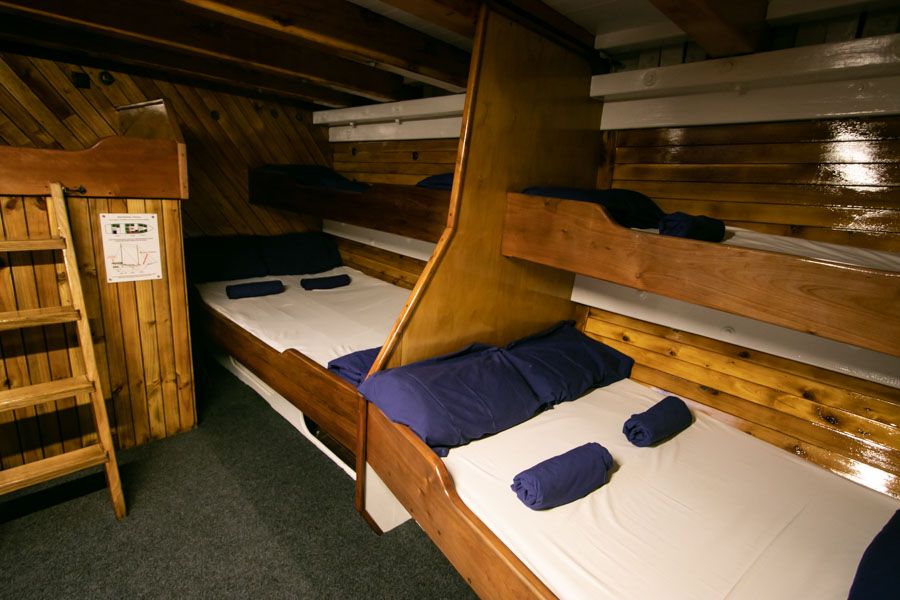 New Horizon takes a maximum of 32 guests, and the accommodation is modern and clean, with all the comforts. Air conditioning is a must in the summer months, and with spacious dorm-style cabins, you and your friends will still not have to sacrifice privacy.
---
2) Hot Showers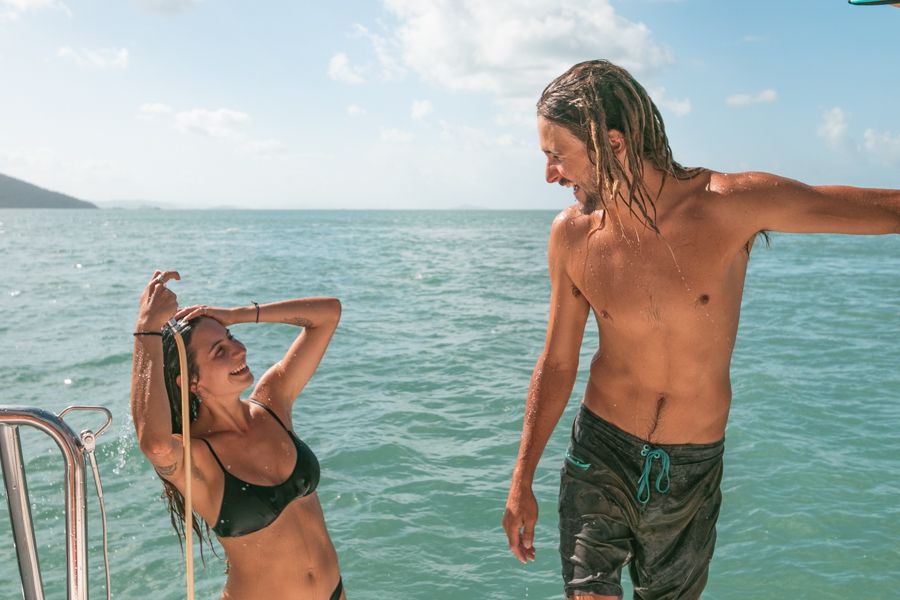 After a day of sun, swimming and sailing, you may be missing the comforts of home-But fear not, you have hot showers to look forward to at the end of the day!
---
1) Air Conditioned Movie Room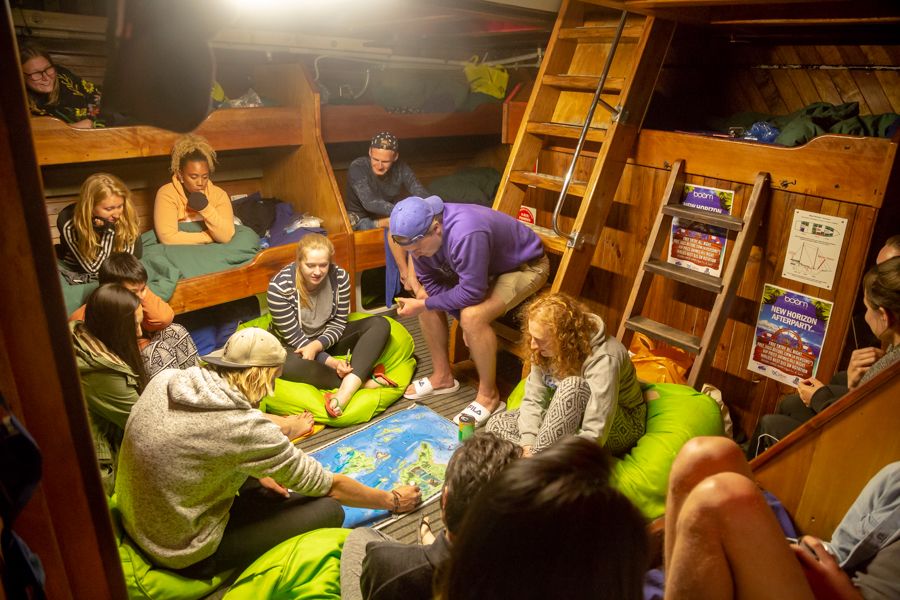 That's right, it gets better. After a hot shower, a delicious and hearty dinner, if social games aren't your scene simply slide into a beanbag of your own in your own private air-conditioned onboard movie room below deck!
---
Ready to book your New Horizon trip or check out some other options in the Whitsundays? Read more about different boats in the Whitsundays here, or chat live to our friendly team to find out the latest deals!
Check out New Horizon's sister ship, Atlantic Clipper!