Where is Airlie Beach?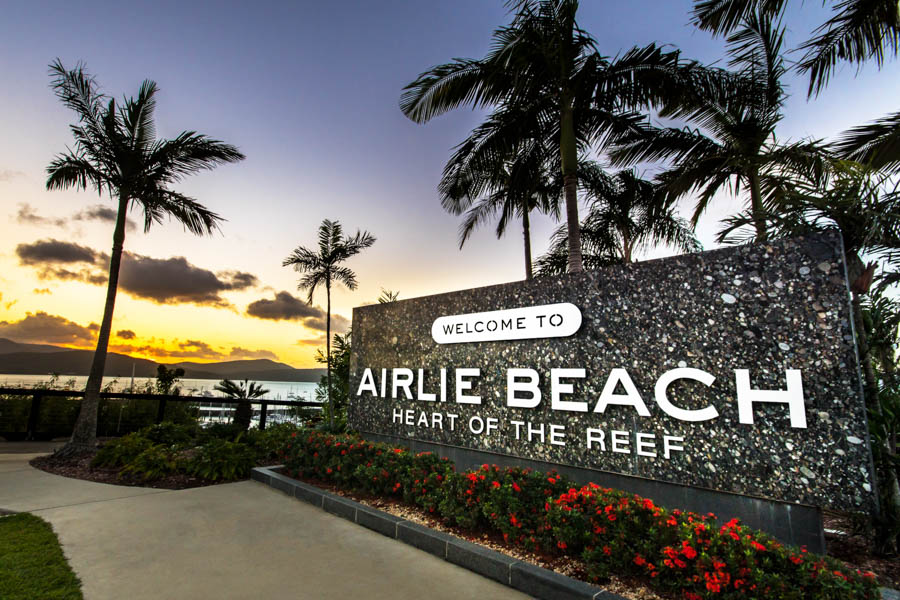 Where is Airlie Beach located?
Airlie Beach is located on the coast of Queensland and is south of Bowen and north of Mackay. Airlie Beach is in driving distance from the Proserpine (Whitsunday Coast) Airport and is the main access to the Whitsunday Islands.
Where is the Great Barrier Reef located?
The Great Barrier Reef is located off the east coast of Australia and stretches some 350,000 square kilometres along the coast. The reef is accessible from Airlie Beach with a Reefworld pontoon located on Hardy Reef, which is part of the Great Barrier Reef, as well as with Kiana, an overnight trip, and Explore, another day trip that visits the Outer Reef.
Where is Hamilton Island located?
Hamilton Island is a large inhabited island off Airlie Beach and features its own accommodation, commercial airports and shops with around 1,000 permanent residents. To get to and from Hamilton Island Airport to the mainland, you will need to catch a ferry transfer or flight.
Where is Whitehaven Beach?
Whitehaven Beach is a popular beach on Whitsunday Island. It stretches approximately 7 kilometres along the island. Whitsunday island itself is located off the mainland of Airlie Beach.
Where is the Proserpine (Whitsunday Coast) Airport?
The best choice of airport to fly to and from Airlie Beach is the Whitsunday Coast (Proserpine) Airport located approximately 40 minutes away from the Airlie Beach main street. Situated just outside the town of Proserpine, you can catch a bus transfer to and from the airport for just $20 each way.
Where is Mackay located?
Mackay and the Mackay Airport are located around 1 hour and a half drive south from Proserpine and Airlie Beach. You can drive to and from Mackay along the Bruce Highway.
Where is Coral Sea Marina located?
Coral Sea Marina (Formerly Abell Point Marina) is where most day and overnight boat trips depart from. It is approximately a short 10-minute walk from the main street of Airlie Beach. You will need to walk to the marina to catch your boat trip.
Where is Hardy Reef located?
Hardy Reef is a reef which is a part of the Great Barrier Reef and is home to the popular Reefworld pontoon. To get to Hardy Reef you can catch the Reefworld ferry or a helicopter.
Ask our friendly travel staff about how you can explore Airlie Beach, or click here to read more about what to do in Airlie Beach.