Saltwater Crocodiles
Updated Mon 13 Nov 2023
Saltwater crocodile sightings in Airlie Beach and the surrounding Whitsunday Islands are extremely rare, as they prefer murky, brackish water to hunt in. However, over the past few decades, there has been a small handful of crocodile sightings.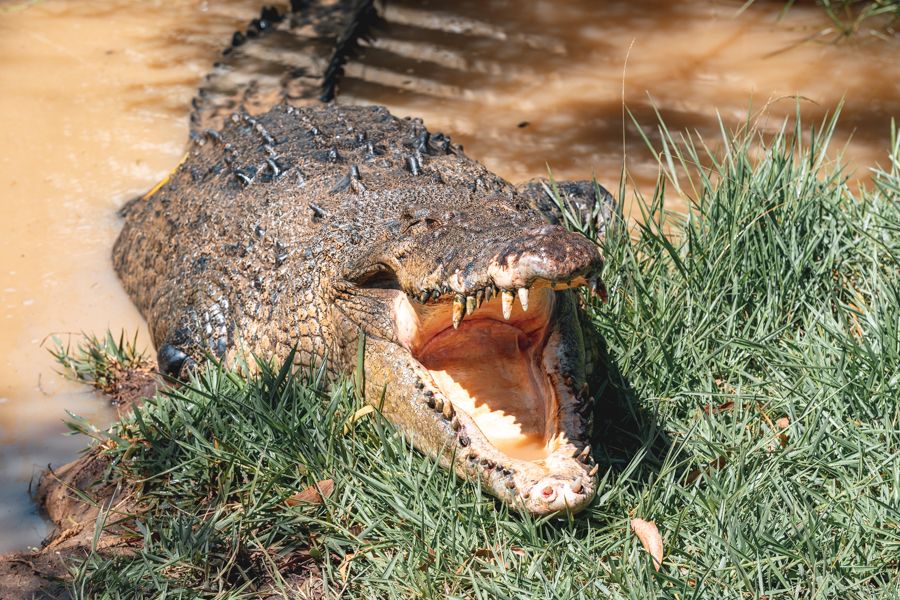 ---
Saltwater crocodiles in Australia
Airlie Beach and the Whitsunday region is home to many species of wildlife including the infamous and intimidating saltwater crocodile. As the largest living reptile in the world, the reptile is found in warm humid temperatures that regulate their body temperature. The climate conditions of far-north Queensland create ideal temperatures for the cold-blooded crocodile.
Widely regarded as the most dangerous predatory animal in Australia, the saltwater crocodile is renowned for its size and power. Mature male saltwater crocodiles are known to grow up to 6-7 metres long and can weigh thousands of kilograms. Their size and amazing hunting abilities have earned them a fearsome reputation not only in Australia but all over the world.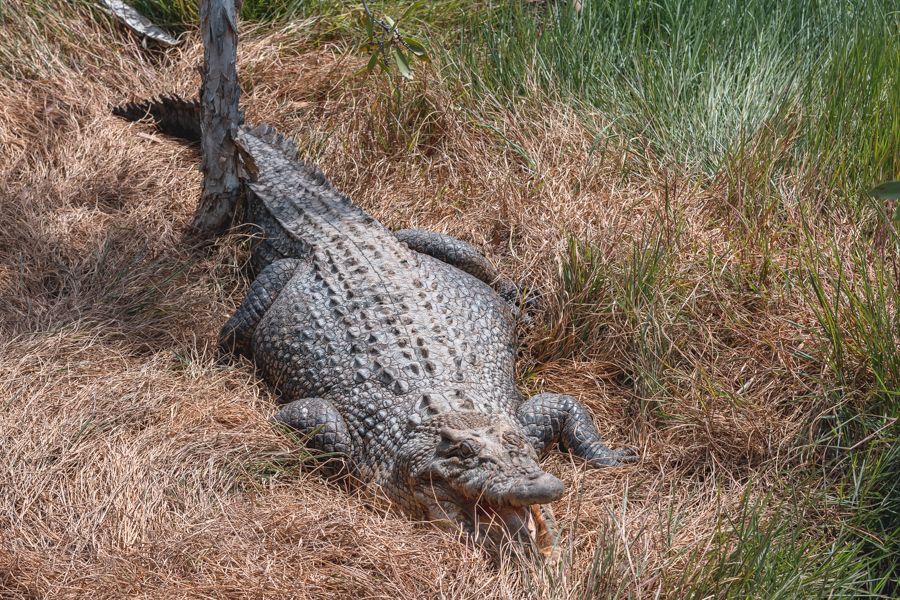 ---
Are there crocodiles in the Whitsundays?
Put simply, no, there are no crocodiles swimming around the waters of theWhitsunday Islands. Saltwater crocodiles prefer to swim in murky, brackish waters found in swamps, rivers and lakes, and rarely wander out to sea. So don't fret... you won't encounter a croc on your snorkel in the Great Barrier Reef.
However, there has been a rare encounter of a young crocodile spotted off the shores of Hayman Island, however, the baby crocodile was small and lost after a long spell of heavy rain!
Saltwater crocodile in the muddy shores of the Proserpine River, Whitsunday region.
---
Are there crocodiles in Airlie Beach?

Again, it is very rare to see a crocodile in Airlie Beach. However, there have been a handful of croc sightings around the murky waters of the Coral Sea Marina and Shute Harbour. These few crocodiles have wandered from the Proserpine River inlet, found South of Airlie Beach, generally after heavy spells of rain during the summer wet season.
Nevertheless, these prehistoric creatures are extremely territorial and rarely venture from the Proserpine River, so they are not a common concern amongst locals. Overall, it is always safe to follow croc-wise procedures and read the signage before you swim when travelling in far-north QLD!
Saltwater crocodile in the muddy shores of the Proserpine River, Whitsunday region.
---
What makes saltwater crocodiles special?
This prehistoric animal feeds on fish, birds and turtles, but have been known to take down larger prey such as livestock, pigs, and even people on occasion. They hunt using an ambush method where they wait in the shallow water almost fully submerged until their prey venture close to shore or even to enter the water. Once this happens, they lunge and latch onto their prey using their powerful jaws before dragging it back into the water. Their jaws have a bite power of up to 3,700 pounds per square inch, meaning often times their prey is killed on impact, but if not, these amazing animals will tow their prey underwater to drown it before they eat it.
---
Are saltwater crocodiles dangerous?
Male crocodiles are known to be extremely territorial and they will attack humans, boats or anything else that comes into their turf. Unfortunately, if a saltwater crocodile decides to make you its prey, the chances of survival are slim. One should always maintain a safe distance from these fearsome beasts - but that doesn't mean that you can't enjoy observing them safely in the wild or at a wildlife farm.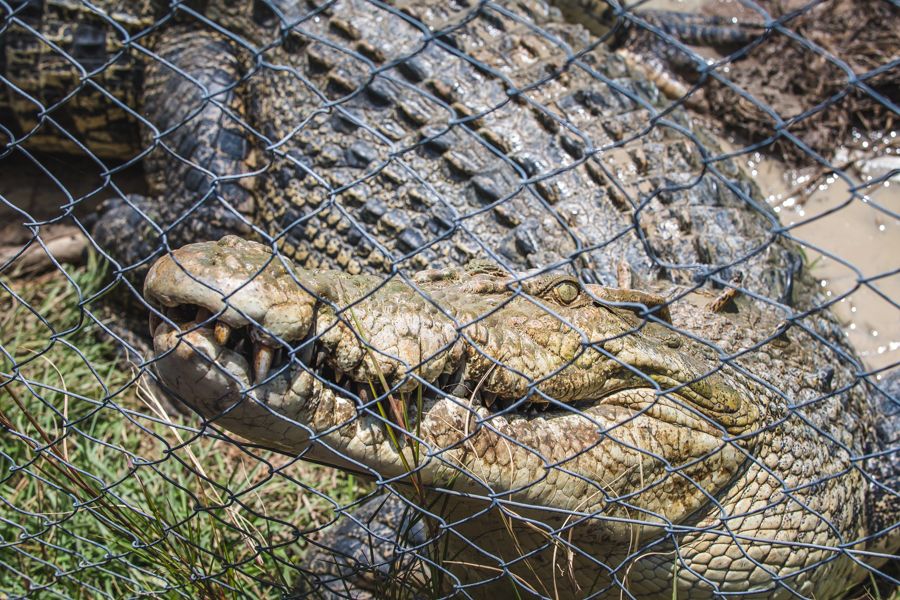 Saltwater crocodile at Bredl's Wildlife Farm, Whitsunday region.
---
Where can I see crocodiles in the Whitsundays?
Despite the crocodile's fearsome reputation, it continues to be a major tourism draw for the northern areas of Australia. Hundreds of domestic and international tourists visit crocodile farms, museums and tours in Queensland. If you're heading to the Gold Coast, you'll find these creatures are a favourite of the world-famous Crocodile Hunter at the Australia Zoo. Check out our Greyhound/Australia Zoo Pass and bundle with us to save!
Visitors to the Whitsundays love seeing these animals up close, so be sure to check out Whitsunday Crocodile Safari or Bredl's Wild Farm while you are here! There is also a wildlife park on Hamilton Island, which houses another saltwater crocodile, so enquire with us how to visit for the day or overnight to watch these incredible apex predators.
Saltwater crocodile feeding, Bredl's Wildlife Farm, Whitsunday region.
To read more about the saltwater crocodile in Australia and the far north of Queensland, click here.
---
Ready to encounter these magnificent creatures safely in the wild?

Chat to our friendly team of croc enthusiasts and Whitsunday experts online or call +61 74914 2425 to find out more today!