What Is The Best Time Of Year To Go To The Whitsundays?
It's decided… the best time of year to go to the Whitsundays is September! However, the Whitsundays is renowned for its year-round incredible weather, so really anytime is the best time to visit our slice of paradise!

---
Whitsundays in September
Spring in the Whitsundays is an absolute dream! With sunny days, low humidity and whale season taking the stage, eternal summer is a dream in the Whitsundays, even in the cooler months. Head on out to sea and soak up the beautiful clear conditions, as you avoid the crowds of school holidays, rainfall periods and the worst of stinger season. The Whitsundays really is your oyster, no matter what time of year you visit, and particularly between July and October.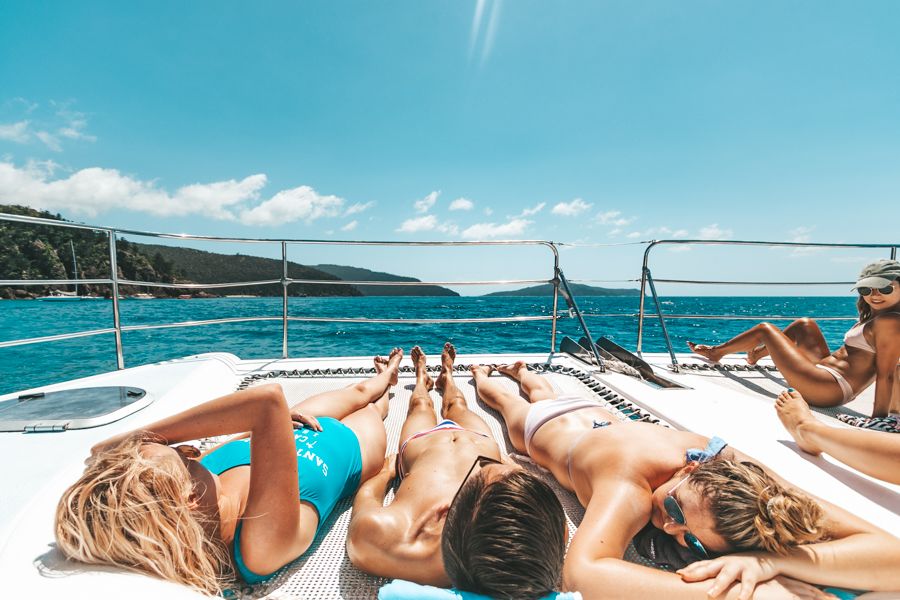 ---
Whitsundays eternal summer
Weather in the Whitsundays is renowned for being temperate, comfortable and stunning all year round. December, January and February boast dazzling, sunny days with occasional rainfall in the afternoons as you experience a true, tropical Summer. Autumn (March, April and May), is a little cooler and quieter as the summer holiday crowds depart and the humid days become less intense. Winter (June, July and August) is an exceptional time to book your Whitsunday holiday as it's quiet, with little rainfall and crowds, and perfectly warm throughout the days. Spring, holds whale season and clear, sunny days as well, making it the perfect time to take a well-deserved break in September, October and November… particularly if you want to beat the crowds of summer holiday goers! Check out more info on Whitsunday seasonal temperatures before you pack for your next Whitsunday adventure!
---
QLD School Holidays
QLD school holidays never fail to bring a spike in visitors to the Whitsundays. While school holidays in the Whitsundays are a fun, exciting and vibrant time to be in town, as Airlie Beach comes to life, it is busy. If you're more of a crowd-escaper and tranquillity-appreciator, we recommend you avoid the scheduled QLD school holidays. Similarly, if you're looking to visit the Whitsundays during school holidays, make sure you book tours and accommodation in advance to avoid disappointment!
---
Whale Season
If you want to spot a magnificent Humpback whale during your next trip to the big blue Whitsundays, make sure you visit between July and October! Spotting a whale sighting on their migration to Antarctica is an incredibly breathtaking experience. Don't forget to check out our whale watching tours if you are visiting during whale season to optimise your chances of a sighting and rub shoulders with these naturally curious majestic mammals!

---
Stinger Season
Stinger season is at its peak between October to May, when the jellyfish are at their most populous in the reef. While stinger suits are provided with most snorkelling or diving experience you book with us, if you are particularly worried about jellyfish or are against wearing the suits, you may want to consider travelling outside of stinger season.
---
Remember to check our before-you-go COVID-19 travel checklist before you hit the road en route to the Whitsundays!
If you have any more questions about the best time of year to visit the Whitsundays, don't hesitate to ask our friendly local travel agents. No question is too big or small for our team of Whitsunday locals, so get travel advice from the very best!


Call us on +61 7 4914 2425 or live chat with us today.