Overnight Hiking Tours in the Whitsundays
Updated Fri 25 Feb 2022
The Whitsundays is a mesmerising archipelago of 74 tropical islands situated along Queensland's northeast coastline, that are world-renowned for their surrounding crystal-clear aqua waters and pristine silica sand beaches. As thousands of eager holidaymakers travel to the coastline each year, we recommend that adventure-seeking visitors explore the off the beaten track hidden gems of the Whitsundays!
Nestled around the Whitsunday Island National Park is an abundance of hikes and walks that reveal untouched and diverse natural havens, leading to some of the most vivid views in the southern hemisphere. With trails ranging from light to difficult, there is a Whitsunday walk or hike for every type of avid explorer - all you need to do is pack your hiking shoes!
Sailing Whitsundays offers two overnight hiking tours that depart from the Coral Sea Marina at Airlie Beach. Combining days spent exploring lesser-known and popular Whitsunday national park trails with exclusive catamaran luxury by night, an overnight hiking tour is a perfect way to explore the unknown without sacrificing style!
Bask in all of your wanderlust dreams under the island sun aboard one of our unique and teeming overnight hiking tours of the Whitsundays!
---

4 days, 4 nights
Powerplay's Trails of the Whitsundays is a one-of-a-kind overnight hiking tour departing from Airlie Beach, combining an unmissable balance of Whitsunday Island trail adventures, marvellous snorkelling amongst the biodiverse inner fringing Great Barrier Reef, and evening starlit luxuries over four unforgettable nights!
At a spacious and sleek 45ft long, Powerplay's Trails of the Whitsundays can take up to 16 guests around the Whitsunday Islands, in addition to an experienced and friendly onboard crew that are full of local knowledge.
Powerplay Trails of the Whitsundays Itinerary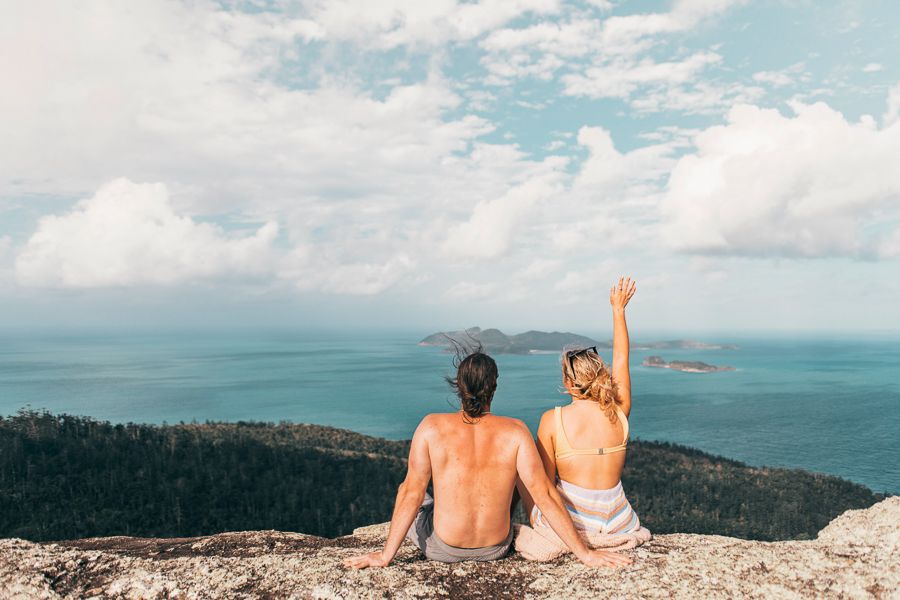 Awake peacefully with the rising Whitsundays sun aboard Powerplay before spending the morning hiking through dense cascading national park, which boasts immaculate rich emerald green vegetation! Climb to the breathtaking Whitsunday Peak summit with your crew, walk to the ancient volcanic towering Whitsunday Cairn, and explore Whitsunday gems such as Hill Inlet.
Spend your afternoon cooling off with refreshing snorkelling and stand-up paddleboarding amongst thriving fringing reefs and relaxing in the foredeck deluxe jacuzzi with friends old and new. As the sky begins to illuminate with shades of bright orange and soft pink, be sure to enjoy a golden hour sunset beverage before a delicious dinner under the stars!
The four day, four-night Powerplay Trails of the Whitsundays tour only runs once a month. Make sure to get in touch with our local team of experts to secure your off the beaten track Whitsundays adventure!
---
4 days, 4 nights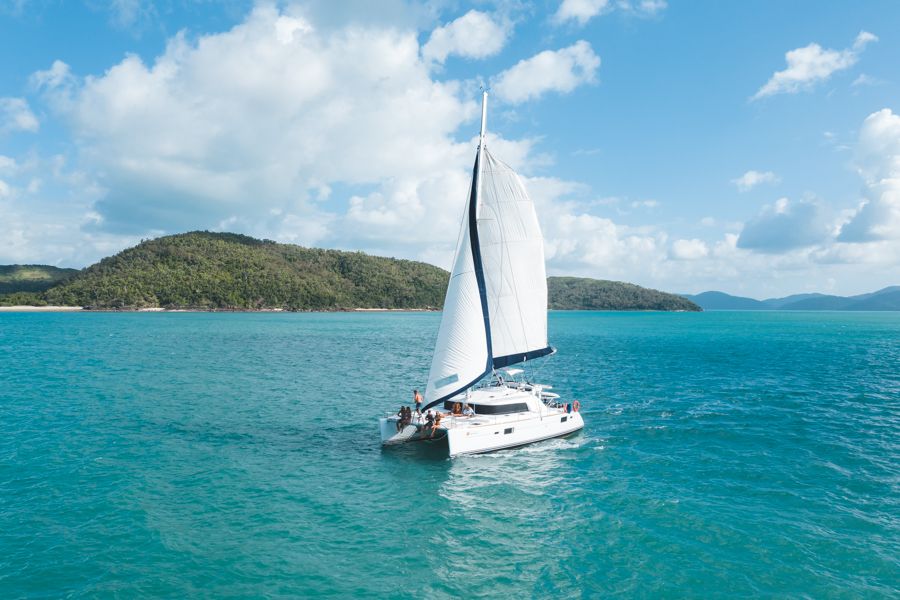 Getaway's Whitsunday Walks overnight tour of the Whitsunday Islands has been curated exclusively for those holidaymakers dreaming of a deluxe sailing escape aboard a luxury catamaran, and plenty of lush walking opportunities during the day!
A unique small-group sailing experience, Getaway's sleek and elegant decks take a maximum of 8 guests aboard, ensuring an intimate atmosphere that is perfectly suited for couples and solo travellers. With 4 days and 4 nights to spend under the shining pastel skies of the post-card perfect island archipelago, guests onboard Whitsunday Walks Getaway can spend optimal time exploring the crown jewels and hidden gems of the Whitsundays to themselves!
Whitsunday Walks Getaway Itinerary
Fill your days with wondrous Whitsundays adventure, by voyaging to the breathtaking panoramic sites of Hill Inlet Lookout, enjoying sunkissed moments on both North and South Whitehaven's sparkling shorelines, and sailing blissfully to gentle trade winds amongst the rolling islands. For those craving a hearty walk to unforgettable scenic lookouts, a list of lush and secluded tropical hikes are at Getaway's doorstep! Choose to wake early to the solitude of the vast reef, and journey to the great Whitsunday Cairn or tick off the Spion Kop hike. For all those wishing to bask in Getaway's opulency whilst others hike, all walks are completely optional!
Renowned for its decadent starlit dining, and wonderful onboard service, Getaway is the ideal catamaran for those who love to be wined and dined! Pop the bubbly at sunset, as your experienced skipper sails peacefully to a quiet island cove to moor for the night, before indulging in an enchanting alfresco dinner!
Be sure to enquire with our expert local team to check the Whitsunday Walks Getaway availability!
---
Trails and Walks in the Whitsundays
The ever-dreamy Whitsunday Islands formed some 19,000 to 6,000 years ago when melting polar ice caps submerged a coastal mainland mountain range. The Ngaro Sea Trail dots out an impressive map of diverse and thrilling hikes that are offered on both the Powerplay Trails of the Whitsundays and Whitsunday Walks Getaway. Time to lace up your hiking shoes and explore the unknown!
All walks and hikes are completely optional, and participation is at the walker's discretion - if you're craving some blissful downtime whilst the others adventure, don't worry the catamaran lifestyle has got you!
---
Live chat with an expert local team member or call us on +61 7 4914 2425 to book your Whitsunday Islands sailing adventure!