The Ultimate Explorer With Accommodation
CLOSE
View More Thumbnails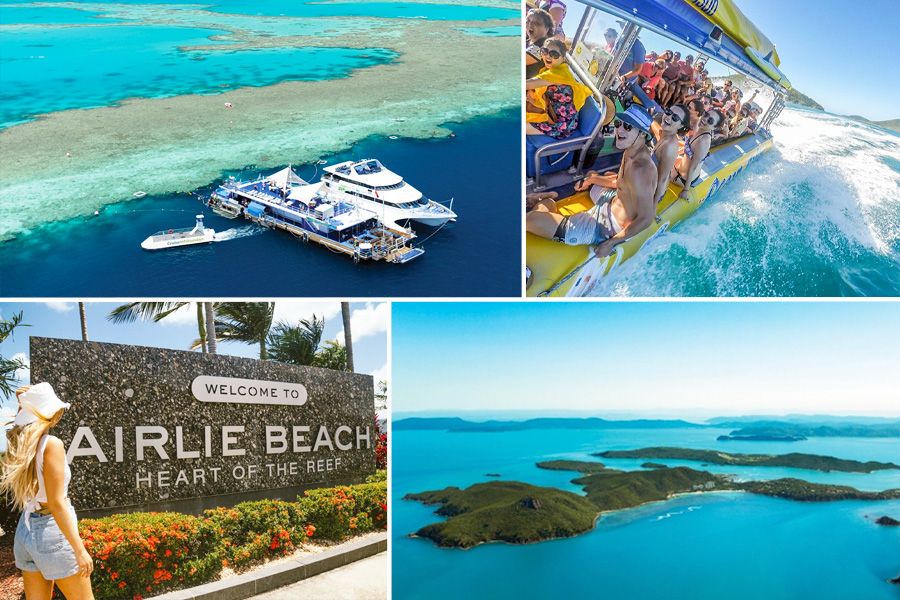 Loading...
Pricing Options
RRP $937

$859 AUD / Person
- Adult (requires 2 people) ($1718 Total)
(Between: 01 Apr 2021 and 31 Mar 2022)
White sand beaches, silky warm seas and plentiful marine life. This is a taste of what you will experience with our "Ultimate Explorer" combo.
This holiday includes:
The Ultimate Explorer Combo has been designed by our local travel experts for those looking to get a true taste of what the Whitsundays has to offer, at the best price! With a selection of our comprehensive, best-selling tours, you certainly won't get that feeling of an incomplete holiday!
Immerse yourself in kaleidoscopic marinescapes while snorkelling, let your hair down by Whitehaven Beach, hike through nature to Hill Inlet Lookout, venture to the Great Barrier Reef and explore Hamilton Island. At the end of your jampacked days, kick back and relax in your private, luxury accommodation, where everything from a delicious breakfast to ocean views is taken care of. Get ready for an experience that will leave you refreshed and full of adventure with the Ultimate Explorer Combo!
---
Highlights & Inclusions:

Tour 1 - CW: Great Barrier Reef Adventures
The Great Barrier Reef Adventure will take you on a mesmerising day of hands-on marine adventure! You will explore some of the best spots in the Great Barrier Reef Marine Park which is home to vibrant soft corals, intriguing underwater creatures and crystal-clear waters. Journey to Hardy Reef to have fun on the floating pontoon, and take advantage of our array of immersive experiences like swimming, snorkelling and observing. The wonders of the Great Barrier Reef await you, so hop aboard the renowned Great Barrier Reef Adventures Tour!
Features:
Visit one of the seven wonders of the world
Explore the azure Hardy Reef
Stable, spacious pontoon with a sun lounge
Semi-submersible underwater viewing chamber
Spectacular, kaleidoscopic snorkelling
Snorkelling gear, flotation devices and instruction provided
Additional activities available for purchase
Learn about the biodiverse and wonderous ecosystems
Licensed vessel
Tour 2 - Ocean Rafting, Northern Exposure
Take a walk on the wild side with a selection of two Ocean Rafting Whitsundays tours, which are both superbly exciting ways to fit the wonders of the Whitsundays into a day! Guests can go for the Northern Exposure tour which encapsulates the best snorkelling of the Whitsundays, or the Southern Lights option which provides exclusive access to an array of heavenly tropical beaches like Hill Inlet. The Ocean Rafting Experiences will have you awestruck by the plentiful highlights of the naturally beautiful Whitsunday Islands!
Features:
Choose between an itinerary with more time snorkelling or more time at the beach!
Speedy raft-style boat to optimise your day of exploring
All snorkelling gear, flotation devices and instructions are included
Exclusive permit to all areas of Hill Inlet
Chat to our passionate local naturalist and skipper about the reef and islands
Courtesy bus pick-up and drop-off included to/from local accommodation
Multiple award-winning eco-experience!
Tour 3 - Hamilton Island Freestyle Tour
Relax and explore the delights of Hamilton Island on this flexible Hamilton Island Freestyle Tour bound to have you blown away by the island's natural beauty. Take the day at your own pace, with the option to wander the charming Marina Village main street, kick back by the pool or beach or get back to nature on one of the incredible bush walks available. Enjoy a scrumptious lunch provided at the local Marina Tavern and get a real feel for the spectacular Hamilton Island!
Features:
Flexible and inclusive freestyle tour

Incredible tropical Whitsunday views on the return cruise

An array of lush island bushwalks

Fresh, tasty lunch provided

Full use of island shuttle, pool areas and Catseye Beach included

Visit Hamilton's shops, galleries, boutiques and restaurants

Wander through the charming Main Street
Accommodation - Airlie Searene Apartments
Airlie Searene Apartments is the perfect choice of accommodation for travellers on this adventure-filled getaway! Unwind in your own private, luxury studio apartment that's equipped with a modern kitchenette, decadent bedroom, sleek bathroom and stunning panoramic views. Look out from your private balcony at the Coral Sea, or take a dip in the wet-edge infinity pool. Guests can go for a soak in the luxury spa and let their worries drift away. A complimentary continental breakfast is provided daily. Enjoy the centrality of your luxury apartment, perfect for easy journeys to your exciting tropical day-tours!
Features:
Spacious, decadent studio apartment

Located in the heart of Airlie Beach

Private balcony overlooking the Coral Sea

Wet-edge infinity pool

Deluxe spa with jets

Fully contained living

Fresh, continental breakfast daily

Highly sought-after, central accommodation

Air-conditioned
Jump into five days of tropical living and experience the very best that the Whitsundays has on offer with our exclusive Ultimate Explorer Combo!

---
Important Information
Travelling solo? Ask us about single supplement rates!
Tour 1
Great Barrier Reef Adventures
Reefworld's Great Barrier Reef Adventures tour is a one-of-a-kind way to discover the natural wonder of the incredible reefs. Absorb the local insight, as you spend your day snorkelling, swimming and scuba diving from Hardy Reef's floating pontoon. Let the magical underwater world of vivacious marine critters and plentifully bright soft corals wash over you in a forest of colour! The reef here actually has its own unique ecosystem, with an abundance of healthy and intriguing marine life.
Reefworld also offers a state-of-the-art underwater viewing room, unique to Hardy Reef, as well as fish feeding, engaging commentary and other fun activities. The world of magnificent marine life is at your fingertips, waiting to be discovered!
Tour Highlights:
Snorkel the magical Great Barrier Reef
Stable pontoon in Hardy Reef
Scuba diving, scenic flights and snorkel tours add-on options
Semi-submersible underwater viewing chamber
Local expert knowledge
Incredible marine creatures and corals

---
Important Information:
Backpackers must be aged 18-35 and have either a valid backpacker card OR proof of staying at an Airlie Beach hostel, campervan, or Sailing Whitsundays approved Airbnb.
Tour 2
Ocean Rafting
Choose between two award-winning tour options:
Ocean Rafting offers award-winning tours that visit the "wild side" of the Whitsundays! Whether you choose to pick the Northern Exposure tour for more time snorkelling, or the Southern Lights tour for more time at the beach, both tours will make sure you see it all! Ocean Rafting is the only tour operator to have direct access to the iconic Hill Inlet beach and exclusive snorkel sites at Hook Island and Border Island! Jump in to experience some truly hidden gems, far from the beaten track. Each Ocean Rafting vessel is has a custom-made, unique design that offers a smooth, stable and speedy ride from tropical paradise to the next. The vessels are all 12-metre semi-rigid inflatables with a quirky history, as they were built as rescue boats! Ocean Rafting is definitely one of the most thrilling and fun experiences in the Whitsundays, so jump into a day of excitement, stunning sights and new friends!
Tour Highlights:
Be amazed by one of the seven wonders of the world
Snorkel plentiful marine ecosystems
Bushwalk through thriving native flora and fauna
Relax and play at Whitehaven Beach
Visit the famous swirling sands of Hill Inlet lookout

Tour 3
Hamilton Island Freestyle Tour
Immerse yourself in the charm of Hamilton Island, your way, on this flexible and personalised tour. With an array of options, you can do as much or as little as you like. Whether it's lounging in the sun by the pool or on the sands of Catseye Beach, Hamilton is the perfect place to slow it down and switch your clock to island time. If you've got some fuel in the tank, hit the bush for a lush nature walk, perfect for spotting some of the area's native flora and fauna. Or, wander down the charming Main Street, check out boutiques, galleries, restaurants and bars if you feel like a shop.
Scenic return boat ride through the Whitsundays
Choice of exciting bush walks
Local pub-style lunch at the Marina Tavern
Full use of island shuttle bus* and pool areas
Relax at the stunning Catseye Beach
Access to shops, galleries, boutiques and restaurants
Add-on activities available for purchase (koala experience, nine-pin bowling, go-karting, jetboating or mini-golf)
*The Hamilton Island Shuttle Service and Routes can vary in alignment with demand on the island. For more information, please visit the Hamilton Islands website.
Accommodation
Airlie Searene Apartments
Rest your head in the deluxe Airlie Searene Apartments, nestled in the heart of the town. Featuring class and style, our one-bedroom studio apartment has a central bathroom, a fully-equipped kitchenette, a comfortable lounge setting and a private balcony.
Accommodation Highlights:
4 nights in incredible and luxurious Airlie Searene Apartments
Lap up the lush panoramic views of the azure Whitsunday waters
Relax in the cool water of the apartment pool, and soak up the views below
Enjoy the central location in the very heart of Airlie Beach
With a combination of luxury, style and convenience, we're confident you'll enjoy your stay in this Whitsunday Holiday Rental.

More Information
What To Bring
Please refer to each individual product for a full guide on "What To Bring" for each tour.
What's Included
Please refer to each individual product for a full guide on "What's Included" for each tour.
What's Extra
Please refer to each individual product for a full guide on "What's Extra" for each tour.
Terms and Conditions
Please refer to each individual product for the full "Terms & Conditions" of each tour.
Cancellations
Please refer to each individual product for the full "Cancellation Policy" of each tour.
If you have any questions, please get in touch!