Kiana 3D2N
CLOSE
View More Thumbnails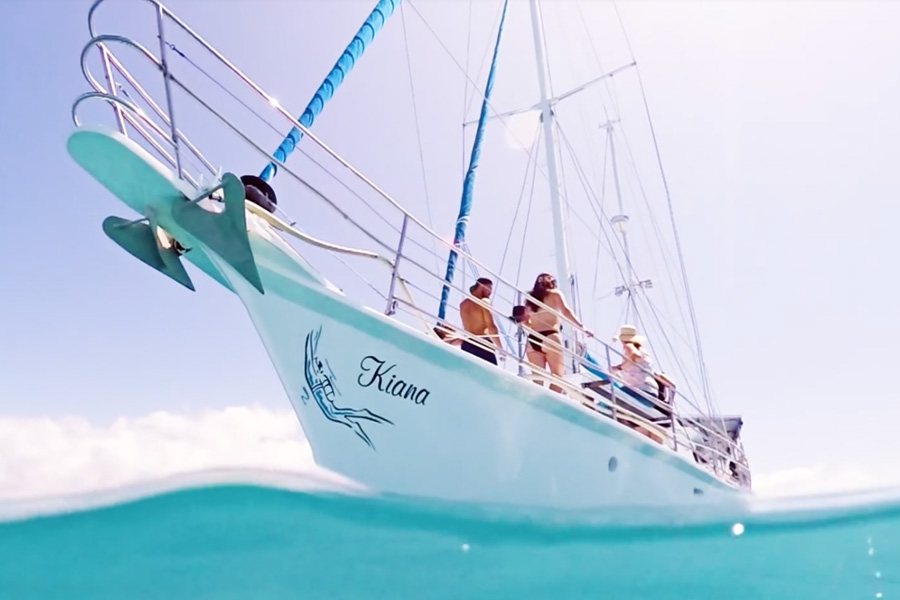 Loading...
Departure Times
Departs: 8:00am - Monday & Friday
Returns:
4:00pm - Wednesday & Sunday
Departure Point: Coral Sea Marina, Airlie Beach
Pricing Options
RRP $849

$829 AUD / Person
- Shared Single Accommodation
(Between: 01 Jan 2023 and 31 Mar 2024)
RRP $849

$829 AUD / Person
- Shared Double Accommodation ($1658 Total)
(Between: 01 Jan 2023 and 31 Mar 2024)
RRP $979

$959 AUD / Person
- Private Double Cabin (max 2 people) ($1918 Total)
(Between: 01 Jan 2023 and 31 Mar 2024)
RRP $979

$959 AUD / Person
- Private Twin Cabin (max 2 people) ($1918 Total)
(Between: 01 Jan 2023 and 31 Mar 2024)
Highlights
| | | |
| --- | --- | --- |
| | Outer Great Barrier Reef | Scuba Diving |
| | Hook Island | Snorkelling |
| | | |
Explore the outer reef on this one of a kind sailing charter in the Whitsundays!
The overnight sailing tour to visit the Outer Great Barrier Reef
Sail around the Whitsunday Islands, exploring and snorkelling!
Visit the world-famous Whitehaven Beach
Opportunity to scuba dive or snorkel among the colourful reefs
Extended trip of 3 days - longer than most Whitsunday tours
Max 12 guests per trip for a personalised experience
Related products to this item...
Frequently Asked Questions
What is the minimum age for Kiana?

You must be 12 years and over to book a trip on Kiana.
Where does Kiana depart from?

The north end of the Coral Sea Marina in Airlie Beach.
Can I bring my own alcohol?

No, Kiana is a licensed vessel which means BYO is not included.
Do you cater for vegetarian, gluten-free diets?

Yes, if you have any special dietary requirements (excluding vegan) please let us know at the time of booking. There will be an additional fee of $10 per day to cover the costs.
Can I smoke on board?

Yes, if you are a smoker there are designated smoking areas on board.
Can I bring my own diving gear?

Absolutely. However, if the crew on board don't feel comfortable with the guest using their own gear, then the guest must use what is on the boat.
Reviews
Overall Rating
5.0 / 5.0
Based on 19 reviews
Reviews by our Sailing Whitsundays customers
Rachel Stephens
, 03 Jun 23
Incredible trip! This boat was geared toward scuba diving, which is what we were wanting. We were able to do 4 dives with very knowledgeable crew! The crew was super fun, helpful, and accommodating!
Rachel Stephens
, 03 Jun 23
Loved our trip on the Kiana boat!! This experience is definitely geared towards diving, but has options for people with and without their dive certification! I was able to get 4 dives in during the trip. The staff were wonderful and the captain was so knowledgeable and passionate about the reef!
Bernadette Healy
, 08 Apr 23
Wonderful Everything about the trip Boat lovely Staff great Brett the Skipper so helpful and knowlegable Jack with his fab cooking skills and Jess with all her diving experance Nothing was too much for them all to make our trip so good Equipment supplied was excellent Highlight moored out on reef .
Charlotte Sellers
, 15 Mar 23
I had a fantastic time on Kiana, it's a beautiful boat and well equipped, and it was nice to be in a smaller group. The food was delicious and the crew were kind and helpful. If you're looking for a relaxing time with some diving and sightseeing then do book this boat, can't recommend enough
We had a great trip and a fantastic crew! Loved every minute of it. And the meals were superb ????????!
Overall great experience on board the Kiana. Brent and his crew were very good in everything they did for their guests. Loved being on board and getting to snorkle the reef. I would recommend this trip to anyone. Chris
Great trip with a small group which is what we were looking for. Snorkeling and diving fantastic as expected. staff 10/10
It was a really great experience to go on a discovery tour with Kiana and its crew. I could not have imagined what experiences, new friendships and impressions I would return with. To see and experience the Great Barrier Reef up close was uniquely beautiful. I definitely recommend the tour!
The trip was fantastic! The crew were friendly, knowledgeable and passionate about the reef and the environment, it was a wholesome experience that we would do again!
Awesome with a committed crew to do everything to get you happy.
Chez McKinney
, 30 Sep 22
The Kiana ohana are exemplary; with Paul preparing poetry in the kitchen, Maddie making magic underwater, and Brent weaving stories and dreams, we had the best trip ever and our expectations were exceeded at every turn. Their passion for their work and the reef really stands out. Outstanding.
A absolutely fantastic trip! Highly recommend the 3day trip we did on Kiana. Skipper Brent, dive master Maddie and crew Jack all so friendly and professional. Incredibly organised boat, delicious food and the snorkelling and diving amazing. A truly special experience to sleep out on the reef.
We stayed in Searene apartments and went out on Kiana. It was a wonderful tour and we had a very lovely time overall on the boat and in town. The water and weather is magnificent. Food was yummy, crew were great.
What an awesome trip! The food was incredible, the roast lamb dinner on day 1 was buy far one of the best meals I've ever had whilst on a trip. Brent was an incredible skipper and all the other passengers were so friendly. I wouldn't hesitate to recommend this trip to anyone!
Had a great trip with my partner! Got to do intro dives and see Rays :)
I recently enjoyed a 3 day 2 night trip to the islands and Great Barrier Reef with Kiana and it by far exceeded all of my expectations! The boat is in superb condition, the food and service was far better than I expected for the price we paid! During the trip we managed to fit in 4 Scuba dives (1 in the islands, 3 at the reef). We saw a vast amount of marine life including Rays, turtles, large fish and sharks! A fantastic experience, thanks to skipper Brent and the crew for an awesome trip!
Awesome experience - amazing itinerary, fab boat, great Skipper and Deckie (Aaron and Daisy) who were also extremely friendly and very knowledgeable, great food (sailed September 2022 - rescheduled from May 2020 due to Covid), would definitely recommend
Such a great combination trip! We had exciting sailing, vistas and time on Whitehaven beach, interesting scuba in among thousand-year-old coral, colorful snorkeling on top of the reef, and delicious food. One of the best parts was the people---Brent, Rome and Will, the crew, took excellent care of our every needs; our trip mates added much delight to our experience! Just be aware that when they say, 'shared double' it means you actually share a sleeping space, not just a bathroom. It worked great for us, but might not for everyone
We experienced an awesome time on Kiana! The crew is phenomenal. The skipper Brent is incredibly friendly, Will, the chef, cooks delicious food and Valerio is an extremely passionate and experienced diving instructor. The sailing was fun (altought we had quite some waves in the beginning), we saw Whiteheaven Beach and got to do multiple scuba dives - it was the perfect trip to the Withsunday Islands and the Great Barrier Reef!