Where did Camira get its name?
Camira is the only day sailing catamaran in the Whitsundays that offers snorkelling, authentic sailing and a visit to Whitehaven Beach all in the same day. She is said to be one of the fastest commercial cats on the market and is hard to miss with her bright purple hull and sails billowing above.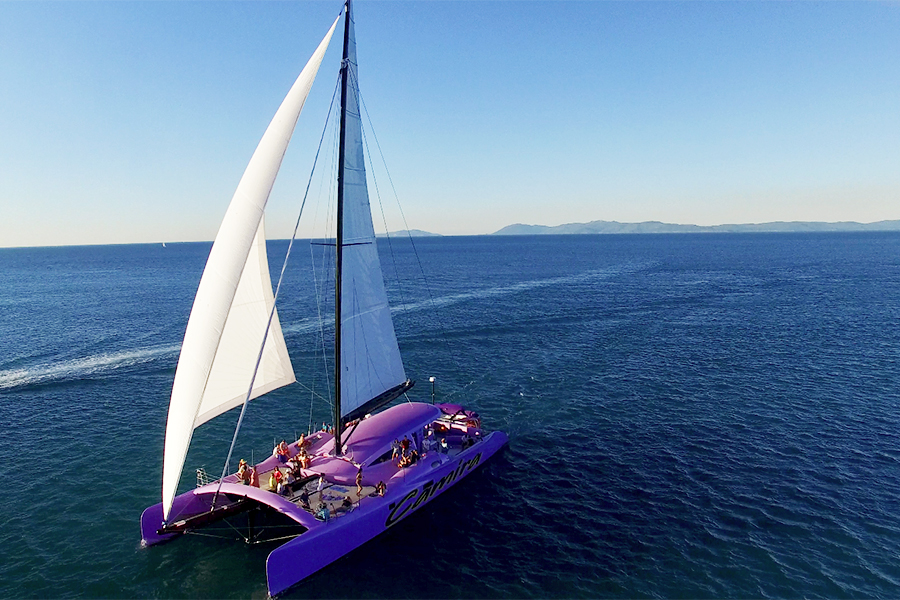 As one of the fastest catamarans on the market, she needed a name that reflected her power, speed and design. And so she was named Camira.
Camira comes from the Aboriginal word for 'wind' or 'windy.' While it originated from Aboriginal language, it has become a much more common place term today, not only in the Whitsundays, but all over the world. It is the name of a car, an international fabrics company, a town in Queensland and is often used as a girl's name. As Camira calls the Whitsundays home, her name was a homage to where she comes from, using a word derived from the Aboriginals, or the traditional owners of the waters she sails in.
Camira herself can sail at speeds reaching 30 knots, giving her the rights to such a powerful name. She sails around the Whitsundays exploring one of the natural wonders of the world, guiding passengers on the day trip of a lifetime. Depending on the wind power to get around the Whitsundays, supplemented by an engine, she is designed to cut through the waters at top speed with both comfort and stability.

Camira offers passengers a fun day on the water with snorkelling, delicious food, an onboard bar and a visit to Whitehaven Beach. You will get to experience what it's like to sail around the Whitsundays and see it the way it's meant to be seen, with wind in your hair, waves below and the sound of nature surrounding you.