What to expect on a Whitsundays overnight sailing trip?
Brace yourself for excitement as you board the boat and meet your crew and fellow passengers and begin the journey of a lifetime! Enjoy a briefing from your crew and be assigned your bed before setting sail and onwards to your first destinations.
Spend your nights at sea!
Each evening you will moor in a sheltered bay where you will spend the night. Your crew will anchor the boat each evening in a sheltered bay so you can enjoy a comfortable nights' sleep.
---
Go to Whitehaven Beach
At some point during your overnight tour, you will get to spend a number of hours on the famous Whitehaven Beach where you can wade in shallow waters or sunbake on the silica sand and just explore this amazing beach at your own leisure!
---
Visit Hill Inlet Lookout
While on the famous beach, you can go on a guided bush walk to Hill Inlet Lookout with your crew who will point out native creatures and plant species along the way. When at your destination, enjoy the incredible view of Whitehaven Beach's swirling sands and the surrounding islands below! This is a great place for a photo opportunity, so be sure to bring your camera along!
---
Social experience
You will get to enjoy an awesome social experience as you get to know your fellow passengers. Each boat trip usually has an exciting mix of travellers from around the world and from all walks of life. There are several types of tours to pick from, depending on your travel style, including backpacker, small-group, family and shorter trips for those short on time.
---
Learn about the Whitsundays
During your trip, you will get to learn about your natural surroundings and the Whitsunday region from your crew. Your experienced crew members enjoy telling stories about the Whitsunday islands, marine life and native flora and fauna.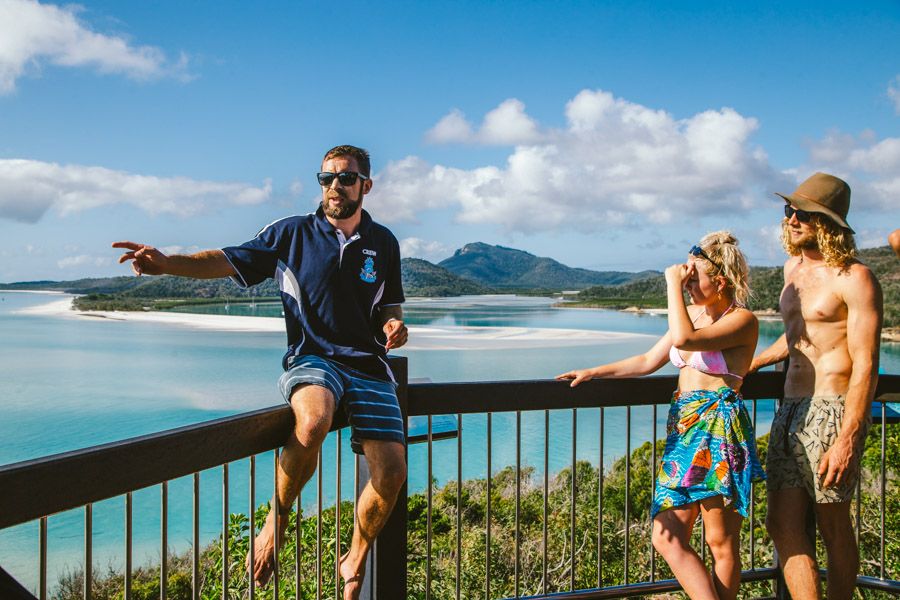 ---
Learn to sail alongside your experienced crew
That's right, most trips offer the unique chance to learn to sail with hands-on experience! Assist your crew set the sails and grind the winches as you travel from one destination to the next.
---
Great food and great company
Enjoy great meals prepared by your host! While you are busy exploring your surroundings, your crew will prepare freshly-made meals and snacks along the way. Meals are usually a mix of options and each boat sample menu is on the product page.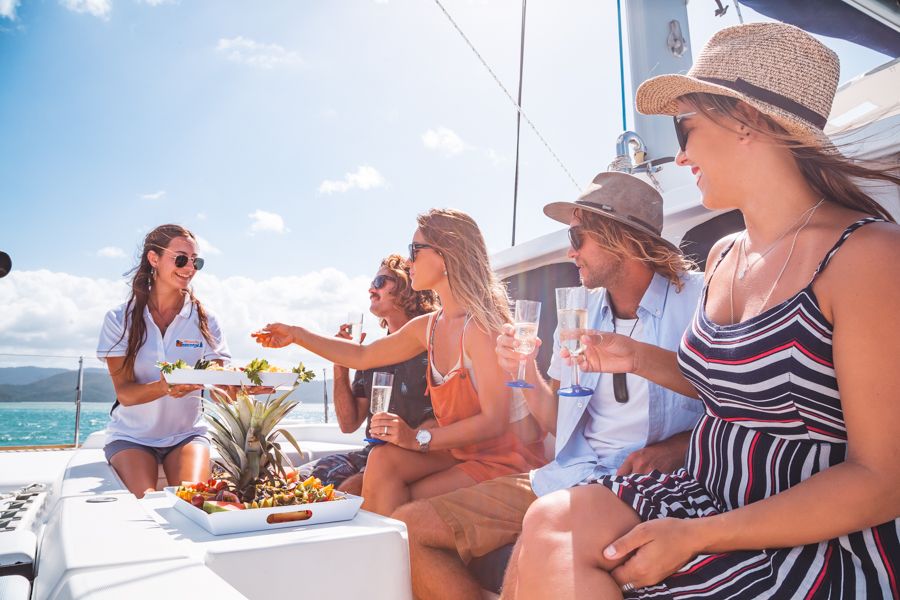 ---
Amazing views
A few sociable drinks each evening and a great view of the starry sky. Why not head out onto the vessel's deck each afternoon and enjoy some chilled drinks and chat with your fellow guests. As daylight vanishes, you will enjoy a great view of the clear skies and stars.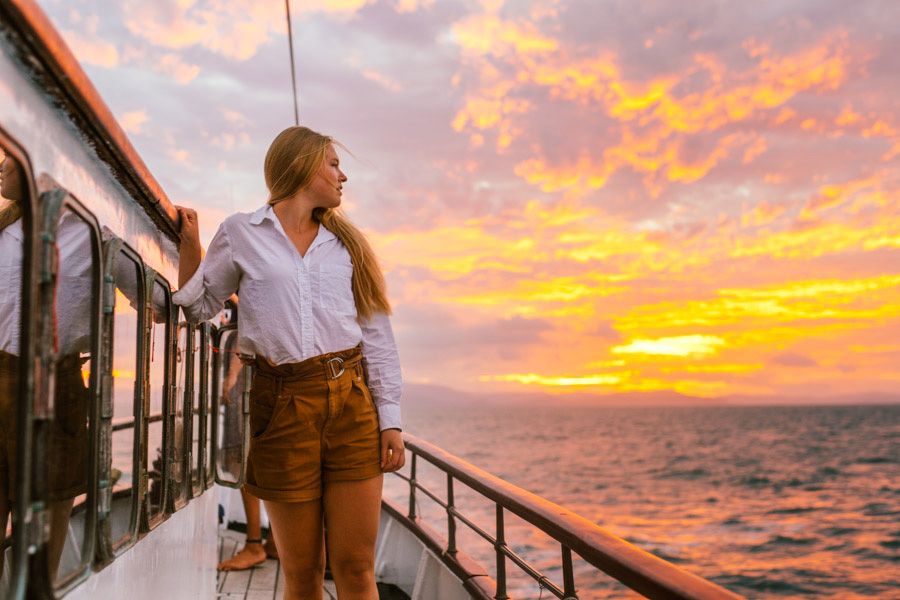 ---
Water-based fun!
Exciting water-based activities with plenty of snorkelling. Most overnight sailing trips will try to get up to 4 snorkel sites along the way. Get ready to see some exciting marine life and coral species at some of the best snorkel sites around the islands.
Depending on the tour, enjoy the water toys which may be kayaks, sea scooter and SUP boards. That's right, a number of vessels also carry extra watersports equipment for additional entertainment!
No matter which tour you choose, you are bound to have a good time while in the Whitsundays! Ask our friendly travel team which tour is right for you and embark on the overnight journey of a lifetime in the beautiful Whitsundays!
---
Chat with us live, or read more about how to prepare for overnight boat trips in the Whitsundays here!