A history of Powerplay
Powerplay is a Whitsundays favourite. She is a overnight catamaran boat with plenty of room, lots of activities and space for 18 passengers at a time.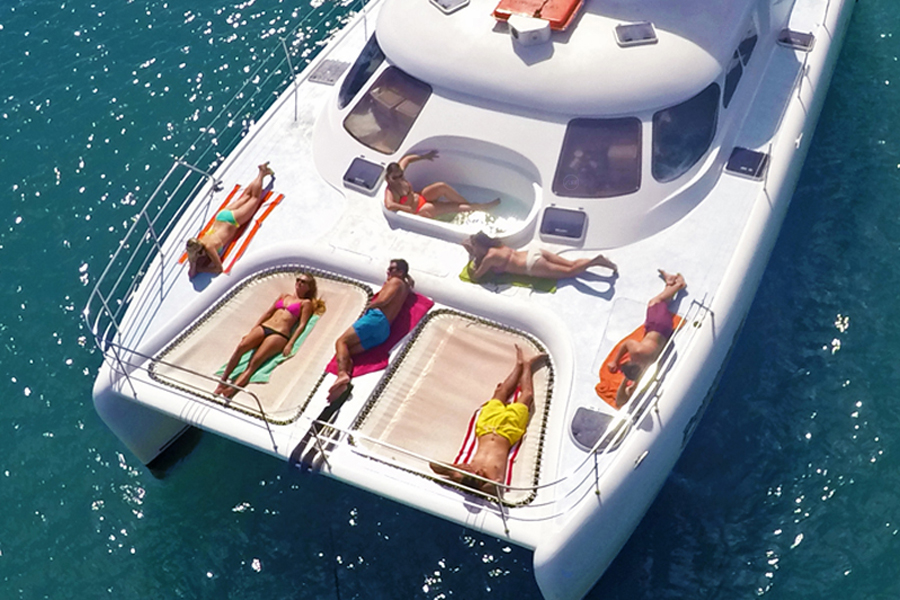 Powerplay was built by a company called Powerplay Catamarans in Townsville, Queensland, Australia. The company was established by James Dewing in 2000 and been producing quality catamarans ever since. As an award winning boat builder and designer, Dewing has won numerous awards for his designs, which have spanned over the past 40 years. All Powerplay Catamarans range from 12.5 to 22 metres, with our very own Powerplay coming in at 12.5 metres.
Designed around her beautiful lines, the idea behind her construction was to be visually appealing while also being good on fuel with plenty of room, making her an ideal charter boat for the Whitsundays. She has top notch safety features, such as the railing on the edges, to the back gate and the toerail around the border of the boat, to name a few, as well as a stellar crew who are always there to keep their passengers safe. Catamarans are dual hull boats, making them able to keep a pretty level deck as they cruise around, and Powerplay is no different. She can handle waves pretty well so passengers are able to hang out on deck and relax as she makes her way around the Whitsundays.
Powerplay was built with passengers in mind. She was made to be roomy with plenty of beds in order to be able to accommodate all her passengers comfortably. She is powered by 4 cylinder turbo charged 75 horsepower Yanmars engines that allow her to cruise around at a comfortable speed, all while cutting through waves and maintaining her stability.
Aside from her beautiful construction, Powerplay has a great itinerary that is all about fun in the Whitsundays. Passengers can expect to explore, socialise, relax and make lifelong friends during their Powerplay adventure.