Where to Watch the Game | Sports Bars in Airlie Beach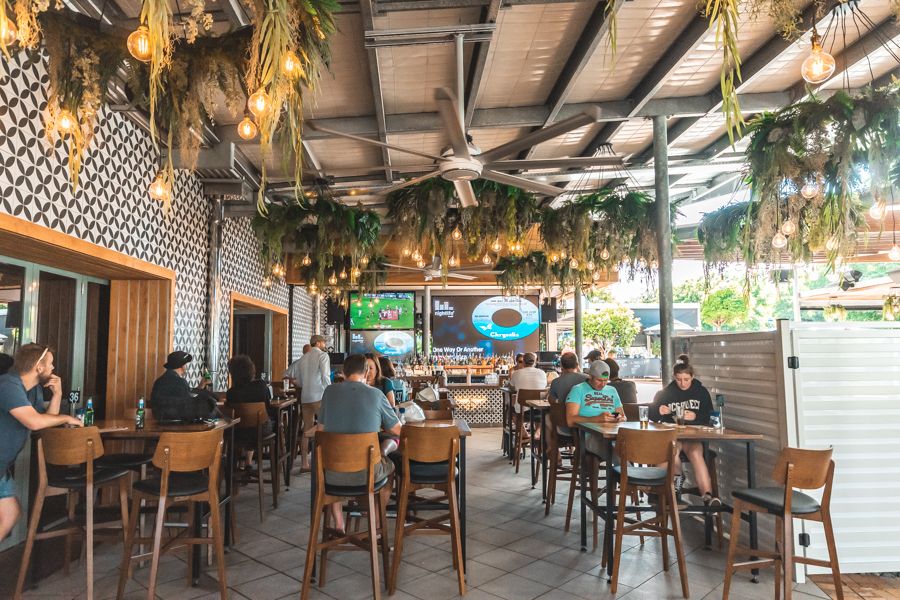 The lively hub of Airlie Beach offers endless entertainment and when it comes to sport there is no shortage of places to watch the live-action! Whether you've had a hard day on the beach, or you timed your Whitsunday cruise perfectly to be back in time for the game, you'll be right at home at one of these locals with the big screen on:
---
1. "The Pub" at Airlie Beach Hotel
The Pub is Airlie's Beach's newest member of the bar scene and has quickly become a crowd favourite. Catering to even the biggest sports fanatics, The Pub live screens rugby, AFL, UFC, cricket, basketball, horse racing, A-League football, American Football and Motorsport – all the usual suspects plus many more like swimming, ice hockey, mixed martial arts and even darts! You can find their live sports screening schedule here. The Pub celebrates big sporting events in style with parties and promotions to suit. This year's Melbourne Cup Garden Party features an all you can eat seafood buffet, 3 hour drinks package and entertainment! With 40 (yes you read right, 40!) screens and a free courtesy bus 7 days a week, what's not to love!
---
2. Reef Gateway Hotel
Join the crew at the Reef Gateway Hotel for a cold one in the public bar and all the live sport you can handle. With 11 dedicated screens, 2 pool tables and an adjoining outdoor terrace, the Gateway is a great place to settle in for the day. You can also search featured games on their website here. While the Reef Gateway Hotel does like to celebrate the major sporting events with parties, tipping competitions and promotions, it is worth noting that they are closed on public holidays. If you're a Melbourne Cup fan be sure to get yourself a ticket to The Furphy Melbourne Cup Marquee at Reef's this year, it's sure to be great fun!
---
3. Magnums Hotel
For those who like a younger, rowdier vibe, Magnums' sports bar is situated right in the heart of the Airlie Beach main strip. Boasting the 'biggest TV north of Brisbane' and 6 other 40" screens you're sure to be able to get your Fox Sports fix. Magnums screens all the major live sports and you can visit their live sports guide to check times here. FC showdowns take precedence on the big screen along with Origin, the AFL Grand Final and the Melbourne Cup, all with their own competitions, promotions and giveaways on the day. For a good laugh be sure to catch the live Cane Toad Racing on a Thursday night!
---
4. Jubilee Tavern
The Jubes loves sport and offers a relaxed atmosphere to watch your favourite – whether that be on one of the two giant life-size TV screens or on one of the twenty others! Annual events include parties and promotions to celebrate sporting grand finals and one-day events such as the Melbourne Cup. The Jubes also offers a pool table, darts and a free courtesy bus to get you home safely after celebrating a win.
---
As the gateway to the Whitsunday Islands, we love a party in Airlie Beach! Here are a few more bars that are sure to throw a good one for those unmissable major sporting events: "Boatys" - The Boat House, Beaches Bar & Grill and Shed Bar.
Big screen action, here we come!
For more things to do in Airlie Beach, read on here.
---
Looking to visit the Whitsundays? Chat to our friendly team of local experts by clicking the chat box to find out our latest deals!