Whitsundays Arts Festival 2022
Updated Wed 14 Sep 2022
Photo: Whitsundays Arts Festival
The 2022 Whitsundays Arts Festival is an annual celebration of artists from all walks of life. The Airlie Beach festival runs from the 17th to the 30th of September and is held at the Fairy Tree Park on the foreshore of Airlie Beach. The two-week long festival will consist of different activities and events each day. From multicultural performances, art workshops, sculptures, fine arts, handmade art markets, kids workshops, film screenings, intimate concerts and more, the festival has plenty on offer for all ages. We've got your guide to the Whitsundays Arts Festival below so be sure to check it out!
But first, a little bit of history...
The festival first began in 2019 when two creative women teamed up to showcase local and nearby talented artists. Their first festival explored art and the environment, their second in 2021 focused on the idea of and belonging in our diverse landscape. This year, the 2022 theme for the festival is 'Memories'. As noted on the Whitsundays Arts Festival website, ""Memories", just the word, evokes emotions and thoughts about another time, and often may conjure up smells, sounds, and images from a place, object, a film, music, or where you were when something of great import happened somewhere in the world or outer space."
---
Here's what's on for the Whitsundays Arts Festival of 2022...

Photo: Whitsundays Arts Festival
---
Whitsundays Arts Festival Opening Ceremony

Photo: Whitsundays Arts Festival "Scarewood"
The official opening ceremony will be held on September 24 from 5:00PM to 7:00PM. Firstly, a Welcome to Country accompanied by music will be given. Followed by the official opening welcome speech by the Whitsundays Mayor, Julie Hall. Music and performances will then commence! From 6:30PM, Airlie's locally famous fig tree will be converted into a sculpture named 'Scarewood', by talented Townsville artists. Scarewood will come to 'life' through the clever use of recordings and projections onto the tree, creating an incredible audio-visual experience.
---
Whitsundays Handmade Art Markets
On Sunday, September 25 from 8:00AM to 4:00PM, the Whitsunday Arts Festival Handmade Art Markets will be held. Located along Airlie Beach's foreshore is where you will find over 50 market stalls. The stalls will consist of handmade and homemade knick-knacks, souvenirs, homewares, jewellery, clothes, gifts, artesian goods, coffee, gourmet food, baked goods and more! Meet and mingle with designers, artists and creatives who have travelled both locally and from afar to share their talents and skills with the community. Enjoy dynamic interactive multicultural performances and music while you shop and even partake in the various art workshops. View art displays including paintings, pottery, textiles, screen prints, glass art and more!
---
Airlie Beach Foreshore Festivities
Photo: Whitsundays Arts Festival
Accompanied by the markets on Sunday, September 25 will be interactive and original music performances, art workshops, multicultural shows, and impressive art installations. You can create Memory Mandala's on the beach, listen to Indigenous Aboriginal storytelling, get involved in an African drumming workshop with Baala Baajo, watch the Tchundal Malar Aboriginal Dance Troupe's fire demonstrations and didgeridoo performance, join The Jazzuleles for a ukulele workshop or check out the Whitsundays News marquee and writing competition!
---
Concert and Conversation Dinner
On September 25 from 5:30PM - 8:00PM, the Belvedere Wine Bar at Toscana in Airlie Beach is hosting a fine-dining 3-course meal. Indulge in house made focaccia, olives, ceviche, Cape Grim Sirloin steak, Chimichurri, Romesco and more! Between courses, listen to talented local singer-songwriters perform a concert, celebrating their new music. Grab your partner, friends or family and book tickets here to this incredible dinner that doesn't come around often.
---
Whitsundays Arts Festival Workshops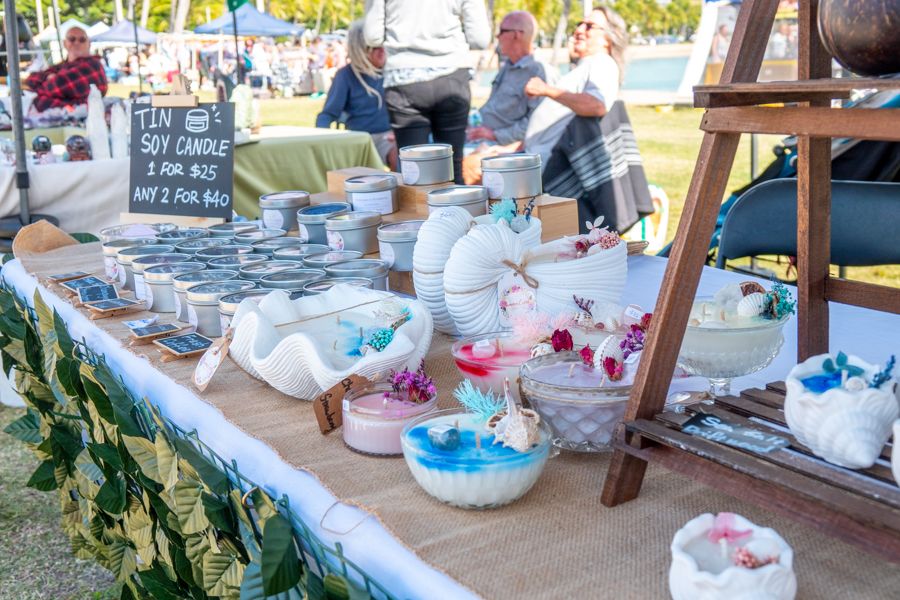 The Whitsundays Arts Festival artistic workshops will be held throughout the week. You can learn new skills, practice old ones or simply watch artists in action and feel inspired. There will be a professional workshop series held from the 17-24th of September at the Kipara Tropical Rainforest Retreat and again from the 24-25th at the Fairy Tree Park on Airlie's foreshore. There will be sketching workshops, sip & paint, songwriting, acrylic, watercolour, street art workshops and more. Some of the workshops do require bookings and fees are required, others are free. Find out more information and where to book here! There will be kids workshops too that will be suitable for the whole family.
---
Proserpine Film Screenings
Proserpine, in the Whitsundays, has recently opened an entertainment centre which offers a large digital projection on the big screen. The film, Celeste will be screening on Saturday 24 September. Celeste was shot at Paronella Park which is located outside of Cairns in North Queensland. The film was shown at the Cannes Film Festival as well as many other international film festivals. On Sunday 25 September, a Spanish drama, Parallel Mothers will be playing which has received positive reviews. Be sure to book your tickets as these films are ones you don't want to miss!
---
For further information on the Whitsundays Arts Festival or what else there is to do while you're in the Whitsundays, live chat with our friendly, local travel experts or call on +61 74914 2425!