Where to fish in the Whitsundays
Updated Tue 20 Dec 2022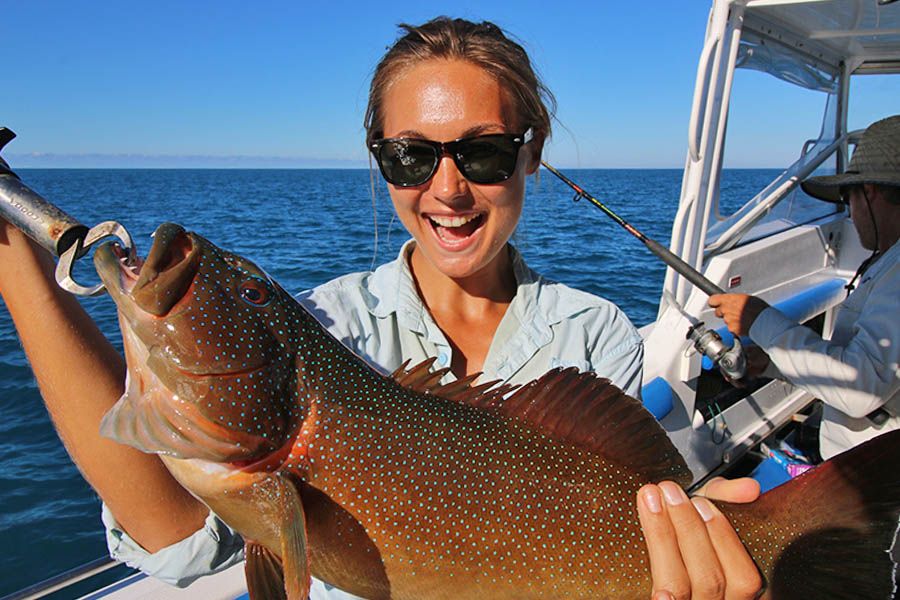 The Whitsundays is undoubtedly a popular fishing destination for anglers with an endless variety of tropical islands, reef drop offs along the Great Barrier Reef, estuaries and the famous Barra of the Peter Faust (Proserpine) Dam.
For those who are chasing the reef species, the world is basically your oyster as your head out from Airlie Beach with a plethora of islands which are all edged with flourish reef edges and bommies.
Where to Go Around the Islands
Taking into account all zoning restrictions, you don't need to head out too far to catch a feed or hook onto decent fish, particularly when it comes to parrotfish, coral trout, sweetlip, trevally and tuskfish which seek out rocky bottoms and any type of structure on the reefs.
The closest access ramp to the islands is Shute Harbour and it is just a short motor to some popular fishing spots around Daydream Island and Long Island resorts and onto Hook Passage. If you're bringing your own boat to the Whitsundays you may also opt to use the Port of Airlie boat ramp in Airlie Beach, or VMR boat ramp in Cannonvale.
To seek the fish out, use a sounder to locate any bommies and drop off edges and the use of fresh bait will generally do the trick.
You can also try working the shallow fringing reefs of Hook Island, Hazelwood Island and Doubles Cones which may not produce huge fish, but fish that are big enough to take home to make yourself a nice meal!
Fishing on the Mainland
If you don't have a boat, there are some great fishing spots on land you can try. Some of the best fishing from shore is from the Shute Harbour jetty itself with plenty of bait schools getting around the marina, or simply fish off Cannonvale Beach or the rock walls around the VMR and marinas.
You can also head out to Peter Faust Dam in Proserpine, where the Barra are jumping. Also referred to as Faust Dam or Lake Prossy, you'll also find other fish in this freshwater lake such as Sooty Grunter and Saratoga. You will need a permit to fish here, which you can get and while there are specific seasons for Barramundi, Prossy Dam is exempt so you can fish year round!
Zoning
Always make sure the areas where you are fishing are in the correct zones. Designated as the Great Barrier Marine Park, this world heritage area has specific zones where fishing is allowed. Certain areas are highly protected and could cop you a nasty fine or even jail time if caught dropping a line in the wrong zone. You can check here for some Great Barrier Reef Marine Park authority tips for fishing in the Whitsundays, or here for zoning information.
Want to experience it for yourself? Check out our full day fishing tours.