Ragamuffin II Whitsundays History
Ragamuffin is a overnight sailing boat in the Whitsunday Islands that offers a 3 day and 2 night tour for guests to explore and sail.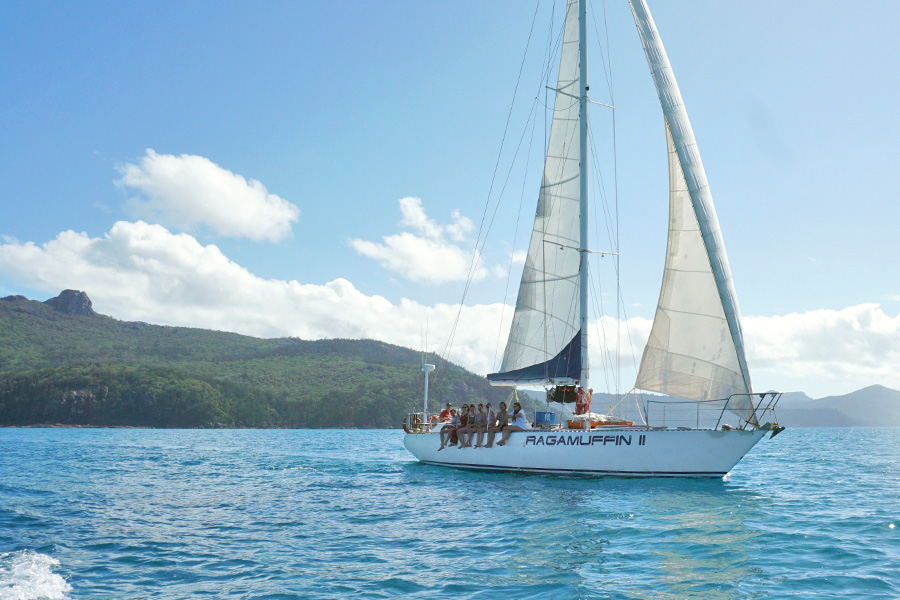 Ragamuffin is an ex sailing maxi yacht, which measures 21m, or 70ft, in length. Ragamuffin was originally designed for the Admiral's Cup an international yachting regatta, which took place off the Southern Coast of England. She was designed by Australian Ben Lexcan, known for this design of a previous Admiral's cup winner, the Mercedes III.
Ragamuffin raced in the 7th Admiral's Cup in 1969, where she narrowly lost to America. While Ragamuffin dominated the beginning of the race and won the 225 nautical mile channel race, she lost momentum when the wind died down near the end of the race and the crew had to depend on their motor. In a series of unfortunate events that involved loss of power, an 'all standing' gybe, and some bad timing, Ragamuffin lost the lead allowing American to grab the title. She went on racing afterwards, but never experienced the same drama that came along with the Admiral's Cup.
Ragamuffin was skippered by Syd Fischer, who to this day is a well known racer, and had raced in a total of 8 Admiral Cup campaigns. Now in his 90s, he recently christened Ragamuffin 100, another racing yacht.
Ragamuffin now sails the Coral Sea in the Whitsundays with 13 passengers at a time. She was recently refitted in 2011 and offers guests the option to choose from open double berths or single bunks, and has two bathrooms on board. The open plan concept allows passengers to feel comfortable with space to roam around. Up top you will find her large masts, complete with billowing sails that were once used to race in the Admiral's Cup.
**Please note this tour is no longer in operation. For similar options, please refer to Small Group Sailing, Backpackers (18-35's), or ask one of our friendly consultants.