Ragamuffin 2 Sailing Tour
For those wanting a longer trip around the Whitsundays away from the crowds with a relaxing atmosphere, look no further than Ragamuffin 2.
This 3 day/ 2 night trip is top value, and taking just 13 passengers in total, Ragamuffin offers an intimate sailing experience of a lifetime, in paradise.
Ragamuffin's design makes her an incredible sailing vessel, and guests are able to assist the crew set the sheets and pull the ropes for hands-on experience, or if you prefer to relax, take a seat on the spacious deck and enjoy the serenity as the vessel makes it way around the Whitsunday Islands.
There are many stops along the way, including a number of different snorkel sites so guests can see the best fringing reefs in the Great Barrier Reef Marine Park, and there many opportunities to see the friendly marine life and exotic corals.
The highlight stop along the way certainly has to be at Whitsunday Island, where guests can soak their feet in the pure silica sands of Whitehaven Beach.
Spend a number of hours exploring, wading in the cool water of the Coral Sea, sunbathing and even join in a guided bushwalk through the National Park to get to Hill Inlet Lookout - where the view of the islands and the beach below is breathtaking.
Back onboard, indulge in freshly prepared meals by the crew, enjoy some friendly banter with new-found friends, curl up with a book or just take in the amazing sunset with a tropical drink.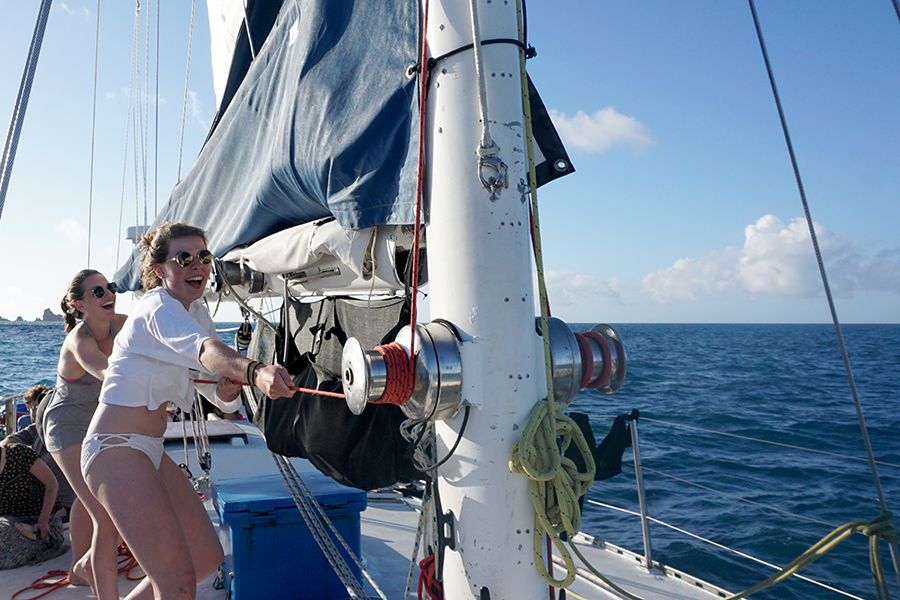 **Please note this tour is no longer in operation. For similar options, please refer to Small Group Sailing, Backpackers (18-35's), or ask one of our friendly consultants.