History of the Whitsunday's Solway Lass
Solway Lass is the oldest ship frequenting the Whitsundays Islands, operating island tours since 1999 and having over 100 years of sailing time under her belt. Christened in 1902 in Holland, she has a lengthy and intricate legacy, full of adventure, turmoil, tragedy and triumph. Her 11 sails and 170 tonnes of history have been witness to two world wars, the turn of the century and countless technological advances, and yet she perseveres and continues to sail the seas as one of the favourites in the Whitsundays.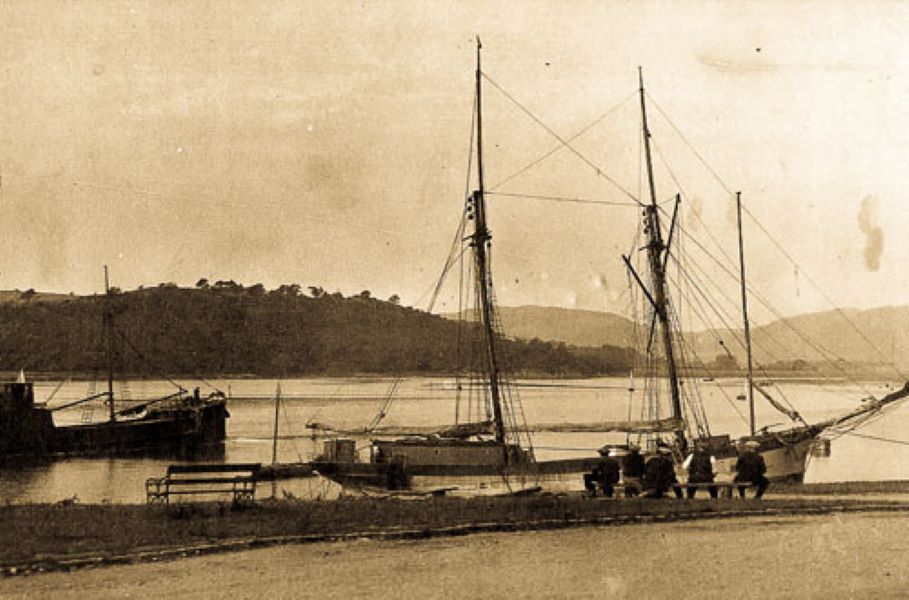 Image courtesy of Solway Lass
Originally called Stina, she was designed as a sail-powered cargo ship. Adorned with German steel and timber, she was sturdy and built to handle the ocean's strong winds. She was working as Stina for only two years before she was sold and renamed Adolf where she began sailing the Baltic and North seas as a German cargo ship.
Solway Lass' story took a turn for the worst when in 1915 she was taken from the Germans as a war prize by the British and was used as a decoy ship for enemy submarines in WWI. She managed to make it through the war, whereupon afterwards, the British used her to haul cargo such as coal, produce and stone, until selling her in 1924. Named Solway Lass for the first time by her new Scottish owners, she was fitted with a new engine and was used to haul coal between Scotland, Ireland and Britain. Unfortunately, a severe snowstorm grounded her in 1937, and shortly afterwards she was sold to a Danish company who sent her to cargo the Baltic Seas for the second time in her life.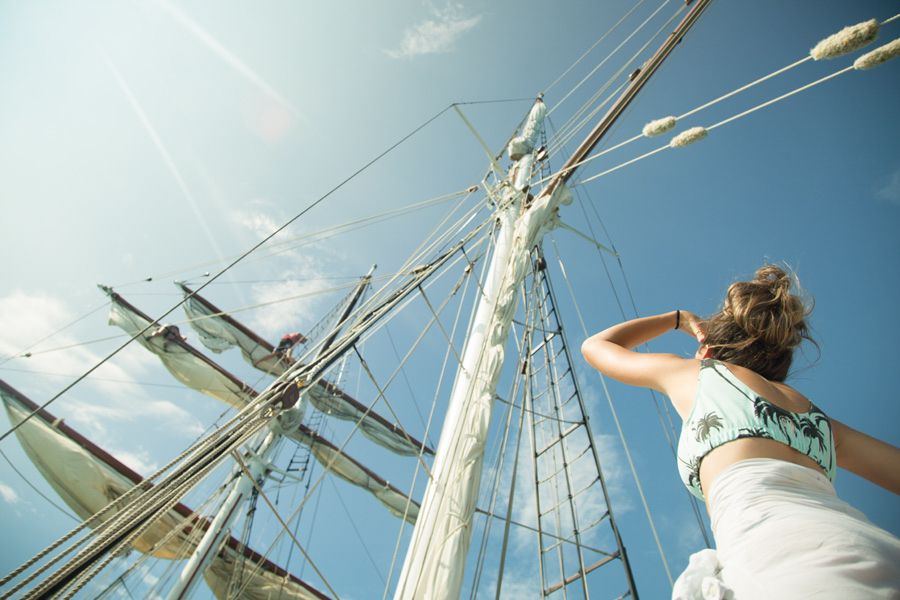 WWII pulled Solway Lass back out of the cargo life and back into the war when she was taking back by the Germans, who used her a supply ship before hitting one of their own mines during a trip. Dramatically, her hull was fatally damaged, leaving her exposed and on the bottom of the ocean floor. She remained in her not-so-final resting place until the end of the war, when she was brought up from the bottom to again become a working boat. Times were tough for the Germans, and it was easier for them to fix damaged vessels than to build new ones, and so Solway Lass was given a second chance at life. Her damaged hull was repaired and reinforced so she could be used as an icebreaker, making her stronger than ever.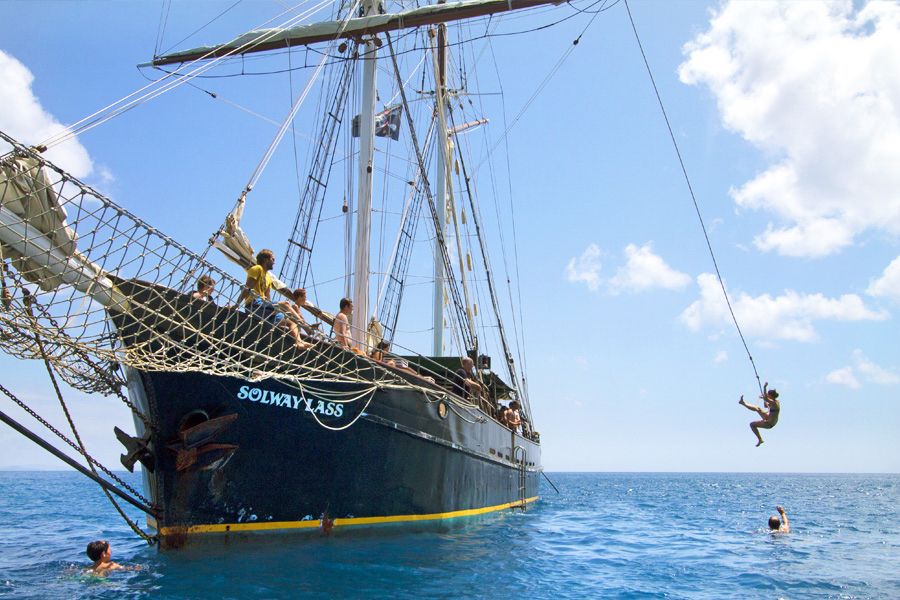 She was sold and renamed several times over the next few decades, working in places like Denmark, the Panama Canal and eventually arrived in Fiji, lugging everything from coal to cows, before being purchased by a Sydney businessman in 1983, who sailed her back to Sydney. Unfortunately, she had been neglected for many years and had significant rust damage, making it expensive and lengthy to fix her. However, by 1985 she was sailing the Sydney Harbour, catering to tourists and participating in re-enactments, reclaiming her name of Solway Lass. For a short amount of time, she even participated in the restaurant business, sailing guests around the harbour as they wined and dined.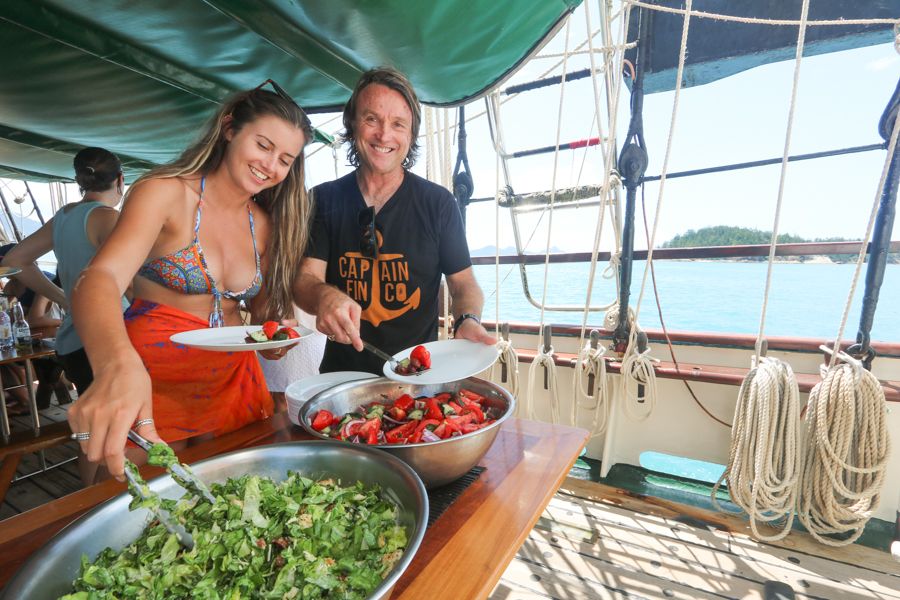 After several years on the Sydney circuit, Solway Lass made her way to the Whitsundays, where she remains today. In 1999 her interior was remodelled for overnight cruises and fitted with air conditioning and bunks for 32 guests, along with a long line of much needed love to restore her to her former glory.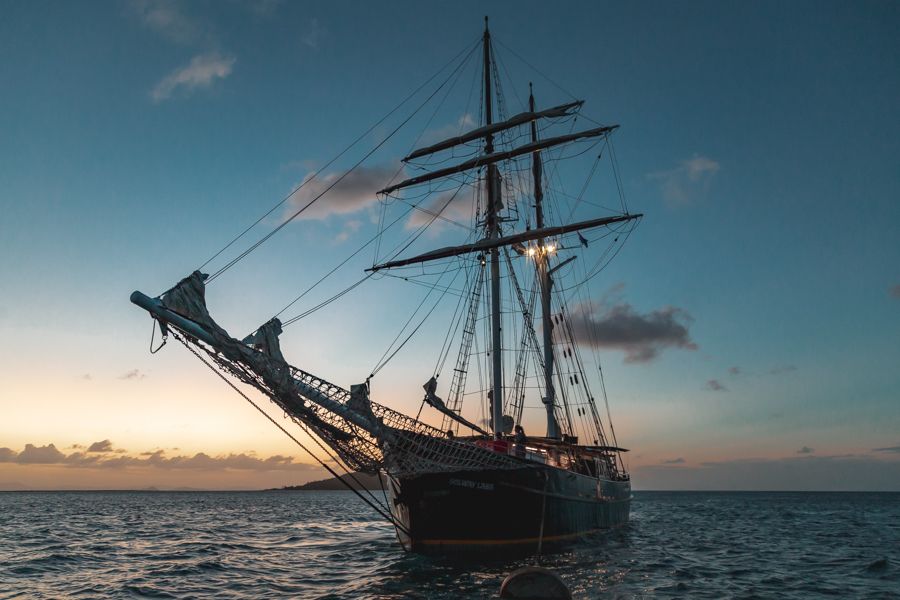 Her long and adventurous history has led her to easy golden years, cruising the calm waters of the Whitsundays enjoying her retirement in the calm tropical waters of the islands and Great Barrier Reef. Tourists flock to her historical charm and authentic sailing experience. She gets major maintenance every few years to ensure she is in good working order and was last given a major refit in 2018. She is now one of the iconic ships in the Whitsundays and spends her days chartering 2 or 3 night cruises of the beautiful Whitsunday Islands.
Are you ready to experience this historical treasure for the adventure of a lifetime? Chat to our local Whitsunday boating experts for the best rate today, or call +61 74914 2425 to check availability!