SAIL AND STAY BENETEAU
CLOSE
View More Thumbnails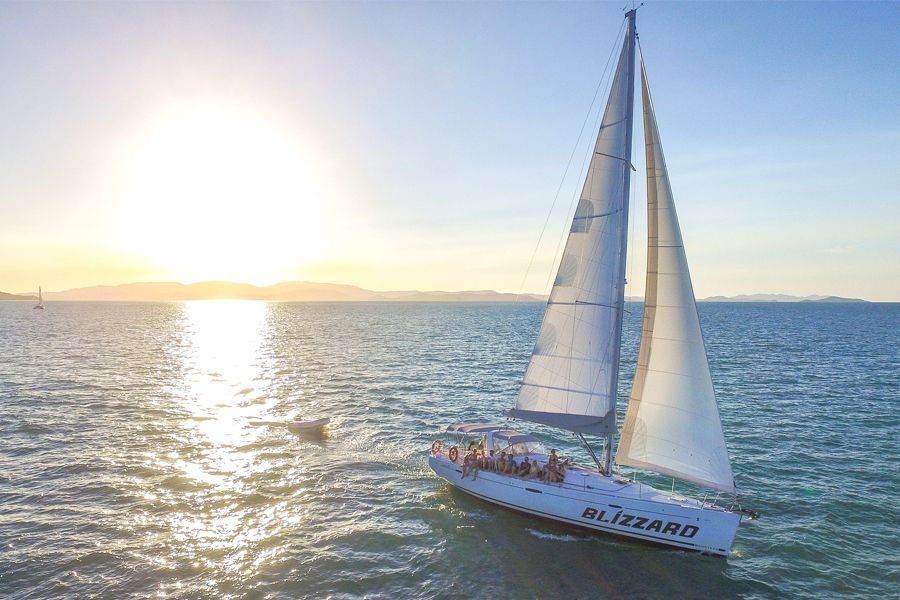 Loading...
Pricing Options
RRP $1170

$1045 AUD / Person
- Private Double Cabin and Studio Apartment (requires 2 persons) ($2090 Total)
(Between: 01 Jan 2021 and 30 Sep 2021)
7 FULL DAYS SAILING IN THE WHITSUNDAYS WITH OUR EXCLUSIVE SAIL AND STAY PACKAGE.
This is the ultimate luxury experience onboard a state-of-the-art Beneteau 50 Cruiser, complimented with a cozy stay at one of Airlie Beach's best accommodations.
This combination includes:
This is a package that is set to impress: the very best of the Whitsundays is waiting for you, so jump on board Blizzard and escape to paradise! Paired with an incredible stay at one of Airlie Beach's most sought after apartments, Sail and Stay Beneteau gives you the keys to your very own kingdom.
Focusing on luxury and grandeur, sail your way through your daydream and arrive in heaven. Take in the wondrous sights of the crystal-clear water and dive deep into the ocean below.
As well as adventuring on the sea, stay at the cozy and comfortable Searene, located at the heart of Airlie Beach. Laze about in your self-contained apartment and paddle in the wet-edge pool, soaking up the panoramic views of the Coral Sea. If you've been looking for heaven, this is it!

---
Highlights & Inclusions:
---
Sailing Tour - Blizzard
Visit both ends of Whitehaven Beach
Two different bushwalks and lookouts
Authentic sailing experience
Delicious and fresh meals prepared by a highly trained crew
More time at Whitehaven beach than any other tour
Guaranteed to visit Hill Inlet Lookout
Snorkel the fringing reefs of the Great Barrier Reef
Snorkelling equipment and marine park fees included
Sea scooter and standup paddleboard included
Extra comforts like rain & sun shades and hot showers
USB charging stations for cameras
Family owned and operated
BYO alcohol

---
Accommodation - Airlie Searene Apartments
Unwind in a deluxe studio apartment
Features a private balcony with stunning panoramic views of the ocean
Conveniently located in the heart of Airlie Beach
Located in one of the most sought after resorts in the area
Cool off in the postcard-perfect wet edge pool and relax in the spa
Our studios have full kitchenettes, central bathrooms and a large soaking bath with views
Fully air-conditioned and tropical ceiling fans
You have the flex booking option of rearranging the sailing tour

Sample Itinerary
Day 1: Arrive in Airlie Beach
Arrive at the marvellous Whitsunday Coast and check in to your delightful and luxurious accommodation at Airlie Searene Apartments. It's perfectly located Nestled in the heart of Airlie Beach, your apartment is only a short stroll to a vibrant array of shops, restaurants and cafes. The airy and striking apartments are a 12-minute stroll from Airlie Lagoon and a picturesque 1.5 kilometre walk to Coral Sea Marina. Enjoy the rest of your day perusing the sights of Airlie Beach and soaking up the sun-drenched views of the Coral Sea.
Overnight: Airlie Searene Apartments

---
Day 2: Enjoy a free day in Airlie Beach
Today is your opportunity to explore the heart and soul of the Whitsundays! Embrace the quirks of the vibrant beach-town lifestyle and settle into the leisurely pace of the locals. Feast on the jaw-dropping flavours of the varying Airlie Beach cuisine, lovingly prepared with fresh and local ingredients. Unwind by the mesmerising wet-edge pool at your apartments and take in the panoramic sights of the Coral Sea below. Enjoy the relaxation of the day, because the adventure begins tomorrow!
Overnight: Airlie Searene Apartments

---
Day 3: Depart Airlie Beach and begin the adventure
Check out of your luxurious accommodation and check into paradise! After checking out of Airlie Searene Apartments in the morning, you will store your extra luggage at the reception at your convenience. Make the most of your leisure time and sit down to a delicious brunch at one of the many renowned breakfast cafes in Airlie Beach. Take a well-deserved stroll and soak up the sights before heading to the Coral Sea Marina to begin your next adventure!
Depart the Coral Sea Marina at 12:00 pm, aboard the wonderful Blizzard.
You will embark on a truly life-altering cruising experience as Blizzard makes her way through the shimmering waters of the Whitsundays. Your friendly crew will whisk you away to the natural wonders of the region, stopping at destinations like Whitehaven Beach, Hill Inlet Lookout and the kaleidoscopic fringing reefs of the marvellous Great Barrier Reef Marine Park. During your adventure you can choose to relax, unwind or learn the ropes of sailing! Laze about on the large foredecks, freshen up in your private cabin and ensuite and enjoy the ride. Absolutely everything you need for the perfect adventure is at your fingertips: delicious food will be served, informative commentary about the area will be available and there will be plenty of entertainment if you need a change of scenery from the calming hues of blue.
On your first afternoon aboard Blizzard, you'll set sail across the calm waters toward the islands where you'll anchor up for a dreamy night of sleep upon the sea.
Overnight: Blizzard - Private Cabin

---
Day 4: Out on the water, the dream continues
Wake up with your morning coffee to the mesmerising views of the Coral Sea. Feast on a scrumptious breakfast, and then hop off the boat and embark on a bushwalking adventure up to Hill Inlet Lookout. Soak up the stunning sights of the creamy blue and white cosmos of Hill Inlet, and then head back down to dip your toes into the crystal-clear waters of Whitehaven Beach.
You will enjoy a delicious morning tea, before making your way to the western side of the mysterious Hook Island. Anchoring down in the cool azure waters, enjoy lunch made fresh by your passionate crew. After your tummy is settled, it's time to grab a snorkel and dive headfirst into the luring turquoise waters! You'll be captivated by the wonderful array of vibrant and colourful marine life - spot a wandering turtle, a floundering Sweetlip fish and even a stingray if you're lucky!
Sunset refreshments will be provided as you unwind from a wonderful day of adventures, before checking back into your cozy cabin and tucking in for another blissful night.
Overnight: Blizzard - Private Cabin

---
Day 5: Snorkel and take in the wondrous sights
The sights never get old! Wake up fresh and bright and ready for another day of paradise. Enjoy another delicious breakfast and morning coffee, while getting ready for the day ahead. Today might be the perfect day to have a play on Blizzard's state-of-the-art water toys, including the amazing sea scooter and the renowned 'Supzilla'! Go on the ride of your life as you zip across the pristine waters of the Whitsundays, giving you the best opportunity to explore snorkelling spots far and wide. features the ultimate water toys - the sea scooter and "Supzilla"! The sea scooter will take you on the ride of your life as you zoom through the ocean! Supzilla is a giant stand-up paddleboard, boasting the strength to hold up to 4 people at once!
Enjoy another magical snorkel below the deep blue, before drying off and lazing aboard, getting ready for another relaxing night with your loved ones.
Overnight: Blizzard - Private Cabin

---
Day 6: Unwind and explore on your last full day in Airlie Beach
It's a beautiful day for more underwater exploring - so that's what you're going to do! Enjoy another blissful morning coffee and delicious breakfast before slipping into your swimwear and grabbing a snorkel. Explore a new underwater location, meet more creatures of the sea and stare in awe at the colourful coral beds. If you're up for a kick of adrenaline, you might also like to try your hand at stand-up paddleboarding! Soak up the last few hours of your own personal paradise before making your way back through the azure passage towards Coral Sea Marina.
You will return back to Airlie Beach at around 1:00pm, and wander back to your cozy enclave at Searene Airlie Apartments for another two delightful nights.
Please note that each itinerary is weather dependant and designed to be flexible.
Overnight: Airlie Searene Apartments

---
Day 7: Depart Airlie Beach
It's your last full day in tropical paradise, so why not make the most of it? After you check out, wander through the vibrant heart of Airlie Beach and grab a delicious bite to eat, before heading making your way back home, or onwards to your next adventure.
Accommodation
Located in a stunning resort just 12 minutes walk from Airlie Beach Lagoon, the Searene apartments boast stunning views of the Coral Sea. They're the perfect place to unwind after an adventurous few days out to sea, offering deluxe and cozy accommodation for an incredible price.
Accommodation Highlights:
Deluxe studio apartment
Conveniently located in the centre of Airlie Beach
Features a private balcony with panoramic views of the ocean
Cool off in the postcard-perfect wet edge pool and relax in the spa
Features a kitchenette and a central bathroom
Air-conditioned
Option to sleep up to 3 guests

Tour
Take delight in modern and luxurious cruising onboard a sleek and elegant Beneteau 50.
Enjoy a fun and interactive tour cruising around the Whitsundays islands
Enjoy state-of-the-art water toys for something extra on your trip!
Soak up the luxury of a renowned and comfortable vessel
See the wonders of Hill Inlet, Whitehaven Beach and multiple snorkelling locations
Blizzard boasts an incredible range of activities, adventures and luxuries that are bound to make your trip an unforgettable one.

More Information
What To Bring
Please bring only a small soft bag containing no zippers with:
Change of clothes
Swimwear
Beach towel
Toiletries
Insect repellent
Water bottles to refill
Camera
Comfortable walking shoes
Sun protection (sunscreen, hat, sunnies etc.)
Warm clothes/pullover for evenings (seasonal)
You will also need to bring your own alcoholic beverages, available for purchase in town. No glass bottles permitted (with the exception of wine).
Excess luggage can be stored at several places in town. Please click here for more information.
What's Included
Skipper
Host
Drinking water
Meals
Linen
Bath towels
Wetsuit hire and snorkelling equipment
Marine Park fees
What's Extra
Alcohol and soft drinks (BYO - refer to "What to Bring" for more info.)
Holiday Surcharges:
Tours at sea between the 24th of December to the 2nd of January will incur a local payment once-off fee of $20 per person per night, payable direct at check in.
Tours departing on Easter Friday, Saturday, Sunday or Monday will incur a once-off fee of $20 per person per night, payable direct at check in.
Terms and Conditions
---
Important Information:
This is a water-based activity, for safety reasons all passengers must be able to swim and speak fluent English.
---
Your Responsibilities:
Please advise us before booking if any passengers are under 18 years old to ensure this is the appropriate trip.
You must reconfirm all booked tours prior to travel as specified on your voucher. If applicable, notes such as dietary requirements, pick-up locations and additional fees should also be confirmed at this time. Reconfirmations cannot be actioned through Sailing Whitsundays/Mr Travel, and must be done so directly through the Service Operator as specified on each ticket.
It is your responsibility to notify us of ticket discrepancies. Please read through the details on your voucher thoroughly to ensure all details such as passenger names, ages and dates of travel on vouchers are correct.
It is the responsibility of all passengers travelling to advise both your travel agent at the time of booking and vessel check-in agent before boarding of any medical conditions including food allergies you may suffer from.
You need to allow adequate time to check-in prior to the specified departure time.
---
Prices/Extra Costs:
All prices are stated in Australian dollars and include GST. Surcharges over peak holiday seasons may apply.
The Service Operator reserves the right to alter prices and extra costs. Extra costs may include EMC fees, Stingersuit/Wetsuit Hire, Luggage Storage, Insurance, Linen Hire, National Park Fees, Fuel Levies, Dietary Fees, etc. Bonds may also apply.
We will also endeavour to communicate these extra costs with you at the time of booking, and on your ticket. However, it is your responsibility to confirm which (if any) additional costs apply with each Service Operator upon reconfirming your trip.
---
Travel Risk/Insurance:
It should be noted that adventure travel involves risk. Whilst we make every effort to safeguard clients, we cannot be responsible for personal injury or loss due to the actions of our clients which are beyond our control. We highly recommend that all clients have travel insurance covering illness, injury, loss or damage to personal belongings and not being able to travel on the confirmed date of departure. You should also ensure your travel insurance will cover special circumstances including weather events preventing guests from travelling to their tour departure destination and cancelled flights due to unforeseen circumstances.
---
Merchant Fees:
Please be aware operators pass on credit card merchant fees so there is a non-refundable 1% surcharge for VISA and MASTERCARD card purchases.
---
Other:
Terms and Conditions (including the Cancellation Policy) are subject to change. The most recent versions can be found online on the relevant product pages.
All ticket/voucher reissues attract a $20 administration fee.
---
Cancellations
---
Client Cancellations:
All cancellations forfeit 25% of the recommended retail price (RRP) - not the discounted/sale price. Cancellations made 60-30 days prior to travel date forfeit 50% of the RRP. No shows or client cancellations made within 30 days of departure forfeit 100% of the total ticket price.
Transfers between tours can be made at the suppliers discretion, however, it should be noted that supplier fees may apply. Tour transfers also incur a $20 administration fee.
It is compulsory that all cancellation requests are in writing and sent via email to admin@mr-travel.com. Cancellations attempted via online chat or phone will not be actioned.
---
Supplier Cancellations:
The Service Operator reserves the right to alter prices, alter itineraries, apply a fuel surcharge, cancel departures, arrange alternative transport and vary itineraries and services if necessary.
All departures and itineraries are subject to weather. Tours may be changed or cancelled for any reason at the discretion of the Service Operator. If the Service Operator has to cancel the trip or activity (prior to departure) and we cannot offer a suitable alternative, then a refund will be given minus a 20% administration fee and any associated card fees. We strongly recommend that you have travel insurance, especially during the wet season.
In the unlikely event of your trip being cancelled or stood down, all guest communication is required to go through our Online Store via telephone or email. While there is a Sailing Whitsundays retail outlet located Airlie Beach, please be aware that they operate as a separate entity and are unable to access reservations made by the Mr Travel online department.
---
Refunds:
All refunds are in Australian Dollars and must be made to the card of payment. Sailing Whitsundays/Mr Travel is not liable for exchange rate fluctuations or fees, or any other merchant/bank fees associated with domestic and/or international transactions.
Where a full refund is applicable, there is the option to transfer the whole cost of the tour to another tour or "Credit" to avoid the administration fee. A transfer fee of $20 will apply.
You will be emailed confirmation once the refund has been processed. Once the refund has been processed, it may still take time for the banks to clear the amount. Please allow 7-10 business days for the funds to clear into Australian accounts and up to 21 business days for international accounts.
---
Accountability/Misconduct:
All Service Operators have the right to provide client feedback and to cancel bookings based off of feedback from other Service Operators.
Please enjoy your travel experience in a kind and responsible manner.
Sailing Whitsundays/Mr Travel will treat this as any normal client cancellation and therefore the cancellation fees stated in the Client Cancellation Policy will apply.
---
Thank you for booking with our East-Coast travel experts here at Mr Travel/Sailing Whitsundays. If you would like any further advice, assistance in arranging accommodation, transfers or additional tours please get in touch.