Blizzard
CLOSE
View More Thumbnails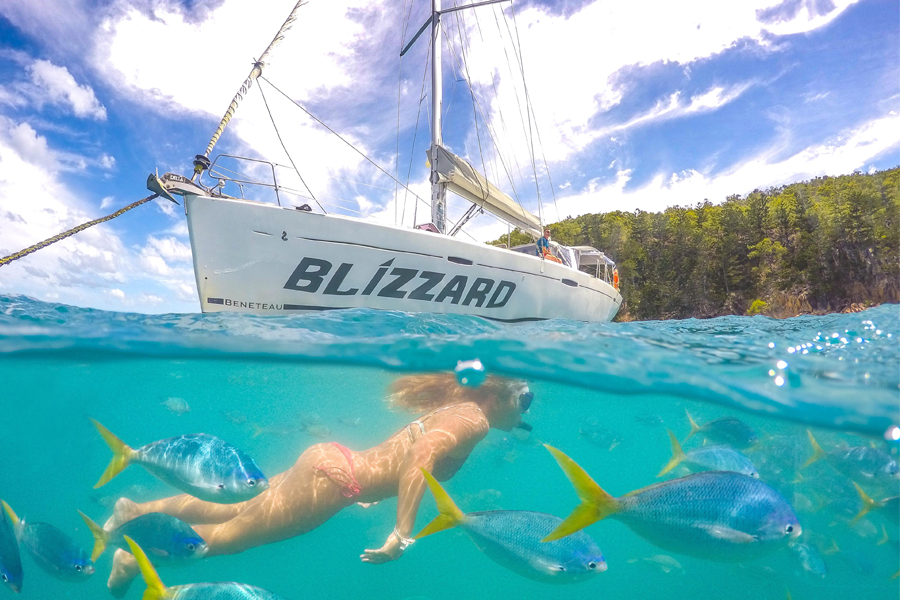 Loading...
Departure Times
Departs: 4:00 pm - Tue, Fri & Sun
Returns: 2:00 pm - Thu, Sun & Tue
Pricing Options
$499 AUD per Person
- Shared Accom
(Between: 21 Jun 2017 and 31 Mar 2019)
$579 AUD per person
- Private Double Cabin (requires 2 people) ($1158 Total)
(Between: 22 Jun 2017 and 31 Mar 2019)
$579 AUD per person
- Private Twin Cabin (requires 2 people) ($1158 Total)
(Between: 22 Jun 2017 and 31 Mar 2019)
$636 AUD per person
- Private Double Cabin with Ensuite (requires 2 people) ($1272 Total)
(Between: 21 Jun 2017 and 31 Mar 2019)
Blizzard is a hot topic in the Whitsundays!
With a maximum of 10 passengers on each trip and state-of-the-art water toys, Blizzard is a popular choice amongst travellers who are looking for a fun, interactive tour around the Whitsunday Islands with the perfect mix of traditional sailing and modern comforts.
Blizzard offers guests the chance to experience the Whitsundays in style and comfort on their 2 day, 2 night trip. Sail around the Whitsunday Islands where you'll get to visit all the best snorkel sites as well as world-famous Whitehaven Beach. Blizzard's amazing supply of water toys, which includes a sea scooter, will be sure to keep you busy in your down time. Check out our video below to see how cool a trip on Blizzard is!
Blizzard Features
A maximum 10 guests creating a sociable and intimate atmosphere
Sea scooter to ensure you make the most of your time snorkelling
One of the only boats with double helm - great for moving around in the cockpit
Private cabins with en suite available
Fresh linen and bath towel provided to all guests
All meals are included and freshly prepared by your dedicated crew
Wetsuit hire and snorkelling equipment provided for your convenience
Launched in 2011 and is 50 feet long
Boat Layout
Shared Accom: Two single bunk-style beds located in the middle of the boat, with two beds onboard
Private Double Cabin: One double bed in a private cabin (for 2 people) with a shared ensuite, with one cabin on board
Private Twin Cabin: Two single beds in a private cabin (for 2 people) with a shared ensuite, with one cabin on board
Private Double Cabin with Ensuite: A double bed in a private cabin with its own ensuite (for 2 people), with two of these cabins onboard
Tap the hotspots on the floor plan below to view Blizzard.
Loading...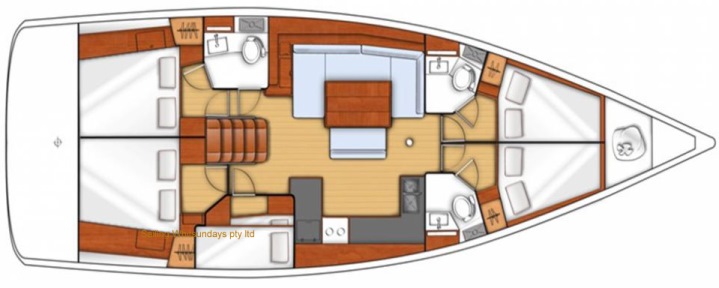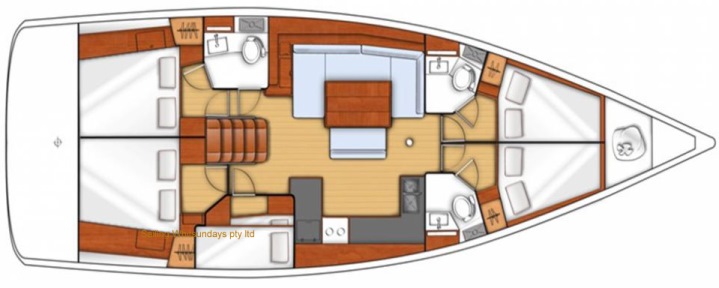 Watersports Activities
Sea Scooter
The ultimate water toy, the sea scooter will take you on the ride of your life as you zoom through the ocean.
Sample Itinerary
No trip aboard Blizzard is the same! Your crew are focused on giving you a personalised experience, you just need to decide what option will put the biggest smile on your face! Go for a snorkel in cyrtsal clear waters and find Nemo on the Sea Scooter? What about a bush walk to get some amazing views of the Whitsunday Island? There is an abundance of fun for everyone! While you decide what you feel like doing, your crew will make all the best choices on where to go. Consider them the experts of the area, knowing all the best snorkel sites, anchorages and the hidden gems of the islands. Rest assured you will see all the best of the Whitsunday Islands. Take in the incredible scenery as you smoothly sail from one great destination to the next. Feel free to join in all the action of sailing, or simply enjoy the pleasure of ultimate relaxation.
Each tour visits the beautiful Whitehaven Beach on Whitsunday Island. A short walk takes you up the Hill Inlet Lookout, where you will have a breathtaking view over Whitehaven Beach. Be sure to bring your camera along to capture the memories! The tour stops in several of the dreamy Whitsunday Bays for snorkelling, where you'll get to explore what lies beneath to find a whole new world, full of colourful corals and fish.

Sample Menu
Day One
Afternoon Snacks: Selection of Vegetarian Asian Spring Rolls & Samosas with Dipping Sauces
Dinner: Moroccan Marinated Chicken Breast Fillets with Greek Salad & Pesto Pasta, Fresh Herb Yoghurt Sauce
Day Two
Breakfast: Percolated Ground Coffee, Black Tea, Milk, Orange Juice; Freshly Chopped Fruit Salad; English Muffins, Jam, Marmalade, Nutella, Vegemite, Butter; Muesli, Choco Balls, Cornflakes
Morning Tea: Percolated Ground Coffee, Black Tea, Milk; Cookie; Apple Slices
Lunch: Quiche Lorraine, Cream Cheese Potato Salad, Mixed Salad, Condiments
Dinner: Gnocchi Amatriciana (Bacon Capers Tomato Sauce), Greek Salad, Homemade Garlic Bread
Day Three
Breakfast: Percolated Ground Coffee, Black Tea, Milk, Orange Juice; Freshly Chopped Fruit Salad; English Muffins, Jam, Marmalade, Nutella, Vegemite, Butter; Muesli, Choco Balls, Cornflakes
Morning Tea: Percolated Ground Coffee, Black Tea, Milk; Lamingtons (Australian Biscuit Cake); Orange Slices
Lunch: Chicken Salad Wraps
Common Special Diets and Food Allergies are catered for if advised upon booking or re-confirmation. Please enquire upon booking if unsure.
BOOK WITH US TODAY! CALL 1800 550 751 OR (07) 4914 2425 IF LOCAL
---
Minimum age for children is 10 years and over and any guests under 18 must be able to swim.
Guests under 18 cannot be booked into shared accommodation, except where group will occupy an entire shared area. In other cases the parent need to occupy the shared area and child share private cabin with other parent.
This sailing adventures is only suitable for active people. A basic level of fitness and mobility is required, as a guideline Guests should be able to climb a ladder easily.
​Blizzard is also available for Private Charter.
---
You May Also Like One Of These Products:
What To Bring
Please bring only a small soft bag with: change of clothes, hat, swim-wear, beach towel, sunscreen 30+, warm pullover for the evenings (seasonal). You will only need flip flops or sandals. You will also need to bring your own alcoholic beverages, available for purchase in town. No glass bottles please.
Luggage storage is available for $5 per person at check-in (ABC Travel).
What's Included
Skipper
Host
Drinking water
Meals
Linen and bath towel
Wet suit hire
Snorkelling equipment
Marine Park fees.
What's Extra
BYO alcohol - no glass. Soft drinks, bottled water and snacks are available for purchase on board.
Terms and Conditions
All departures and itineraries are subject to weather. Tours may be changed or cancelled for any reason at the discretion of the Tour Operator It should be noted that adventure travel involves risk. Whilst we make every effort to safeguard clients, we cannot be responsible for personal injury or loss due to actions of our clients which are beyond our control. We recommend that all clients have travel insurance covering illness, injury, loss or damage to personal belongings and not being able to travel on the confirmed date of departure. Please be aware operators pass on credit card merchant fees so there is a non-refundable 2.5% surcharge for VISA and MASTERCARD card purchases.
Please advise us before booking if any passengers are under 18 years old to ensure this is the appropriate trip. Also please note that you need to allow time prior to the boats departure to check in, please ask us for more details.
Cancellations
All client cancellations forfeit 25% of total ticket price. Cancellations made 14 to 30 days before departure will result in a loss of 75% of ticket price. Cancellations made less than 14 days of departure will result in a forfeit of full trip fees. If the sailing company has to cancel the trip (prior to the boat's departure) and we cannot offer a suitable alternative, then a refund will be given minus card fees. We strongly recommend that you have travel insurance, especially during the wet season.
Please note it is the responsibility of ALL passengers traveling to advise both your travel agent at the time of booking and vessel check-in agent before boarding of ANY medical conditions including food allergies you may suffer from.
Thank you for booking with Mr Travel/Sailing Whitsundays. If you would like any advice or assistance in arranging accommodation, transfers or additional tours, please do not hesitate to contact us.
"Scotty was so knowledgable about all aspects of sailing and the reef and we learnt so much from him in such a short space of time. It's clear he is incredibly skilled and passionate about his job which makes the experience so positive for everyone. Luke was also an excellent deckhand - he prepared delicious meals for us and ensured we never wanted for anything. He was also so friendly and seemed very keen to learn as much as possible from Scott. Thanks very much to both members of the team - it wouldn't have been the same without either of them!"
Jessica
Mon 29 Jan 2018
"One of the best experiences I had. The crew was extremely nice, kind and they just make you feel at home."
Mel
Mon 28 Aug 2017
"My personal highlight from 9 months in Australia is definitely the trip we just had on Blizzard, captained by Scotty and Yas his 1st mate. Great weather helped made the whole experience really enjoyable. Scotty's knowledge and experience is second to none and Yas was always really friendly as well as a great cook. Despite cyclone Debbie wiping out the islands only 6 weeks ago, they still managed to show off the best the islands have to offer."
Chris
Wed 21 Jun 2017
"I did a lot of research on different boats/boat companies before booking; we wanted a good value for money boat with a small number of passengers. We chose 'Blizzard' as it had excellent reviews and met our requirements. The whole trip was a once in a lifetime, amazing experience."
Gareth
Wed 12 Apr 2017
"We just finished our tour on the Blizzard and wanted to give some immediate feedback. We had a wonderful time and cannot say enough good things about the tour. We really wanted to contact you directly though to emphasize how much we appreciated Mitch! He was unbelievable, especially given that it was his first trip on this boat. He worked extremely hard, was very social, and an all around pleasure to have as our first mate! We hope that many others have the chance to sail with him in the future! Thanks again."
Tiff and Chris
Fri 30 Sep 2016
"We choose Blizzard because we knew is was one of newest boats sailing in the Whitsundays. We were very happy with our choice and Blizzard exceeded our expectations. The experienced crew with Ellen and John looked after us for three days and the food always seemed to be brought out whenever we were hungry and there was plenty of it. During our tour we were lucky enough to see whales, turtles even a few dolphins. We are more than happy to recommend Blizzard to anyone planing on sailing in the Whitsundays!"
Keith
Tue 16 Aug 2016
"Our 2 day/2 night trip on Blizzard was the highlight of my holiday in Australia. Our captain was so knowledgeable about the Great Barrier Reef and took us to the best snorkelling spots. Our deckhand was so friendly and welcoming and cooked us some lovely simple food, which was just what we needed after a day snorkelling and sailing. I would recommend this trip to everyone!"
Hannah
Tue 01 Dec 2015
"We recently sailed onboard Blizzard. Right from the start we could not have asked for better hosts or a more amazing experience! It far exceeded our expectations! Both of the crews knowledge and expertise, combined with their friendly and welcoming attitudes made everyone feel safe, and ensured that we had a fantastic time! We booked the private cabin with the ensuite which was perfect. The facilities on board (not just our room) were extremely clean and looked brand new! Our bed was really comfy and we had amazing views straight out of our cabin! All the meals we had onboard Blizzard were absolutely delicious! We were very impressed, it was so good to know that we would be getting a great feed after doing all our activities during the day! All the experiences we had during our time left us wanting more! We will definitely be coming back and telling all our friends about our amazing trip and the experiences we had - Thanks so much! Cant wait to come back again! "
Tom
Wed 11 Nov 2015
"My friend and I booked Blizzard and we had a blast. Captain Scotty was extremely knowledgeable and made us feel comfortable and at home. Blizzard is in fantastic shape and the cabins are clean and comfortable. The boat sails beautifully, so even the most experienced sailors wont be disappointed. Book this trip - you wont be disappointed!"
Sun 01 Nov 2015
"The trips was awesome! It was THE highlight of my holiday in Australia thanks to skipper Dave and Stephanie. They are the best! Definitely recommend this to other people. Dave and Steph made the trip an awesome trip!! Very professional, experienced, clean, caring, just great!"
Dabi - Netherlands
Wed 20 Aug 2014
"Amazing!!!! The crew were outstanding - the best couple of days I've had in Australia. Thanks so much :)"
Roxy
Thu 18 Apr 2013
"We couldn't recommend this trip and this boat highly enough. If you are looking for a fun relaxed trip-not a party boat but a very sociable boat-that when the wind is good makes you feel like you are really sailing-stop looking for anything else-book an adventure with isail-and if you can-book Blizzard"
Niki
Sun 04 Nov 2012
"The best way to see the whitsundays is on a yacht & this is the creme de la creme! Stunning boat, great skipper & the lovely Lauren crewing. No more than 10 guests. Can't recommend it enough"
Lance
Sun 04 Nov 2012
"Hi Lizzie Just updating you on our weekend trip out on Blizzard. We had a marvelous time and the weather was great. We did all the activities, saw wonderful scenes and snorkelling with the fish and turtles was terrific. And we had a wonderful group of people with us. Lots of fun. Thanks for all your help. Cheers Elaine "
Sat 21 Apr 2012
"Thanks to Kirsten and Mr Travel for booking Sue and myself On Blizzard, yes it was brand new as you told us, it was. We had a truly fabulous time. Great food, some new friends, and the Whitsundays are really are a sailors playground. thanks to all for a great holiday we will definately be back next year. The Johnsons from Melbourne."
Tony Johnson
Sun 22 Jan 2012